Mocha Chocolate Chip Cookie Icebox Cake
One bite of this No-Bake Mocha Chocolate Chip Cookie Icebox Cake will have you swooning! An easy, luscious layered dessert!
One of my friends brought an Ina Garten chocolate dessert to our annual holiday luncheon. After stuffing myself silly with all the festive savory dishes, I took a small portion of each of the dessert offerings. This No-Bake Dessert Recipe definitely caught my attention!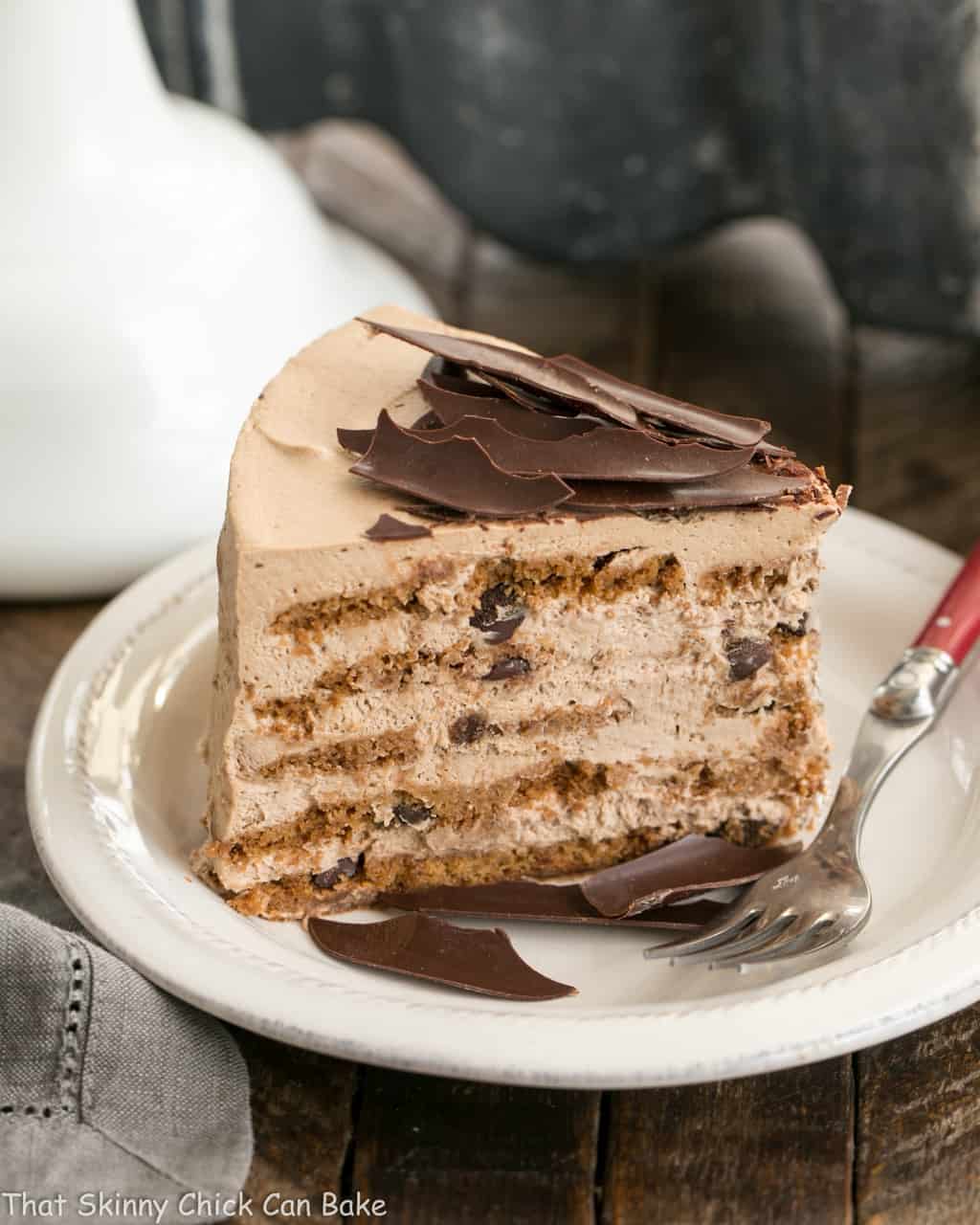 Why You Must Make
It's perfect for the summer as you don't have to turn on your oven.
This recipe is from Ina Garten and it's been a favorite for years!
If you have a mocha lover in your house, this is an easy, delectable dessert to add to your menu!
It was this mocha chocolate chip cookie icebox cake that won my heart! It's ideal for my coffee-loving oldest son who has a birthday just days after Christmas. Plus, I love a mocha fix, too! If cheesecake is more your thing, this decadent Mocha Cheesecake also fits the bill!
How to Make
Make the mocha cream filling.
Place a layer of cookies in the bottom of a springform pan.
Using an offset spatula, cover with some of the mocha filling, and repeat until you have 5 layers of cookies and 5 layers of filling (end with the mocha cream)
Cover with plastic wrap, and refrigerate overnight.
Run a knife around the inside of the springform pan, then release the sides, slice and serve!
After cooking an extensive menu for both Christmas Eve and Christmas, it was time to make my son Tom's birthday dinner. Thank goodness, I had this easy mocha icebox cake recipe in my back pocket. All five of us loved it—even the mocha-wary hubby!
Expert Tips
Icebox cakes were all the rage back in the '20s and '30s. Some smart soul figured out that whipped cream layered with very thin cookies would transform into a marvelous dessert if left in the fridge overnight! So easy. Here are a few tips for making a perfect icebox cake!
The old-fashioned name "icebox" comes from the days when folks didn't have electric refrigerators, but instead replaced blocks of ice in their "iceboxes" to keep food cool.
One of the oldest and still popular icebox cakes is simply Nabisco Famous Wafers stacked on their sides with layers of whipped cream in between!
Remember, an icebox cake needs hours in the fridge before it's ready to eat to allow the cookies to soften. So, plan ahead!
PRO-Tip: Store-bought cookies work best. That's what makes these sorts of recipes super easy. Do the dunk test by dipping the cookie into a glass of milk. It must soften easily to be best for an icebox cake.
PRO-Tip: When making this recipe, use a springform pan so you can release the sides and reveal all the beautiful layers. Also, use an offset spatula to spread the filling evenly.
When making a simple icebox cake with just cookies and cream, I like adding sugar to the whipped cream to make it a most indulgent dessert with very little work!
Break cookies to fill all the spaces left between whole cookies. This will make the prettiest cake.
PRO-Tip: Use a serrated knife to slice, wiping it clean between slices. Note that this easy no-bake dessert tastes best if eaten within a couple of days.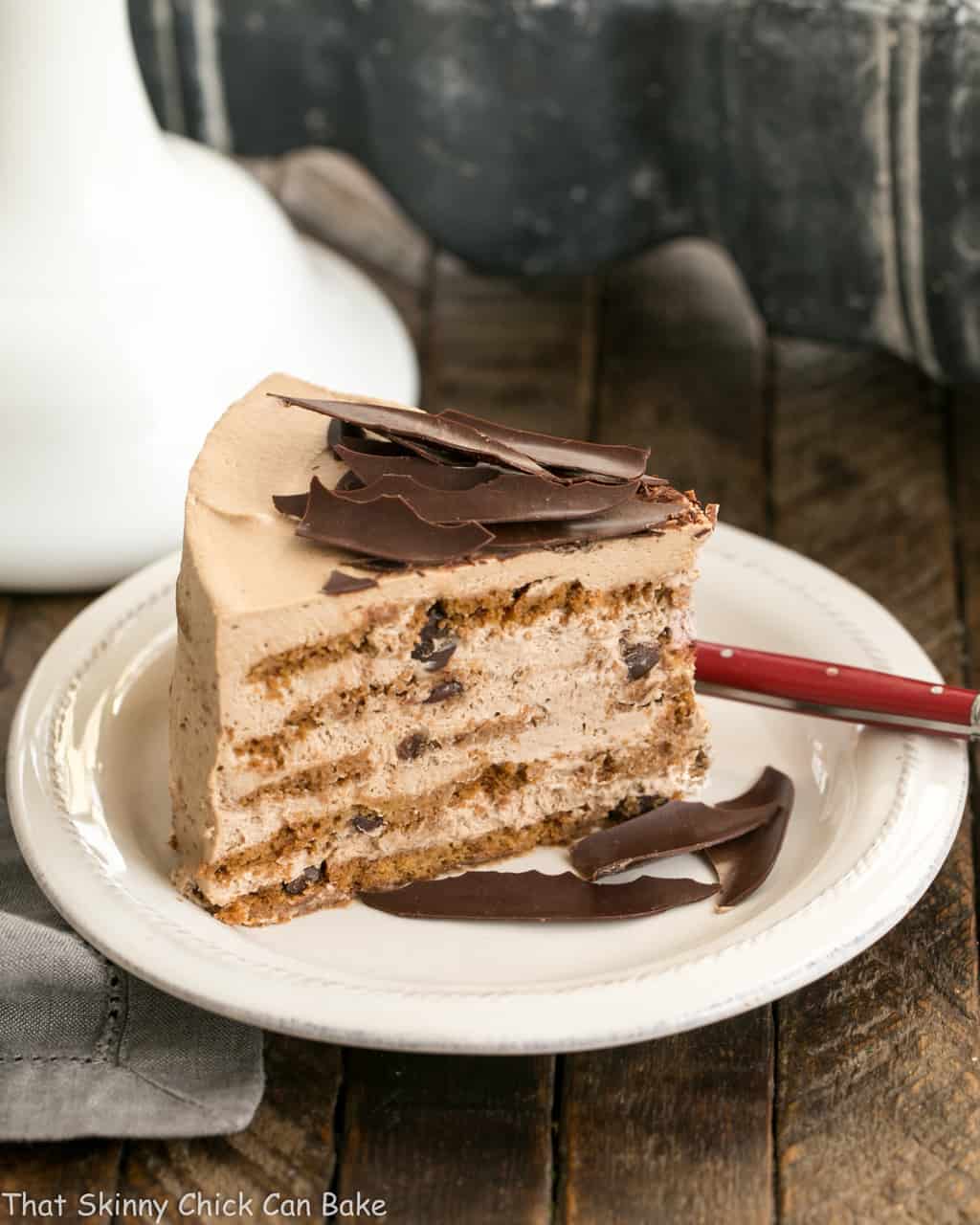 Frequently Asked Questions
What is an icebox cake?
An Icebox or Refrigerator Cake is a no-bake dessert made by layering cookies, cream, sweetened condensed milk, and/or fruit and letting it refrigerate overnight so that the moisture of the other ingredients softens the cookies.
Why is it called an icebox cake?
Icebox is an old-fashioned word for refrigerator. Instead of baking, this "cake" needs to rest in the refrigerator overnight before serving, thus the name.
What are the key components of an icebox cake?
There must be thin cookies or graham crackers and sweetened or unsweetened whipped cream. Other additions including sliced fruit, dried coconut, cocoa powder, extracts, and nuts are optional.
How Long Can You Keep an Icebox Cake?
As long as it's kept in the refrigerator when you're not dishing out slices, it will be good for 2-3 days.
You May Also Like:
In a month or two, my kitchen will be out of commission for many weeks while we do an extensive remodel of our house. Currently, I'm without a garage or laundry room. And I think that is roughing it!!! I will be making lots of no-bake desserts when my oven disappears!
Stay in touch through social media @ Instagram, Facebook, and Pinterest. Don't forget to tag me when you try one of my recipes! And if you love the results, please give it a 5-star rating in the recipe card. Note: As an Amazon Associate, I earn from qualifying purchases. Visit my Amazon Store for my favorite products.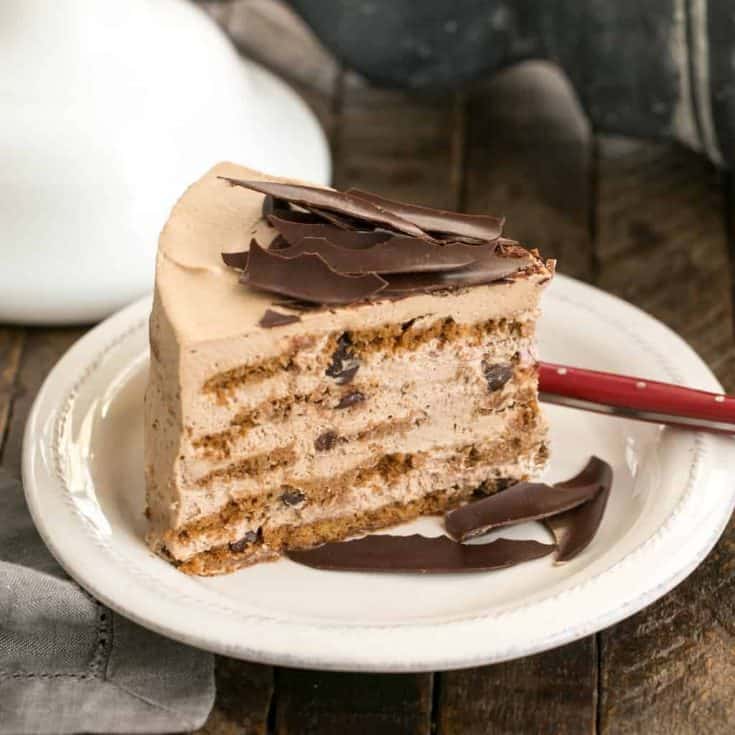 The Recipe:
Mocha Chocolate Chip Cookie Icebox Cake Recipe
Prep Time 20 minutes
Total Time 20 minutes
Yield 8
One bite of this Mocha Chocolate Chip Cookie Icebox Cake and I knew I had to recreate it for my family! This no-bake dessert will have you swooning, too!
Ingredients
 2 cups heavy cream
12 ounces mascarpone cheese
1/2 cup sugar
1/4 cup Kahlua (coffee liqueur)
2 tablespoons cocoa powder
1 teaspoon espresso powder
1 teaspoon vanilla
3 (7-ounce) packages of thin, crisp store-bought chocolate chip cookies, like Tate's
Chocolate shavings, curls or shards, for garnish
Instructions
Using a stand mixer fitted with the whisk attachment or a hand mixer, combine the heavy cream, mascarpone, sugar, Kahlua, cocoa powder, espresso powder, and vanilla.
Mix on low speed to combine, then whip until firm peaks form.
To assemble the cake, arrange chocolate chip cookies in an 8-inch springform pan to cover the bottom. Break a couple of the cookies to fill any open spaces.
Using an offset spatula, spread approximately a fifth of the mocha whipped cream evenly over the cookies.
Repeat with another layer of cookies and another layer of the mocha whipped cream until there are five layers of each. You will end with the mocha cream.
Cover with plastic wrap, and refrigerate overnight.
When ready to plate, run a small sharp knife or your offset spatula around the outside of the cake, then remove the sides of the pan.
Top cake with chocolate shavings or make my easy chocolate shards. Cut into slices and serve.
Notes
Recipe adapted from Ina Garten's How Easy Is That??
Recommended Products
As an Amazon Associate and member of other affiliate programs, I earn from qualifying purchases.
Nutrition Information:
Yield:
8
Serving Size:
1
Amount Per Serving:
Calories: 511
Total Fat: 44g
Saturated Fat: 26g
Trans Fat: 1g
Unsaturated Fat: 14g
Cholesterol: 125mg
Sodium: 233mg
Carbohydrates: 24g
Fiber: 0g
Sugar: 20g
Protein: 4g
Note: This post may contain affiliate links; view
my Disclosure Policy
for details. I earn a small percentage from any purchase you make by clicking on these links at no extra cost to you.