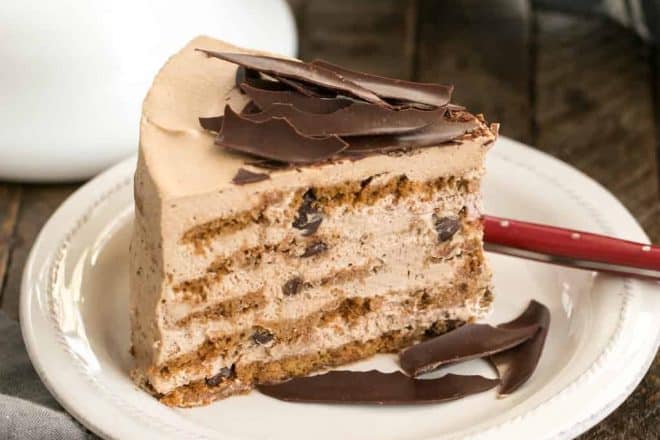 One bite of this Mocha Chocolate Chip Cookie Icebox Cake and I knew I had to recreate it for my family! This no-bake dessert will have you swooning, too!
One of my friends brought an Ina Garten chocolate dessert to our annual holiday luncheon. After stuffing myself silly with all the festive savory dishes, I took a microscopic portion of each of the dessert offerings. I bet you can guess which one I caught my attention!
Mocha Chocolate Chip Cookie Icebox Cake
It was this mocha chocolate chip cookie icebox cake that won my heart!  I knew it would be the perfect dessert for my coffee loving oldest son who had a birthday just days after Christmas. Plus, I needed a bigger serving! If cheesecake is more your thing,  this decadent Mocha Cheesecake would fit the bill!
Easy No-Bake Dessert
When time is tight, a no-bake dessert recipe is invaluable. Though it only takes a short time to put together, this fabulous no-bake cake does need to sit overnight in the fridge.
After cooking an extensive menu for both Christmas Eve and Christmas, it was time to make Tom's birthday dinner. Thank goodness, I had this easy mocha icebox cake recipe in my back pocket. All five of us loved it—even the mocha wary hubby!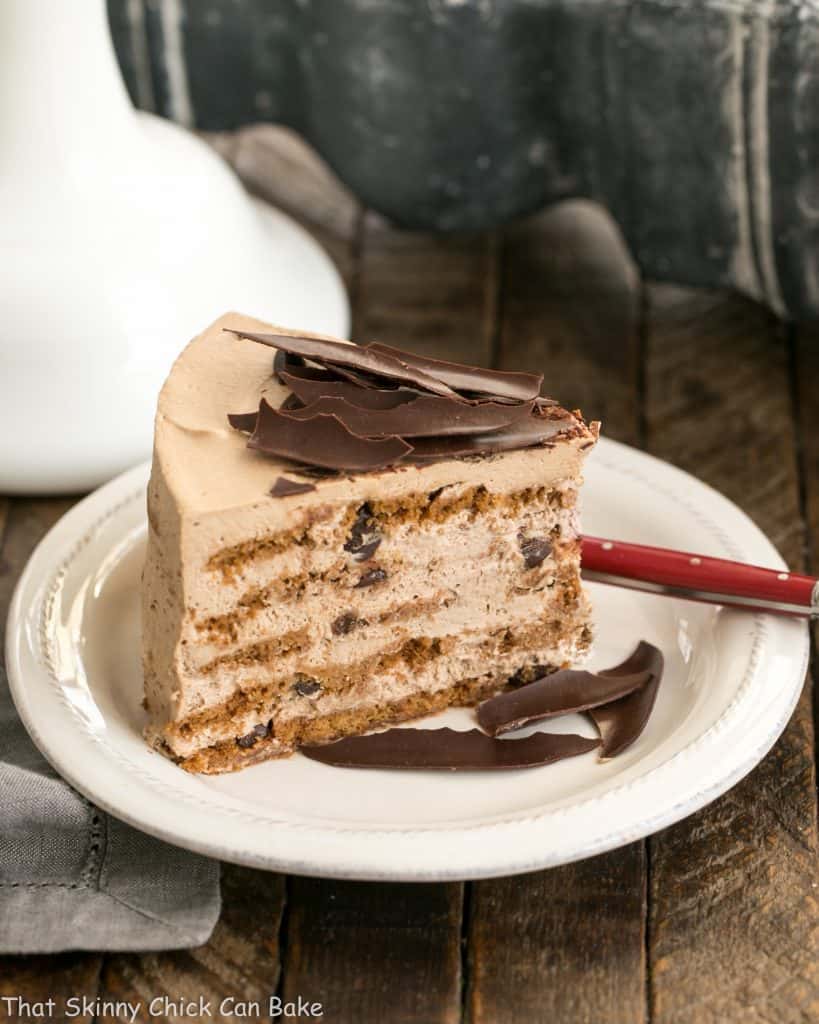 Easy Dessert for Family Gatherings and Celebrations
Reclaim Sunday Supper! Take the Sunday Supper pledge and cook up some of these terrific dinner recipes to create amazing family memories.  Today we're sharing  a collection of delicious Sunday Supper Recipes for you and your family to enjoy for generations to come.
Sunday is a great time to slow down and invest a little more time into the family meal. Pop in a roast or simmer a sauce on the stove-top to develop those deep, rich flavors and allow the aromas waft through your home creating that wonderful anticipation for the moment the family gathers around the table to enjoy Sunday Supper together.
More No-Bake Recipes You'll Love:
In a month or two, my kitchen will be out of commission for many weeks while we do an extensive remodel of our house. Currently I'm without a garage or laundry room. And I think that is roughing it!!! I will be making lots of no-bake desserts when my oven disappears!
You Might Like:
Print
Mocha Chocolate Chip Cookie Icebox Cake
One bite of this Mocha Chocolate Chip Cookie Icebox Cake and I knew I had to recreate it for my family! This no-bake dessert will have you swooning, too!
Author:
Prep Time: 20 minutes
Total Time: 20 minutes
Yield: 8
Category: Dessert, No-bake
Method: Mixing, No-Bake
Cuisine: American
Ingredients
 2 cups heavy cream
12 ounces mascarpone cheese
1/2 cup sugar
1/4 cup Kahlua (coffee liqueur)
2 tablespoons cocoa powder
1 teaspoon espresso powder
1 teaspoon vanilla
3 (7-ounce) packages of thin, crisp store-bought chocolate chip cookies, like Tate's
Chocolate shavings, curls or shards, for garnish
Instructions
Using a stand mixer fit with the whisk attachment or a hand mixer, combine the heavy cream, mascarpone, sugar, Kahlua, cocoa powder, espresso powder, and vanilla.
Mix on low speed to combine, then whip until firm peaks form.
To assemble the cake, arrange chocolate chip cookies in an 8-inch springform pan to cover the bottom. Break a couple of the cookies to fill any open spaces.
Using an offset spatula, spread approximately a fifth of the mocha whipped cream evenly over the cookies.
Repeat with another layer of cookies and another layer of mocha whipped cream until there are five layers of each. You will end with the mocha cream.
Cover with plastic wrap, and refrigerate overnight.
When ready to plate , run a small sharp knife or your offset spatula around the outside of the cake, then remove the sides of the pan.
Top cake with chocolate shavings or make my easy chocolate shards. Cut into slices and serve.
Notes
Recipe adapted from Ina Garten's How Easy Is That??
Note: This post may contain affiliate links; view
my Disclosure Policy
for details. I earn a small percentage from any purchase you make by clicking on these links at no extra cost to you.