Oatmeal Creme Pies
These scrumptious Oatmeal Creme Pies are a homemade version that trumps my favorite childhood Little Debbie treat. Chewy oatmeal cookies sandwich a delectable marshmallow creme-based filling.
Store-bought treats were rare in my childhood home, but on occasion, my mom would bring home Little Debbie Oatmeal Creme Pies. They disappeared in a red hot minute. And believe it or not, this homemade version of Copycat Little Debbie Oatmeal Cream Pies is even better than my memories of these sweet sandwich treats!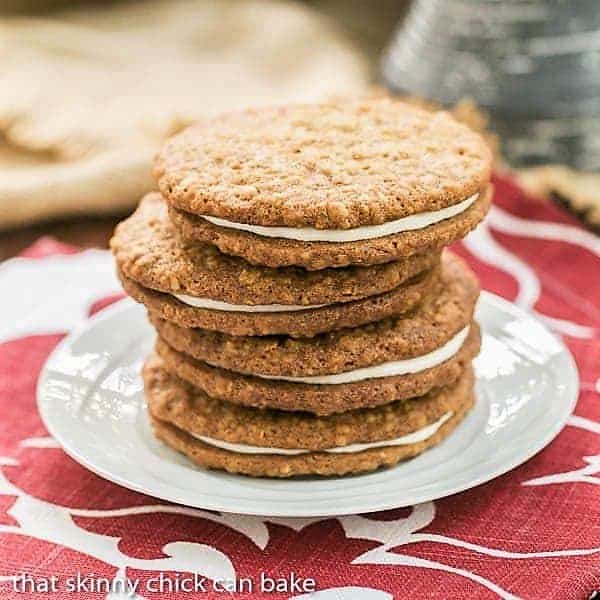 Why You Must Make
These were the first packaged snacks made by Little Debbie starting in 1960. If you're like me, you have fond childhood memories of these cream-filled oatmeal cookies. I promise this homemade version tastes even better!
You can pronounce all the ingredients. I was trying to decipher what was in the frosting from the label on the box, but there were so many chemicals and not a lot of wholesome ingredients on the packaging.
These sandwich cookies taste fresh, chewy, and delicious!!!
Growing up, there were certain grocery store items my sisters and I were hoping would be in our mother's shopping cart. I was always pining for Archway Pecan Sandies, boxed gingersnaps, and Little Debbie Oatmeal Creme Pies. But my mom was very frugal and those types of splurges didn't happen very often.
But fast forward to college. Thank goodness the shelves were usually stocked with Little Debbies on our 2 AM post-bar sprees to Quik Trip or whatever 24-hour convenience store was closest. I hadn't thought of these sandwich cookies in years, but once I spotted a copycat recipe on my friend, Jen's blog, I knew I'd have to bake up a batch.
Ingredient Notes:
I was thrilled with these cookies. The result was soft and chewy cookies with a spectacular marshmallow creme filling! My friends proclaimed them better than Little Debbies! I thought so, too! I hope you'll try this classic!!!
Kitchen Staples – Sugar, Brown Sugar, Salt, Baking Soda, Flour
Butter and Eggs – Set them out on the counter 1-2 hours before you plan to mix the dough, so they come to room temperature. This will make them easier to incorporate. If you forget, the eggs can be placed in a bowl of hot, not boiling water to take the chill off. If your microwave has a soften setting, you can try that for the butter (I usually overdo it!).
Molasses – this addition turns the brown sugar into dark brown sugar and adds a deeper, more complex flavor with caramel undertones.
Vanilla – always use pure vanilla extract. Imitation will not give you the same delicious flavor.
Powdered sugar – make sure to sift so your frosting is without lumps
Marshmallow Creme – not the most wholesome ingredient, but it makes for a delicious frosting-like filling. I use Kraft Marshmallow Creme.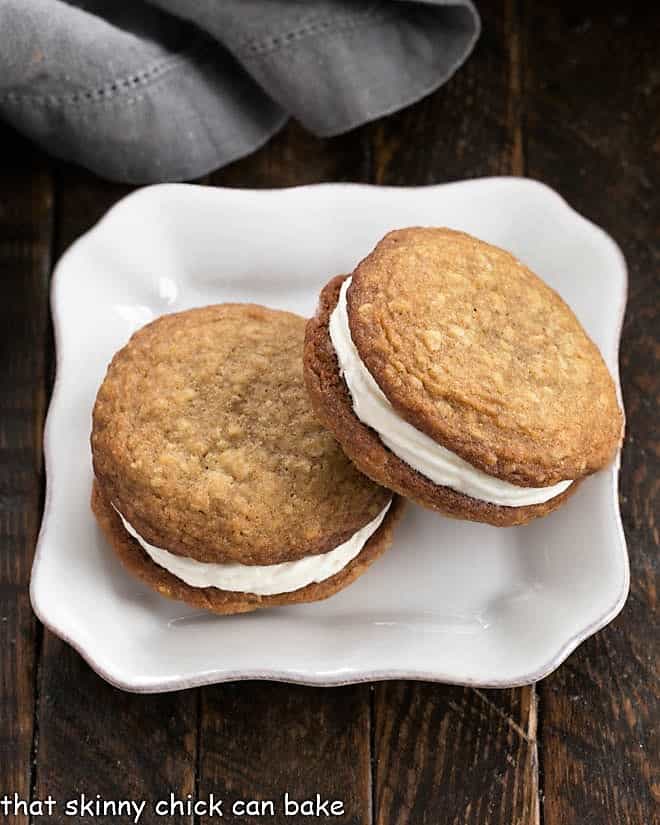 How to Make
I tweaked Jen's recipe a wee bit, adding ginger to the cookie recipe and butter to the filling instead of shortening. Butter trumps shortening 99% of the time, though the latter is great for making a flaky pie crust.
PRO-Tip: Use quick oats, not old-fashioned rolled oats. If you're in a pinch and do not have quick oats on hand, pulse old-fashioned oats in the food processor 4-5 times to mimic quick oats.
PRO-Tip: Spray the tablespoon measuring spoon with Pam cooking spray so the molasses rolls right off the surface.
Feel free to make 12 larger Debbie Oatmeal Creme Pies instead of 20. Those will be BIG like the original Little Debbie version. Make any size you like, but watch the baking time with your first batch so you know what works for the size you make and your specific oven.
Using a spatula (affiliate links) to tap the oatmeal cookies into perfect rounds as soon as they come out of the oven, makes for better-looking sandwich cookies.
Also, using a cookie disher to make consistent sized cookies is extremely helpful.
I like an offset spatula to spread frosting on these cookies. You can also pipe the frosting on with a piping bag and a star tip.
Frequently Asked Questions
What Is In the Middle of an Oatmeal Creme Pie?
The creamy filling in the middle of an oatmeal creme pie is a bit of a mystery. The ingredients for the sweet, white, vanilla filling are included with in the list of cookie ingredients on the label. But, I can tell you what is in MY oatmeal cream pie recipe's filling: butter, powdered sugar, marshmallow creme, and vanilla extract. All ingredients you can pronounce.
How Do You Store Copycat Little Debbie Oatmeal Creme Pies?
I recommend storing these sandwich cookies in the refrigerator in an airtight container. Bring them up to room temperature to serve for the best texture and flavor. They'll keep well up to 5 days. You can also freeze them for up to 3 months.
How Many Calories in Homemade Oatmeal Cream Pies?
In the packaged version, there are 310 calories in one large oatmeal cream (or creme) pie. This homemade recipe makes slightly bigger, thicker cookies that have 444 calories each.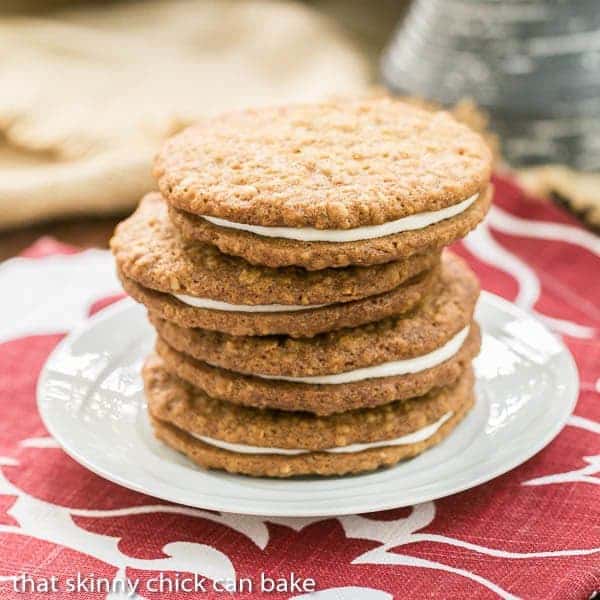 You May Also Like:
Who doesn't love a homemade sandwich cookie? Double the cookie PLUS frosting! My family is addicted to Oreos, but a sandwich cookie from scratch is even better.
Stay in touch through social media @ Instagram, Facebook, and Pinterest. Don't forget to tag me when you try one of my recipes! And if you love the results, please give it a 5-star rating in the recipe card. Note: As an Amazon Associate, I earn from qualifying purchases. Visit my Amazon Store for my favorite products.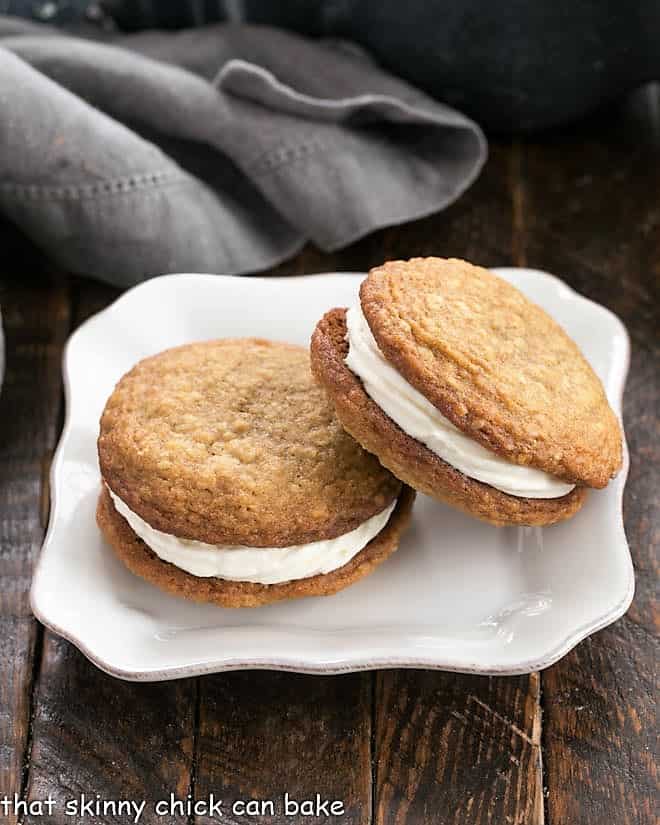 The Recipe:
Oatmeal Creme Pies Recipe
Prep Time 30 minutes
Cook Time 14 minutes
Total Time 44 minutes
Yield 12 large cookies
Chewy oatmeal cookies filled with a marshmallow cream frosting recreate a childhood favorite!
Ingredients
1 cup butter, at room temperature
1/2 cup sugar
3/4 cup brown sugar
1 tablespoon molasses
2 eggs
1 teaspoon vanilla
1/2 teaspoon salt
1 teaspoon baking soda
1/2 teaspoon cinnamon
1/2 teaspoon ginger
1 1/2 cups quick oats
1 1/2 cups flour
Filling::
1 cup butter.at room temperature
2 cups sifted powdered sugar
1 7-ounce jar marshmallow creme
2 teaspoons vanilla extract
Instructions
Preheat oven to 350º.
Cream butter and sugars. Add molasses, eggs, and vanilla, and mix well.
Add salt, soda, cinnamon and ginger, and mix well.
Add oatmeal, and mix until combined. Add flour and mix until just incorporated.
Using a cookie disher if available, drop rounded tablespoonfuls of dough onto a parchment-lined baking sheet and bake for 10-14 minutes.
For filling, mix all ingredients in a bowl until smooth and fluffy.
Frost flat side of half of the cooled cookies, and sandwich together with an unfrosted cookie.
Notes
Adapted from Jen's Favorite Cookies
Nutrition Information:
Yield:
12
Serving Size:
1 cookie
Amount Per Serving:
Calories: 444
Total Fat: 17g
Saturated Fat: 10g
Trans Fat: 1g
Unsaturated Fat: 5g
Cholesterol: 72mg
Sodium: 367mg
Carbohydrates: 70g
Fiber: 1g
Sugar: 49g
Protein: 4g
Note: This post may contain affiliate links; view
my Disclosure Policy
for details. I earn a small percentage from any purchase you make by clicking on these links at no extra cost to you.