Chocolate Angel Pie
This Chocolate Angel Pie is worthy of a special occasion! The melt in your mouth meringue crust is filled with luscious chocolate cream!
My husband's aunt was a terrific cook. She made this dreamy Chocolate Cream Pie with a Meringue Crust for us as newlyweds and I was delighted to add the recipe to my collection!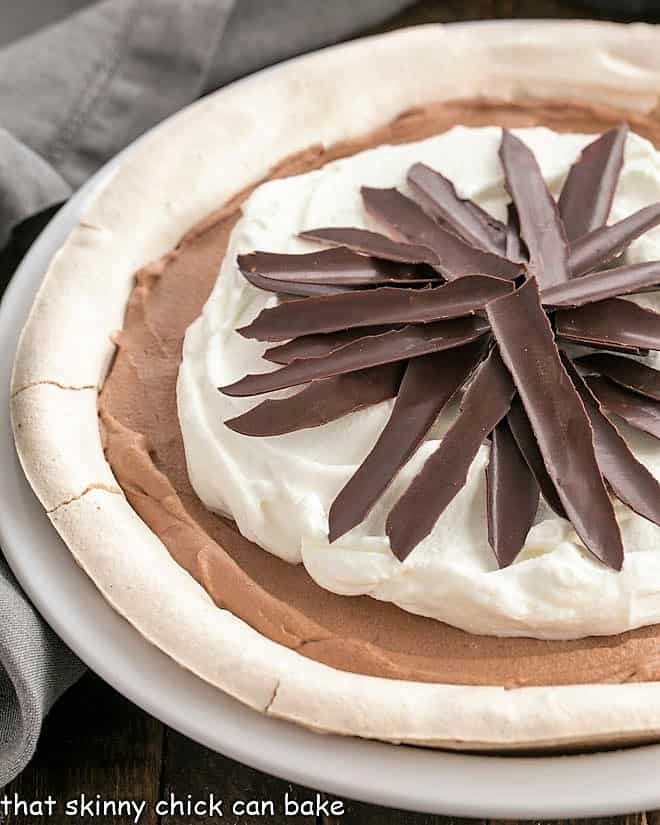 Why Make This Chocolate Cream Pie
It's "lighter" than your typical chocolate pie since there's no buttery pie crust.
Every bite melts in your mouth!
It's naturally gluten-free.
It is one of our holiday traditions to have a chocolate pie (are you surprised?) at Thanksgiving along with pumpkin. This pie would work equally well as a Christmas dessert with its heavenly meringue crust and creamy chocolate filling.
Bill's Aunt Alice would make this chocolate cream pie recipe when we dined at her house. She'd always have a homemade dessert, and her pies were outstanding. And I'd go home with a recipe card in my purse that would soon become splattered from overuse.
The kids don't remember ever having this pie, but they were definitely on board with my remake! I guess I need to go through my old-fashioned recipe box and pull out some more treasured dishes and share the memories along with the recipe.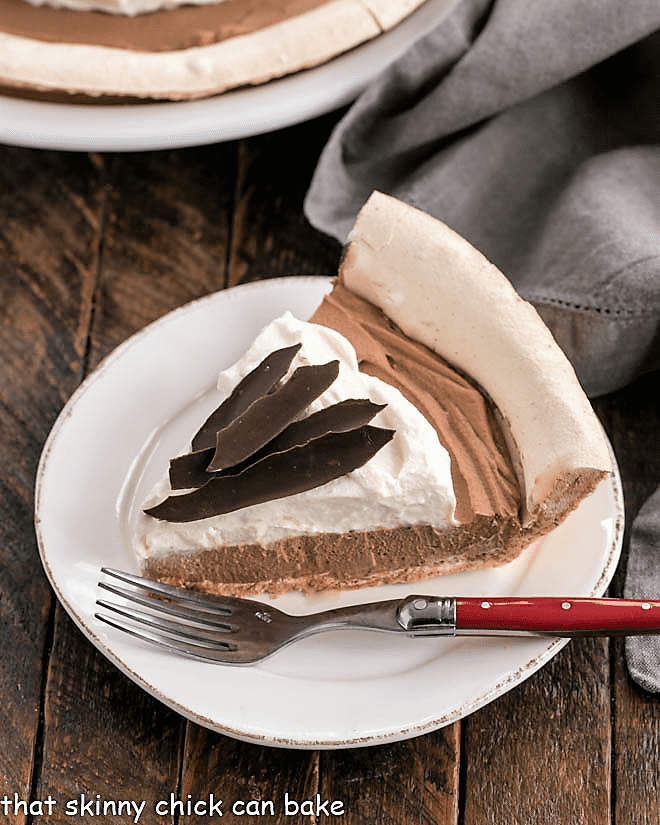 Tips for Making Angel Pie
An angel pie is a dessert with a meringue crust with a pudding-like filling. The lightness of this dessert is what makes it heavenly. Lightness in texture, not calories, though it would be a lot more caloric had it been made with a pastry shell.
PRO-Tip: Your bowl and beaters must be scrupulously clean when beating egg whites. Any oil will prevent the whites from reaching stiff peaks.
You will also get more volume from your egg whites if they are at room temperature. So get your eggs out well before you plan to make the crust so they warm up. Alternatively, place them in a bowl of warm water while you prep the other ingredients.
Don't overwork the meringue when working it into the shell. The goal is to make a nest for the filling.
As you can see below the meringue shell can crack while baking and it will definitely crack when cutting. That's just the nature of the beast!
PRO-Tip: I didn't have baker's chocolate on hand the day I made this pie but found that you can substitute 4 ounces of semisweet chocolate plus 2 tablespoons of sugar for 4 ounces of Baker's Sweet German Chocolate.
You can shave a chocolate bar to sprinkle over the whipped cream, make chocolate shards or chocolate curls.

More Holiday Dessert Recipes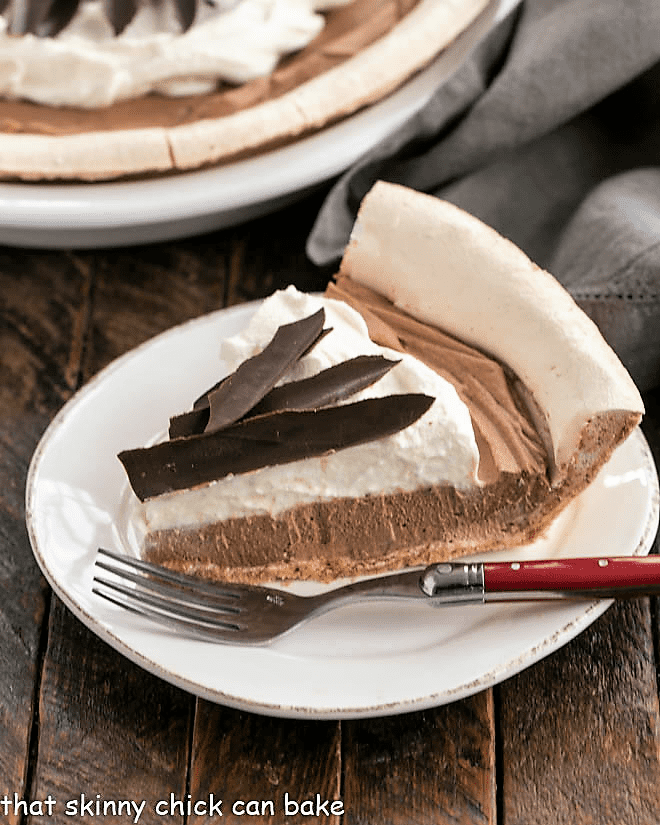 The Recipe:
Chocolate Angel Pie
Prep Time 30 minutes
Cook Time 55 minutes
Total Time 1 hour 25 minutes
Yield 8 servings
An exquisite chocolate pie in a meringue crust
Ingredients
2 egg whites, at room temperature
⅛ teaspoon salt
⅛ teaspoon cream of tartar
½ cup sugar
½ teaspoon vanilla
4-ounce package Baker's German Sweet Chocolate, chopped (or 4 ounces semisweet chocolate with 2 tablespoons of sugar)
3 tablespoons water
1 teaspoon vanilla
1 cup heavy cream, whipped
More whipped cream, to garnish
Instructions
Preheat oven to 300º. Lightly grease an 8 or 9-inch pie plate and set aside.
Beat egg whites with salt and cream of tartar till foamy. Add 2 tablespoons of sugar at a time, beating well after each addition.
Continue beating to very stiff peaks. Fold in vanilla.
Spoon into a prepared pie plate to form a nest-like shell. Bake for 50-55 minutes. Cool.
Gently melt the chocolate (and sugar if substituting semisweet chocolate) with water in the microwave, stopping to stir frequently until smooth. Cool to room temperature and add vanilla.
Fold the whipped cream into the chocolate, and spread the filling in the cooled meringue shell. Let chill for at least 2 hours before serving.
Top with whipped cream and chocolate shavings, curls, or shards if desired.
Notes
Make sure your egg whites do not have even a speck of yolk in them or that your bowls have any greasy residue or the egg whites won't whip properly.
Recommended Products
As an Amazon Associate and member of other affiliate programs, I earn from qualifying purchases.
Nutrition Information:
Yield:
8
Serving Size:
1 slice
Amount Per Serving:
Calories: 245
Total Fat: 16g
Saturated Fat: 10g
Trans Fat: 0g
Unsaturated Fat: 5g
Cholesterol: 41mg
Sodium: 66mg
Carbohydrates: 22g
Fiber: 0g
Sugar: 21g
Protein: 3g
Note: This post may contain affiliate links; view
my Disclosure Policy
for details. I earn a small percentage from any purchase you make by clicking on these links at no extra cost to you.