Holiday Truffle Cookies
Holiday Truffle Cookies are a rich, chewy chocolate indulgence. Just what Christmas cookies should be! These fudgy chocolate cookies were a huge hit!
It's the time of year to savor what you enjoy most, and in my house, this Chocolate Cookies Recipe is at the top of the list!
Why You'll Love these Soft Chocolate Cookies
With melted semisweet chocolate in the batter, semisweet chocolate chunks and milk chocolate M&Ms mixed in, these are a chocolate lover's dream!
The soft, chewy centers are almost like eating a chocolate truffle, hence the name.
Adding M&Ms allows these to be customized for any holiday or occasion!
Growing up, we had plenty of Christmas traditions: the trek to the Christmas tree farm to chop down the biggest darned tree that would fit in our house, decorating gingerbread houses baked by my mom, eating all the almonds from the bowl of mixed nuts in our living room, sampling the sweet, crispy rosettes my mom deep-fried and dusted with powdered sugar to give to our family and friends, and, finally, walking through the snowy streets to Midnight Mass, full of the joy and excitement of the holiday.
Now that I have my own family, we've created our own traditions…but making sweets for our dear neighbors is one passed down from my parents. I have a list of tried-and-true cookies and candies that I package in cheery, holiday boxes: caramels, English toffee, fudge, and white chocolate peppermint bark…plus chewy gingersnaps, butterscotch cookies, cherry chocolate chunk cookies, Star of Bethlehem cookies, rosette cookies, and coconut macadamia nut bars. Chocolate plays a huge role in all our holiday celebrations, so when I found a recipe for these Chocolate Cookies, I knew they'd fit right in with our old favorites, and with a few tweaks, they were transformed into holiday truffle cookies.
Frequently Asked Questions
Where Did Truffles Get Their Name?
The two types of truffles include a rare expensive fungus and a rich confection made with melted chocolate and cream or butter, sugar, and flavorings. The early candies were misshapen and resembled the famous fungus so were given the same name.
What is the Key to Making Truffles Cookies?
These dark, rich chocolate cookies contain only a little flour making them super dense with truffle-like interiors.
How Do You Store Truffle Cookies?
These soft chocolate cookies can be stored at room temperature in an airtight container for 3 days. After that, they can be frozen for up to 3 months.
Festive Chocolate Cookies Recipe
When I deliver these sugar-laden packages to our friends, I know exactly who wants extra toffee or extra gingersnaps. In fact, I had a touching phone call earlier this week. A friend's elderly dad is dealing with dementia. They had put a wreath up in his home and he realized Christmas was approaching. He asked one of his other daughters about his gingersnaps. Confused, she ran to the market and purchased some.
The dad was most disappointed. They were not what he wanted. I found out that my friend has shared my Christmas cookies with him each year, so once the sisters figured this out, I baked a fresh batch of my chewy gingersnaps for their dad. I love when one of my recipes travels from family to family or friend to friend, to be enjoyed by so many. The joy of the season can be shared with a simple batch of delicious cookies, and it's not too late to start your own family tradition. Some form of chocolate cookie is always on our list, and these truffle cookies are made festive with some holiday-colored M & M's!
Tips for Making Holiday Truffle Cookies
PRO-Tip: Have your eggs at room temperature for the best incorporation. Let them sit on the counter for an hour or two before mixing the dough. Alternatively, place them in a bowl of very warm water for about 30 minutes. Don't use boiling water as you do not want to cook the eggs.
PRO-Tip: Use a quality chocolate bar as this is the focal ingredient in these chocolate cookies. I like Ghirardelli chocolate bars which can be found in most grocery and Target stores.
I've upped the chilling time for the dough and added an extra tablespoon of flour. After testing this recipe a number of years after I first made it, I found the cookies baked up flatter than when I first posted this recipe.
PRO-Tip: Use a cookie disher to scoop evenly sized rounds of dough. You may need to clean the disher after scooping 2 or 3 cookies. Or you can spray the disher with cooking spray. Just wipe out any excess spray so your cookies aren't coated oil.
I actually own 3 medium-sized cookie dishers and I still had to wash them frequently while scooping. This dough is a bit sticky, so make sure it's well chilled for easier scooping.
Since these cookies are packed full of M & M's and chocolate chunks, they may not bake into perfect rounds. I use my spatula to tap the cookies back into shape within a minute or two of coming out of the oven. They're very pliable when still hot.
Reserve a few M&M's to place on top of your still-hot cookies to make a pretty presentation.
You might like to check out my post on How to Host a Holiday Cookie Exchange, too! Plus check out more of the Best Christmas Cookie Recipes from Melissa's Southern Style Kitchen.
The Recipe:
Holiday Truffle Cookies Recipe
Prep Time 20 minutes
Cook Time 8 minutes
Total Time 28 minutes
Yield 2 dozen
Rich chocolate cookies studded with holiday M& M's
Ingredients
6 ounces semi-sweet chocolate, chopped
2 tablespoons butter
2 eggs
1/2 cup sugar
1 teaspoon vanilla extract
1/4 cup plus 1 tablespoon flour
1/4 teaspoon baking powder
1/4 teaspoon salt
2 ounces semi-sweet chocolate, chopped in chocolate chip sized pieces
1/2 cups red and green M & M's, plus more for garnishing
Instructions
In a microwave-safe bowl, melt the 6 ounces of chocolate with the butter, stopping and stirring at 30-second intervals, till melted and smooth.
Whisk together eggs and sugar in another bowl. Slowly whisk in warm chocolate till well combined. Add vanilla, then stir in flour, baking powder, and salt. Let dough rest for a couple of minutes. Stir in the remaining chopped chocolate and M & M's. Chill in the refrigerator for 30-60 minutes to let the dough firm up.
Preheat oven to 350º. Line baking sheets with parchment.
Scoop out rounded tablespoonfuls of dough and place on a baking sheet at least 2 inches apart. Use a damp finger to pat dough into round balls if misshapen.
Bake for 7-8 minutes, till crackled and glossy. Middles may look slightly underdone.
Remove from oven and carefully press about 3 M & M's onto the surface of each cookie. Let cool on baking sheet 10 minutes before removing to a cooling rack.
Notes
Total time does not include chilling and cooling times.
Recommended Products
As an Amazon Associate and member of other affiliate programs, I earn from qualifying purchases.
Nutrition Information:
Yield:
24
Serving Size:
1 cookie
Amount Per Serving:
Calories: 132
Total Fat: 7g
Saturated Fat: 4g
Trans Fat: 0g
Unsaturated Fat: 2g
Cholesterol: 19mg
Sodium: 47mg
Carbohydrates: 19g
Fiber: 1g
Sugar: 16g
Protein: 2g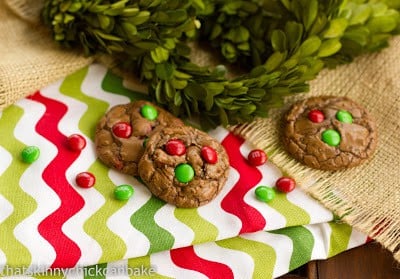 This Holiday Truffles Cookies recipe was first shared in December 2012. Photos and text were updated in 2019.
Note: This post may contain affiliate links; view
my Disclosure Policy
for details. I earn a small percentage from any purchase you make by clicking on these links at no extra cost to you.