How to Make Rosettes Cookies
One of my family's Christmas traditions when growing up in Ames, Iowa, was making the Scandinavian fried cookies known as Rosettes. I'm sharing my tips on how to make rosette cookies in your own kitchen. They're perfect for the holidays!
You'll need to get yourself a Rosette Iron, enough canola oil to deep fry them and you'll be set! Shaped like stars and snowflakes, they're a classic Christmas treat.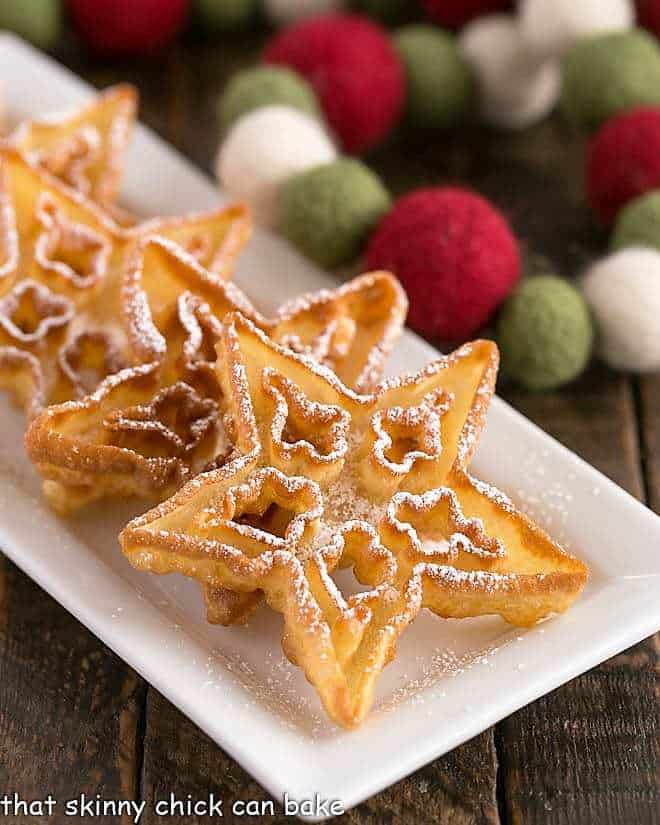 Why You'll love these Rosettes
They're a beautiful addition to your holiday sweets repertoire.
Perfect for cookie exchanges, they're unique and beautiful.
Dusted with powdered sugar, these look like they're coated with a dusting of snow.
Rosettes can be hung on the Christmas tree, using a ribbon loop as a hook.
Cookies like these perfect Cream Cheese Sugar Cookies are a given when it comes to my baking list, so I thought back to my childhood and was reminded of these sweet, crispy rosettes. Learning how to make rosettes is one of the many legacies my dear mother passed on to me. Scroll down for my tips for making perfect rosettes.
Frequently Asked Questions
What Nationality Are Rosettes?
Rosettes are Scandinavian in origin, popular in both Norway and Sweden. The name "rosettes" comes from the Norwegian word rosetbakkelser.
But, according to a comment from a reader in Spain, they're also quite popular there as a Carnival dessert. They're called Flores de Carnaval or Flores de Entroido (the Galician word for Carnival).
How Long Do Rosettes Last?
Stored at room temperature, loosely covered, they'll last 2-3 days. They can be frozen for up to 2 months. If frozen, rewarm and then sprinkle with sugar.
Why Are My Rosettes Soggy?
If the cooking oil was not hot enough, the rosettes will absorb excess oil and become soggy. Also, if they're not stored properly, they can lose their crispness.
They can be recrisped in a 350-degree oven for a few minutes.
How Do You Reseason a Rosette Iron?
Only cast iron rosette irons need to be seasoned. Use the same process as for a cast iron pan. Make sure to clean the irons and let them dry completely, then coat in vegetable oil or shortening. Place on the rack of a 375-degree oven with a layer of foil on the rack below.
Heat them for about 45 minutes to an hour, turn the oven off, and let them cool completely.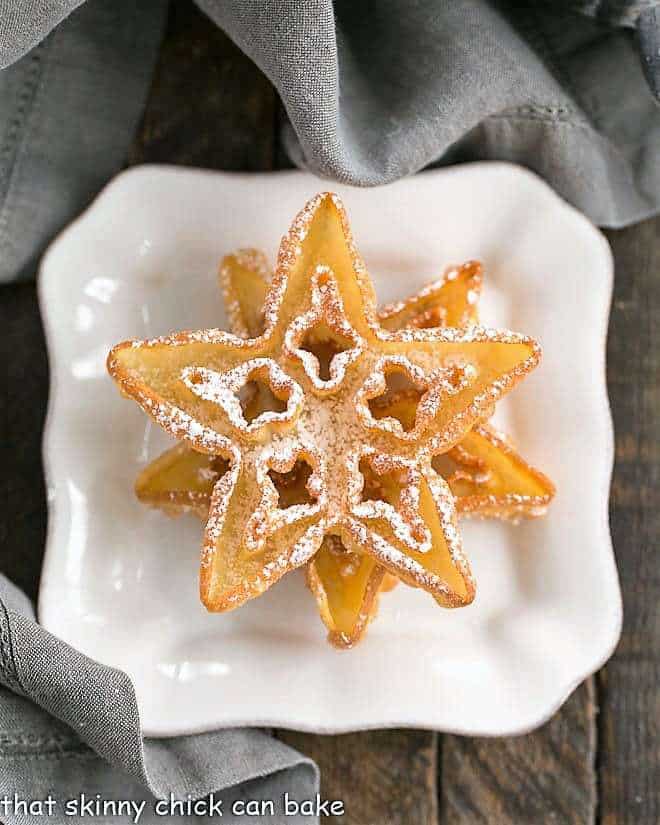 My Mom's Recipe for Rosettes
Each December, my mom and Mrs. Homer (who happened to be my best friend's mom) would plan for an evening of deep-frying rosettes in lard plus a lot of gabbing. After a few years, they stopped alternating homes and they'd just meet at our house.
Apparently, my mom had lower standards when it came to a house smelling like a greasy diner. So we'd gather in the kitchen watching until we were shooed off to bed.
My mom stored her share of these Scandinavian cookies in our basement freezer until she packaged them up during Christmas week to be delivered to all our dearest friends. I remember coming home from college and still accompanying my dad on these deliveries.
My sisters and I could not resist swiping a few out of the freezer to sample, but I'm sure the trail of powdered sugar gave us away. There are a lot of rosette irons available on Amazon, like my cast iron version. There is a link near the bottom of this post.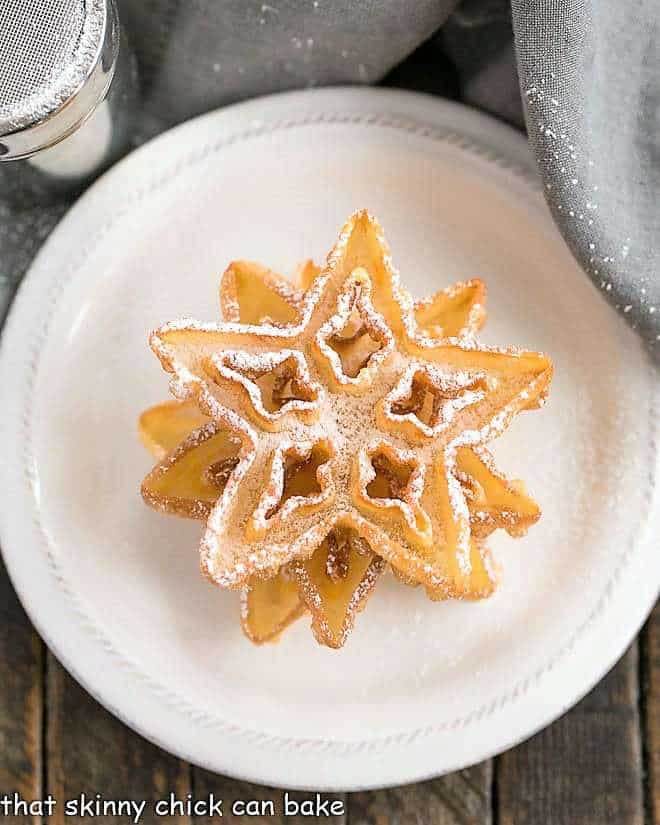 How to Make Rosettes Cookies
My mom always used lard to make these rosettes. The aroma permeated the house, and lingered for days. But these rosettes were treasured treats among the lucky friends and neighbors who were recipients, and frying these was a holiday tradition. For this batch, I used canola oil. The lard found in most grocery stores sits on the shelf, not in the refrigerator cases. It's not the same quality as what my mom used, and an oil with a high smoke point is a good substitute.
A simple batter takes only seconds to prepare. Just whisk together all the ingredients.
The batter should be smooth, but don't overmix as you do not want air bubbles to form.
The oil must be heated to and maintained around 375º. Use a candy thermometer unless you're using adeep fryer with a temperature gauge. If you're frying these on the stovetop, adjust your burner as needed to keep the temperature steady.
Use a heavy duty saucepan if you don't use a deep fryer. You'll want your oil to be approximately 3-inches deep.
The rosette iron must be heated in the hot lard or vegetable oil before being plunged into the batter and back into the hot oil to cook. Give the iron a good minute or two to reheat or the batter will not adhere properly.
Let the excess oil drip off the iron, then dip the iron into the batter about 7/8th of the way. PRO-Tip: You do not want any batter to flow over the top of the iron.
In less than a minute in the hot oil, the rosette turns golden brown and can be removed to paper toweling to drain. I like to detach the rosette from the iron, flip it over to make sure both sides get evenly browned before draining on paper towels.
Use a table knife to gently pry the rosette loose from the iron if it doesn't slip off on its own. Just a few nudges are needed.
A dusting of powdered sugar is the finishing touch for these elegant, delicate and festive "cookies." Wait until the rosettes are cool before sprinkling with powdered sugar.
Rosettes freeze beautifully. If you plan to freeze them, wait until they're defrosted to garnish with the powdered sugar.
That's all there is when it comes when learning how to make rosettes!
More Holiday Cookies You'll Love:
Do you have a favorite cookie to take to a Cookie Exchange? Let me know in the comments. I always need new ideas.
This post was first shared in December 2012 and was updated with new photos and text in 2018.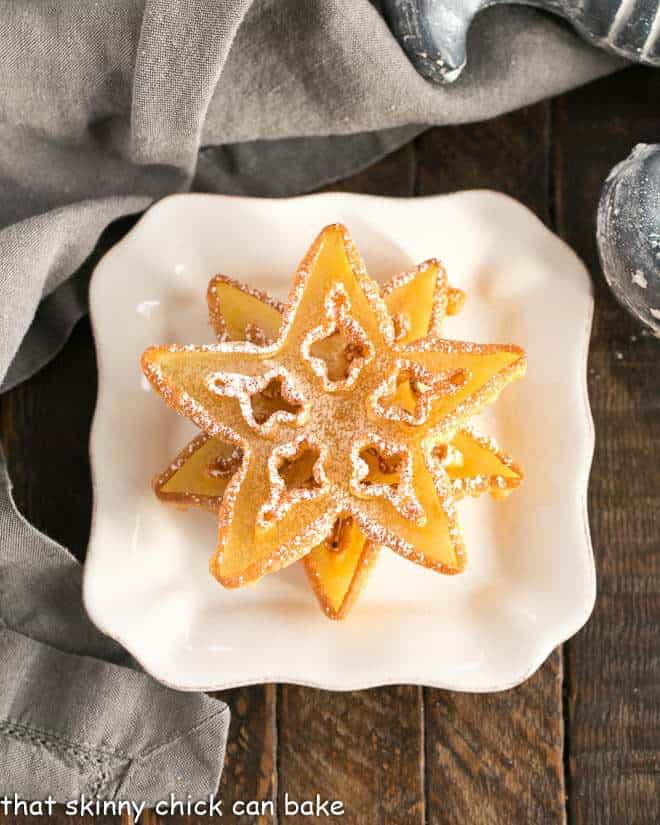 Prep Time 5 minutes
Cook Time 1 hour
Total Time 1 hour 5 minutes
Yield 36
A beautiful Christmas/holiday cookie!
Ingredients
2 eggs
1 tablespoon sugar
1 cup flour
1 cup milk
2 teaspoons vanilla
1/4 teaspoon salt
Powdered sugar for dusting
Canola oil (or lard) for deep frying
Instructions
Combine egg, sugar, and salt and whisk to combine. Add remaining ingredients and mix till smooth.
Heat oil in deep-fryer or deep, heavy saucepan to 375º.
Heat rosette iron in oil for 2 minutes. Drain excess oil from iron and dip into batter, ⅞ up the sides of the iron (batter should not run over the top of iron), then immediately into the hot oil.
Fry until golden 30 seconds or so. Remove to paper towel-lined rack to cool. Gently remove from iron with the tip of a dinner knife if needed. Repeat by reheating iron in oil for about a minute, then dipping and frying till all batter is used. Dust with powdered sugar to serve.
Notes
Recipe courtesy of my mom.
Do not overmix the batter. You do not want air bubbles.
These freeze well.
Recommended Products
As an Amazon Associate and member of other affiliate programs, I earn from qualifying purchases.
Nutrition Information:
Yield:
36
Serving Size:
1
Amount Per Serving:
Calories: 35
Total Fat: 0g
Saturated Fat: 0g
Trans Fat: 0g
Unsaturated Fat: 0g
Cholesterol: 11mg
Sodium: 22mg
Carbohydrates: 7g
Fiber: 0g
Sugar: 4g
Protein: 1g
Calories do not include the oil absorbed during the cooking process.
Note: This post may contain affiliate links; view my Disclosure Policy for details.
Note: This post may contain affiliate links; view
my Disclosure Policy
for details. I earn a small percentage from any purchase you make by clicking on these links at no extra cost to you.