Classic Coconut Macaroons Recipe
This Classic Coconut Macaroons Recipe is the BEST I've ever tasted! Perfect for with your cup of afternoon tea or bake up a big batch for the holidays.
Coconut Cookies are some of my favorites, but unfortunately, my family does not share my passion for coconut. This Alice Medrich recipe got rave reviews from my friends, and now is the gold standard of macaroon recipes.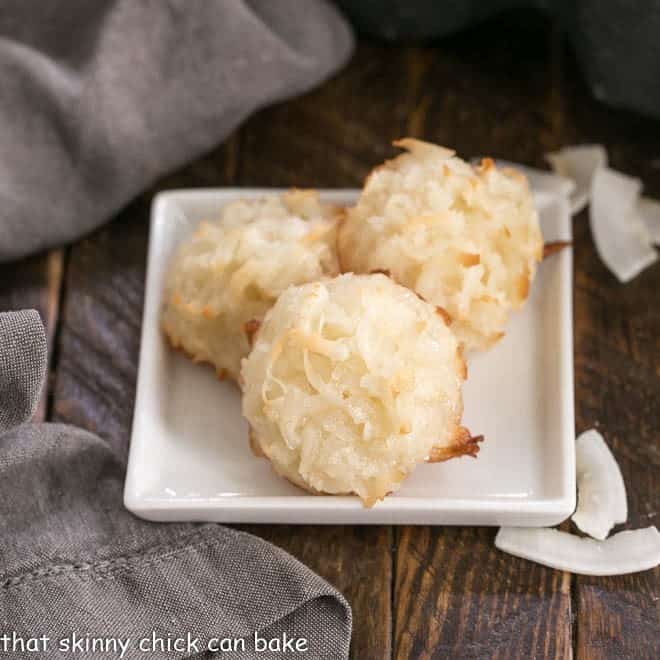 BEST Coconut Macaroons Recipe
I am the only macaroon fan in my household. It makes it hard for me to get my fill of one of my favorite cookies. But I was heading out of town to meet up with some sorority sisters for football, tailgating and lots of gabbing. I baked up a batch of brownies, a pumpkin roll with cream cheese filling and I needed a 3rd treat to share. Three's a charm, ya know. I'd had my eye on this Alice Medrich macaroon recipe for a while, so decided to bake up some classic macaroons.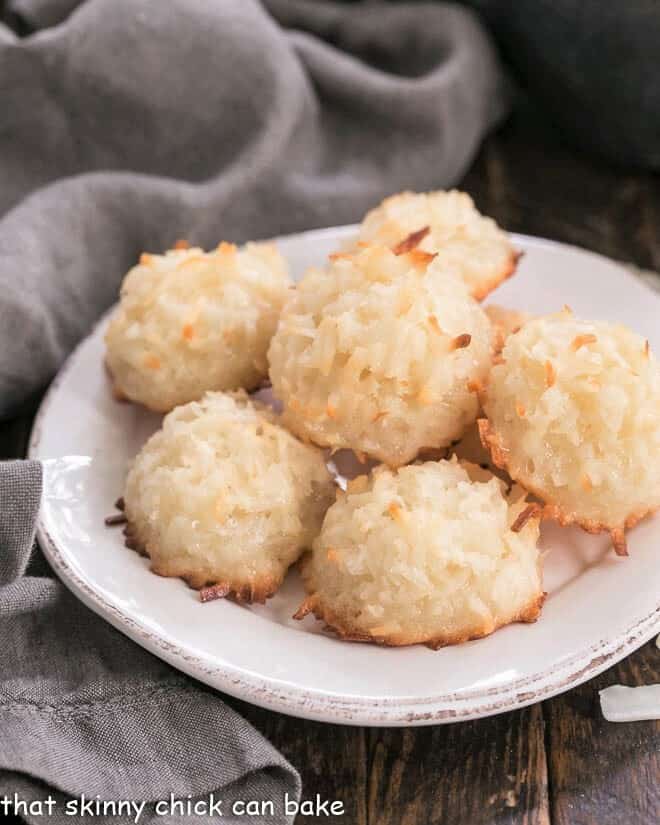 Tips for Making a Traditional Coconut Macaroon Recipe
If you're used to making a macaroon recipe with sweetened condensed milk, this recipe has an extra step. But, I promise you, it's worth the extra time.
The ingredients, egg whites, sugar, coconut, vanilla and salt, are heated in a double boiler. In this recipe from Alice Medrich, a makeshift double boiler is made by boiling water in a skillet and placing a heatproof bowl into it.
This mixture must be stirred frequently until it thickens and becomes opaque, or loses its transparency. At that point, the mixture can be taken out of the water and cooled.
After about 30 minutes, the coconut cookies scooping can begin.
I like to use a large cookie scoop to place rounds of the batter onto a parchment lined baking sheet.
To bake, the macaroons start at a higher oven temperature at first, then it's decreased after 5 minutes in the oven.
I will never make macaroons with a can of sweetened condensed milk again. This is the ultimate recipe. They're sweet, moist, chewy. Just spectacular!!! One of my local foodie friends proclaimed these the best macaroons she'd ever eaten. Go ahead, coconut lovers, give this recipe a try!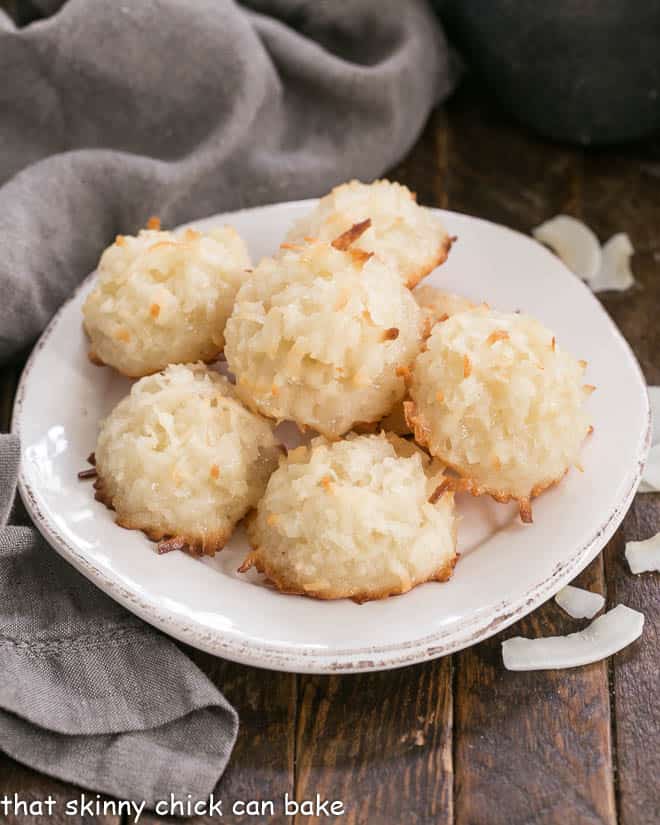 What's The Difference Between Macaroons and Macarons?
Are you unsure of the difference between Macaroons and Macarons? Well, you're not alone. Though they are both cookies, there are major differences between the two. Both recipes also call for egg whites. That's where the similarities end.
When it comes to macaroons, they're made with egg whites, sugar and coconut. Coconut is key as it's not a macaroon without coconut. Many versions are made with a can of sweetened condensed milk, which definitely makes for an easy recipe. But to taste the real classic macaroons, make a batch with egg whites. The texture of a macaroon is chewy.
Macarons are a French sandwich cookie. Best made with older egg whites, macarons also contain almond meal. Where macaroons are always coconut flavor, macarons can be made in numerous flavors and filled with just as flavor alternatives. Macroons (with the double "0") are super easy to make whereas Macarons (use your best French accent and roll your "R") are fussy. The goal when baking up your macarons is to have each "cookie" to have a "foot" or base that's a slightly different texture. The resulting macarons are not chewy, but instead crisp like a baked meringue.
You Might Like These Tools to Make This Coconut Macaroons Recipe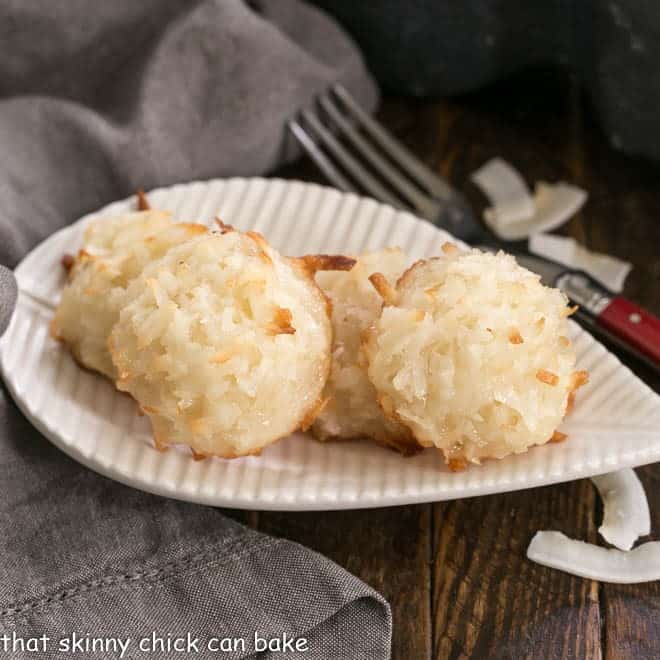 Frequently Asked Questions
How Long Do Coconut Macaroons Last?
These coconut cookies will last up to a week if stored in an air tight container at room temperature. They can also be stored in the freezer for up to 3 months.
Why Are My Macaroons Sticky?
There are a number of reasons your macaroons can be sticky. First, if they're stored in a location with high humidity, they can easily get sticky. Other possibilities include over whipping the egg whites or not baking long enough. But don't worry, even sticky macaroons are delicious!
More Coconut Recipes You'll Love:
Shopping List for Coconut Macaroons:
Check your pantry for granulated sugar, real vanilla extract and table salt
Sweetened coconut (like Baker's Angel Flake)
Eggs (whites only needed)
This post for a Coconut Macaroons Recipe was originally shared in October, 2012. Text and photos were updated in 2019.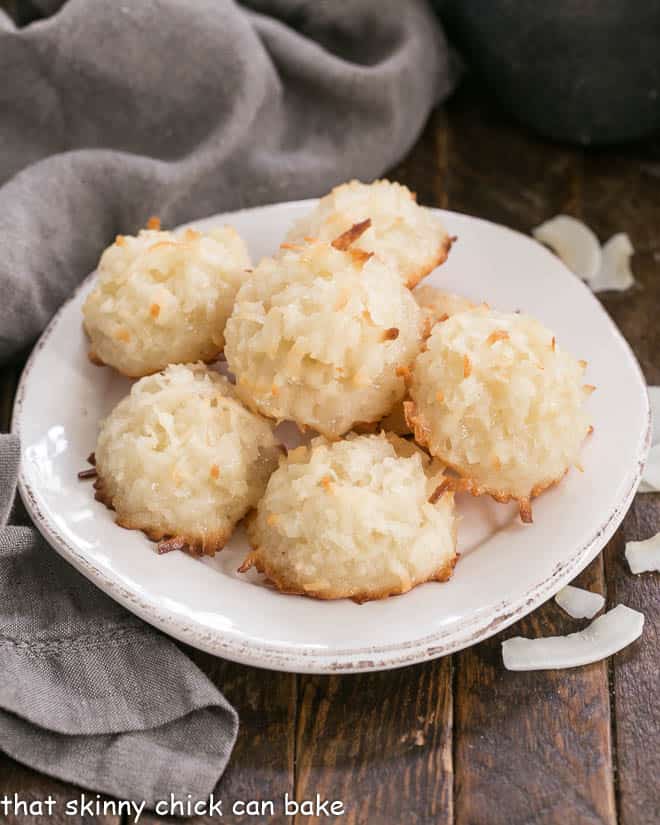 The Recipe:
Classic Coconut Macaroons Recipe
Prep Time 15 minutes
Cook Time 30 minutes
Total Time 45 minutes
Yield 16 cookies
This classic macaroon recipe from Alice Medrich is the best you'll ever make!
Ingredients
4 egg whites
3 cups sweetened coconut (like Baker's Angel Flake )
3/4 cup sugar
2 teaspoons vanilla
1/4 teaspoon salt
Instructions
Line two baking sheets with parchment. Set aside.
Fill skillet halfway with water and bring to a simmer. In heatproof bowl, combine all ingredients and place bowl into skillet. Cook, stirring frequently for about 5 minutes, till mixture thickens and becomes opaque. Remove bowl from water and let cool for about 30 minutes.
Preheat oven to 350º. Scoop out about 2 tablespoons of batter (I used a large cookie scoop) and place about 2 inches apart on baking sheets. Bake for about 5 minutes, then decrease oven temperature to 325º and bake till cookies are lightly browned with some darker edges, 10-15 more minutes.
Nutrition Information:
Yield:
16
Serving Size:
1 cookie
Amount Per Serving:
Calories: 115
Total Fat: 4g
Saturated Fat: 4g
Trans Fat: 0g
Unsaturated Fat: 0g
Cholesterol: 0mg
Sodium: 92mg
Carbohydrates: 18g
Fiber: 2g
Sugar: 15g
Protein: 1g
Note: This post may contain affiliate links; view
my Disclosure Policy
for details. I earn a small percentage from any purchase you make by clicking on these links at no extra cost to you.