Coconut Cream Pie
Coconut cream pie is creamy and decadent, making it the perfect holiday dessert. A coconut crust filled with creamy coconut laden custard, with a decadent whipped cream topping. This easy cream pie recipe will give everyone at your holiday table something to be thankful for!
This decadent coconut dessert is inspired by Tom Douglas, the renowned Seattle restauranteur.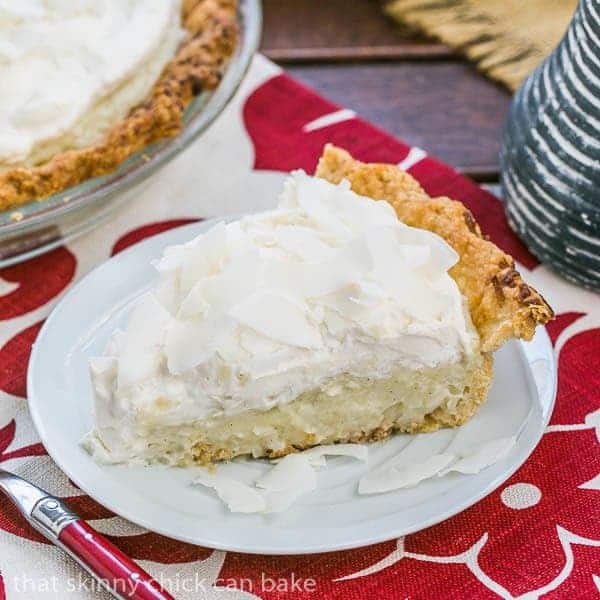 Coconut Cream Pie
You either love or hate coconut. I've been a lover ever since I had a bite of my first coconut filled chocolate in a Whitman sampler as a child. My sisters and I would walk down to Campustown to Ben Franklin's and buy my mom a box of sweets for her birthday or Mother's Day.
I'm not sure it was a totally altruistic move, as I think we ate way more of the confections than she did. Unfortunately, the hubby is on the other side of the fence. Not a coconut fan at all. So I made this luscious Coconut Cream Pie when we had some friends over for brunch. I'd get my fix and could send the leftovers home with our company. Win-win!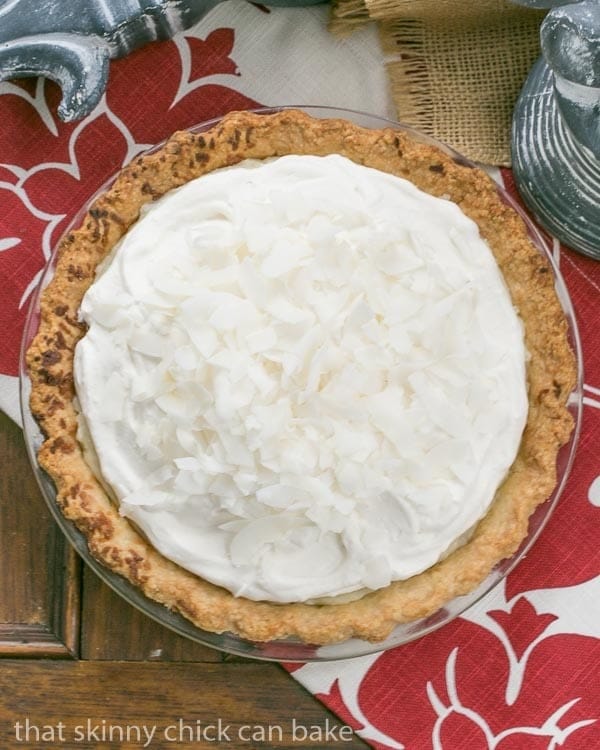 The Best Coconut Cream Pie Recipe
We gorged on homemade sausage, grilled bacon, chicken crepes, and a spinach and Gruyere strata. Then out came the desserts—this coconut cream pie and a strawberry cheesecake trifle. One of our guests asked for a take-home serving of the pie, stating that he didn't even like cream pies nor coconut, but this dessert obviously won him over.
His wife reported that he ate a nice slab for his dinner that night! Now if that isn't a ringing endorsement, I don't know what is! I kept sampling sliver after sliver. I should have just cut myself a slice. If you're a coconut fan, this is the pie for you!!
To make this coconut cream pie recipe, you may need:
More Pies You'll Love: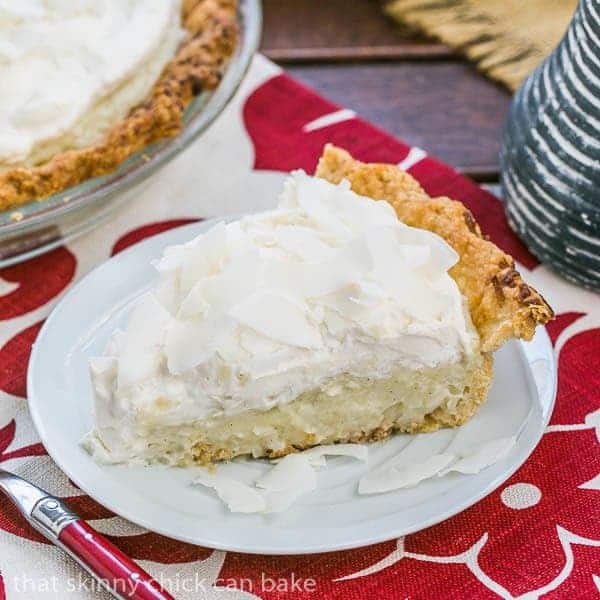 The Recipe:
Coconut Cream Pie
Prep Time 30 minutes
Cook Time 15 minutes
Total Time 45 minutes
Yield 8 servings
A decadent, coconut packed cream pie adapted from Tom Douglas
Ingredients
For the coconut filling
1 cup milk
1 cup coconut milk (stir first)
2 cups sweetened shredded coconut
1 vanilla bean, split in half lengthwise
2 eggs
1/2 cup plus 2 tablespoons sugar
3 tablespoons flour
1/4 cup (1/2 stick) butter, at room temperature
For the coconut crust:
Dough for a 9-inch pastry crust, homemade or store bought
1/2-1/4 cup of sweetened coconut
Topping:
1 cup heavy cream
1/4 cup powdered sugar
1 teaspoon vanilla
Unsweetened shredded coconut
Instructions
To make the pastry crust, roll out dough to fit a 9-inch pie plate. Sprinkle dough with coconut and roll the dough to help adhere the coconut.
Blind-bake the crust by covering the crust with a round of parchment or non-stick foil and filling with pie weights or beans. Follow your crust recipe's direction to bake (usually baking a longer time with the pie weights, then removing them to allow the crust to brown.
To make the pastry cream, combine the milk and coconut in a saucepan.
Add both the halved vanilla pod and the seeds scraped from the pod to the milk.
Cook over medium-high heat, stirring occasionally, till the mixture nears the boiling point.
In a bowl, whisk together the eggs, sugar, and flour until well combined.
Slowly whisk in about 1/3 cup of the hot milk mixture into the egg mixture (drizzle in VERY slowly and whisk constantly so the eggs don't scramble).
Then add the warmed egg mixture back into the saucepan. Whisk over medium-high heat until the pastry cream thickens and begins to bubble.
Keep whisking and cooking until the mixture is very thick, 4 to 5 minutes more.
Remove the saucepan from the heat. Add the butter and whisk until it melts. Remove the vanilla pod.
Place the pastry cream in a bowl and place it over a bowl of ice water to chill. Stir occasionally until it is cool.
Place a piece of plastic wrap directly on the surface of the pastry cream and refrigerate till well chilled
.When the pastry cream is cold, fill the cooled pastry shell and smooth the surface.
Make the whipped cream topping by beating the cream with the powdered sugar and vanilla till the cream holds firm peaks when the beater is lifted from the bowl.
Top the filling with whipped cream.
For the garnish, sprinkle the unsweetened coconut over the whipped cream.
Nutrition Information:
Yield:
8
Serving Size:
1 slice
Amount Per Serving:
Calories: 543
Total Fat: 38g
Saturated Fat: 26g
Trans Fat: 0g
Unsaturated Fat: 9g
Cholesterol: 88mg
Sodium: 283mg
Carbohydrates: 47g
Fiber: 4g
Sugar: 20g
Protein: 7g
Note: This post may contain affiliate links; view
my Disclosure Policy
for details. I earn a small percentage from any purchase you make by clicking on these links at no extra cost to you.