Stained Glass Cookies
Stained glass cookies are an easy holiday cookie to make, plus they are showstoppers! Jaws will drop when you reveal that you made them!
When I saw that the Tuesdays with Dorie group was making Stained Glass Sugar Cookies, I knew these picture-perfect cookies would be ideal for our annual neighborhood cookie exchange!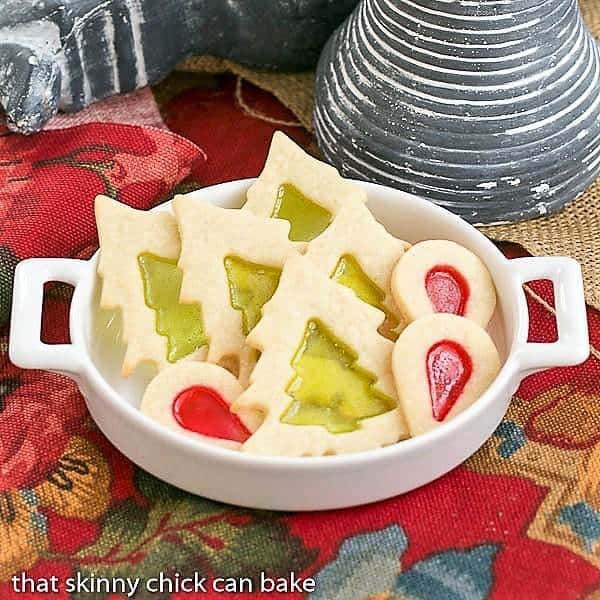 Why You Must Make
They're really no more difficult than making regular cut-out sugar cookies!
They will be the talk of any party! Everyone (especially non-bakers!) will ask how you made them. Or where you bought them!
They are super festive and perfect as Hanukkah cookies, too. Cut out round cookies, then use a small dreidel cookie cutter in the center.
It was time for our annual neighborhood cookie exchange and I needed a new recipe to try! I love perusing through Christmas Cooking Roundups like 50 of the Best Holiday Cookies, The Top Ten Holiday Cookies, or 25 of The Best Christmas Cookies Recipes for inspiration. Knowing that Dorie Greenspan had a recipe for stained glass sugar cookies that my "Dorista" pals were trying helped seal the deal.


Expert Tips
Smashing the Jolly Ranchers to smithereens definitely brought familiar scents to the forefront. They were a childhood treat while we hiked in Colorado! PRO-Tip: To make sure the candies melt properly, they need to be pulverized to nearly a powder. A few slightly bigger pieces seemed to be fine.
PRO-Tip: Jolly Ranchers are the candy to use. Lifesavers don't work as well.
Be prepared for a mess. I placed the candies inside of two Ziploc bags and pounded them with my metal meat mallet. The shards of candy broke through both thick layers of plastic so beware. I haven't tested grinding some smashed candies in a food processor, but that should work.
A non-spreading roll-out sugar cookie recipe is imperative. And chilling the dough before rolling helps, too.
PRO-Tip: Don't roll your dough too thin as you'll want a deep enough "well" in the middle to add the crushed candy. 1/4-inch thickness works well, but if you like thinner cookies 1/8-inch should be fine.
You can cut any shape of cookie you'd like, then find a smaller cookie cutter that works well with your shape to cut out a window or two.
You can bake the mini cookies cut from the centers, too.
PRO-Tip: Carefully fill the centers with the candy dust. Any that lands on and is not removed from the dough will mar the cookie.
A small silicone brush is the perfect tool to remove any candy crumbs that spill over onto the cookie dough.
A pointed grapefruit spoon helps place the powdered candy into the window openings.
If you'd like to make ornaments or use as a gift tag on a present, make a hole in the cookie with a skewer before baking. You may need to widen it as soon as the cookies come out of the oven if your opening isn't big enough.
PRO tip: Also, make sure to bake on parchment paper or a Silpat so that the melted candy doesn't adhere to your baking sheet.
Cool completely before moving the cookies from the baking sheet to a cooling rack. The candy middle needs to solidify.
I went to Alton Brown for his sugar cookie recipe and the dough worked beautifully! I also read through Dorie Greenspan's recipe in Baking Chez Moi and used some of her tips and her baking times. My friends were quite impressed with these Stained Glass Cookies. They're so VERY festive!!!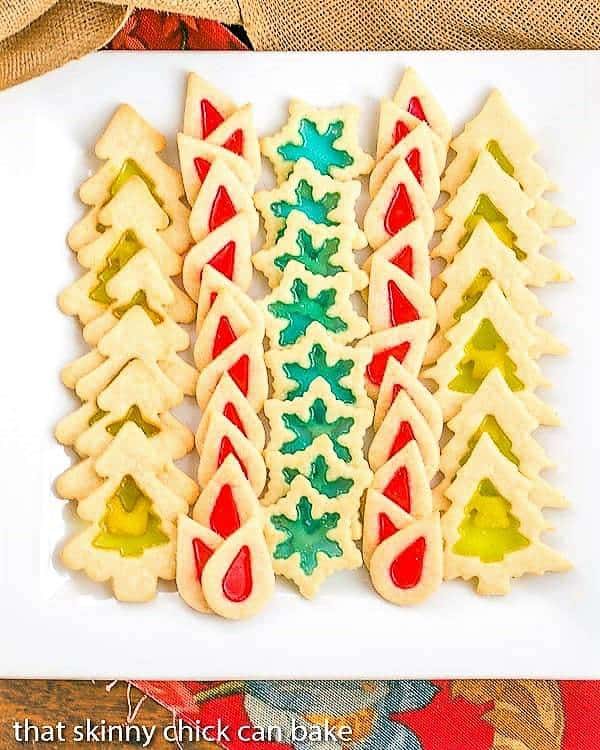 Frequently Asked Questions
Are These Cookies Hard to Eat?
Knowing how hard a Jolly Rancher is, you might wonder if these cookies are difficult to eat. Fortunately, the candy windowpane is thin enough that you can easily bite through the candy centers.
Can You Use Different Shapes?
Yes, feel free to use any shaped cookie cutters. The smaller cookie cutter can be the same shape as the larger cutter like with these cookies or you can mix and match.
Can You Use Different Candies?
Jolly Ranchers definitely work better than Lifesavers, as the latter doesn't always bake up clear. Suckers, such as Dum Dums, are another good option.
Can You Freeze Stained Glass Cookies?
Knowing that the "glass portion" can get sticky when baked on a humid day, I don't recommend freezing them. I haven't tested this, but the middles could potentially get sticky when they defrost.
You May Also Like:
These are all wonderful contenders for your next cookie exchange or holiday gathering!
Stay in touch through social media @ Instagram, Facebook, and Pinterest. Don't forget to tag me when you try one of my recipes! And if you love the results, please give it a 5-star rating in the recipe card. Note: As an Amazon Associate, I earn from qualifying purchases. Visit my Amazon Store for my favorite products.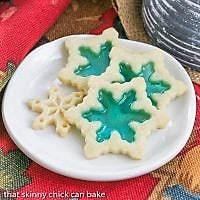 The Recipe:
Stained Glass Cookies
Prep Time 40 minutes
Cook Time 8 minutes
Total Time 48 minutes
Yield 48
Perfectly festive cookies for the holidays! Sugar cookie recipe adapted from Alton Brown.
Ingredients
3 cups flour
¾ teaspoon baking powder
¼ teaspoon salt
1 cup butter, softened
1 cup sugar
1 egg
1 tablespoon milk
Powdered sugar, for rolling out dough
Jolly Ranchers candies, separated into colors and smashed into a powder (about 15-20 total)
Instructions
Whisk together flour, baking powder, and salt. Set aside.
In a stand mixer, beat together butter and sugar until light in color.
Add egg and milk and beat to combine.
With the mixer on low speed, slowly add flour, and beat until the mixture pulls away from the side of the bowl.
Wrap the dough in plastic wrap and refrigerate for 2 hours.
Preheat oven to 350º.
Sprinkle the surface where you will roll out the dough with powdered sugar. Roll out dough to ¼-⅛-inch thick.
Cut into desired shapes.
Next, find a smaller cookie cutter in the same shape, then cut out a center section of the larger version with a smaller cookie cutter to make a "window".
Place the cookies with the cut-out about 1 inch apart on a parchment-lined baking sheet.
Carefully spoon some of the crushed Jolly Ranchers into the middle of each cookie. Brush any that lands on the dough towards the middle with a dry pastry brush (or clean paintbrush).
Bake for 7 to 8 minutes or until cookies are just beginning to turn brown around the edges
Cool for a few minutes on the baking sheet to let the candy solidify, then move to a cooling rack to finish cooling.
Notes
You will need coordinating cookie cutters, one smaller of a similar shape to cut out the opening for the "window."
Recommended Products
As an Amazon Associate and member of other affiliate programs, I earn from qualifying purchases.
Nutrition Information:
Yield:
24
Serving Size:
2 cookies
Amount Per Serving:
Calories: 224
Total Fat: 10g
Saturated Fat: 6g
Trans Fat: 0g
Unsaturated Fat: 4g
Cholesterol: 28mg
Sodium: 141mg
Carbohydrates: 31g
Fiber: 1g
Sugar: 14g
Protein: 2g
I pulled out the cherry, sour apple and blue raspberry candies from the bag of Jolly Ranchers to use for the windows of these stained glass cookies. The fruity aromas reminded me of hiking the trails near Aspen with my family.
My dad would always have a stash of lemon drops and Jolly Ranchers in the exterior pocket of his backpack. I was partial to grape and needed a continual supply of as we huffed and puffed our way over switchbacks, through meadows and forests to our destination.
Note: This post may contain affiliate links; view
my Disclosure Policy
for details. I earn a small percentage from any purchase you make by clicking on these links at no extra cost to you.