Holiday Pinwheel Cookies
These sweet, buttery Holiday Pinwheel Cookies are a fun Christmas cookie to add to your baking list! So festive decked in red and green!
This out-of-the-ordinary Christmas Cookie Recipe will make your holiday treats stand out! These may take a little more work, but your effort will be repaid in rave reviews!!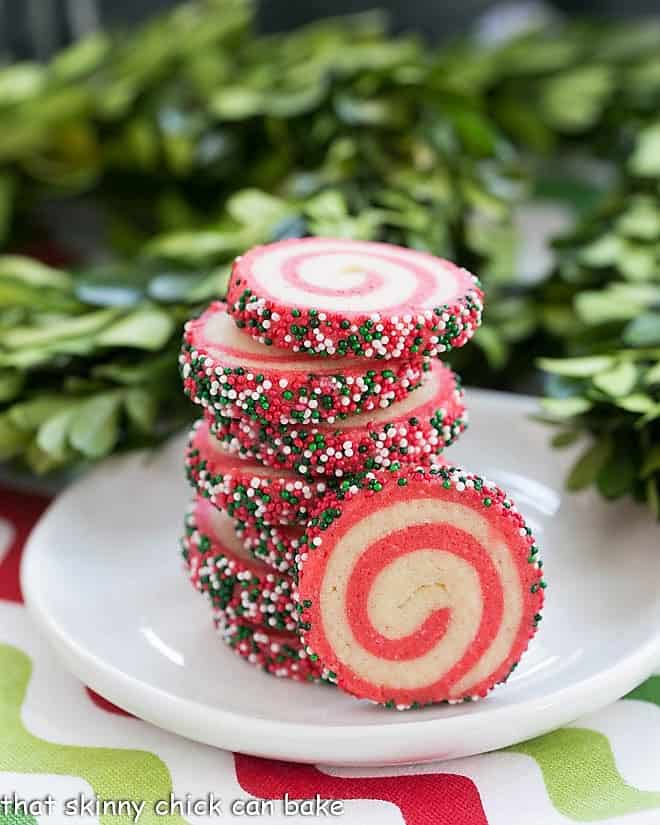 Why You Must Make
I saw loads of perfect pinwheel cookies on Pinterest last year. Red and green layers in gorgeous spirals. So festive. This is a recipe that is made to impress!!
I turned to dessert guru, Gale Gand, and tweaked her vanilla and chocolate pinwheels into these holiday pinwheel cookies. Pretty nice, eh? And the cool part is that you can store rolls of these in your freezer to slice and bake as the need arises.
Holiday Pinwheels are perfect for gift giving. I also love this date version or these festive cranberry pecan numbers! There's a little time involved with rolling and chilling, but the results are worth the effort!
Expert Tips:
After the dough is mixed, use a kitchen scale to divide it evenly in half.
One half will stay white and the other will be colored with red gel food coloring. It will take much more food coloring than you'd use in a frosting recipe to get a deep enough color for a red dough.
I have a clear plastic ruler which I kept near the dough as I rolled it to help with the measurements.
When it was time to roll the strips of dough into 6 x 7-inch rectangles, I used a piece of parchment to mark the same dimensions on the back to aid with the process.
Since a plain rectangle of dough is stacked on a red rectangle of dough to roll the pinwheel log, it's important they're of similar sizes. Use the ruler and a knife to trim off any excess dough as needed.
Keeping the dough cold is imperative. It will slice better and won't squish into oblong shapes instead of nice circles. And if your log has a flat side due to its resting time in the fridge, just re-roll it into a perfect cylinder before slicing. These pinwheel cookies are guaranteed to impress!
Well-wrapped cylinders of pinwheel dough will keep in the freezer for up to 3 months. Defrost it in the refrigerator overnight, then slice and bake.
Tip of the Day: Rolls of this frozen cookie dough would make great holiday gifts. Just wrap the frozen logs in parchment paper, twist the ends, and secure them with festive ribbons. Attach baking instructions on a coordinating tag and you're set.

How to Make
Here are a few shots showing the procedure to roll and cut these pinwheel cookies.
Cut the dough squares into four logs before rolling.
Roll the plain dough into a 6 x 7-inch rectangle. Note the pencil markings of dimensions on the back of the parchment paper.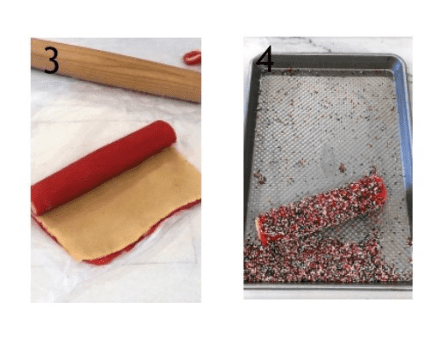 Place the plain dough over the red dough and Roll it into a cylinder.
Roll the dough log in holiday sprinkles. Use a very lightly dampened finger to make the dough tackier in areas where the sprinkles do not stick.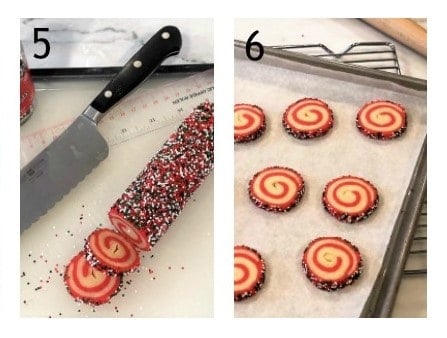 Slice the chilled log of dough into cookie dough rounds.
Place the slices on a baking sheet lined with parchment. Bake as directed.
Frequently Asked Questions
What Are Pinwheel Cookies?
Pinwheel cookies are spiraled rolled cookies made of two different colored or flavored doughs rolled together. They can also be made with one dough and a filling rolled together, like date pinwheels.
How Do You Make Pinwheel Cookies?
They're easier than you think! For these holiday pinwheels, one dough is made, but half is tinted with food coloring. Basically, part of each colored dough is rolled out and stacked, then the stack is rolled into a log. After chilling to allow the dough to firm up a bit, it can be sliced into rounds, rolled in sprinkles if desired, and baked.
How Do You Roll Pinwheels?
Use the parchment to assist you with rolling the dough into logs. This keeps the surface smooth and free of indentations from your fingers. Once it's chilled, you can gently roll each log back and forth while still in the parchment to make sure the log is nice and round.
You May Also Like: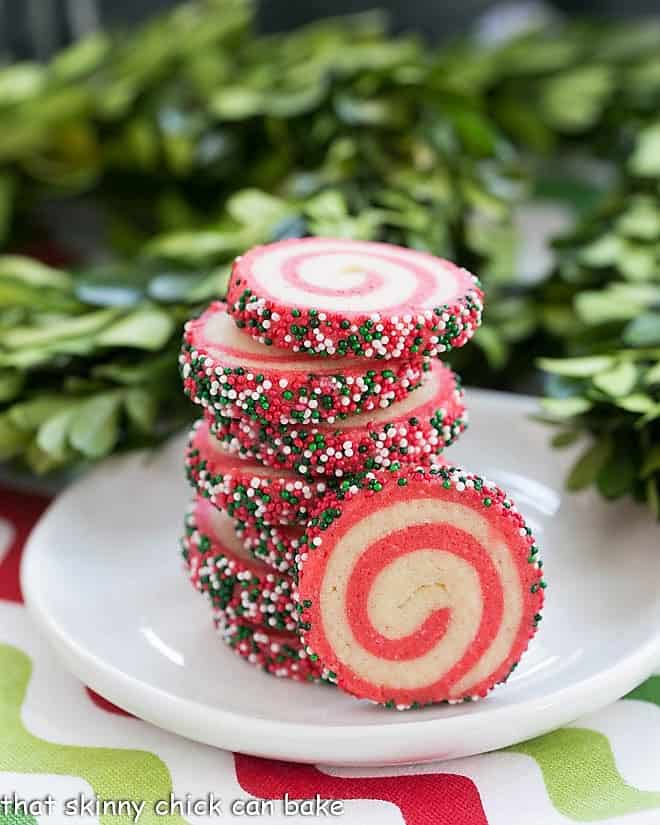 The Recipe:
Holiday Pinwheel Cookies
Prep Time 30 minutes
Cook Time 11 minutes
Total Time 41 minutes
Yield 80 cookies
Buttery holiday cookies adapted from Gale Gand
Ingredients
3 cups flour
1/2 teaspoon baking powder
1/2 teaspoon salt
1 cup butter, at room temperature
1 1/3 cups sugar
2 large eggs
2 teaspoons vanilla extract
Red food coloring paste
Colored sugar or sprinkles of your choice
Instructions
In a standing mixer fitted with the paddle attachment, beat butter until fluffy, about 3 minutes. Add sugar and beat until light and fluffy, about 2 minutes more.
Add eggs 1 at a time, beating after each addition, then beat in vanilla. Add flour, baking powder, and salt and beat on low just until combined.
Divide dough in half (I used a scale). Form 1 half into 4- by 4-inch square, wrap in plastic wrap and set aside. Return the other half of the dough to the mixer and keep adding red food coloring till you reach the desired color.
Form into 4- by 4-inch square and wrap in plastic wrap. Refrigerate both squares of dough for 30 minutes.
Line a large baking sheet with parchment paper. Cut each dough square into 4 strips. Place 3 strips of the red dough and 4 strips of vanilla dough on a baking sheet and refrigerate. On a lightly floured piece of parchment, roll out a strip of red dough into a 6- by 7-inch rectangle (use a ruler to make sure dimensions are exact).
Remove 1 strip of vanilla dough from the refrigerator and, on another lightly floured piece of parchment, roll out into 6- by 7-inch square. Carefully place one dough sheet (using the parchment to flip) on top of the other piece aligning all the edges. Run rolling pin lightly over doughs to adhere.
Using the parchment to assist with rolling, tightly roll up the dough into a log. Wrap in plastic wrap and refrigerate. Repeat with remaining strips of dough to form 4 logs.
Refrigerate logs for 1 hour, then remove from refrigerator and roll each log on the counter several times to prevent the bottom from flattening. Roll in sprinkles or colored sugar. Rewrap. Refrigerate 3 hours more or till very firm.
Preheat oven to 350°and line two baking sheets with parchment. Using a knife, slice the dough into 1/4-inch-thick slices and place 1 1/2 inches apart on a baking sheet. Bake until vanilla dough is slightly golden, 9 to 11 minutes.
Notes
Total time: 4+ hours, including chilling time
Recommended Products
As an Amazon Associate and member of other affiliate programs, I earn from qualifying purchases.
Nutrition Information:
Yield:
40
Serving Size:
2 cookies
Amount Per Serving:
Calories: 106
Total Fat: 5g
Saturated Fat: 3g
Trans Fat: 0g
Unsaturated Fat: 2g
Cholesterol: 22mg
Sodium: 73mg
Carbohydrates: 14g
Fiber: 0g
Sugar: 7g
Protein: 1g
Note: This post may contain affiliate links; view
my Disclosure Policy
for details. I earn a small percentage from any purchase you make by clicking on these links at no extra cost to you.