Cranberry White Chocolate Cookies
These soft, chewy, Cranberry White Chocolate Cookies infused with orange zest will tantalize your taste buds and have you longing for more. They're just that irresistible!
This wonderful White Chocolate Chip Cookie recipe thrills the palate with toothsome dried cranberries, creamy white chocolate chips, and a citrus dough. Every bite is absolutely marvelous!!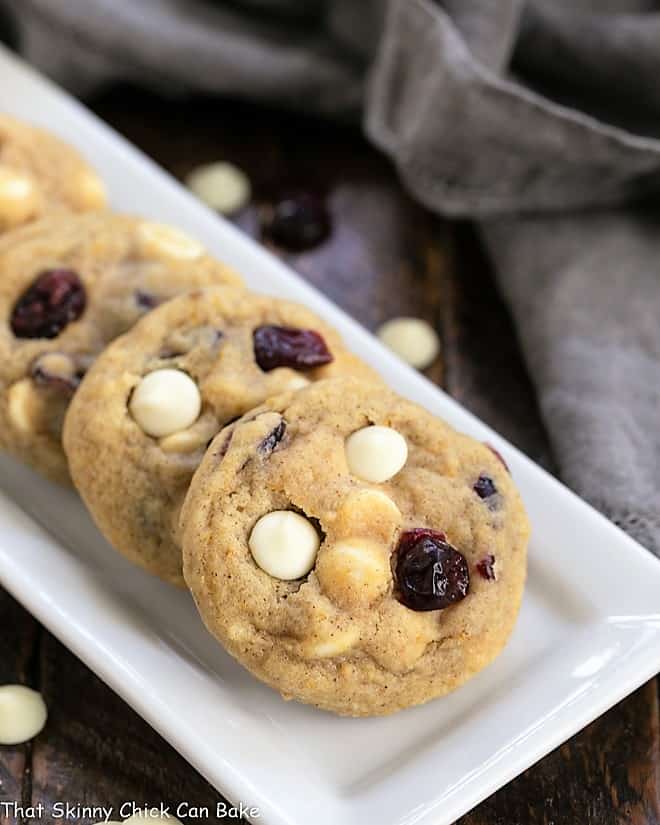 Why You'll Love these Cranberry Cookies
They are easy to make plus so tasty with chewy cranberries, sweet white chocolate and infused with flavors of both cinnamon and orange.
These cookies are perfect for the busy holidays with seasonal ingredients like cranberries and little prep work.
My friend and fellow blogger, Mary Younkin, has published her third cookbook, The Weeknight Dessert Cookbook, 80 Irresistible Recipes with Only 5 to 15 minutes of Prep! It's that tag line that reeled me in. November and December are such crazy months filled with holidays and gatherings. We ALL need easy dessert recipes to treat our friends and family! Mary pulled out all the stops with her terrific cookbook.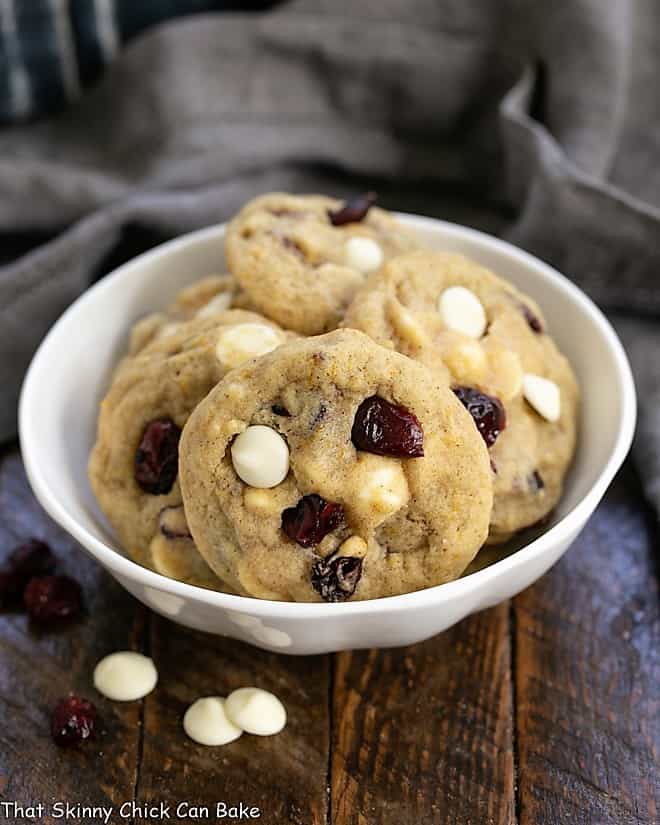 White Chocolate Chip Cookies
I'm a huge fan of white chocolate chip cookies but had not made them with both dried cranberries and orange zest. The zest was a delicious surprise as I bet into the soft, chewy cookies. Well, actually it was the orange aroma that enticed me first, and kept me longing for more!
I was heading to Denver to help my sister, Maddy, with her annual art show. These white chocolate cranberry cookies were part of the trio of sweets I was schlepping through the airways in my suitcase. It took all my willpower to keep my distance! Maddy and her husband both enjoyed our sampling the night before her open house.
Tips for Baking Chewy Cookies
Besides the terrific orange essence, it was the chewy perfection of these cookies that sold me. When it comes to making chemistry, there are a few things that will help you bake up chewy cookies.
Cookies are chewier using shortening instead of butter. But they will lack the delicious taste of butter, so I tend to use some of the other tips instead.
Alternatively, use half shortening and half butter instead of all butter.
Swap out some of the white sugar for brown sugar as brown sugar helps retain moisture. Brown sugar is actually white sugar with molasses. The molasses adds liquid/moisture to the cookies.
Look for cornstarch in the recipe. Cornstarch can soften the proteins in the all-purpose flour, making the cookies more tender.
Some recipes call for an extra egg yolk which adds fat and helps make for softer, chewier cookies. The recipe proportions in the recipes with an extra yolk have been adapted to account for the extra yolk.
Watch your baking time. Underbaking slightly helps keep cookies from becoming crisp and keeps hem soft and chewy. Mary instructs us to pull the cookies out of the oven when they're "round and pillowy," but not browned at all.
Once the cookies are cool, store them in an airtight container. This will help keep your cookies soft. Adding a slice of fresh bread to the container provides some moisture and helps keep soft cookies from getting hard as quickly.
These white chocolate chip cookies freeze well for up to 3 months. Freezing those you will not eat in 3 days or less will help keep them from getting stale and give you a stash for a yummy treat in the future!
More Cookie Recipes You'll Love:
With the addition of dried cranberries, these white chocolate cranberry cookies are festive enough for the holidays. Make a double batch. Some to keep and some to parcel out to friends. I made one batch of smaller cookies and just baked them a minute or two less. The two-bite-sized cookies were perfect for the 200-300 folks who visited Maddy's home and studio. We had quite the spread! Here are a few more of my favorite cookie recipes:
Add to Your Shopping List:
Check your pantry staples for light brown sugar, white sugar, all-purpose flour, ground cinnamon
Baking soda (check expiration date)
Butter
Eggs
Real vanilla extract
Fresh orange (for zest)
Cornstarch
Dried cranberries or Craisins
White Chocolate Chips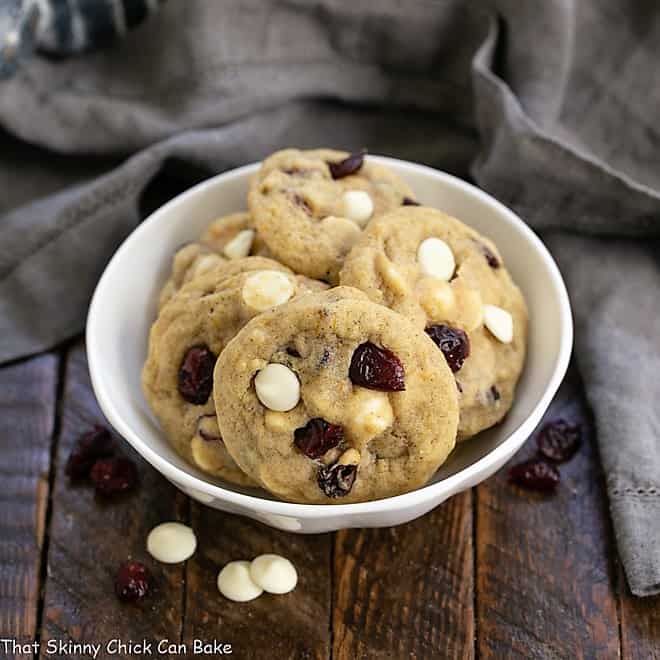 The Recipe:
Cranberry White Chocolate Cookies Recipe
Prep Time 20 minutes
Cook Time 1 hour 51 minutes
Total Time 2 hours 11 minutes
Yield 18 cookies
Infused with orange zest and full of white chocolate chips and dried cranberries, these cookies are impossible to resist!
Ingredients
6 tablespoons butter, at room temperature
1/3 cup light brown sugar
1/3 cup sugar
1 egg
2 teaspoons vanilla extract
1 tablespoon orange zest (from one large orange)
1 cup plus 2 tablespoons flour
2 tablespoons cornstarch
1/2 teaspoon baking soda
3/4 teaspoon cinnamon
1 cup dried cranberries (I use Craisins)
1 cup white chocolate chips
Instructions
Preheat oven to 350 degrees. Line a baking sheet with parchment or a silicone mat.
In a large bowl, cream together the butter, brown sugar and white sugar until light and fluffy, Add the egg, vanilla and orange zest and beat until smooth.
Add the flour, cornstarch, baking soda, and cinnamon and mix just until incorporated. Stir in the cranberries and white chocolate chips until evenly incorporated.
Use a #40 (2-tablespoon) cookie scoop to portion out the dough into balls. Place them on the prepared baking sheet. Bake 9-11 minutes. Remove from the oven when they're puffy and barely cooked through--do not let them brown. The cookies should be round and pillowy (and not browned at all) when they're ready to come out of the oven.
Let them cool for 1 minute on the baking sheet, then transfer to a wire rack to finish cooling.
Store completely cooled cookies in an airtight container.
Nutrition Information:
Yield:
18
Serving Size:
1 cookie
Amount Per Serving:
Calories: 151
Total Fat: 7g
Saturated Fat: 4g
Trans Fat: 0g
Unsaturated Fat: 2g
Cholesterol: 22mg
Sodium: 79mg
Carbohydrates: 22g
Fiber: 1g
Sugar: 19g
Protein: 1g
Note: This post may contain affiliate links; view
my Disclosure Policy
for details. I earn a small percentage from any purchase you make by clicking on these links at no extra cost to you.