Homemade Turkey Tetrazzini
Homemade Turkey Tetrazzini is the perfect recipe for Thanksgiving leftovers with chunks of turkey, peas, mushrooms, and a rich cream sauce. It's so easy and delicious that my family expects it every year after the holiday!!
Years ago, while looking for Turkey Leftover Recipes, I tried this Turkey Casserole on a whim. It was so well-loved by the family that it's now a post-Thanksgiving tradition!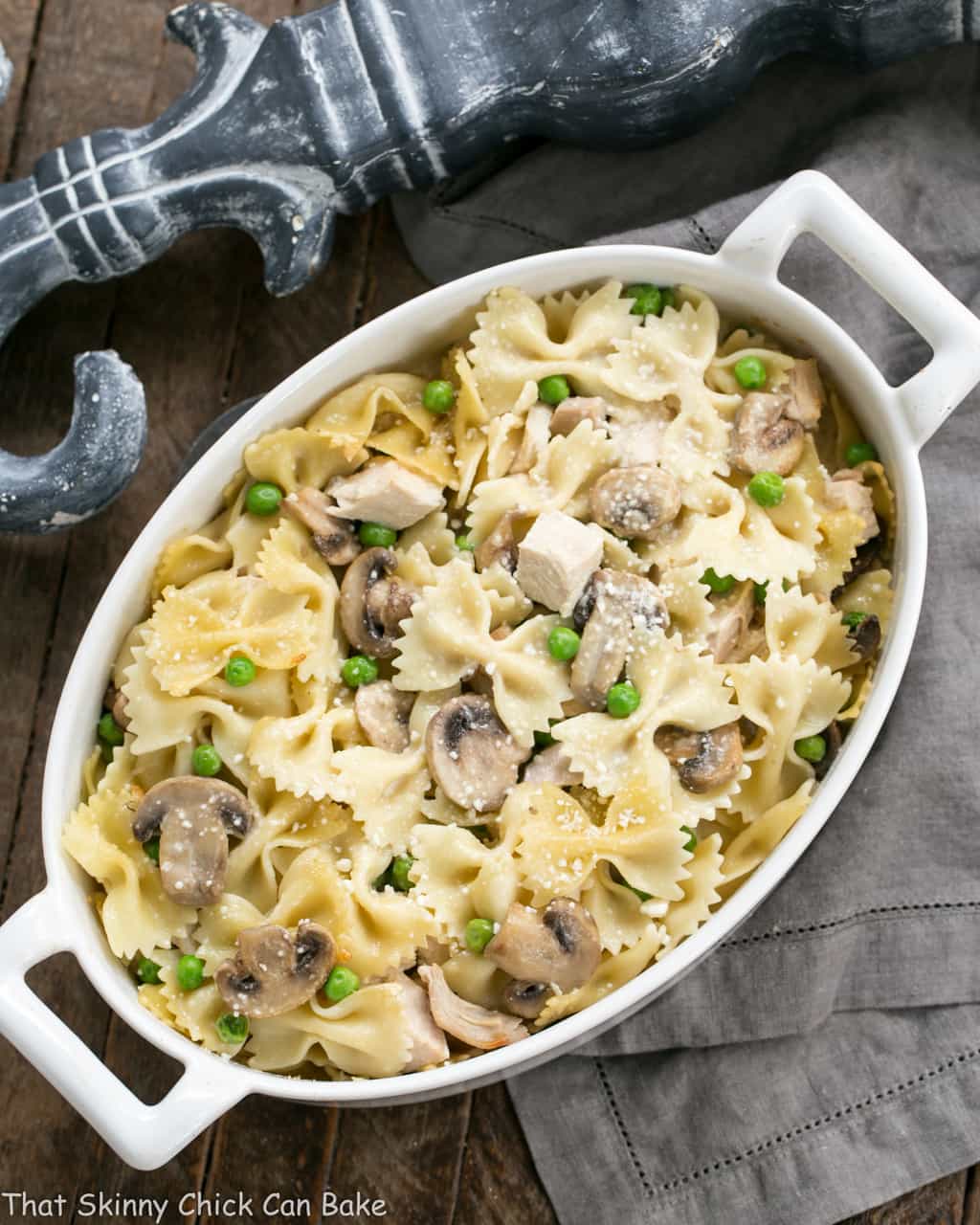 Why You Must Make
It's a terrific way to use up the last of the Thanksgiving turkey.
Made with a creamy sauce, it's delicious!
If my picky family approves, then yours will, too.
I did not grow up eating tetrazzini, in fact, I don't even think I knew what it was when I was leafing through my Joy of Cooking the day after Thanksgiving years ago. The recipe called for chicken (but I knew I could sub turkey), noodles, mushrooms, and cream, all of which I had on hand. I add peas for a pop of color and to incorporate a vegetable into the dish.
This homemade turkey casserole was meant to be. Making this casserole has become a once-a-year, post-Thanksgiving event.
The next Thanksgiving, I was asked to make this turkey leftover recipe again. Apparently, the kiddos, who were not usually fans of casserole-type dishes, approved. So our annual tradition is to eat days and days of leftover turkey, mashed potatoes, and stuffing. When there is only a bit of meat clinging to the bones, I cross my fingers and hope to pick off at least three cups from the carcass so I can whip up this tetrazzini recipe.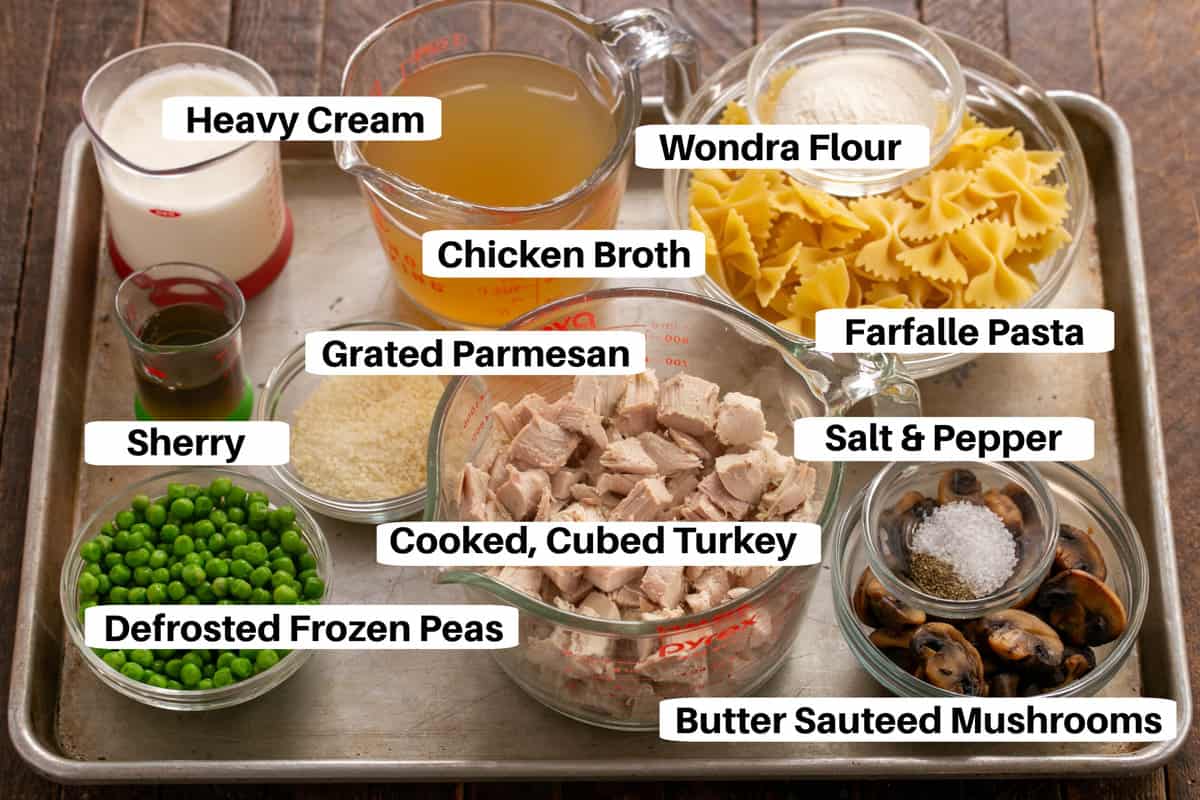 Ingredient Notes
Kitchen Staples – Butter, Salt, Freshly Ground Black Pepper
Turkey Meat (or Chicken) – 2-3 cups, cubed or shredded.
Small Pasta – 8 ounces. I like farfalle (bow ties) or orecchiette (small shells that resemble ears).
Mushrooms – I use button mushrooms, sliced in half. They will be sauteed in butter before adding to the pasta.
Peas – I use defrosted frozen peas.
White Wine – I keep cooking sherry or vermouth in my fridge to use in cooking. You can also use any white wine you happen to have open.
Flour – I prefer Wondra Flour which is a granular, quick-mixing flour that's less likely to form lumps when making sauces and gravy. If you're a gravy pro, all-purpose flour will also work well.
Chicken Broth – I use the Pacific brand. If you use another brand, you may need to reduce the added salt as some broths are very salty.
Whipping Cream – Heated. Warm gently in the microwave.
Grated Parmesan Cheese – Look for Parmesano Reggiano; never use the green can of cheese that's on the store shelf. Sprinkle over the casserole before baking.
How to Make Turkey Tetrazzini
Cut leftover turkey into bite-sized chunks or shred it into bite-sized pieces.
Cook pasta in salted water, and drain.
Saute mushrooms and taste for seasoning.
Make the sauce with chicken broth.
Add warm cream to the sauce.
Toss the pasta, turkey, mushrooms, and peas with the cream sauce.
Pour into a casserole dish, sprinkle with Parmesan, if desired, and bake until lightly browned and heated through.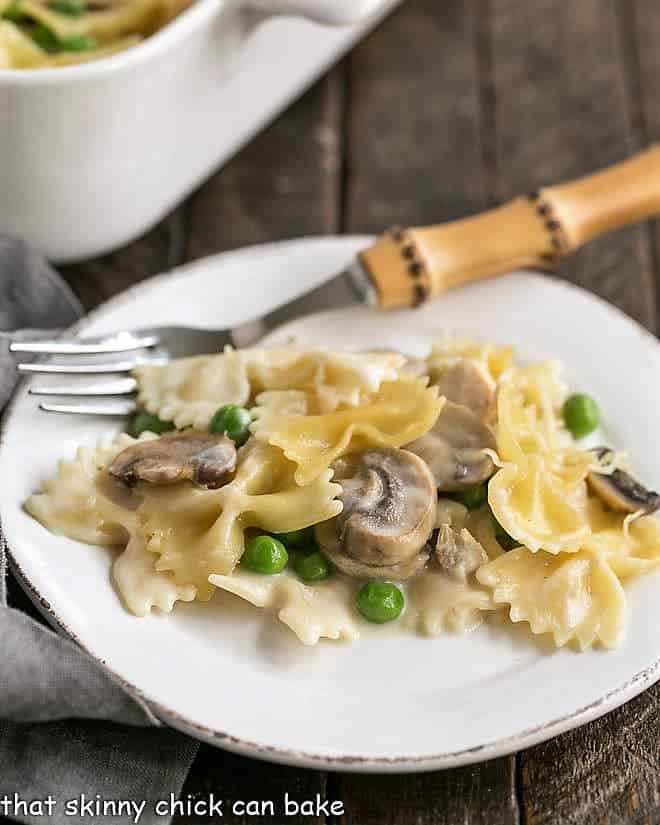 Turkey Leftover Recipes
Today, I'm sharing one of our favorite recipes utilizing Thanksgiving leftovers, and much as I'd like to cook up something new and different, Turkey Tetrazzini is always on our menu the weekend after the holiday. And I don't mind one bit.
There is always some cream in the refrigerator, leftover from whipping up a bowlful to dollop on our pumpkin pie. Grated Parmesan, frozen peas, chicken broth, and pasta are also staples. I just make sure to have fresh mushrooms on hand, though a jar or can of mushrooms is a wonderful pantry alternative.
Transformed from Thanksgiving leftovers, I hope you'll give this homemade turkey tetrazzini recipe a try. Don't forget to try it with chicken for the rest of the year!
Recipe Tips
For those gravy impaired like me, Wondra"quick mixing" flour blends easily without forming lumps. (affiliate link)
If your family loves turkey tetrazzini, you can use chicken when you don't have leftover turkey.
This recipe calls for warm whipping cream. I like to gently warm the cream in a 2 cup Pyrex liquid measuring cup, watching it carefully so it doesn't boil over and make a mess.
What to Serve with Tetrazzini
Tetrazzini has protein, carbs, and a smattering of vegetables, but a couple of side dishes are a nice addition to the menu. Garlic Bread is wonderful, plus a tossed green salad. Roasted vegetables like Parmesan Green Beans or Balsamic Carrots are delicious additions, too.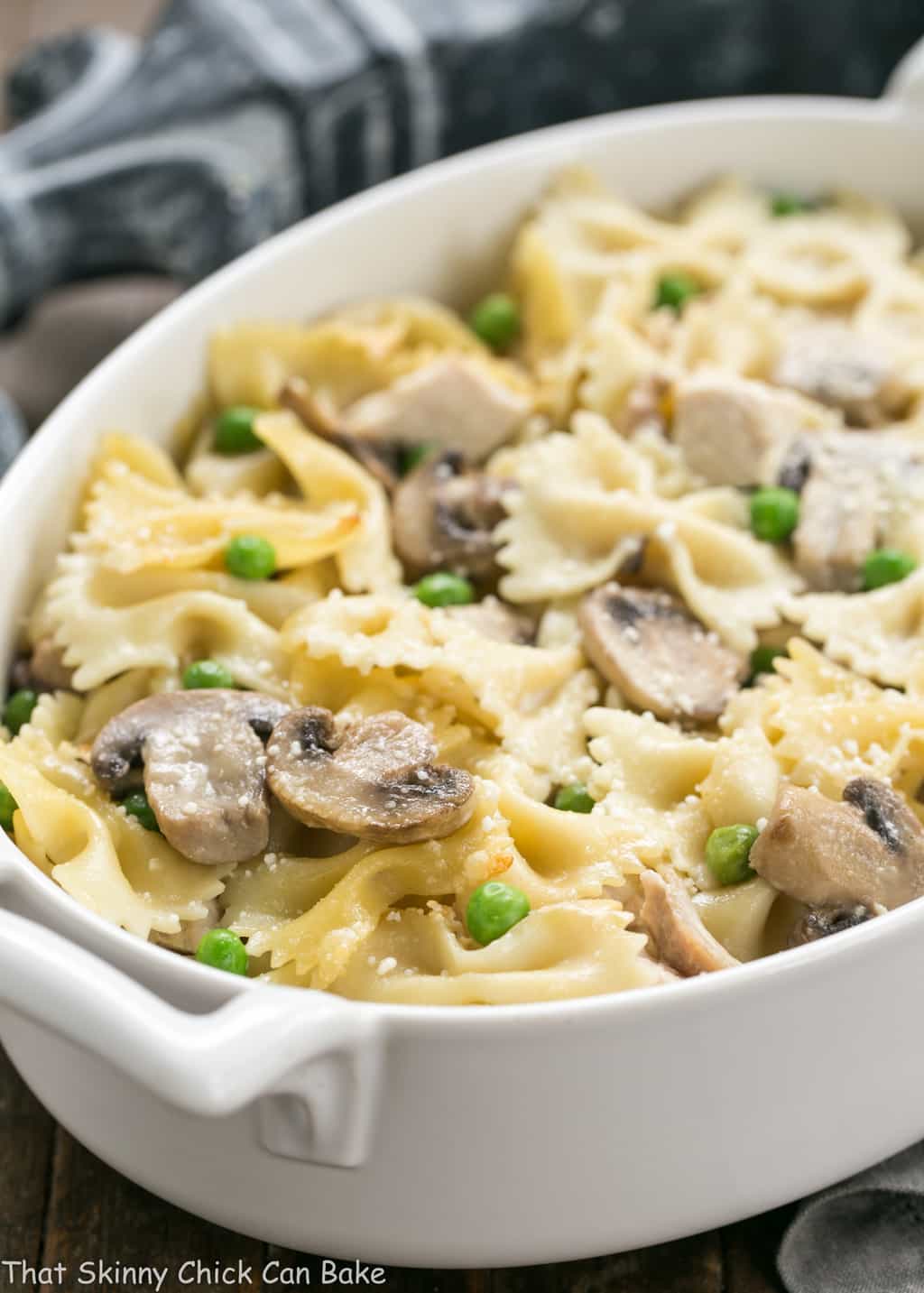 Frequently Asked Questions
What is Tetrazzini?
The original dish is a rich entree made with spaghetti, strips of chicken, and a sauce of sherry, Parmesan, and cream. It is topped with bread crumbs or Parmesan and baked until hot and bubbly.
It was said to be named after Luisa Tetrazzini, an opera singer. It is not an Italian dish, but instead American. Turkey is often substituted for chicken.
What Is the Difference Between Tetrazzini and Alfredo?
Both tetrazzini and Alfredo have a sauce made with cream and Parmesan. Alfredo also has butter and is served tossed with wide, flat fettuccine pasta. Tetrazzini is traditionally made with spaghetti and is baked.
What Else Can Be Added to Tetrazzini?
Though chicken is most classic, and turkey is an obvious substitution, shrimp is also a tasty addition. Peas are not classic but a nice addition, or even the combination of frozen peas and carrots.
For an extra cheesy casserole, add some shredded mozzarella or white cheddar towards the end of the baking time. Or you can add it to the turkey mixture before placing it in the baking dish.
Can You Make Tetrazzini Ahead of Time?
Yes, it can be prepped the day before and placed in a casserole dish. Cover tightly and store overnight in the refrigerator. The baking time will need to be extended when cooking a cold casserole.
How to Store Leftover Tetrazzini?
Keep it covered tightly in the refrigerator for 3-4 days. Leftovers can be frozen for up to 3 months if stored airtight. Just defrost overnight in the refrigerator before reheating.
You May Also Like:
Stay in touch through social media @ Instagram, Facebook, and Pinterest. Don't forget to tag me when you try one of my recipes! And if you love the results, please give it a 5-star rating in the recipe card. Note: As an Amazon Associate, I earn from qualifying purchases. Visit my Amazon Store for my favorite products.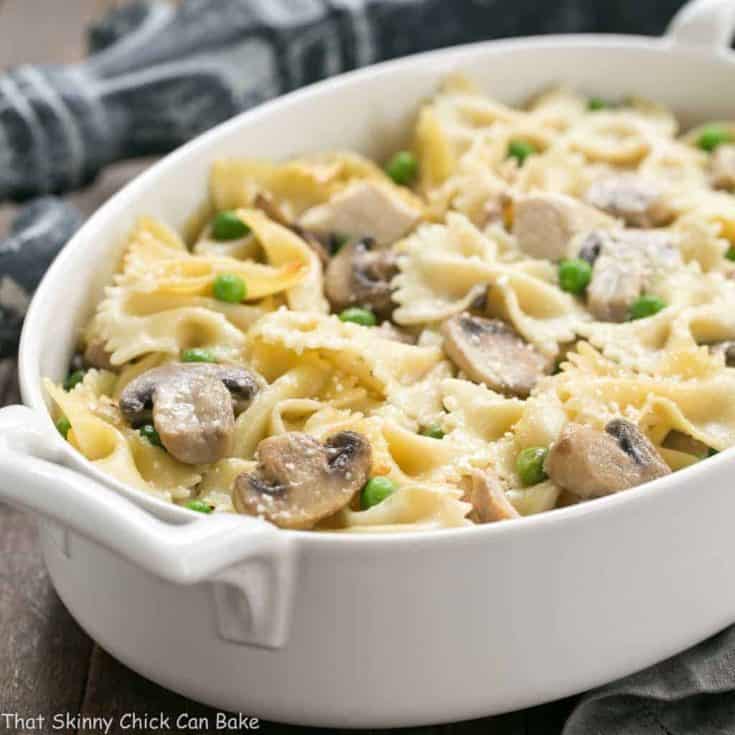 The Recipe:
Turkey Tetrazzini
Prep Time 20 minutes
Cook Time 30 minutes
Total Time 50 minutes
Yield 8 servings
A delicious pasta, turkey, mushroom and cream sauce casserole for your turkey leftovers.
Ingredients
3 cups shredded or cubed cooked turkey meat
½ pound pasta, I use orcchiette or farfalle, cooked in well-salted water and drained
½ pound (or more!) mushrooms, trimmed and cut in half or sliced
3 tablespoons sherry (or white wine)
3 tablespoons butter
3 tablespoons flour (Wondra preferred as it doesn't lump)
2 cups of chicken broth
1 cup heavy cream, warmed ( I gently heat in the microwave in a Pyrex measuring cup)
1 cup frozen peas
Salt and pepper to taste
Grated Parmesan cheese
Instructions
Preheat oven to 375°.
Sauté mushrooms in butter in a large saucepan till lightly browned. Add salt and pepper to taste. Deglaze the pan by adding sherry, cooking, and stirring until most evaporates.
Remove mushrooms and add flour to the pan. Cook for just a minute, then add the chicken broth, whisking to avoid lumps. Cook till the mixture thickens slightly.
Add the warm cream and stir to combine.
Remove from heat. Add the turkey, peas, and reserved mushrooms.
Taste for seasoning, and add more salt and pepper as needed.
Place pasta into a 9 x 13-inch baking dish (I use a smaller dish for a deeper casserole).
Add the chicken, mushrooms, and peas, and sauce to the pasta. Mix to combine.
Sprinkle with Parmesan. (Alternatively, toss the pasta with the sauce, chicken, mushrooms, and peas.
Bake till lightly browned and heated through, about 15-20 minutes.
Notes
Adapted from The Joy of Cooking
Helpful Tools (As an Amazon Associate and member of other affiliate programs, I earn from qualifying purchases).
Nutrition Information:
Yield:
8
Serving Size:
1
Amount Per Serving:
Calories: 329
Total Fat: 18g
Saturated Fat: 10g
Trans Fat: 1g
Unsaturated Fat: 6g
Cholesterol: 98mg
Sodium: 423mg
Carbohydrates: 21g
Fiber: 2g
Sugar: 3g
Protein: 21g
Note: This post may contain affiliate links; view
my Disclosure Policy
for details. I earn a small percentage from any purchase you make by clicking on these links at no extra cost to you.