Honey Balsamic Roasted Carrots
Honey Balsamic Roasted Carrots have minimal ingredients and maximum taste! Roasting accentuates the natural sweetness of carrots plus honey and balsamic add even more flavor!
I've been roasting cauliflower, broccoli, green beans and brussels sprouts for years. It was high time carrots received the same delicious treatment.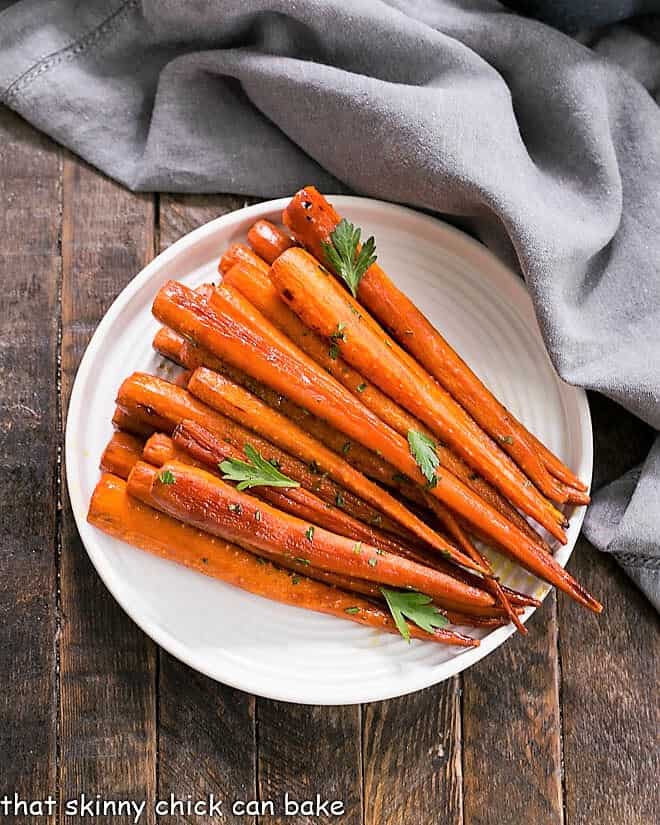 Why You'll Love Roasted Carrots
Roasting concentrates the carrots' sweetness making them super irresistible.
Adding honey ahighlights the sweetness of carrots while the acid in the balsamic brightens their flavor and balances the honey.
They're easy to make! Just cut lengthwise, add to a sheet pan, drizzle with oil, then balsamic and honey, and finally a sprinkle of kosher salt!!
The picky hubby loves my glazed carrots, which are basically carrot coins coated in brown sugar and butter. They're perfect for holidays or company. So I never got around to roasting carrots unless they were part of a vegetable medley.
Well, finally the tide has turned and I've been experimenting with roasting carrots. When the boys join us for Sunday night dinners, I test out new recipes. Roasted carrots don't last long, and these honey balsamic roasted carrots flew off the serving plate. Next up, I'm going to try these Parmesan Roasted Carrots!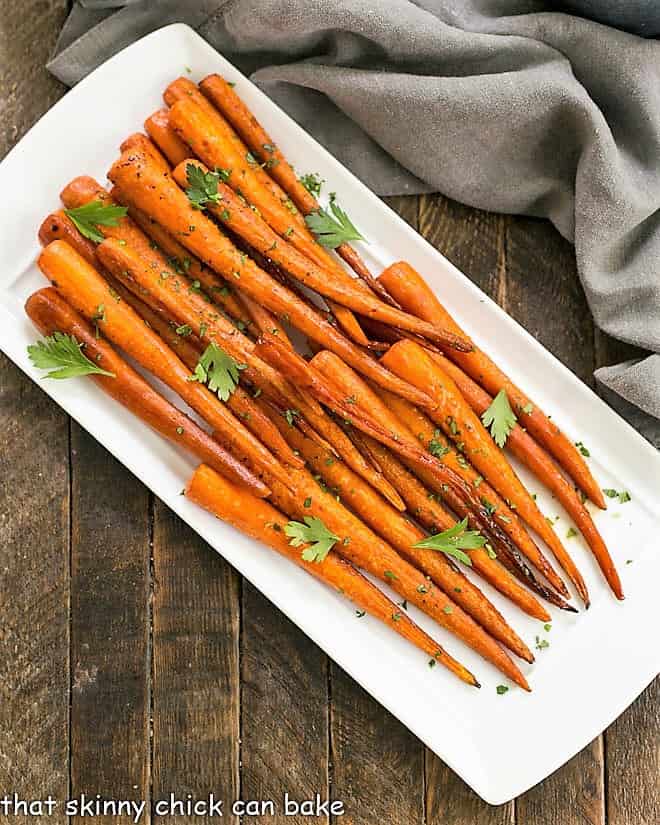 How to Roast Carrots
The process for roasting vegetables doesn't vary much except for the time the different varieties need to cook. Here are a few basic tips:
Cut or choose vegetables that are similar sizes, so they'll all be finished cooking at the same time.
PRO-Tip: Roast at high heat, like 400-450º. This will allow for nice caramelization. Caramelization is the process of breaking down the sugars in the vegetables at high heat resulting in a sweet nutty flavor as well as browning.
Lightly coat your carrots or whatever vegetable you're roasting with olive oil, then sprinkle with kosher salt and a dusting of freshly ground black pepper.
Alternatively, you can toss them in a homemade vinaigrette or add a drizzle of balsamic vinegar.
With sweet vegetables like carrots, a touch of honey accentuates the natural sugars.
Watch your vegetables carefully. They can easily go from perfectly cooked to mushy (think of bad Brussels sprouts!) in a few minutes.
Test your roasted carrots by poking with a sharp knife. You want there to be minimal resistance, but pull them out of the oven before they're too soft.

More Side Dishes You'll Love: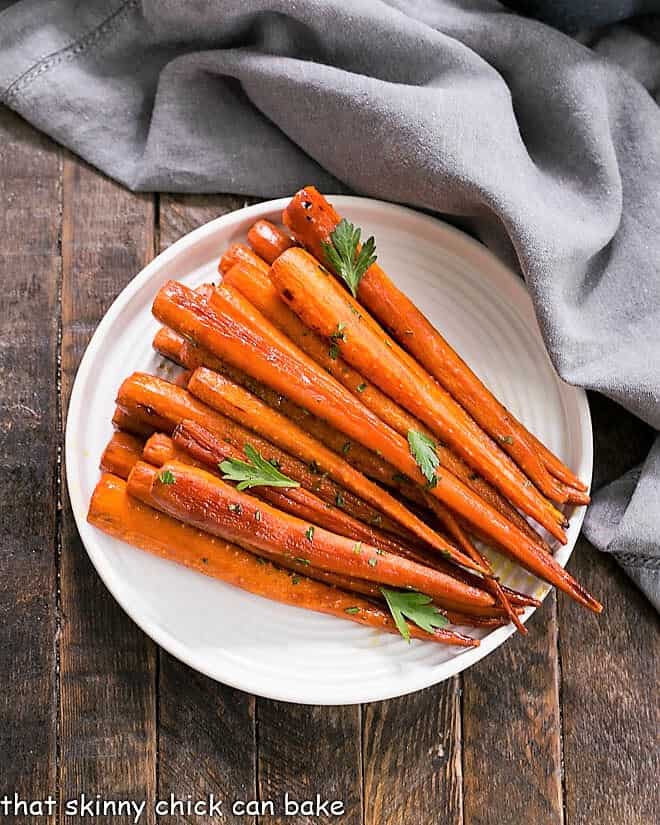 The Recipe:
Honey Balsamic Roasted Carrots
Prep Time 10 minutes
Cook Time 30 minutes
Total Time 40 minutes
Yield 4 servings
Carrots roasted with olive oil, balsamic vinegar and honey for an outstanding side dish!
Ingredients
1 1/2 pounds thin carrots, peeled and ends removed (if you can't find thin carrots, cut your carrots lengthwise)
1 1/2-2 tablespoons olive oil
1 tablespoon good quality balsamic vinegar (my favorite is aged 18 years)
1 tablespoon honey
Kosher salt, to taste
Instructions
Preheat oven to 400 degrees.
Spread your carrots out on a rimmed sheet pan. Drizzle with olive oil.
Shake the pan back and forth so the carrots are coated with oil.
Whisk together balsamic and honey, then drizzle over carrots. Sprinkle with kosher salt to taste.
Roast for 20 minutes, then using hot pads, shake the pan back and forth to coat and turn the carrots. Roast 10-20 more minutes or until carrots are tender (easily pierced with a knife).
Serve warm.
Nutrition Information:
Yield:
4
Serving Size:
1
Amount Per Serving:
Calories: 139
Total Fat: 7g
Saturated Fat: 1g
Trans Fat: 0g
Unsaturated Fat: 6g
Cholesterol: 0mg
Sodium: 245mg
Carbohydrates: 19g
Fiber: 5g
Sugar: 11g
Protein: 1g
Note: This post may contain affiliate links; view
my Disclosure Policy
for details. I earn a small percentage from any purchase you make by clicking on these links at no extra cost to you.