Garlic Parmesan Roasted Green Beans
I'm a huge fan of roasted vegetables, and these Garlic Parmesan Roasted Green Beans were a spectacular addition to our menu!
These Oven Roasted Green Beans have loads of flavor and are easy to make. Delicious for your holiday menus, but simple enough for a weeknight dinner.

Why You Must Make
They're easy to make with minimal ingredients.
If you've roasted other vegetables, you know how the process concentrates the flavor.
These can be made with fresh or frozen green beans!
Fresh green beans in the winter are hit or miss. Mainly miss. But when chatting with the produce guy at Whole Foods, he assured me that the packaged beans I was eyeing were wonderful. I nabbed up a pound and knew I'd add some roasted green beans to our menu.
Expert Tips
Make sure your vegetables are dry, so they roast instead of steam.
Give them plenty of space so the hot air can circulate and roast all sides.
Toss them lightly in olive oil. Too much oil will make them greasy.
Season after they're covered with oil so the salt, etc. will stick. Do not skip the salt.
Give them a stir at least once to give exposure to the underside of the veggies.
You'll want to see some browned spots showing the vegetables have caramelized.
If you haven't been roasting vegetables, it's time to start experimenting. The picky hubby had snubbed cauliflower most of his life. That is until I started roasting florets with Parmesan and bread crumbs. He's now a legitimate fan.
Roasting helps concentrate a vegetable's natural sweetness, plus the high heat caramelizes them and creates irresistible crispy spots. I've roasted peppers, eggplant, broccoli, onions, Brussels sprouts, and more, but it was time to give green beans a shot.
How to Roast Green Beans
Trim off the stem ends of your beans, wash, then let dry completely.
Use a large-rimmed sheet pan or even two if you have a lot of vegetables.
Spread them out into one layer. They need to be separated so they roast instead of steam and sweat. Roasting concentrates their flavor!
Drizzle with olive oil and toss. Start slowly. You can always add more, but you don't want them drenched in olive oil, just lightly coated.
Add any seasonings and toss again.
Roast at a high temperature and toss at least once during the roasting time.
Pierce with a knife to check for doneness. It should insert easily when fully cooked.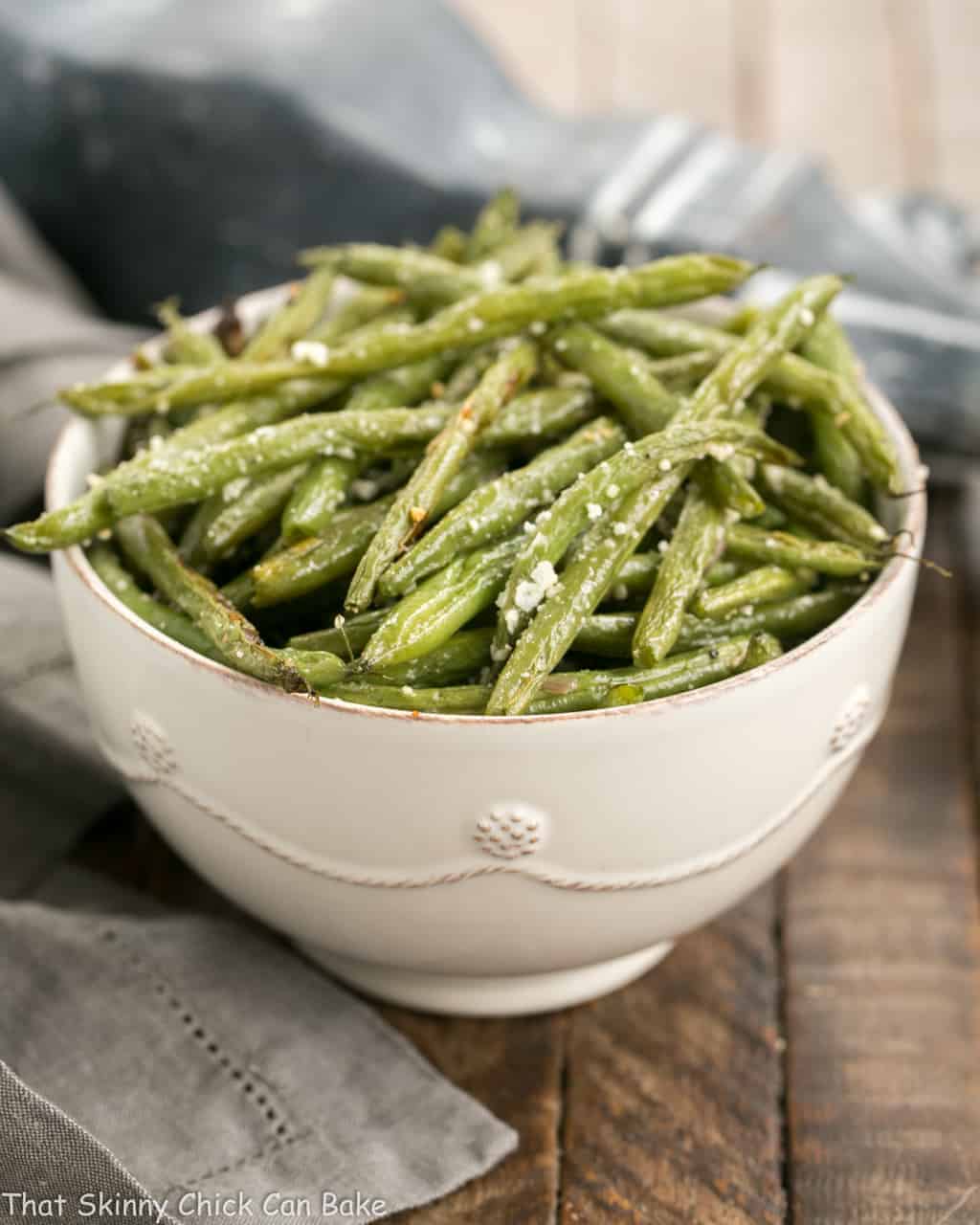 Easy Roasted Beans
As with the other vegetables I've roasted, these green beans were a hit. Taking only slightly longer than steaming, the roasting process made for a much more memorable side dish. Browned spots indicated the delicious caramelization I spoke of, and the addition of salt, garlic powder, and grated Parm contributed even more flavor.
I kept plucking them off the baking sheet when they came out of the oven. Quality control, you know. The whole family gave these Parmesan Roasted Green Beans a thumbs up!
I plan to try these roasted beans with some defrosted frozen beans. The flavor of Trader Joe's haricots verts, the skinny French-style green beans, is consistently spot-on. I have to admit being disappointed with the quality of many other frozen brands, but I need a way to add these garlicky gems to our menu more frequently.
If you use frozen beans, please drop a comment and let me know how that works. No matter if you use fresh or frozen, I hope you give these a try!
Frequently Asked Questions
Why are my Roasted Green Beans Tough?
If you start with older green beans, they can be tough and stringy. Picked past their prime, they will not be nearly as tasty as tender, young beans. Undercooking your beans will also make them tough.
How Do You Know When Roasted Green Beans are Done?
To ensure your beans are not underdone or overdone, you'll want to check them before you serve. The roasting time is for guidance, but the timing for thinner or thicker green beans may need adjustment.

Either pull one out and sample or pierce a few with a fork or the tip of a sharp knife to see if they're tender.
What Should You Look for When Selecting the Best Green Bean?
Look for thin green beans without bulging seeds that are found in older beans. Check the color. They should be a bright, vibrant green without bruises, yellow or brown spots.
Fresh green beans should snap when bent in half.
Do You Need to Trim Both Ends of Green Beans?
Trim the stem end that was attached to the plant. The thinner tail end does not need to be removed.
You May Also Like:
Stay in touch through social media @ Instagram, Facebook, and Pinterest. Don't forget to tag me when you try one of my recipes! And if you love the results, please give it a 5-star rating in the recipe card. Note: As an Amazon Associate, I earn from qualifying purchases. Visit my Amazon Store for my favorite products.
The Recipe:
Garlic Parmesan Roasted Green Beans
Prep Time 5 minutes
Cook Time 20 minutes
Total Time 25 minutes
Yield 6
I'm a huge fan of roasted vegetables, and these Garlic Parmesan Roasted Green Beans were a spectacular addition to our menu!
Ingredients
1 ½ pounds fresh green beans, ends trimmed
1 shallot, minced
1 tablespoon olive oil
¼-½ teaspoon kosher salt
⅛-¼ teaspoon garlic powder
¼ teaspoon freshly ground black pepper
2 tablespoons grated Parmesan
Instructions
Preheat oven to 425º.
Place green beans and shallots on a rimmed sheet pan. Drizzle with olive oil, then sprinkle with salt, garlic powder, and pepper.
Toss beans to coat evenly with oil and seasoning.
Roast green beans for 15 minutes, then sprinkle with Parmesan. Return to oven and bake for 5 more minutes or until browned.
Timing will vary depending on the thickness of your beans.
Notes
May use frozen green beans. Do not defrost before roasting. They may take a few more minutes of roasting time.
Recommended Products
As an Amazon Associate and member of other affiliate programs, I earn from qualifying purchases.
Nutrition Information:
Yield:
6
Serving Size:
1
Amount Per Serving:
Calories: 69
Total Fat: 3g
Saturated Fat: 1g
Trans Fat: 0g
Unsaturated Fat: 2g
Cholesterol: 2mg
Sodium: 218mg
Carbohydrates: 10g
Fiber: 3g
Sugar: 4g
Protein: 3g
Note: This post may contain affiliate links; view
my Disclosure Policy
for details. I earn a small percentage from any purchase you make by clicking on these links at no extra cost to you.