Chocolate Caramel Tart
Twix lovers will go nuts for this outrageously decadent Chocolate Caramel Tart made with an incredibly dreamy homemade caramel! This phenomenal tart starts with a chocolate crust, then a thick layer of caramel topped with luscious ganache!
I served this amazing Caramel Dessert to some neighbors and they went crazy for it! We had some laughs when one friend was shocked to find out that you could make caramel from scratch instead of unwrapping squares from a bag! Another declared that she never eats desserts but that this was worth every bite (and calorie!).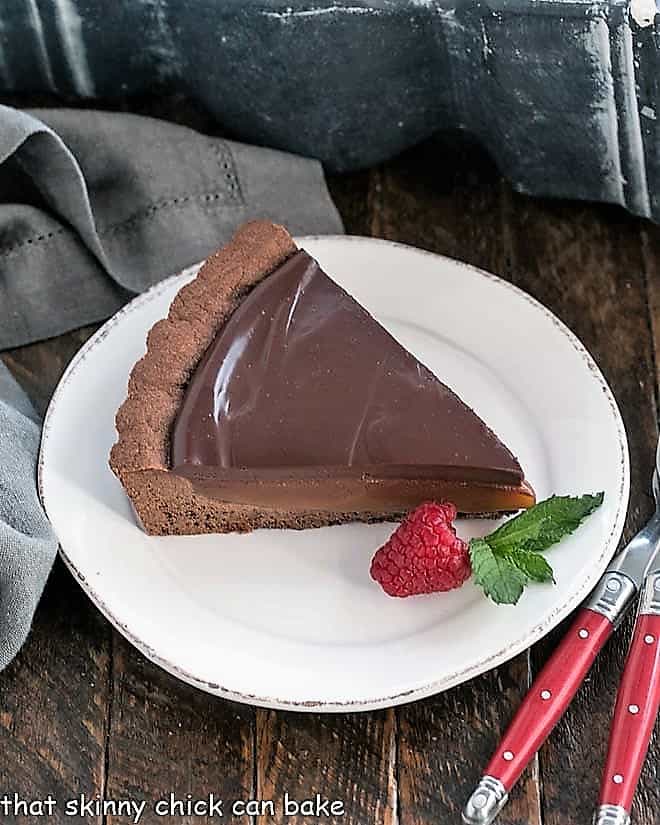 Why You Must Make
Back in 2014, when I saw this tart recipe from Saveur magazine in my inbox, I knew it was only a matter of time before I made it. One of the online reviewers called it a gourmet Twix bar, but it rises to a whole new level of deliciousness!
This is a slightly advanced recipe since it involves making caramel from scratch, but I've added some tips below to help you out.
If you love the chocolate and caramel dessert combo, you'll swoon with every bite!
Thank goodness my youngest is as much of a caramel fan as I am, so I made it for his 21st birthday celebration and took it down to campus for an early birthday dinner.
We took Nick and his roomies out for a steak dinner and we all were full to the brim by the end of the meal. We walked back to his apartment and sampled a few bites of this caramel dessert despite our sated bellies. It was worth every calorie!
Ingredient Notes
Kitchen Staples – Flour, Butter, Kosher Salt, Sugar, Powdered Sugar
Dutch-process Unsweetened Cocoa Powder – This is not the same as Hershey's cocoa powder. Droste is a brand you may find at the grocery store in the baking aisle. It is treated with an alkali that neutralizes cocoa's natural acidity.
Egg Yolks – Separate your eggs while cold as the yolks are less likely to break. But let them come to room temperature for easier incorporation into the crust mixture.
Real Vanilla Extract – Make sure that the label reads "real vanilla extract," not imitation.
Light Corn Syrup – Prevents the caramel from crystalizing as it cools. Karo is a popular brand.
Heavy Cream – Used in the caramel and the ganache
Crème Fraiche – Used in the caramel for richness
Semisweet Chocolate – Chop finely so it melts when mixed with the hot cream.
How to Make a Tart
First, you must know the definition of a tart. Typically, a tart has a pastry crust, shallow sides, a filling, and no top crust. Tarts can be sweet or savory, baked or no-bake, full-sized or smaller tartlets.
The crust can be a classic pastry crust, made with cookie or graham cracker crumbs, or a pressed-in dough.
The crust can be baked before filling or a no-bake version.
Most tarts are made in a two-piece tart pan with a removable bottom. This makes it easy to cut and serve.
Tarts can also be made in single servings or as bite-sized desserts or appetizers. Different specialty pans can be used for tartlets.
First, make the crust and bake or chill as directed.
Once the crust is ready to go, make the filling and fill the tart. Bake or chill as directed.
After cooling or chilling, add any toppings, and when ready, slice into wedges if needed, and garnish to make a show-stopping dessert.
Tips for Making the Homemade Caramel Filling
Oh, my heavens. This is one of the best desserts I've made. A lovely chocolate cookie-like crust, a thick layer of homemade vanilla caramel topped with chocolate ganache. Total bliss.
When we celebrated Nick's birthday, all seven of us shared one piece. I restrained myself and didn't ask for a doggy bag. Good girl. But when I remade it a few weeks ago, I had my own slice. Heaven on a plate.
Be patient when cooking the caramel. It must reach 240º so that it is the right texture when cooled. Rushing the process will often result in a bad batch.
Use your eyes instead of relying solely on the candy thermometer. Watch for the mixture to turn to an amber color as well as reach the proper temperature.
Do not stir the mixture while it's bubbling away. But you may give the pan a swirl now and then to prevent hot spots from scorching. Pro-Tip: Use a heavy saucepan so that the heat is conducted evenly.
Remove from the heat to add the butter, cream, creme fraiche, and vanilla as the cooler ingredients will cause the sugar syrup to bubble and expand.
Make sure you have an accurate candy thermometer before attempting this recipe. PRO-Tip: If you want to check its accuracy, place the tip in a pan of boiling water and it should read 100º C or 212ºF.
Keep the tart refrigerated until you're ready to serve. If you slice it ahead of time, some of the caramel may start to ooze a bit. It will still taste amazing, but the slices will not be pristine.
Frequently Asked Questions
Why Is My Caramel Tart Runny?
There are two main reasons a caramel tart can be runny. First, if the caramel wasn't cooked to the proper temperature, it won't set properly. Make sure you use a candy thermometer to monitor it while it's cooking. Also, if you leave it at room temperature, the filling can soften, so keep your tart refrigerated.
How Long Can You Keep a Caramel Tart?
It will be good for at least 3-4 days. Just keep it refrigerated so the caramel doesn't ooze into the space where slices were removed.
How Many Calories Are There in a Slice of a Caramel Tart?
The calories will vary depending on the size of the slices and the recipe. If you slice this tart into 12 slices, each will have over 600 calories! So just a sliver may be enough. It's definitely a special occasion dessert!
You May Also Like
Here are a few more recipes for any special occasion. If my children could actually bake, I'd ask them to make this Chocolate Caramel Tart for my birthday or Mother's Day. It's just that scrumptious. I also love these Brown Sugar Caramels. But if an upscale chocolate Twix tart doesn't appeal to you, I have a feeling that one of the following delicious desserts will tickle your fancy.
Stay in touch through social media @ Instagram, Facebook, and Pinterest. Don't forget to tag me when you try one of my recipes! And if you love the results, please give it a 5-star rating in the recipe card. Note: As an Amazon Associate, I earn from qualifying purchases. Visit my Amazon Store for my favorite products.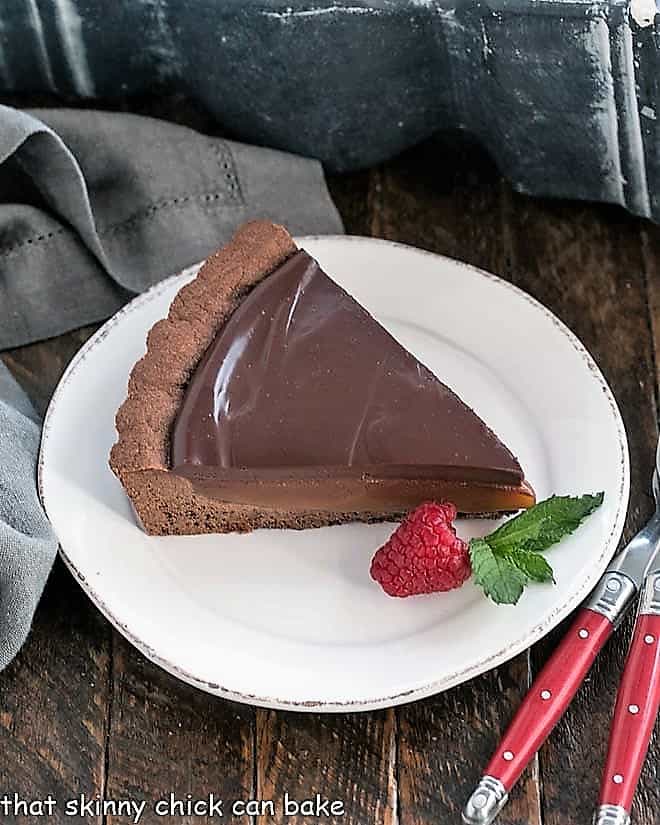 The Recipe:
Chocolate Caramel Tart Recipe
Prep Time 40 minutes
Cook Time 35 minutes
Total Time 1 hour 15 minutes
Yield 12 servings
A decadent pie with a chocolate crust, caramel filling and ganache topping. Adapted from Saveur.
Ingredients
Crust:
1 ½ cups flour
¼ cup plus 1 tablespoon dutch-process unsweetened cocoa powder
¼ teaspoon kosher salt
10 tablespoons butter, cut into pieces, at room temperature
½ cup plus 2 tablespoons powdered sugar
2 egg yolks, at room temperature
1/2 teaspoon vanilla extract
For the caramel:
1 ½ cups sugar
3 tablespoons light corn syrup
¼ teaspoon kosher salt
6 tablespoons butter
6 tablespoons heavy cream
1 tablespoon crème fraiche
½ teaspoon vanilla
For the ganache:
½ cup heavy cream
4 ounces semisweet chocolate, finely chopped
Instructions
Make the crust: Heat oven to 350º. Whisk together flour, cocoa powder, and salt in a medium bowl and set aside.
With a handheld mixer, cream the butter and sugar until the mixture is pale and fluffy, then mix in yolks and vanilla.
Mix in dry ingredients.
Press the dough into the bottom and up the sides of a 9-inch tart pan with removable bottom.
Refrigerate for 30 minutes. Prick the bottom and sides of the tart with a fork and bake for 20 minutes. Cool to room temperature on a rack.
Make the caramel: In a large saucepan, whisk together sugar, corn syrup, salt, and 6 tablespoons of water and bring to a boil.
Cook, without stirring, until a candy thermometer reads 240º and is a medium amber. You may swirl the pan briefly to avoid hot spots (if one area is browning before the rest).
Remove pan from heat and whisk in butter, cream, and crème fraîche (the mixture will bubble up) until smooth.
Pour caramel into the cooled tart shell and let cool slightly, then refrigerate until firm, 4–5 hours (may hurry along by popping it into the freezer for a short time).
Make the ganache: Bring cream to a boil in a large saucepan over medium heat.
Put chocolate into a medium bowl and pour in hot cream; let sit for a minute or two, then whisk till smooth.
Pour ganache over the cooled tart and refrigerate until set, 4–5 hours. Slice and serve chilled.
Notes
Total time does not include chilling times.
This is a very rich dessert and can serve up to 12 with small slices.
Cut with a hot, dry knife just before serving.
The Saveur recipe had a sprinkling of sea salt over the ganache if you'd like to try that.
Recommended Products
As an Amazon Associate and member of other affiliate programs, I earn from qualifying purchases.
Nutrition Information:
Yield:
12
Serving Size:
1 slice
Amount Per Serving:
Calories: 646
Total Fat: 39g
Saturated Fat: 24g
Trans Fat: 1g
Unsaturated Fat: 12g
Cholesterol: 139mg
Sodium: 334mg
Carbohydrates: 74g
Fiber: 2g
Sugar: 54g
Protein: 5g
Note: This post may contain affiliate links; view
my Disclosure Policy
for details. I earn a small percentage from any purchase you make by clicking on these links at no extra cost to you.