Thin Crispy French Fries
These homemade Thin Crispy French Fries will rival your favorite fast-food version. Pure perfection from your own kitchen.
Learn the tricks on How to Make Crispy French Fries in your own kitchen!!

Why You Must Make
There is nothing better than hot, freshly made french fries!
You don't have to leave your house for crispy fries.
There are just 4 ingredients and 4 steps to making: boiling, frying, freezing and frying again!
These are so much better than frozen, then baked French fries.
Ingredient Notes:
Russet potatoes – Starchy potatoes like russets work best. Keep the cut potatoes in a bowl of water to prevent oxidization or turning brown.
White vinegar –  PRO-Tip: Vinegar adds a slight crust to the fries, helping them retain their shape
Kosher salt – I prefer coarse salt for fries. Make sure to sprinkle while the fries are hot as this will ensure the salt will stick.
Peanut oil – Has a higher smoke point than other oils and is best for frying.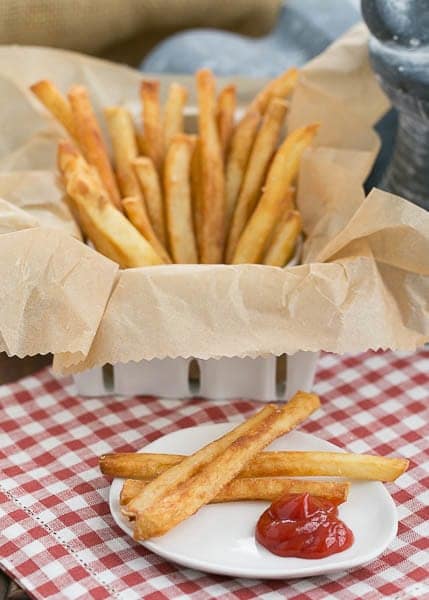 How to Make
These homemade fries were the result of a quest for the very best French fries. The recipe comes from Serious Eats and was thoroughly researched by one of their chef contributors, who happens to be an MIT grad.
Break out the deep fryer. Or in my case, the Dutch oven and digital thermometer. For the first stage of this recipe, the raw fries were boiled in salted, acidulated water till tender.
There's obviously some food science involved, but nothing I learned in nursing school (note MIT degree trumps my BSN). After air-drying for a few minutes, the spuds were briefly fried in hot oil before a stint in the freezer.
Freezing overnight is recommended, but I only had a few hours.
Right before serving, the oil was reheated and the fries were fried again to a perfect golden brown.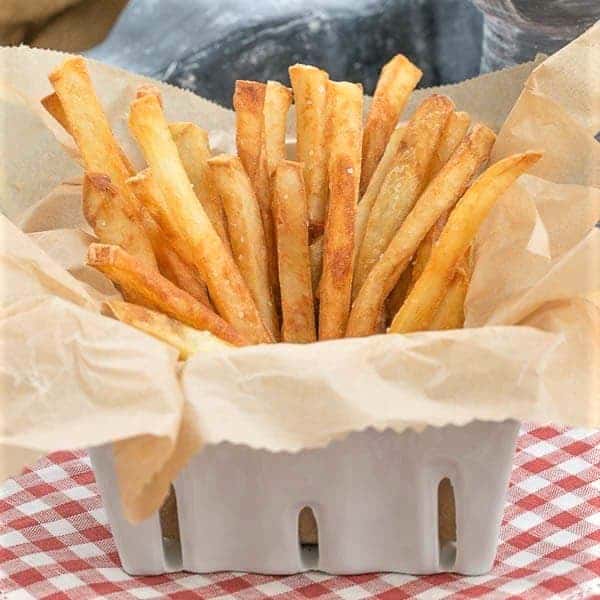 Frequently Asked Questions
Are French Fries really French?
American soldiers during WWI were exposed to French fries in Southern Beligium. Since the language spoken in the area was French, the soldiers refered to them as French fries.
Are French Fries always eaten with ketchup?
Though ketchup is most popular in the US, my Canadian friends enjoyed their fries with vinegar, and others prefer mayonnaise.
How do you Slice Potatoes for French Fries?
First, peel them. Then slice a small piece to make a flat side. With the flat side down, slice planks in your desired thickness lengthwise, from top to bottom. Then slice those planks into fries.
Why do you Soak Potatoes in Water Before Frying?
Soaking helps remove some of the starch from the potatoes making them firmer and more likely to hold their shape. The salt in the solution infuses flavor and the vinegar also plays a role (see ingredient note below).
Why Didn't My French Fries Get Crispy?
The most common reason is they were not dry enough when fried. After soaking, the fries need to drain on paper towels. Make sure all sides are dry.
These were a home run hit! I can usually restrain myself, but I ate my fair share. Their first salty bath infused them with the needed flavor, so just a light dusting of kosher salt finished them off.
If you have a hankering for homemade fried potatoes, you must try these thin crispy French fries! If you'd like to try your hand at sweet potato fries, they are another fabulous side for your burgers!
You May Also Like
Stay in touch through social media @ Instagram, Facebook, and Pinterest. Don't forget to tag me when you try one of my recipes! And if you love the results, please give it a 5-star rating in the recipe card. Note: As an Amazon Associate, I earn from qualifying purchases. Visit my Amazon Store for my favorite products.
The Recipe:
Thin Crispy French Fries
Prep Time 20 minutes
Cook Time 18 minutes
Total Time 38 minutes
Yield 4 servings
Ingredients
2 pounds russet potatoes (3-4 large), cut into 1/4 inch x 1/4 inch strips (keep in a bowl of water)
2 tablespoons white vinegar
Kosher salt
2 quarts peanut oil
Instructions
Add 2 quarts of water to a large saucepan. Add vinegar and 2 tablespoons of kosher salt. Add potatoes and bring to a boil over high heat. Boil for 10 minutes or till potatoes are tender but not falling apart. Drain and spread on paper towel-lined rimmed baking sheet. Allow to dry for five minutes.
Heat oil to 400°in a large Dutch oven. Add about 1/3 of fries to oil (oil temperature will drop but try to keep at 360º or above). Cook for about a minute, using a spider strainer to gently stir the oil. Remove to a paper towel lined baking sheet. Repeat with the next third of potatoes after oil reheats to 400º, then again with the final third. Let potatoes to cool to room temperature then freeze potatoes overnight (you can fry again before then, but they'll be best when well frozen).
Return oil to 400° over high heat. Fry half of potatoes until crisp and golden brown, about 3-4 minutes minutes, trying to keep oil around 360°. Let drain on a paper towel lined baking sheet. Salt while hot if desired. Serve immediately.
Notes
Note that French Fries need to be frozen (overnight suggested) before final frying.
Nutrition Information:
Yield:
4
Serving Size:
1
Amount Per Serving:
Calories: 460
Total Fat: 27g
Saturated Fat: 5g
Trans Fat: 0g
Unsaturated Fat: 21g
Cholesterol: 0mg
Sodium: 177mg
Carbohydrates: 49g
Fiber: 5g
Sugar: 2g
Protein: 6g
Note: This post may contain affiliate links; view
my Disclosure Policy
for details. I earn a small percentage from any purchase you make by clicking on these links at no extra cost to you.