Glazed Lemon Madeleines
With their bright citrus flavor, Dorie Greenspan's scrumptious Glazed Lemon Madeleines were the ideal pairing with my afternoon tea. These shell-shaped tea cakes were mini in size, but not in flavor!
These Madeleines Cakes are a way to bring a touch of France into your kitchen. They're perfect in the morning or for a mid day snack!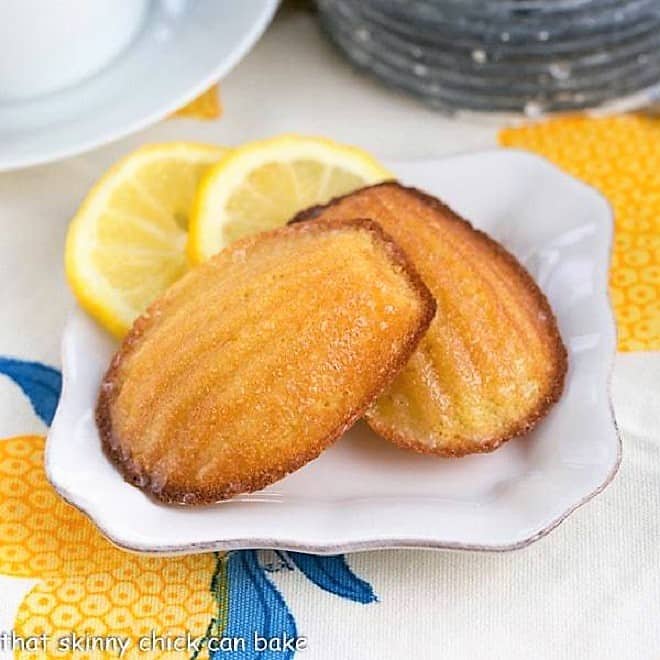 Why You Should Make this Madeleines Recipe
This cross between a cookie and a cake is absolutely delicious!
These madeleines cakes make the perfect accompaniment to a cup of hot tea or coffee.
You can make them in numerous flavors, but lemon is always a winner!
How to Make Madeleine Cookies
I've made varieties of this madeleines cookies recipe a number of times before, many of which utilized a Dorie Greenspan recipe. But I learned a few new tricks with this madeleines recipe from Baking Chez Moi.
My nonstick madeleines pan still needed to be greased and floured, but lately, I've been using Baker's Joy, a nonstick baking spray with flour, to save a step.
I had previously learned Dorie's technique of rubbing the lemon zest into the sugar to release the fragrant citrus oils, but a few new tips made these the best madeleines to date.
You must chill your batter.
Your baking pan must be cold as well.
Place your filled, cold baking pan onto a hot baking sheet for the best rise.
This lemon madeleine batter can be kept in the refrigerator for up to 2 days!
Once baked, madeleines are best on the day they're made.
Disclosure: Some of the links in the post above are "affiliate links." This means if you click on the link and purchase the item, I will receive an affiliate commission. Regardless, I only recommend products or services I use personally and believe will add value to my readers.
Glazed Lemon Madeleines Recipe
After the madeleines cooled, I brushed on a mixture of powdered sugar and lemon juice and then popped these gems back in an extremely hot oven for just a minute or two to melt the glaze. If you are a lemon fan, you'll definitely want to go the extra mile with a double dose of citrus, otherwise, a dusting of powdered sugar will suffice.
How to Store Madeleines
Madeleines are best eaten on the day they are made, but can be stored at room temperature in an airtight container for up to 2 days. They can also be frozen for a month or two; just allow to thaw at room temperature before serving.
How to Serve Madeleines
The tips or half the length of each madeleine can be dipped in chocolate. Let the chocolate solidify by placing the dipped madeleines on a sheet of wax paper or parchment.
They can simply be dusted with powdered sugar.
Madeleines can be glazed like those in this recipe.
They can be served with lemon curd, caramel sauce, chocolate sauce, jam, etc.
Serve with a platter of fresh fruit, ice cream or yogurt.
Check out Dorie's recipe from WNYC radio (refer to this more detailed recipe if you have questions about the procedure).
Ingredient Notes:
Flour – all-purpose works well
Baking Powder – Make sure to check the expiration date as it usually expires before you run out!
Fine Salt – Do not use kosher salt, but table salt, fleur de sel, or a fine sea salt
Granulated Sugar
Lemon Zest and freshly squeezed Lemon Juice – From a fresh lemon, never bottled juice.
Honey
Vanilla – real vanilla extract, never imitation
Butter – unsalted, but salted can be used in a pinch
Whole Milk – 2% can be used in a pinch
Powdered Sugar – sift before making the glaze to avoid lumps
More Lemon Desserts:
The Recipe:
Lemon Madeleines
Prep Time 20 minutes
Cook Time 16 minutes
Total Time 36 minutes
Yield 12
Lovely lemon madeleines sweetened with honey and iced with a lemon glaze!
Ingredients
Madeleine Batter:
2/3 cup flour
1 teaspoon baking powder
1/4 teaspoon fleur de sel or a pinch of fine sea salt
1/3 cup sugar
Zest of one lemon, finely gratd
2 eggs, at room temperature
1 tablespoon honey
1 teaspoon vanilla
4 ounces unsalted butter, melted and still warm
2 tablespoons whole milk
Powdered sugar, for dusting, optional
Glaze:
1 cup powdered sugar, sifted
1/4 cup freshly squeezed lemon juice (may need slightly more or less)
Instructions
To make the madeleines, whisk together the flour, baking powder and salt in a small bowl;. Set aside.
In a large bowl, rub the sugar and lemon zest together with your fingertips to release the oils in the zest. Add the eggs and whisk well, until pale and slightly thickened.. Beat in the honey and vanilla.
Then gently fold in the dry ingredients, just until they are incorporated. Fold in the warm melted butter and then the milk. Chill for 1 hour with plastic wrap pressed over the surface of the batter.
Butter the molds and dust with flour or use non-stick flour and oil cooking spray.
Spoon the batter into the molds and refrigerate at least an hour.
Place a baking sheet on the center rack in your oven and preheat the oven to 400 degrees.
Place the madeleine pan on the hot baking sheet and bake for 11 to 13 minutes, or until the cakes are golden and the cakes spring back when pressed with a finger.
Remove the pan from the oven and immediately release the madeleines from the molds by rapping the edge of the pan against the counter.
Transfer to a cooling rack and allow them to cool to room temperature. Dust with powdered sugar or glaze if desired.
To glaze, preheat the oven to 500 degrees. Line a baking sheet with parchment or foil and put a cooling rack on it.
Put the powdered sugar in a bowl that will let you dip the madeleines into the glaze. Whisk in the lemon juice a little at a time until you get a glaze that's about the consistency of heavy cream.
Quickly dip each madeleine in the glaze (rounded side) and put them bump-side up on the cooling rack.
Place them into the oven, and leave them for 1-3 minutes.
Remove from the oven as soon as you see the first little bubble develop in the glaze. Let cool to room temperature and serve.
Notes
Serve warm or at room temperature.
The batter can be made up to 2 days ahead and kept covered in the refrigerator. Once baked, they taste best on the day they're baked.
Nutrition Information:
Yield:
12
Serving Size:
1 madeleine
Amount Per Serving:
Calories: 212
Total Fat: 9g
Saturated Fat: 5g
Trans Fat: 0g
Unsaturated Fat: 3g
Cholesterol: 52mg
Sodium: 68mg
Carbohydrates: 33g
Fiber: 0g
Sugar: 26g
Protein: 2g
Note: This post may contain affiliate links; view
my Disclosure Policy
for details. I earn a small percentage from any purchase you make by clicking on these links at no extra cost to you.