Lemon Layer Cake with Lemon Curd Filling
This luscious Lemon Layer Cake with Lemon Curd Filling is definitely a special occasion dessert! Lemon desserts are perfect for springtime and Easter as they evoke thoughts of warm sunshine.
This exquisite Lemon Curd Cake is made for lemon lovers! It takes some effort but is worth every minute! If you've never made a Swiss Meringue Buttercream Frosting, this cake will make you a convert. It's exquisite!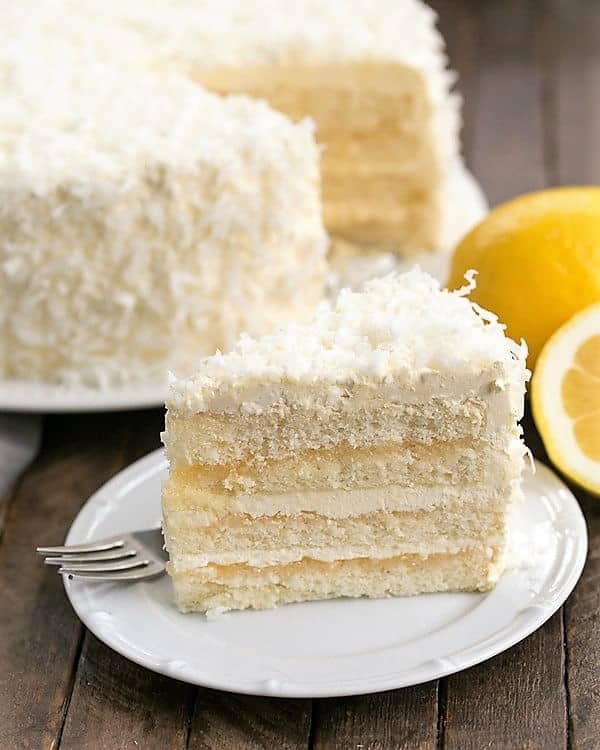 Why You Must Make
It's a perfect special occasion cake!
If you know a lemon lover, this layer cake recipe will be a delicious treat!
Swiss Meringue Buttercream frosting is the most satiny, luscious frosting. It's a little extra work, but there will be rave reviews.
Recipe Tips
This cake with lemon curd is an adaptation of Dorie Greenspan's Perfect Party Cake. I upped the lemon ante by swapping lemon curd for the raspberry preserves Dorie tucked between her layers.
PRO-Tip: Before you start, make sure your baking powder is fresh. Baking powder is not used as often as baking soda and often expires in the cupboard.
You can test it by putting ½ teaspoon in a heat-safe bowl and pour in ¼ cup of boiling water. If there's fizzing and bubbling, it's fresh!
You will be slicing each layer in half. Check my tips below as it's not as daunting as it sounds.
PRO-Tip: If you want to make your Swiss meringue buttercream ahead of time, note that it won't be spreadable after it's chilled. It will get very hard. So either make the frosting right before you plan to ice the cake or allow enough time for it to come to room temperature before you use it.
How to Slice Cake Layers in Half
This is one of those recipes you might want to make in steps. If you haven't sliced cake layers in half horizontally, it's a little daunting.
My PRO-Tip is to place toothpicks around the perimeter of the cake, just below the mid-line, to give you some guidance as you make your cuts.
I use a long serrated knife and work my way around the edge with shallow cuts before slicing my way through to the center.
You want to aim for 4 slices of approximately the same thickness, so take your time placing your toothpicks and slicing each cake. But this will still be a wonderful cake no matter how you slice it!
Note: a savvy reader said he was going to use 4 cake pans to make 4 distinct layers instead of dealing with the slicing. It could work if you decrease the baking time (and even the temp by 25 degrees so it doesn't get too dark). Let me know if you try his idea!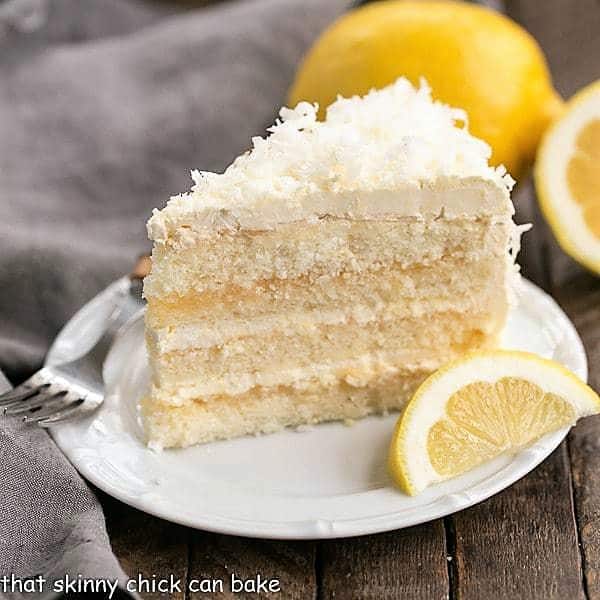 Tips for Making Swiss Meringue Buttercream Frosting
Swiss meringue buttercream may appear difficult, but if you take the time and follow the instructions, you'll understand why this velvety frosting is my very favorite and worth the effort!
Besides the typical American buttercream frosting, there is also Swiss, French, and Italian buttercream. If I'm not going with the usual butter and powdered sugar version that's popular in the states, I make a Swiss Meringue Buttercream.
There is much less sugar in a Swiss Meringue Buttercream, and all the European buttercreams use eggs.
This meringue uses egg whites, but don't worry, they are safe to eat. They are gently heated over simmering water for 3 minutes, long enough to kill any salmonella bacteria. Use your instant-read thermometer, if desired, to make sure the mixture reaches 160º.
The mixture of sugar and eggs must be whisked constantly during this process so they do not cook, but stay liquid.
Next, you whip this mixture in your stand mixer until cooled, which will take 10 or more minutes, so be patient. Keep feeling the sides of the bowl as if it's warm when you add the butter, your frosting will not whip properly.
Add your butter one tablespoon at a time, using the paddle attachment, and don't fret if it doesn't look perfect. You will continue adding the butter then whip the mixture on high for 6-10 minutes until your frosting is fluffy!
There was loads of praise from the party attendees, one of whom even said this lemon birthday cake was the best thing I've ever made. I had a captive audience as I explained my horizontal cutting technique to make the thinner layers and the process of making a velvety Swiss meringue buttercream, which by the way, spreads and cuts like a dream! If you have a lemon lover in your life, save this lemon cake recipe for a special occasion!
Frequently Asked Questions
What Flavors Pair Well with Lemon?
Coconut is a favorite pairing, especially at Easter or any time in the Spring. For flavorings, both vanilla and almond extract are wonderful. Berries like strawberries, raspberries, and cherries can be added to lemon desserts, used as garnishes, or in sauces to serve with them.
How Do You Add Lemon Flavor to Cake?
One of my favorite tips is to rub some fresh lemon zest into the sugar called for in the recipe. This will help release the essential oils from the peel and infuse it into the sugar. Lemon zest, lemon extract, and/or lemon juice can also be added to the batter for flavor.
What is Swiss Meringue Buttercream?
One of the types of buttercream frosting, Swiss meringue buttercream is made with egg whites, sugar, and butter forming an ultra, smooth, silky frosting that's less sweet than American buttercream.
You May Also Like:
Stay in touch through social media @ Instagram, Facebook, and Pinterest. Don't forget to tag me when you try one of my recipes! And if you love the results, please give it a 5-star rating in the recipe card. Note: As an Amazon Associate, I earn from qualifying purchases. Visit my Amazon Store for my favorite products.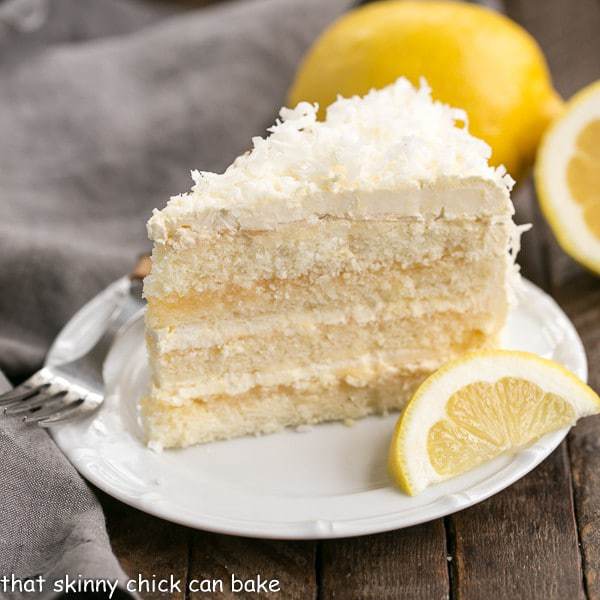 The Recipe:
Lemon Layer Cake with Lemon Curd Filling Recipe
Prep Time 45 minutes
Cook Time 40 minutes
Total Time 1 hour 25 minutes
Yield 16 servings
A scrumptious lemon and coconut layer cake adapted from Perfect Party Cake from Dorie Greenspan's Baking: From My Home to Yours
Ingredients
For Lemon Cake:
2 ¼ cups cake flour
1 tablespoon baking powder
½ teaspoon table salt
1 ¼ cups buttermilk
4 egg whites, at room temperature
1 ½ cups sugar
2 teaspoons finely grated lemon zest
1 stick (4 ounces) unsalted butter, at room temperature
½ teaspoon pure lemon extract, I use Penzey's brand
For the Buttercream:
1 cup sugar
4 egg whites
3 sticks (12 ounces) unsalted butter, at room temperature
⅛ teaspoon table salt
¼ cup fresh lemon juice
1 teaspoon vanilla extract
For assembly:
1 11-ounce jar of good-quality lemon curd
2 cups sweetened shredded coconut
Instructions
Preheat the oven to 350 degrees. Grease two 9-inch cake pans with non-stick flour and oil baking spray (like Baker's Joy) and line the bottom of each pan with parchment. Spray the top of the parchment as well.
To make the cake, first whisk together the flour, baking powder, and salt. Whisk together the milk and egg whites in another bowl.
Put the sugar and lemon zest in your mixer bowl and rub the zest into the sugar until the sugar becomes moist and fragrant.
Add the butter and beat at medium speed until the butter and sugar are very light, about 3 minutes. Mix in the extract, then add one-third of the flour mixture and mix until combined, then half the milk-egg mixture until incorporated, another third of the flour mixture, the rest of the milk-egg mixture, and finally the last of the flour.
Scrape the bowl as needed and make sure ingredients are incorporated as you alternate. Beat for another 2 minutes.
Divide the batter between the two pans and smooth the tops with an offset spatula. Bake for 30-35 minutes or until the middle of the cake spring back after being touched.
Remove the cakes to cooling racks. Let cool for 5 minutes before removing from the pans. Remove the parchment from the cakes, then let finish cooling with the top sides up.
To make the buttercream, place the sugar and egg whites in a heat-safe mixer bowl over a pot of simmering water.
Whisk the mixture continuously until it becomes hot to the touch and the sugar is dissolved, about 3 full minutes.
Carefully remove the bowl from the heat and beat on high for about 5 minutes, or until the meringue has cooled (I recommend using a stand mixer if you have one).
Using the paddle attachment mix in the butter a stick at a time, beating until smooth.
Once all the butter is in, beat in the mixture on high speed until it is thick and very smooth, 6-10 minutes.
Decrease the speed to medium and gradually beat in the lemon juice, waiting until each addition is absorbed before adding more. Mix in vanilla. Set aside while preparing the cakes.
To assemble, slice each layer horizontally in half. I place toothpicks around the perimeter of the cake a little below where I want to slice. This helps guide my serrated knife as I saw through the layers.
Place one layer, cut side up on your serving dish. Spread it with one-third of the lemon curd, about ⅓ cup.
Spread about ¼ of the buttercream over the lemon curd, repeat two more times, then top with the final layer of cake with the baked side up.
Use the rest of the buttercream to frost the top and sides of the cake. Press the coconut over the frosted surfaces.
Notes
Make sure you use baking powder, not baking soda. Check to see if it's fresh before using as it often loses potency sitting in your panty. See how in the post.
Nutrition Information:
Yield:
16
Serving Size:
1
Amount Per Serving:
Calories: 343
Total Fat: 9g
Saturated Fat: 6g
Trans Fat: 0g
Unsaturated Fat: 2g
Cholesterol: 34mg
Sodium: 326mg
Carbohydrates: 62g
Fiber: 1g
Sugar: 44g
Protein: 5g
Note: This post may contain affiliate links; view
my Disclosure Policy
for details. I earn a small percentage from any purchase you make by clicking on these links at no extra cost to you.