French Apple Tart or Tarte aux Pommes
This exquisite French Apple Tart has a double dose of apple with an applesauce layer topped with a swirl of sliced apples! An out of this world autumn dessert.
Like in a Paris patisserie, the apples have browned edges and are arranged into a perfect rosette. This Tarte aux Pommes is a visit to France with every bite.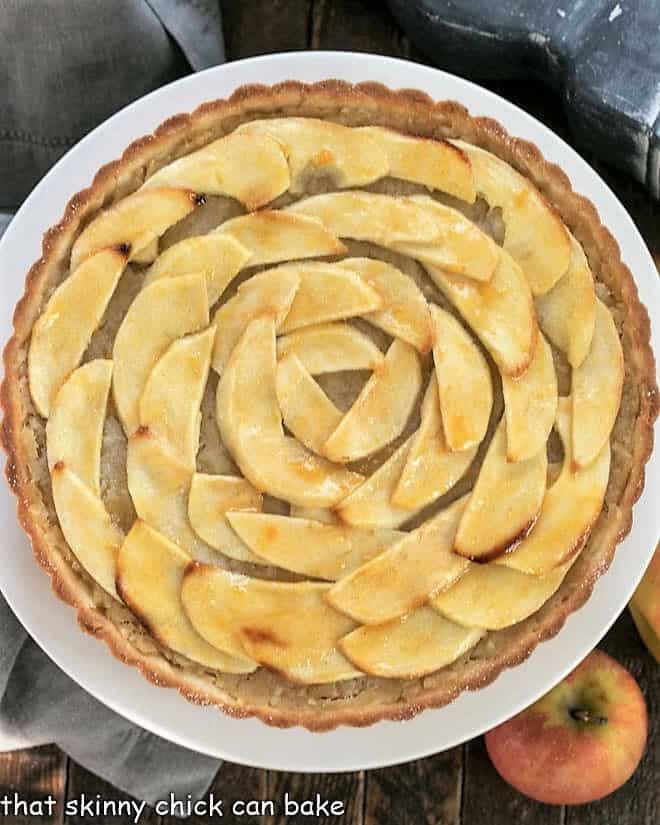 Why You Should Make this Apple Tart
I've baked oodles of apple tarts; some galettes, some on puff pastry, some very similar to this French apple tart. I first made this tarte aux pommes about 8 years ago while working through the cookbook, Baking with Julia. I stocked up on apples and used part of them to make chunky applesauce with a whisper of cinnamon.
It was this sauce layer that made this version stand out from the rest; and it's apparently quite traditional in France.
And what apple lover can resist a double dose of apples? After filling a buttery start shell with applesauce, thin apple slices were tossed in lemon juice then artfully arranged to produce a tart whose beauty matches its taste.
It's the perfect fall dessert!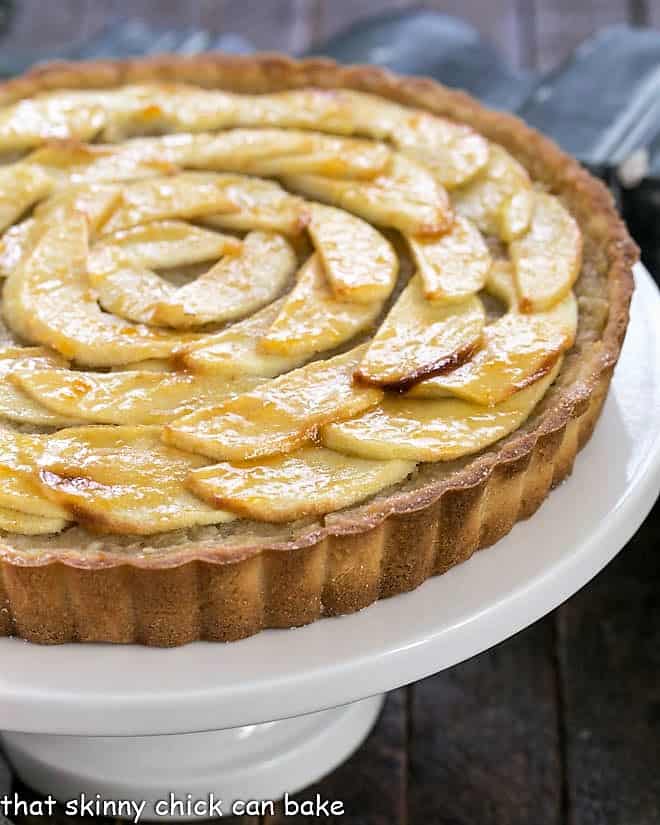 How to Make an Apple Tart Recipe
I varied my apple design on this French apple tart to make it a little different from my other tarts, added a touch of sugar to the crust, and baked a few minutes longer to get a bit of color on my topping. But it was delicious and comforting. An apple dessert is a perfect way to end a nice weekend, and you can easily divide up the steps and make your tart over a couple of days. Here's how:
Make the applesauce filling first. It can easily last in the refrigerator a day or two until you're ready to bake the tart.
If your apples aren't soft enough to mash after baking in the oven, cover the pan with foil and continue baking. Depending on the apple variety you choose, they may take additional time. Keep it chunky or pulse in a food processor for a smoother sauce. Place in an airtight container and keep refrigerated until ready to use.
Make the tart shell. This can be made the day before as well. I veered from the original recipe which was like a flaky pie crust and wasn't especially sturdy.
I used a Dorie Greenspan tart shell recipe with an egg yolk which makes the dough more malleable and easier to roll.
The crust must be blind-baked, which means baked without a filling to ensure the crust is sturdy enough once the apple layers are added.
Once the applesauce is made and the crust is cooled, the tart can be assembled.
Fill the tart shell, still in the baking pan, with the applesauce. It should not come up higher than the rim of the tart. Smooth with an offset spatula.
Then peel, core, and slice the apples. This should not be done in advance or the slices will brown, or oxidize. Toss the apples with a bit of lemon juice to help keep their color.
The apple slices can be very thin, like in this tart or up to 1/4-inch thick. Arrange by starting on the outside of the tart and overlapping the slices to make a spiral pattern. Brush with melted butter and sprinkle with sugar before baking as directed.
PRO-Tip: I like to brush on some diluted apricot jam to glaze the apples before serving. It gives a nice finished look.
More Apple Desserts You'll Love:
French Feast Menu

Welcome to Progressive Eats, our virtual version of a Progressive Dinner Party. This month's theme is A French Feast, and our host is Coleen who blogs at The Redhead Baker.
If you're unfamiliar with the concept, a progressive dinner involves going from house to house, enjoying a different course at each location. With Progressive Eats it's a virtual party. A theme is chosen each month, members share recipes suitable for a delicious meal or party, and you can hop from blog to blog to check them out. Bon appetit!
La boisson (Drink)
L'entrée (Appetizer)
French-Style Marinated Cheese – Shockingly Delicious
Le pain (Bread)
Le plat principal (Main Dish)
Les plat d'accompagnements (Side Dishes)
Le dessert (Dessert)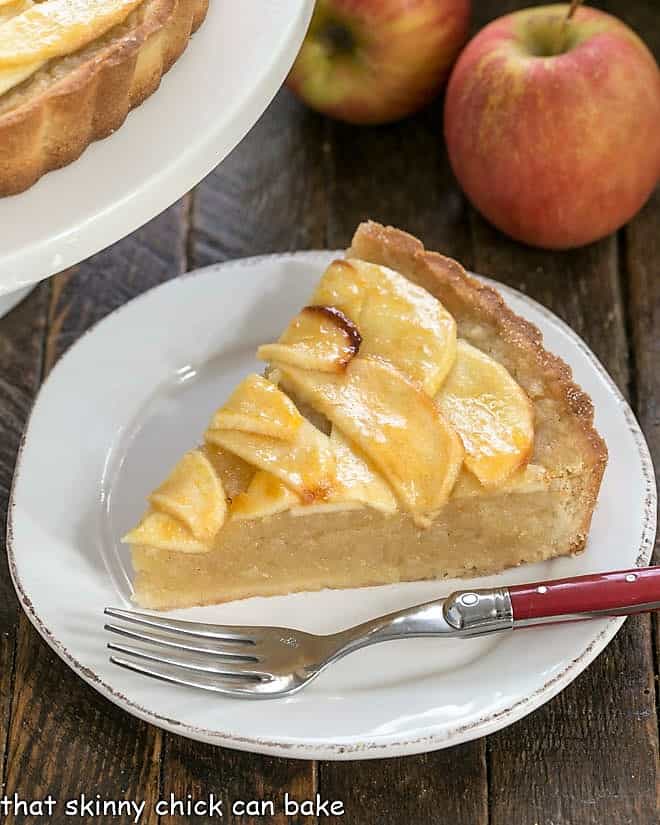 The Recipe:
French Apple Tart
Prep Time 40 minutes
Cook Time 1 hour 30 minutes
Total Time 2 hours 10 minutes
Yield 8 servings
An exquisite French Apple Tart with a buttery crust, applesauce filling and a sliced apple topping!
Ingredients
Tart crust
1 ¼ cups flour
½ cup powdered sugar
¼ teaspoon salt
9 tablespoons cold butter, cut into small cubes
1 egg yolk
Filling
6 Granny Smith apples
¾ cup sugar
1 tablespoon all-purpose flour
pinch of cinnamon
½ cup fresh bread crumbs
1 teaspoon vanilla
2 teaspoons (approximately) fresh lemon juice
Topping
2-3 Granny Smith apples
1 tablespoon fresh lemon juice
2 tablespoons butter, melted
1 ½ teaspoons sugar
Apricot jam or preserves, with a bit of water mixed in, then warmed to glaze apples before serving, optional.
Instructions
To make the crust:
Place the dry ingredients in the food processor and pulse to mix.
Take the top off, scatter the chilled cubed butter over the flour mixture, and pulse again, working only until the mixture resembles slightly moist cornmeal.
Stir the yolk to break it up a bit, add a little at a time, pulsing to combine, then repeat until all the egg is incorporated.
Then process in long pulses, 10 seconds each, until the dough forms clumps and the sound of the food processor changes. Remove dough to a work surface.
Shape the dough into a disk, then roll it out between two sheets of parchment. turning it over frequently to make sure the parchment doesn't wrinkle. Roll to a diameter 3 inches wider than the tart pan.
Move the dough, still between parchment, onto a baking sheet and chill for an hour.
Remove the dough from the refrigerator and let sit at room temperature for about 10 minutes to make it more pliable. Fit into a greased, 9-inch tart pan with a removable bottom. Trim the top. May use scraps to thicken the tart sides, if desired. Freeze for 30 minutes.
To make the applesauce:
Peel, and core the apples, cutting 10-12 slices from each apple. Place the apples in a bowl and toss with the sugar, flour, cinnamon, vanilla, and bread crumbs. Add a squeeze of lemon juice.
Spread the apples on a jelly-roll pan and bake for 15-20 minutes, or until the apples give up their juices, start to form a sauce, and are soft enough to mash. If they aren't soft after 20 minutes, cover with foil and continue to bake until soft.
Scrape the apples into a bowl and mash with a potato masher or a fork (you can also pulse in a food processor for a finer texture). Taste and add more lemon juice if you think it needs it, then cool the filling for 15 minutes.
Spoon the filling into the tart shell, ensuring that the filling remains below the rim. Smooth the top with an offset spatula.
To make the apple topping:
Preheat the oven to 375 degrees. Peel and thinly slice the apples, 1/4-1/8-inch thick. Toss the apples with the tablespoon of lemon juice to keep them from browning. Arrange the apples in a circular pattern starting from the outside, slightly overlapping the slices.
Work around the pie until the filling is completely covered. Brush the apple slices with melted butter and sprinkle with sugar.
Bake the tart for 25-30 minutes or until the top is glazed and the apple slices have dark edges.
Heat some apricot jam or preserves with a bit of water in the microwave. Whisk together and use a silicone brush to glaze the apples before serving, if desired.
Notes
Adapted from Baking with Julia
Recommended Products
As an Amazon Associate and member of other affiliate programs, I earn from qualifying purchases.
Nutrition Information:
Yield:
8
Serving Size:
1 slice
Amount Per Serving:
Calories: 522
Total Fat: 22g
Saturated Fat: 11g
Trans Fat: 0g
Unsaturated Fat: 9g
Cholesterol: 36mg
Sodium: 925mg
Carbohydrates: 75g
Fiber: 5g
Sugar: 35g
Protein: 6g
Note: This post may contain affiliate links; view
my Disclosure Policy
for details. I earn a small percentage from any purchase you make by clicking on these links at no extra cost to you.