French Apple Tart with Puff Pastry
A delectable, super-easy French Apple Tart with Puff Pastry is perfect when you need a dessert in a pinch. No slaving away in the kitchen is needed!
A couple of shortcuts will make this Easy Apple Tart Recipe one of your go-to recipes when autumn comes around! Store-bought puff pastry and an apricot jam glaze make this recipe a cinch!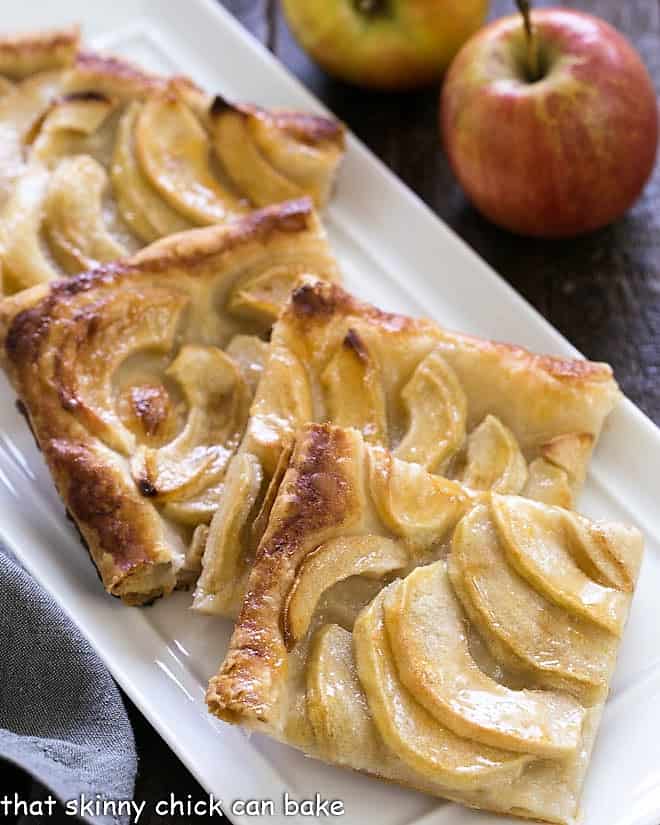 Why You Must Make
This easy apple tart with puff pastry is one of those speedy desserts that tastes phenomenal.
I'm always asked for the recipe, especially since everyone needs an easy fall dessert in their repertoire.
It's wonderful in the autumn at the peak of apple season, but it's darn terrific all year long.
Made with puff pastry, you don't have to mess with rolling out a pastry crust like in typical tarts. Sliced apples are arranged over the top, then a generous dose of sugar is sprinkled over the fruit. Dotted with butter and baked till the apples are tender, the warm tart is glazed with doctored-up jam for another layer of flavor. So darn easy!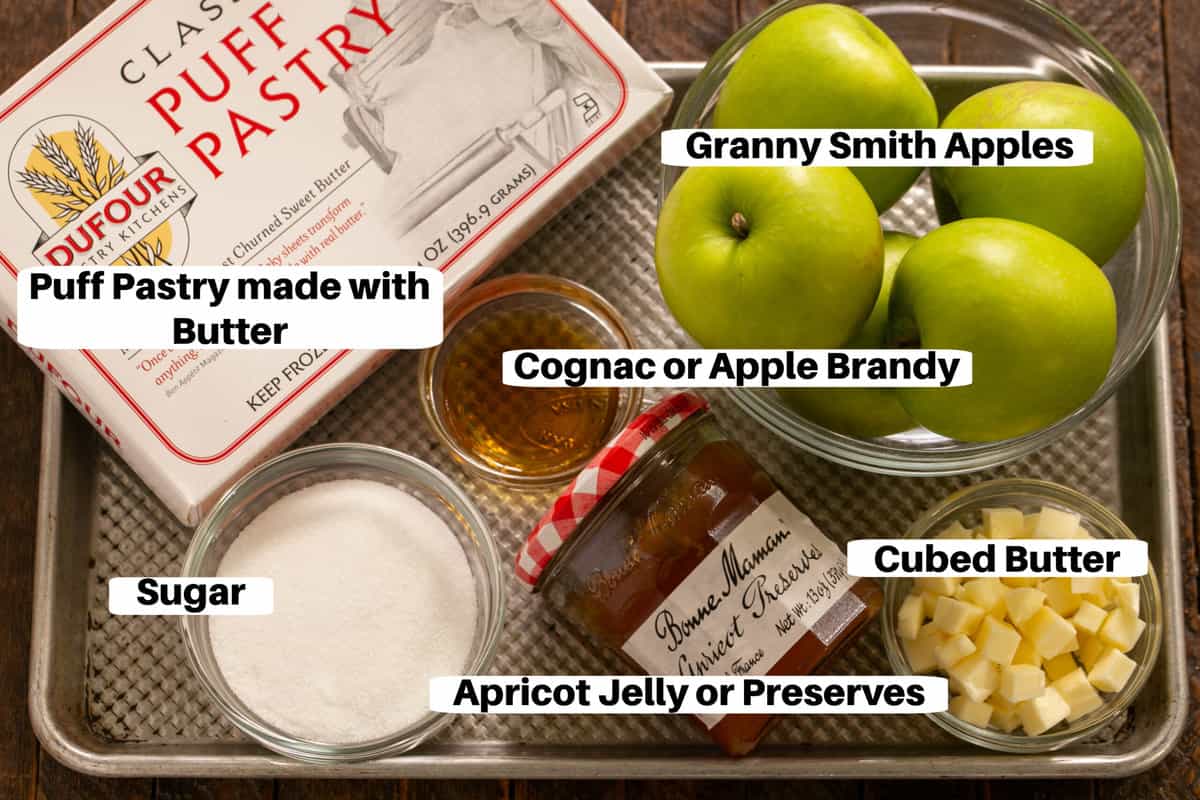 Ingredient Notes
Kitchen Staples – Sugar, Cold Butter
Frozen Puff Pastry – Look for a brand with butter in the ingredients like Dufour or Trader Joe's brand, defrosted in the refrigerator overnight
Granny Smith Apples – They keep their shape well and are good for baking. Peel, cut in half, then core, and cut into ¼-inch slices.
Apricot Jelly – An easy glaze that gives the apples a nice sheen. May use preserves but avoid pieces of fruit.
Cognac or an Apple Brandy like Calvados – Is added to the glaze as a flavor enhancer. May omit or use apple juice instead.
How to Make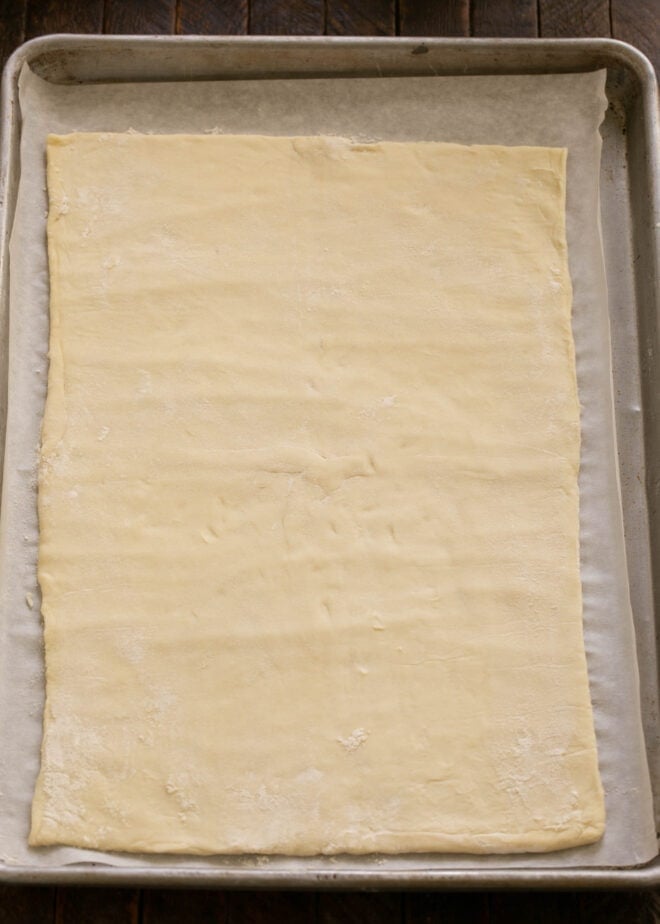 Ina's French Apple Tart was made with homemade tart dough. To make it super easy, puff pastry is a marvelous, pre-made substitute. I love puff pastry, so this was a no-brainer!
Defrost the box of puff pastry overnight in the refrigerator.
The next day, on a floured surface, roll the puff pastry into a 10 x 14 rectangle. Trim edges if desired.
Place in the refrigerator while peeling, coring, and slicing the apples. They may brown slightly, so don't do this too far in advance.
Arrange apple slices over the surface of the puff pastry, overlapping slightly. You can make straight rows, diagonal rows, or whatever pattern works for you!
Sprinkle with the sugar, dot with the butter, and bake. Note that the juices most likely will burn around the tart, so use a rimmed baking sheet. If the edges of the dark start to get too dark, decrease the oven temperature for the last 15-20 minutes (see note in recipe).
Make the easy glaze recipe while the tart is baking. It's just jelly and apple brandy. Use apple juice instead of the brandy if you don't want to use alcohol. Also, if you have apricot preserves, strain it to make a smoother glaze.
Glaze the tart while it's warm. Slice and serve. Store leftovers at room temperature for up to a day, then in the refrigerator for up to 3 days.
PRO-Tip: Remember when working with puff pastry, it will puff best if the pastry is cold and the oven is very hot. So if your dough gets warm while working with it, pop it in the refrigerator to let it chill.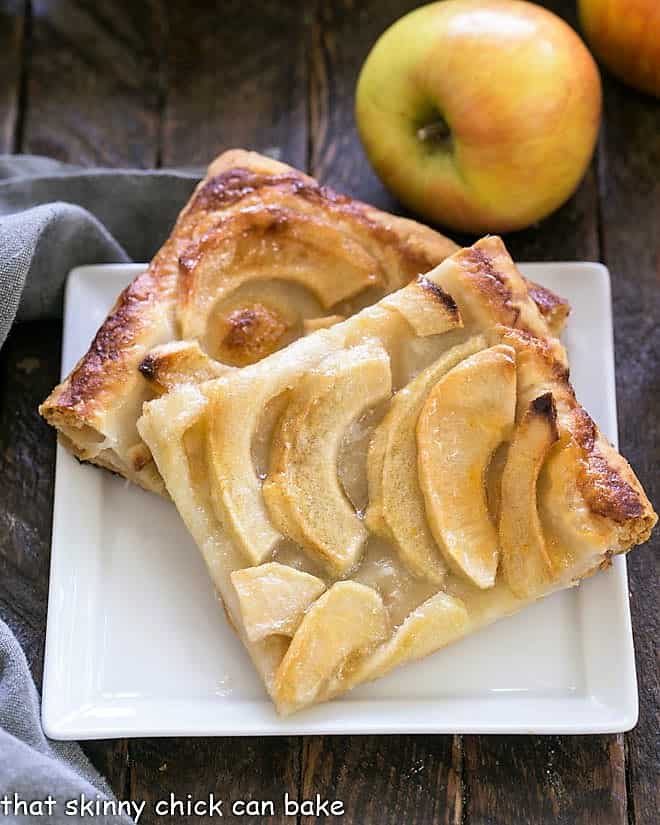 Expert Tips
With so few ingredients in this dessert, it's imperative to use top-notch products. PRO-Tip: Look for the best puff pastry you can find. Pepperidge Farm will do in a pinch, but an all-butter variety like Dufour or Trader Joe's brand will definitely produce a superior dessert. Make sure to look at the back of the box and examine the list of ingredients.
Ina Garten's recipe for French Apple Tart was made with homemade tart dough. To make it super easy, puff pastry is a marvelous, pre-made substitute. I love puff pastry, so this was a no-brainer!
PRO-Tip: I like using Granny Smith apples because they will hold their shape. You don't want mushy apples for this tart.
PRO-Tip: According to Bon Appetit, other good apples for an apple tart include Johnagold, Honeycrisp, Braeburn, Mutsu, Winesap, and Pink Lady.
This apple tart is best on the day it is baked, though I snacked on leftovers I found in the back of the fridge. Still very tasty!
To bake this apple tart recipe, make sure to line a rimmed baking sheet with parchment paper. The sugar and butter melt during the baking process and drain onto the parchment. These juices around the outside of the tart will burn and the parchment will help with cleanup.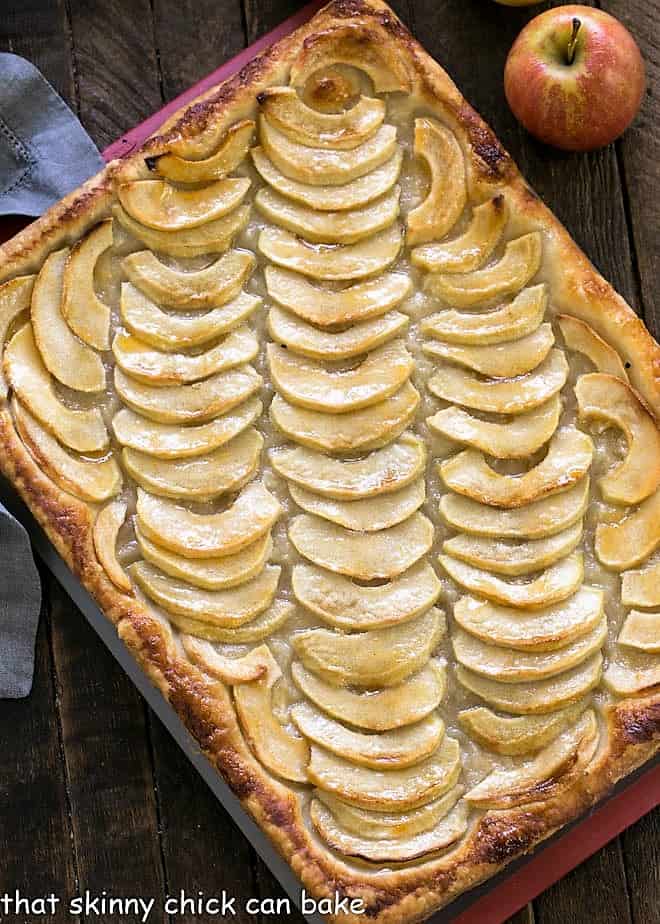 Frequently Asked Questions
Can You Use Other Kinds of Apples?
Yes, I like Granny Smiths since they hold their shape well after baking, but any of your favorite baking apples will work. Some popular varieties include Golden Delicious, Jonagolds, and Braeburn.
Can You Leave the Peels on the Apples?
Yes, if you don't mind the texture of cooked apple peels, it's fine not to peel the apples before slicing. The peels will provide a nice color to the tart.
Do You Need to Precook the Puff Pastry Crust?
No, with this recipe, the crust will be fully baked by the time the apples are cooked. Just assemble the tart, then bake.
How Do You Know When The Tart is Done?
Use the tip of a sharp knife to pierce a few of the apples. When they're cooked, the knife won't meet much resistance and will be easy to insert.
You May Also Like: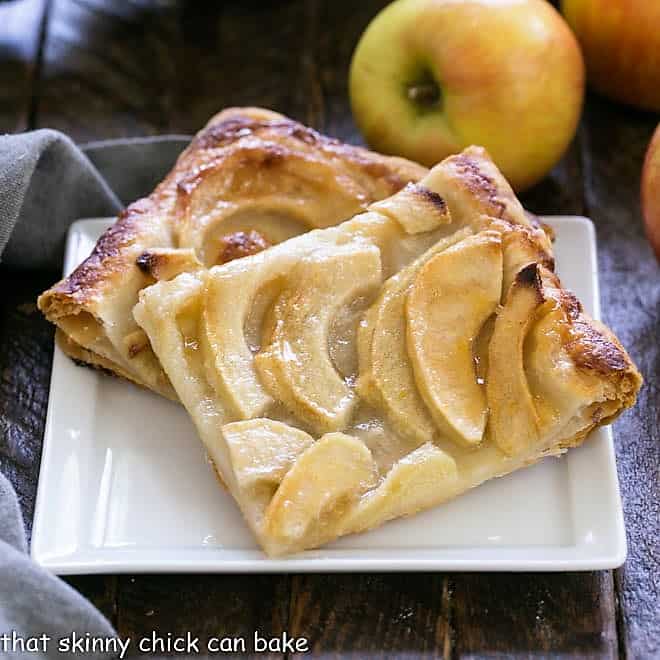 The Recipe:
French Apple Tart with Puff Pastry
Prep Time 15 minutes
Cook Time 45 minutes
Total Time 1 hour
Yield 12 servings
An easy apple tart recipe adapted from Ina Garten
Ingredients
1 sheet of frozen puff pastry, defrosted in the refrigerator overnight
4 Granny Smith apples, peeled, cored, halved, and cut into ¼-inch slices
½ cup sugar
4 tablespoons cold butter, diced
½ cup apricot jelly
2 tablespoons cognac or apple brandy like Calvados
Instructions
Preheat the oven to 400º. Line sheet pan with parchment.
Roll the puff pastry out to about 10 x 14 inches. Put the pastry on the prepared sheet pan and refrigerate as you prepare apples.
Place overlapping slices of apples in rows over the pastry. Ina uses a diagonal pattern, but straight rows are fine, too. Sprinkle with sugar, then dot with butter.
Bake for 45 minutes or longer till the pastry is browned and the apples start to get a little color. Check the tart at 30 minutes and if you think it's getting too dark, decrease the oven temperature to 350º until the apples are tender.
Heat jelly with your choice of liquor. Brush the tart with the jelly mixture, and allow it to cool completely.
Notes
Beware, the edges and juices may burn. I've had to trim off burnt edges, but the tart will still be delicious. Watch your tart carefully towards the end of the baking time. If the apples are soft when you poke them with a knife and the crust is browned, it is done. If the apples need more cooking time, you may want to decrease the oven temperature to avoid the edges getting too dark.
If you have apricot preserves and not jelly, strain through a sieve before glazing to remove any apricot pieces.
Recipe adapted from Ina Garten.
Nutrition Information:
Yield:
12
Serving Size:
1
Amount Per Serving:
Calories: 146
Total Fat: 5g
Saturated Fat: 3g
Trans Fat: 0g
Unsaturated Fat: 2g
Cholesterol: 10mg
Sodium: 40mg
Carbohydrates: 23g
Fiber: 2g
Sugar: 18g
Protein: 0g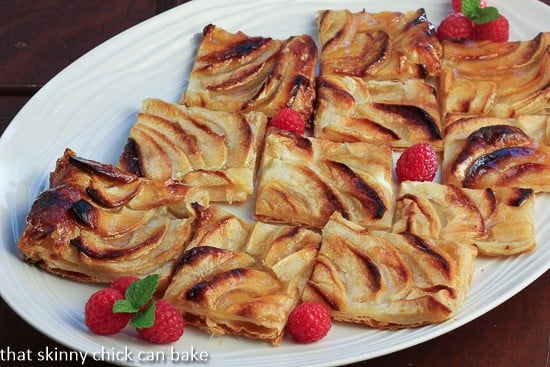 Photo Circa 2010
Note: This post may contain affiliate links; view
my Disclosure Policy
for details. I earn a small percentage from any purchase you make by clicking on these links at no extra cost to you.