Maple Glazed Apple Galette
When autumn arrives, I immediately start craving apple desserts. This simple Maple Glazed Apple Galette was the antidote to my undeniable desires!
This Rustic Apple Tart makes a whole lot of sense if you don't like making pie crust! Only one crust needed and most of it is hidden below a beautiful swirl of apples. Give it a try!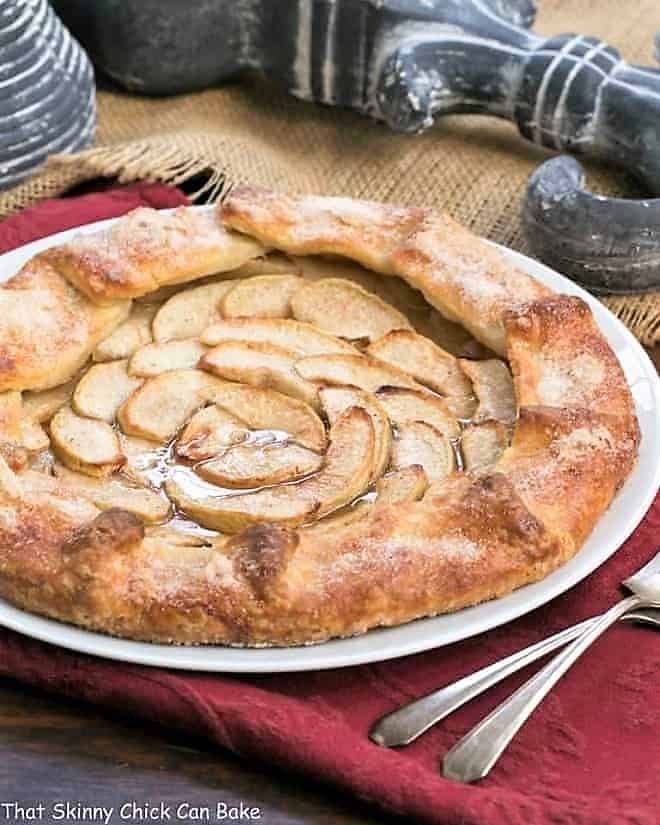 Maple Glazed Apple Galette: The perfect fall dessert
As a cold front swept across the Midwest, a thunderstorm brought a deluge of rain, followed by cool autumnal breezes. The crisp air felt like fall. I peeled a few Granny Smith apples, rolled out some pastry and slid this Maple Glazed Apple Galette into the oven. This rustic apple tart is such an easy way to enjoy the first apple dessert of the season!
How to Make a Rustic Apple Tart
Much as I adore peach, strawberry and raspberry desserts, it brings such pleasure to bake with seasonal fruits as we enter the month of September. And a galette is so much easier than a pie. I topped a round of dough with apple slices tossed with cinnamon and sugar, then tidily folded the edges up around the perimeter.
After baking for a half-hour, the crust was painted with egg white and the whole tart received a sprinkling of sugar. As the final gilding, I reduced some maple syrup to brush over the apples as a glaze once the tart had cooled.
Nick was home for the weekend (note: 20-year-old boys can pack away the food!) and he and his dad made 2/3 of this apple galette disappear within 24 hours. I should have made two! Or added this breakfast worthy Maple Glazed Apple Tart to our menu, too!
What is a Galette?
Galette is a French term that refers to a rustic, free-form tart made with a single layer of pastry. The perimeter of the pastry is pleated over the filling to contain the fruit and juices.
Tips for Making a Perfect Galette
A galette is a perfect dessert when you want a pie, but you don't want to deal with making a double crust. Here are a few tips and tricks for making a galette.
Like with a traditional pie, you want your galette dough to be of good rolling consistency. It should hold together when you take a few tablespoons and squeeze them in your hand. If not, just add a few sprinkles of water and combine them. But be cautious as too much liquid is also problematic.
Roll the dough to approximately 1/8-inch thickness. Thicker will be difficult to pleat, and thinner can break when folding.
Though this is a rustic tart, I like to use a large bowl as a template to cut the pastry crust into a round before adding the filling.
PRO-Tip: Don't pile on too much filling. One layer is just right. Any more and the crust can either not cook properly or get soggy.
I start arranging the apples about 3 inches from the perimeter. Slightly overlapping the slices and placing them in a spiral pattern makes for a beautiful presentation.
If filling your galette with juicy fruit, like peaches, you may need to add a thickening agent, like flour or cornstarch or, again, your crust could be soggy. FYI, the Italians refer to a galette as a crostata.
More Fabulous Fall Desserts:
Autumn is the time to focus on apple and pumpkin desserts. What's your favorite fall dessert?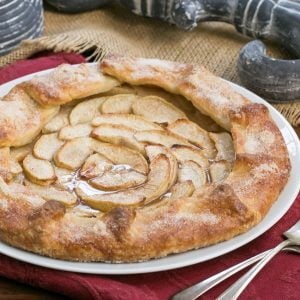 The Recipe:
Maple Glazed Apple Galette Recipe
Prep Time 30 minutes
Cook Time 1 hour
Total Time 1 hour 30 minutes
Yield 6 servings
A maple glaze pushes this rustic apple dessert over the top. Adapted from Cook's Illustrated.
Ingredients
Dough:
1 ¼ cups flour
2 tablespoons sugar
¼ teaspoon salt
8 tablespoons cold butter (1 stick), cut into ½-inch pieces
4 ounces cold cream cheese, cut into ½-inch pieces
2 teaspoons lemon juice
1-2 tablespoons ice water (I used closer to 2 tablespoons)
Filling:
6 medium apples (about 2 ½ pounds), peeled, cored and cut into ¼-inch slices (I used 3 Granny Smith and 3 Golden Delicious)
2 tablespoons lemon juice
¼ cup sugar
¼ teaspoon cinnamon
Glaze:
1 egg white, lightly beaten
2 tablespoons sugar
¼-⅓ cup maple syrup
Instructions
In a food processor, pulse flour, sugar, and salt. Add butter and cream cheese and pulse till the mixture looks like coarse cornmeal, about 10 pulses.½⅓¼
Sprinkle with lemon juice and 1 tablespoon of water and pulse a few times till combined.
Pinch a bit of the dough to see if it holds together, if not, add some more water and pulse to combine.
Pour out dough onto a large sheet of plastic wrap. Gather into a ball, then flatten into a disk. Wrap in the plastic and refrigerate for at least 30 minutes.
Preheat oven to 375º.
Remove dough from refrigerator. Roll into a 15-inch circle.
Place dough on a piece of parchment and slide onto a rimless baking sheet.
Toss apples with the sugar and cinnamon; and arrange apples overlapping in semicircles, starting about 3 inches in from the edge of the dough, placing the thicker sides of the apples facing out.
Fold the outer dough border up over the apple filling, making pleats to allow the dough to lay flat.
Bake for 30 minutes, then brush exposed crust with egg white and sprinkle the remaining sugar over the whole tart. Bake until crust is golden and apples are tender, about 30 more minutes.
While the tart is in the oven cook maple syrup till it reduces almost in half. Set aside.
Cool 10 minutes, then slide tart and parchment onto a cooling rack. Cool completely. Use a large spatula to remove the tart from the parchment onto a serving plate. Brush apples with maple glaze.
Nutrition Information:
Yield:
6
Serving Size:
1 slice
Amount Per Serving:
Calories: 541
Total Fat: 22g
Saturated Fat: 14g
Trans Fat: 1g
Unsaturated Fat: 7g
Cholesterol: 60mg
Sodium: 286mg
Carbohydrates: 84g
Fiber: 5g
Sugar: 55g
Protein: 5g
Note: This post may contain affiliate links; view
my Disclosure Policy
for details. I earn a small percentage from any purchase you make by clicking on these links at no extra cost to you.