Easy Pumpkin Fudge
Pumpkin Fudge can give you the same delicious creamy, autumn-spiced flavors of pumpkin pie generally reserved for Thanksgiving. Plus, everyone LOVES Homemade Fudge!
This Easy Fudge Recipe takes just minutes to make with pantry ingredients. If you love pumpkin treats, this recipe will rock your taste buds!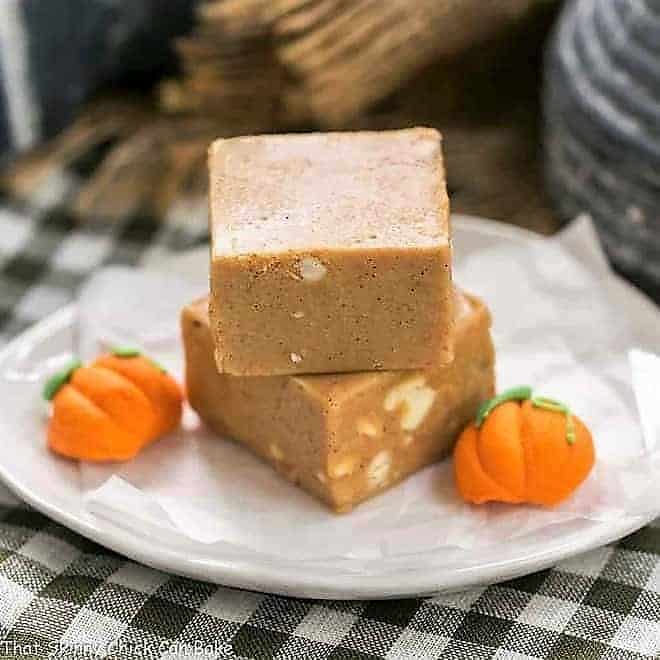 Why You Must Make this Pumpkin Candy
I was intrigued when I came across a few recipes for pumpkin fudge on the Internet. My family, die-hard chocolate fudge fans, were skeptical. I shouldn't have worried!
I used my very popular No-Fail Fudge recipe and tweaked it to make this pumpkin fudge.
When offering to some girlfriends, the two who were brave enough to eat fudge at 10 AM went back for seconds!
It's super easy and perfect for fall! Who wouldn't want to try Pumpkin Spice Fudge!!
How to Make
This was my basic fudge recipe with a few minor changes.
First, some brown sugar replaced a cup of the granulated sugar.
PRO-Tip: For the pumpkin twist, a half cup of pumpkin plus the same melange of spices used for pumpkin pie.
Instead of semi-sweet chocolate chips, stir in white chocolate chips. If you don't want any visible chocolate, finely chop the white chocolate before adding. Note that chocolate chips are designed to keep their shape for the best results with chocolate chip cookie recipes but don't always melt completely without some vigorous stirring.
PRO-Tip: If you don't have a candy thermometer, just allow your fudge mixture to boil for 5 minutes so it will be firm enough when it is chilled.
In addition to vanilla, the fudge is flavored with cinnamon, ginger, and cloves, which are warm autumn spices.
Pour the fudge into a foil-lined pan and smooth the top with an offset spatula.
Cool completely before cutting.
My friends enjoyed the little bits of white chocolate interspersed in this easy fudge recipe. I took a batch across the street to share with my knitting group.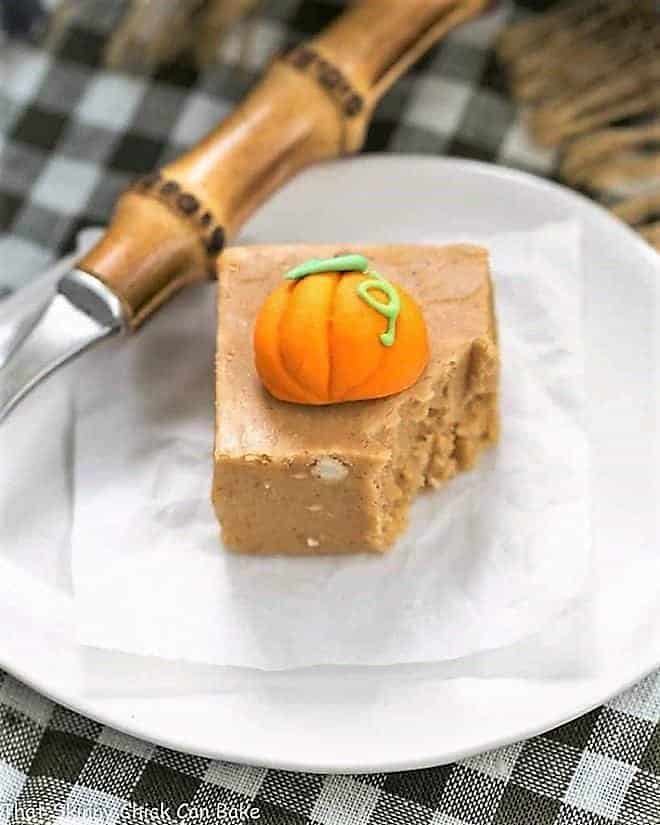 Expert Tips
If you've ever made the No-Fail Fudge recipe on the back of a jar of marshmallow creme, you can make this pumpkin pie spice recipe. Here are a few tips specifically for this pumpkin version.
PRO-Tip: There is a major difference between a can of pumpkin pie filling and a can of pumpkin puree. You want the pumpkin puree which is just plain pumpkin with no sugar or spices added.
I like adding a combination of cinnamon, ginger and cloves, the same spices I use in my pumpkin pie. If there are other pumpkin pie spices you like, feel free to add them to your fudge.
Chop your white chocolate chips if you'd prefer a smooth textured pumpkin fudge.
You can also use 12 ounces of chopped white chocolate if you'd like, though white chocolate bars will be more expensive than chocolate chips.
PRO-Tip: Use Kraft Marshmallow Creme. A friend tried another one of my recipes using Marshmallow Fluff and it didn't set well, so do not substitute.
Using a candy thermometer helps ensure the fudge comes to the proper temperature, 234º.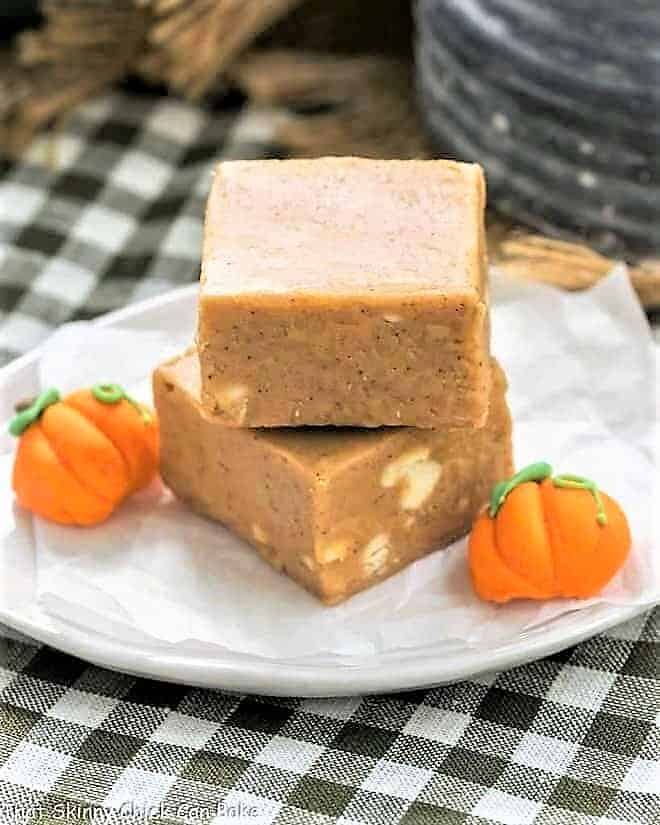 Frequently Asked Questions
Does Pumpkin Fudge Need to Be Refrigerated?
This fudge keeps well at room temperature for 2-3 days as long as it's in an airtight container. We've kept it out for a week or longer, After that, store in the refrigerator or freeze.
Can You Freeze Pumpkin Fudge?
Yes, it freezes well for up to 3 months if wrapped airtight. Just defrost in the refrigerator overnight before serving.
How Do You Cut Fudge Squares?
Make sure to line your pan with non-stick foil so you can use that to remove the cooled fudge using the foil as a sling. Place it on a cutting board. Use a sharp knife, wiping it off after each cut as needed, and cut into squares.
How Do You Package Fudge for Gifts?
For gifts, use cellophane bags with festive ribbons, candy boxes with wax or parchment paper between layers, or on a festive plate covered with plastic wrap.
Add a candy pumpkin to each square for a fun presentation.
You May Also Like:
The Recipe:
Easy Pumpkin Fudge
Prep Time 5 minutes
Cook Time 15 minutes
Total Time 20 minutes
Yield 36 1.5-inch squares or 3 pounds
Autumn spiced pumpkin fudge inspired by Nestle.
Ingredients
2 cups sugar
1 cup brown sugar
3/4 cup (1 1/2 sticks) butter
2/3 cup evaporated milk
1/2 cup pumpkin puree
1 1/2 teaspoons cinnamon
3/4 teaspoon ground ginger
1/4 teaspoon ground cloves
2 cups white chocolate chips, chopped
1 jar (7 oz.) marshmallow crème
1 1/2 teaspoons vanilla
Instructions
Line a 9 x 9-inch baking pan with non-stick foil (this makes it easier to lift fudge out of the pan for cutting). For thinner fudge, you may use a 9 x 13 pan.
Place sugar, brown sugar, evaporated milk, pumpkin, butter and spices in a medium saucepan.
Bring to a full boil over medium heat, stirring constantly. Boil, stirring constantly, for approximately 5 minutes or until candy thermometer reaches 234°. (I always use a thermometer to play it safe).
Pull off the heat and immediately add in marshmallow creme, white chocolate chips and vanilla extract.
Stir briskly until the chocolate chips are melted. Pour into your prepared pan and let cool on a wire rack for about 2 hours.
Cut into 1-inch pieces to serve. Store covered in refrigerator.
Notes
Total time does not include cooling time.
Nutrition Information:
Yield:
36
Serving Size:
1 square
Amount Per Serving:
Calories: 121
Total Fat: 3g
Saturated Fat: 2g
Trans Fat: 0g
Unsaturated Fat: 1g
Cholesterol: 3mg
Sodium: 15mg
Carbohydrates: 23g
Fiber: 0g
Sugar: 22g
Protein: 1g
Note: This post may contain affiliate links; view
my Disclosure Policy
for details. I earn a small percentage from any purchase you make by clicking on these links at no extra cost to you.