Chocolate Chip Cookie Dough Dip
Chocolate Chip Cookie Dough Dip is the perfect dessert for cookie dough lovers! So rich, creamy, and chock full of chocolate chips and toffee! Whether or not you indulge in cookie dough when you're baking, you'll fall hard for this sweet dip recipe!
This Cookie Dough Recipe makes an irresistible Dessert Dip! Great for game day or casual gatherings.
Why You Must Make
If you love cookie dough as much as cookies, you'll go crazy for this dessert dip!
There are no raw eggs like in standard cookie dough, so it's safe to eat.
The raw flour can be cooked so it is safe to eat, too. It can contain e-coli bacteria which can bring on very unpleasant symptoms.
PRO-Tip: Spread your flour on a baking sheet and place in a preheated 350º oven for 5 minutes. The flour should reach 160º which is hot enough to kill the bacteria.
It's absolutely irresistible and tastes a heck of a lot like chocolate chip cookie dough!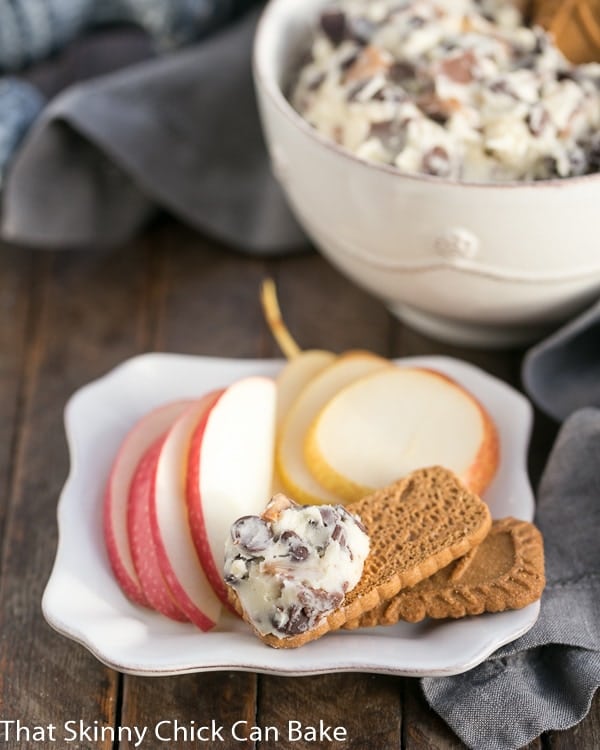 How to Make
There are gobs of dessert dip recipes around the web. This Dunkaroo Dip is basically 3 ingredients! Can you see why this category of sweets is so popular???
This cookie dough recipe is simple and fabulous.
Blend soft butter and cream cheese, sugars, and vanilla until smooth.
Add Heath bar chunks and chocolate chips, and stir by hand to combine.
Serve with Biscoff cookies and apple slices.
Expert Tips
This is one of the easiest desserts you'll ever make! It's just as appropriate for a girls' night out as it is for game day (you need to balance out all those salty chips and dips!). A group of our neighbors spent the weekend at a historic hotel south of Indianapolis, and I brought along this chocolate chip cookie dough dip for our midnight snack. My friends went nuts for it!
Here are a couple of hints for making this dessert dip.
PRO-Tip: Make sure your cream cheese and butter are at room temperature. It will be much easier to mix if they're not fresh from the refrigerator.
I like to buy whole Heath Bars and chop them myself. If you'd prefer, you can buy bagged toffee bits.
You can serve it with any cookie to use as a dipper. Graham crackers, vanilla wafers, chocolate wafers, and even homemade cookies will work.
I also like to offer sturdy fruit slices like apples or pears for a slightly healthier option. And if you're a sweet and salty fan, try pretzel knots or snaps!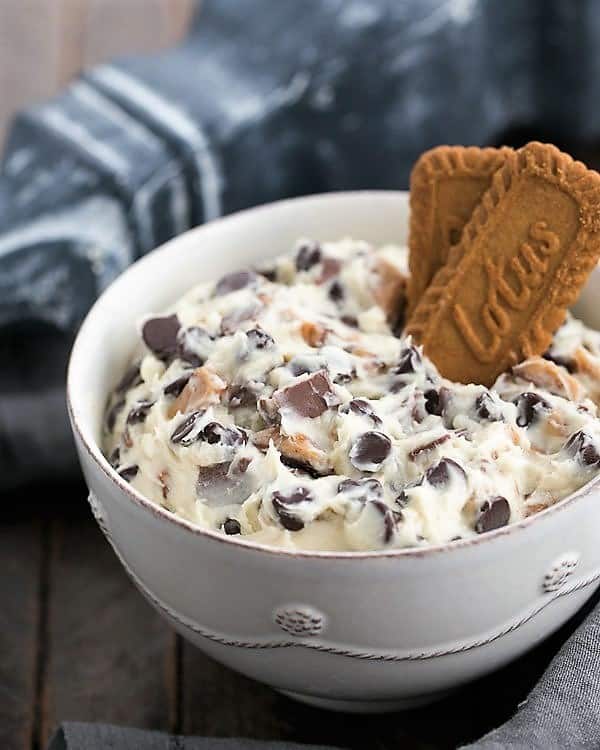 Frequently Asked Questions
Is Cookie Dough Dip Healthy?
We make it healthier to eat than regular cookie dough by eliminating the chance of food poisoning from raw eggs or raw flour. But it's a high-calorie, high-fat treat, so it's not considered healthy, just safer.
How Do You Make Cookie Dough Safe to Eat?
Do not use raw eggs in your dip. Instead, the combination of cream cheese, butter, sugar, and vanilla comes close to the texture of raw dough. Do not use raw flour. This cookie dough dip doesn't contain flour, but this is another reason not to indulge in regular cookie dough. But this cookie dough dip IS safe.
PRO-Tip: If wanting to eat regular cookie dough, cooking the flour first will make it safe. Spread your flour on a baking sheet and place it in a preheated 350º oven for 5 minutes. The flour should reach 160º which is hot enough to kill the bacteria.
What to Serve with Chocolate Chip Dip?
Cookies make great dippers. Biscoff cookies, vanilla wafers, graham crackers, chocolate chip cookies and more will work well. Firm fruit like apples can be sliced for a healthy dipping option.
How to Store Cookie Dough Dip?
With cream cheese as an ingredient, cookie dough dip should not be left out at room temperature for longer than 2 hours. After that, cover and keep in the refrigerator.

It should freeze well, though I haven't tested it. Freeze for up to 2 months in an airtight container, and defrost overnight in the refrigerator.
How Long Does a Dessert Dip Last?
As long as there is no double-dipping going on, which could contaminate the dip, it should be safe to consume for up to 4 days. Note that if it was left at room temperature for longer than 2 hours, it should be tossed.
Can You Add Other Ingredients?
Yes, this recipe is easily adaptable. Replace the toffee bits with M&Ms or other small candies, sprinkles, or even crushed cookies. Just use your imagination!
You May Also Like:
This is the female half of our group at the historic
West
Stay in touch through social media @ Instagram, Facebook, and Pinterest. Don't forget to tag me when you try one of my recipes! And if you love the results, please give it a 5-star rating in the recipe card. Note: As an Amazon Associate, I earn from qualifying purchases. Visit my Amazon Store for my favorite products.
The Recipe:
Cookie Dough Dip Recipe
Prep Time 15 minutes
Total Time 15 minutes
Yield 16 servings
This dessert dip is one of the easiest, most delicious treats you could imagine! It's a safe way to indulge in cookie dough.
Ingredients
8 ounces cream cheese, at room temperature
1 stick (½ cup) butter, at room temperature
1 ½ teaspoons vanilla
1 cup powdered sugar
2 tablespoons brown sugar
1 cup chocolate chips
4 Heath bars (1.4 ounces each), chopped
Instructions
With a hand mixer, cream cheese, and butter. Add vanilla and mix to combine. Add sugars and mix until incorporated.
Stir in chocolate chips and Heath chunks.
Serve with sliced apples, Biscoff cookies, or your favorite cookies.
Notes
Adapted from Add a Pinch.
Don't leave out at room temperature for longer than 2 hours.
Helpful Tools (As an Amazon Associate and member of other affiliate programs, I earn from qualifying purchases).
Nutrition Information:
Yield:
16
Serving Size:
1
Amount Per Serving:
Calories: 188
Total Fat: 11g
Saturated Fat: 7g
Trans Fat: 0g
Unsaturated Fat: 4g
Cholesterol: 19mg
Sodium: 77mg
Carbohydrates: 22g
Fiber: 1g
Sugar: 20g
Protein: 2g
Calories are for dip only. The cound will increase depending on the dippers you use.
Photo circa 2012
Note: This post may contain affiliate links; view
my Disclosure Policy
for details. I earn a small percentage from any purchase you make by clicking on these links at no extra cost to you.