Gruyere Spinach Strata
Gruyere spinach strata is the perfect meatless brunch recipe! This make-ahead casserole is easy to make and it tastes fantastic. We entertained some friends one Sunday morning last month. Brunch fare was in order and this Egg Casserole Recipe was my favorite dish.
This Easy Breakfast Casserole was a hit along with the rest of the brunch food!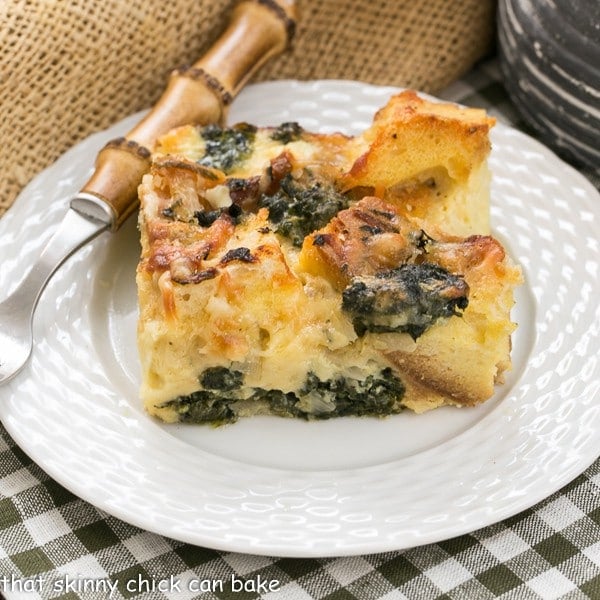 Why You Must Make
I adore having our friends over and cooking for them. Bill and I are part of a small dinner club and it was our turn to host. We gathered for brunch and I warned them that the recipes I was serving were not tried and true. Thankfully, every single dish was a hit.
This casserole is a great addition to any weekend brunch.
It has eggs, cheese, spinach, and bread. All bases on the food pyramid are covered.
It can be prepared the day before and baked right before serving.
Plus, it's delicious!
Bill loved the mushroom and chicken crepes, Mike and Mary Ann were fans of the Strawberry Cheesecake Trifle, John fell hard for my coconut cream pie, and Bill's grilled bacon and chicken apple sausage. Tops in my book was this Breakfast Strata.
Ingredient Notes
Kitchen Staples – Butter, Salt, Black Pepper, Eggs, Milk
Onion – Finely Chopped
Fresh Nutmeg – Use a rasp or fine grater to grate your whole nutmeg. Use a pinch or two of ground nutmeg as an alternative. Nutmeg should be used in small quantities so it doesn't overwhelm the dish. It is a classic pairing with spinach.
Frozen Chopped Spinach – It comes in a 10-ounce box or package. Defrost and squeeze dry.
French or Italian Bread – Cut into cubes to make 8 cups.
Gruyère – Coarsely grated. Other Swiss cheese varieties can be substituted or even sharp cheddar. Gruyère has a delicious, nutty flavor.
Parmigiano-Reggiano – Use real, finely grated Parmesan cheese. Don't use the green can.
Dijon Mustard – I used Grey Poupon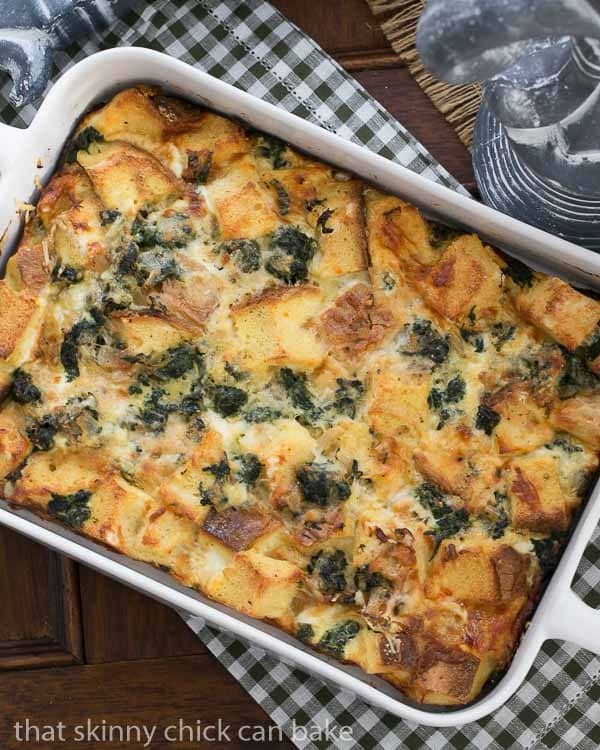 Recipe Tips
If you're ever serving brunch to a crowd, whether it be overnight guests or a family gathering for the holidays, an easy, make-ahead dish is imperative. And one that is absolutely scrumptious is just as important.
Defrost your spinach and squeeze it dry, grate the cheese, and cube the bread ahead of time.
Use your hands to squeeze the spinach very dry as you don't want to add extra moisture to the strata.
The night before, you can mix up the custard place all the other ingredients in a casserole dish, and pour the eggy mixture onto the bread.
Cover and park it in the fridge and bring it out for an hour or so before baking to take the chill off.
Serve the breakfast bake warm from the oven with fresh fruit and bacon or sausages for a tasty meal.
You will be delighted with the results! Warm and cheesy comfort food. You can't beat that.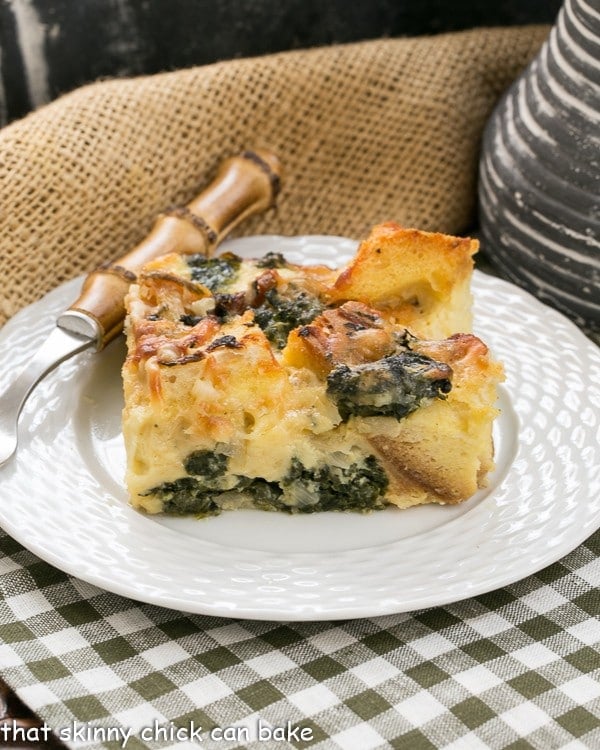 Frequently Asked Questions
What is a Strata?
A strata in culinary terms is typically a bread and egg casserole. The bread and other ingredients are layered, thus similar to the strata or layers of rock geology.
What's the Difference Between a Strata, Frittata, and Egg Bake?
Both a strata and frittata are considered egg bakes. A strata is a layered egg casserole that often contains bread, cheese, and other ingredients. A frittata is similar to a baked omelet and can have vegetables, bacon or sausage, and cheese.
You May Also Like: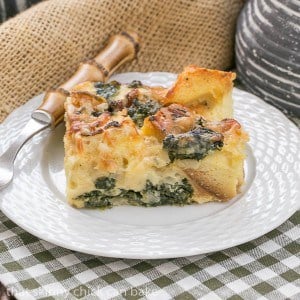 The Recipe:
Gruyere Spinach Strata
Prep Time 20 minutes
Cook Time 55 minutes
Total Time 1 hour 15 minutes
Yield 8 servings
A wonderful breakfast strata that can be put together the night before and baked in the morning! Adapted from Gourmet.
Ingredients
1 ½ cups finely chopped onion
3 tablespoons butter
1 teaspoon salt, divided
½ teaspoon black pepper, divided
A few gratings of fresh nutmeg
1 (10-oz) package of frozen spinach, thawed and squeezed dry
8 cups cubed French or Italian bread
6 ounces coarsely grated Gruyère
2 ounces grated Parmigiano-Reggiano
2 ¾ cups milk
9 eggs
2 tablespoons Dijon mustard
Instructions
Cook the onion in the butter till soft. Add ½ teaspoon salt, ¼ teaspoon pepper, and nutmeg and cook, stirring, for about a minute. Mix in spinach, then remove from heat.
Spread about a third of the bread cubes in a buttered 9 x 13 dish and top evenly with a third of the spinach mixture. Sprinkle with a third of each cheese. Repeat with two more layers of each component.
Whisk together milk, eggs, mustard, and remaining ½ teaspoon salt and ¼ teaspoon pepper and pour over strata. Cover with plastic wrap and refrigerate for at least 8 hours.
Preheat oven to 350°. Let strata sit at room temperature for about a half hour before baking.
Bake uncovered till golden and cooked through, 45 to 55 minutes. Let stand 5 minutes before serving.
Notes
This can be made a day ahead of time and stored covered in the refrigerator. Make sure to bring it out of the refrigerator at least a half hour before baking to help take the chill off.

Nutrition Information:
Amount Per Serving:
Calories: 578
Total Fat: 30g
Saturated Fat: 15g
Trans Fat: 0g
Cholesterol: 304mg
Sodium: 976mg
Carbohydrates: 46g
Fiber: 4g
Sugar: 9g
Protein: 31g
Note: This post may contain affiliate links; view
my Disclosure Policy
for details. I earn a small percentage from any purchase you make by clicking on these links at no extra cost to you.