Hasselback Potato Casserole
Hasselback Potato Casserole is a twist on traditional fanned baked potatoes. The casserole is creamy in the middle with irresistible crisp edges. An easy, impressive potato side dish recipe to make for a crowd!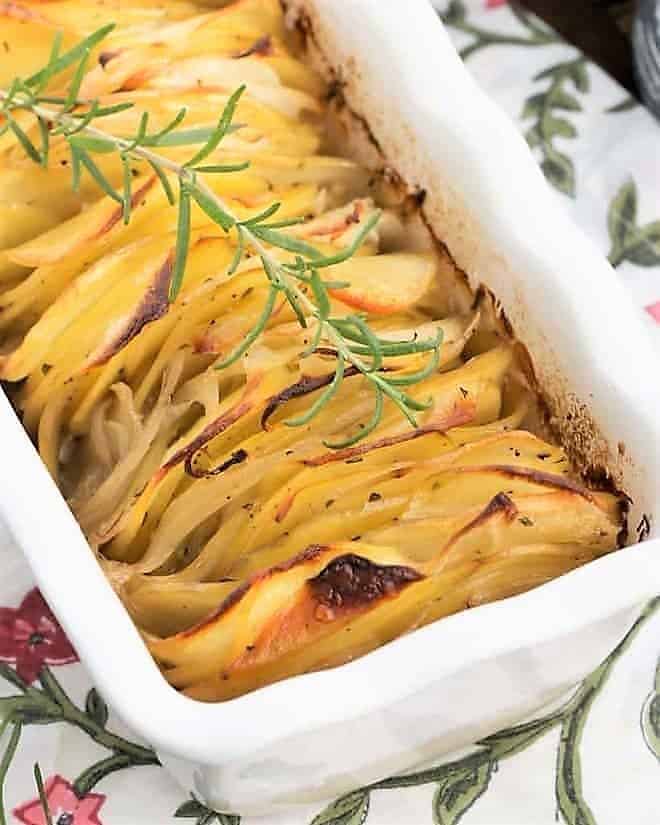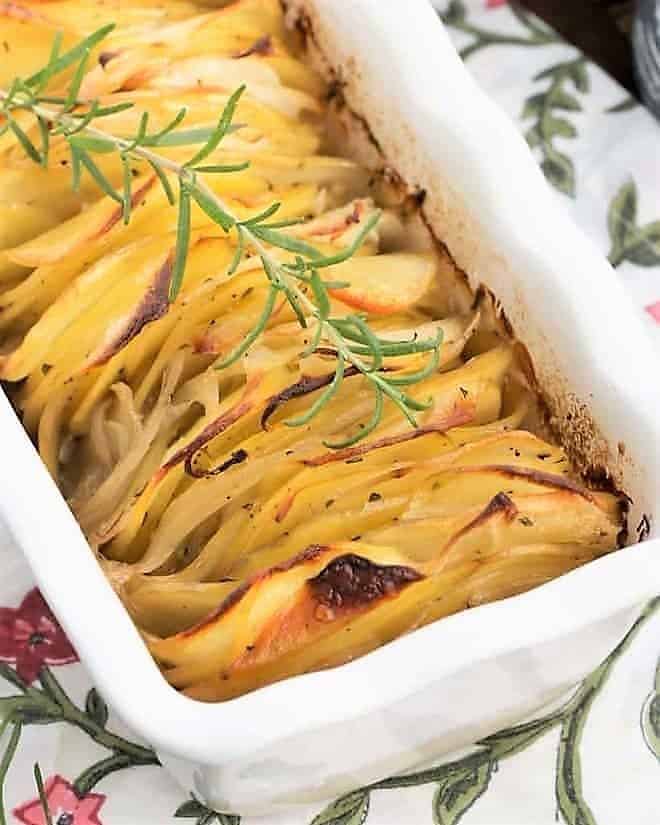 Hasselback Potato Casserole
Have you made Hasselback potatoes? They're a twist on baked potatoes created in Sweden–basically a fanned baked potato which increases the surface area available for seasoning. The insides are creamy while the exposed surfaces bake up to crispy deliciousness. But to make these for a crowd can be a bit daunting. I served this Hasselback Potato Casserole to my dinner club for brunch. They all wanted the recipe, especially once I explained how simple it was to make!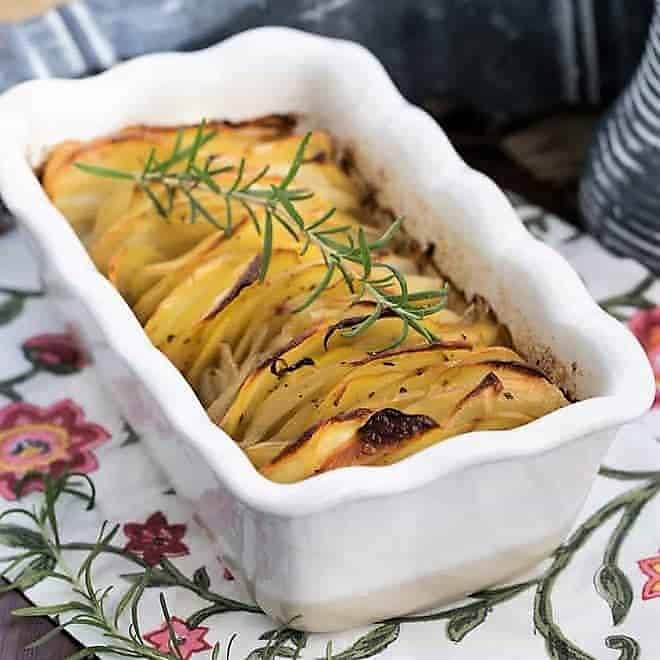 Tips for Making This Potato Casserole
I found the inspiration for this hasselback potatoes recipe on a fellow blogger's site (see link below). Laura used a combination of Yukon golds and sweet potatoes. I skipped the orange spuds so as not to scare off the picky hubby.
PRO-Tip: Use a mandoline to slice the pototoes, so they're of a consistent size. This ensures all slices will be done baking at the same time.
Toss the potatoes and onions in olive oil and season liberally with salt, pepper and fresh minced rosemary. Potatoes need plenty of salt or they will be bland! But over salting is not reversible.

Feel free drizzle on some butter, use thyme instead of rosemary, add some minced garlic or alternate the Yukon gold potato slices with sweet potato slices for a colorful potato medley.
This easy casserole can be made in any size you'd like, just poke your potatoes to make sure they're tender before uncovering them for the browning stage.
This hasselback potato casserole is perfect for entertaining, serving for the holidays, or even weeknight dinners. My dinner club friends ALL wanted the recipe. A fine endorsement.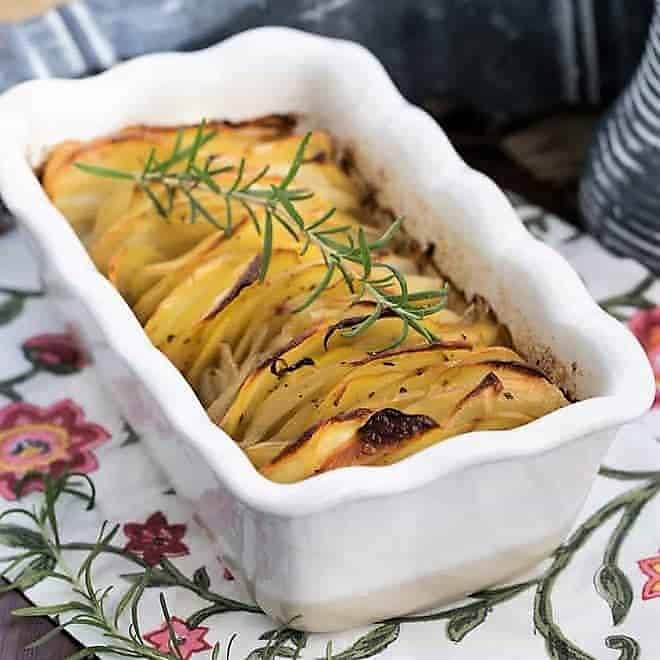 The Recipe:
Hasselback Potato Casserole
Prep Time 15 minutes
Cook Time 1 hour 15 minutes
Total Time 1 hour 30 minutes
Yield 6 servings
A twist on the Hasselback potato made in a casserole for a crowd.
Ingredients
2 pounds Yukon Gold (or similar potato), peeled and sliced very thinly (you may need more or less depending on your dish size)
1/2 medium onion, sliced very thinly
3 tablespoons Olive oil
Kosher salt
Freshly ground black pepper
2 teaspoons minced fresh rosemary
Instructions
Pre-heat the oven to 400º.
Grease a standard loaf pan with olive oil and set aside.
In one bowl, toss the sliced potatoes with enough olive oil to lightly coat. Do the same in a separate bowl with the onions.
Season the potatoes generously with salt, pepper, and rosemary.
Arrange the potatoes in the prepared dish, adding enough so they stand upright. Insert onion slices between some of the potato slices. Sprinkle with a little more salt.
Cover the dish with foil and bake for 1 hour. Uncover and bake another 15 minutes or more until potatoes are tender.
Serve hot or at room temperature.
Notes
Season liberally as potatoes will be bland without salt.
Nutrition Information:
Yield:
6
Serving Size:
1
Amount Per Serving:
Calories: 205
Total Fat: 7g
Saturated Fat: 1g
Trans Fat: 0g
Unsaturated Fat: 6g
Cholesterol: 0mg
Sodium: 113mg
Carbohydrates: 33g
Fiber: 4g
Sugar: 2g
Protein: 4g
Recipe adapted from my friend Laura's blog, Every Mother Would Know.
Note: This post may contain affiliate links; view
my Disclosure Policy
for details. I earn a small percentage from any purchase you make by clicking on these links at no extra cost to you.