Hasselback Potatoes with Parmesan and Thyme
Hasselback Potatoes: Seasoned Fanned Potatoes that will delight your palate! An easy, impressive side dish loaded with deliciousness.
A special slicing technique allows butter, Parmesan cheese, bread crumbs, and herbs to infuse every bite with extraordinary flavor!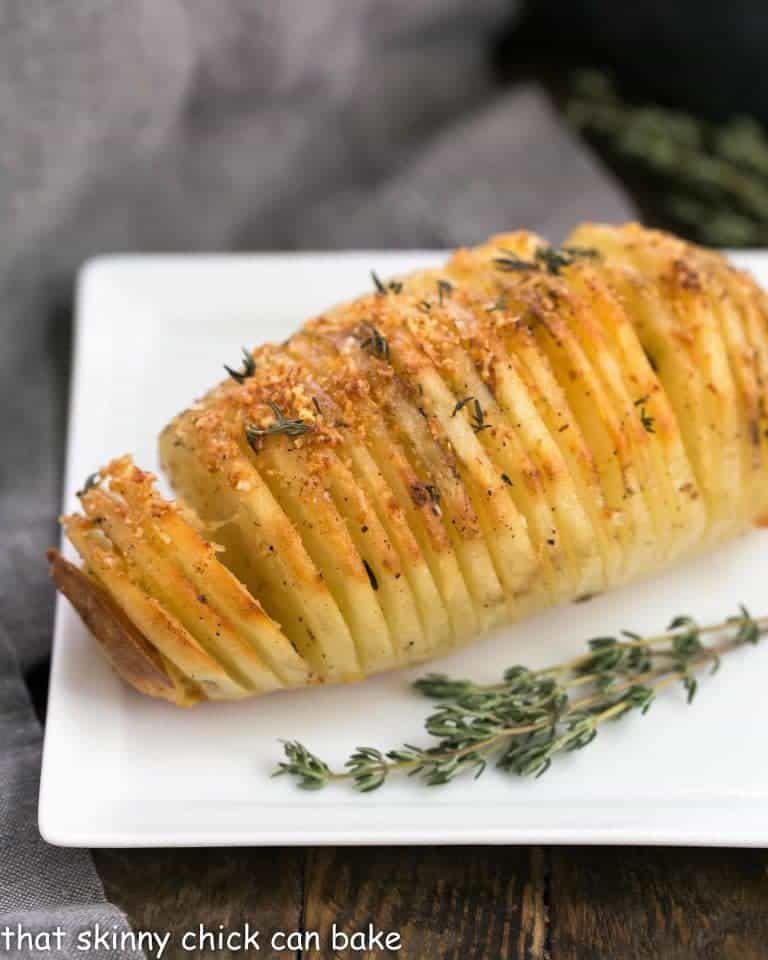 Why You'll Love Hasselback Potatoes
They're a fun alternative to a plain baked potato
These fanned potatoes make a beautiful presentation without a lot of work.
They're made with simple, easy-to-find ingredients!
It's been years since I've made this Hasselback potatoes recipe; but on occasion, these sliced baked potatoes are a fun option to the ordinary baked potato. It seems not everyone has been dazzled with their results when making this type of potato at home. I think the key is to make sure they are well seasoned.
PRO-Tip: Gently pull apart the slices so that the butter, salt, and pepper gets down into the crevasses, and then again when you drizzle with more butter and sprinkle with bread crumbs. Creating thin slices across your potatoes provides a plethora of surface area for all the tasty seasonings. Placing the handle of a wooden spoon next to the long side of the potato prevents your knife from cutting all the way through the fanned potatoes when slicing.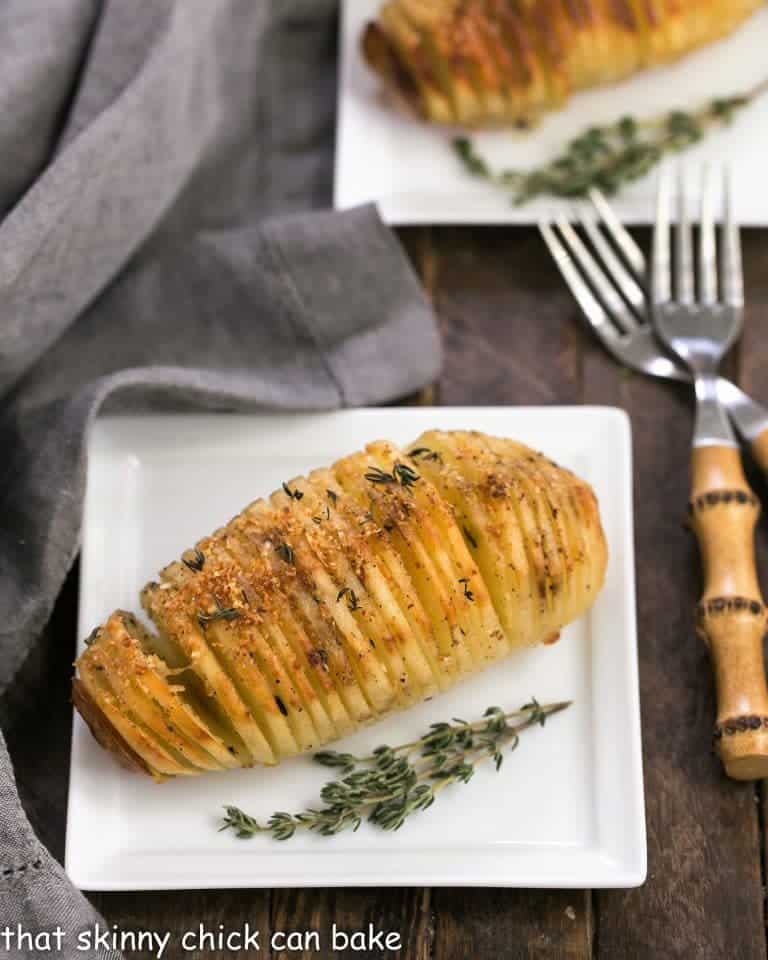 What Are Hasselback Potatoes?
Hasselback Potatoes are a Swedish version of baked potatoes. Known as Potato à la Hasselbacken after being named after the Hasselbacken Hotel Restaurant in Stockholm where they allegedly debuted in the 1700s. These fanned potatoes are now a classic Swedish potato dish. Typically the potatoes are sliced a little more than halfway through from one end to the other and then topped with butter, breadcrumbs, and almonds before baking.
I've made a fun Hasselback Potato Casserole for company, and they all asked for the recipe. My family also loves these Crispy Smashed Potatoes. You may want to check out this tutorial on how to make Perfect Baked Potatoes, this fabulous Twice Baked Potato Casserole, and this creamy Potato Gratin. All are just as appropriate for a dinner party as a family meal.
How to Make the Best Hasselback Potatoes
First, peel the potatoes and put them in a bowl of water so they do not oxidize and turn an unsightly gray color.
Close to baking time, pat the potatoes dry and thinly sliced them without cutting all the way through.
PRO-Tip: Place a wooden spoon along the length of the potato while slicing (or put one on each side!). It will stop the knife from completely cutting through the potato.
First, bake at high heat after seasoning with salt and pepper and drizzling with butter.
Before they are fully cooked, sprinkle the breadcrumb mixture over the potatoes and nudge into the open spaces between the slices. Another drizzle of butter doesn't hurt either.
The traditional filling includes almonds and bread crumbs, but I used a combination of bread crumbs, Parmesan cheese, and fresh thyme.
Mine took the full hour to bake to perfection, so give your sliced baked potatoes a jab with a fork or knife to ensure a tender potato. My meat and potatoes crowd enjoyed these spuds. I know you will, too! You might also enjoy my Cheesy Potato Galette.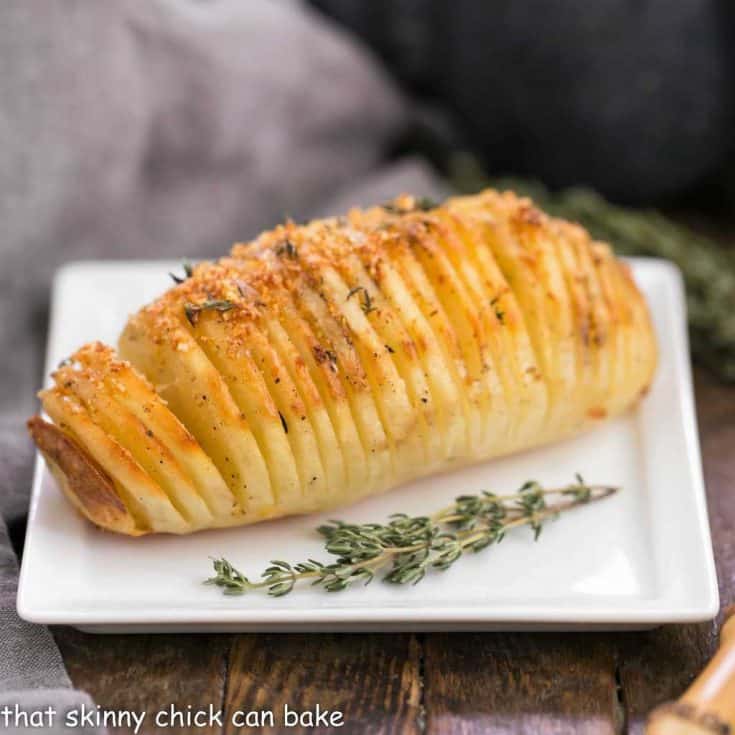 The Recipe:
Hasselback Potatoes
Prep Time 20 minutes
Cook Time 1 hour
Total Time 1 hour 20 minutes
Yield 4 servings
A delicious fanned potato recipe adapted from Allrecipes.com
Ingredients
4 baking potatoes
2+ tablespoons butter, melted
Salt to taste
Freshly ground pepper to taste
Fresh thyme to taste
2 tablespoons grated Parmesan cheese
1 tablespoon fresh bread crumbs
Thyme leaves, optional
Instructions
Preheat the oven to 425º.
Peel potatoes. Place in a bowl of cold water to prevent browning. One at a time, remove potato and place lengthwise on a cutting board. Place a wooden mixing spoon lengthwise along the potato. Using a knife, cut slices across the short side of the potato, about 1/8 inch apart. The wooden spoon will prevent your knife from cutting completely through the potato...potato should remain connected at the bottom. Repeat with the remaining potatoes.
Place the potatoes cut side up in a baking dish. Drizzle with half the butter, opening slices to ensure that the butter gets into the openings. Season with salt and pepper. Bake for 35-40 minutes.
Remove from oven and drizzle with the remaining butter. Sprinkle with Parmesan, bread crumbs and thyme, again opening slices to get the ingredients deep into the potatoes. Bake an additional 20 minutes or more, till potatoes are nicely browned and tender.
Nutrition Information:
Yield:
4
Serving Size:
1 potato
Amount Per Serving:
Calories: 207
Total Fat: 4g
Saturated Fat: 2g
Trans Fat: 0g
Unsaturated Fat: 1g
Cholesterol: 10mg
Sodium: 249mg
Carbohydrates: 39g
Fiber: 4g
Sugar: 2g
Protein: 5g
Note: This post may contain affiliate links; view
my Disclosure Policy
for details. I earn a small percentage from any purchase you make by clicking on these links at no extra cost to you.