Gruyere Potato Cakes
These Gruyere Potato Cakes are a splendid side dish on their own or tasty appetizer topped with creme fraiche, herbs, and even smoked salmon.
Potato Patties are a delicious change of pace from baked potatoes or hash browns. Made with three ingredients plus salt and pepper, they are always a hit with my crew.

Why You Must Make
They're made with minimal ingredients, yet are incredibly delicious.
If you're part of a meat and potatoes family like I am, this is a delicious side dish.
You can make mini versions for appetizers!
Lambeau, our furry family member, loves when I break out the potato peeler. Some of her most coveted treats are carrots, sweet potatoes, and the recently discovered potato peels. Luckily, this favorite side dish produced lots of snacks! My family prefers these fried potato cakes ungarnished, but they are lovely with a dollop of sour cream and a sprinkle of chives. I ate one for breakfast with a smear of creme fraiche, a slice of smoked salmon, and a sprig of fresh dill. Boy was that fabulous!!!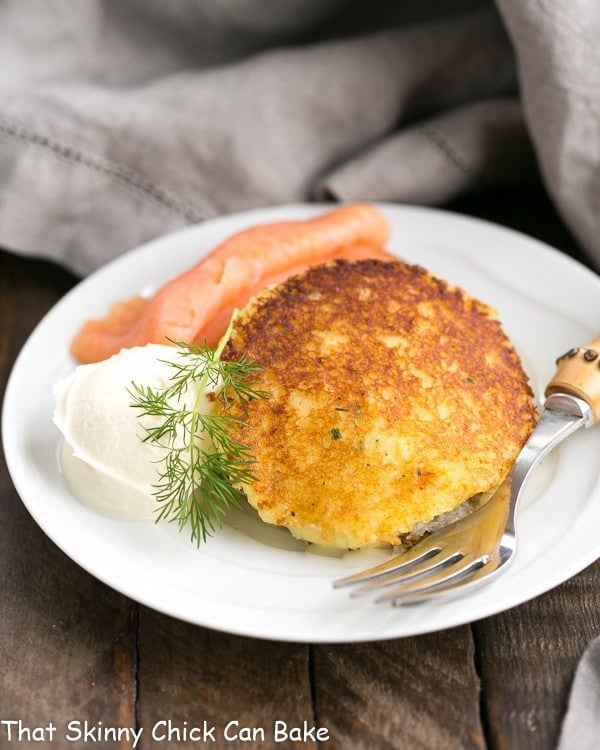 Tips for Making Potato Cakes
Since these mashed potato patties have no egg to bind, they are tender and delicious as can be. But you need to take care when sauteing these babies as they are quite delicate.
Use a very good non-stick pan (I've been enjoying these red T-fal Nonstick 8-Inch and 10.25-Inch Fry Pans Cookware, 2-Piece Set you can find using my Amazon affiliate link or at your local Target).
Make sure the oil is hot before adding the potato cakes. Once they've cooked a bit, jiggle the pan to loosen the bottom crust from the pan.
Cook until the bottom is a deep golden brown, then carefully flip and repeat on the other side.
Serve them with any toppings that pair well with potatoes: sour cream, creme fraiche, queso, salsa, and/or a sprinkle of herbs.
You can also mix in crumbled bacon, spicy peppers, sun-dried tomatoes, and more!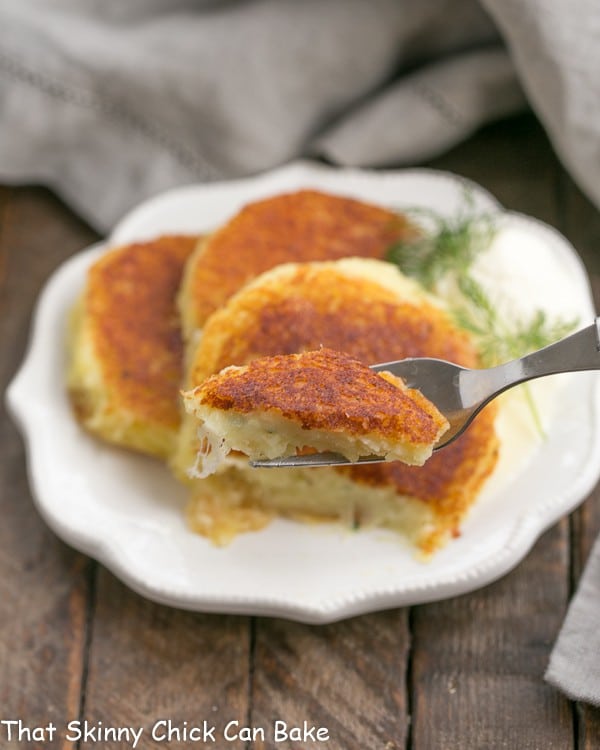 Frequently Asked Questions
How Do You Keep Potato Cakes from Falling Apart?
If you refrigerate these before frying, they will set up and become sturdier. Also, the addition of flour and/or eggs can help bind the ingredients (unfortunately, neither ingredient is in this recipe).
What Do You Eat with Potato Patties?
Potato Cakes can be served as an appetizer or a side dish. As an appetizer, a garnish is nice, whether it's sour cream and a sprig of herbs or salsa, it's up to you. As a side dish, serving them straight up is just fine.
What's the Difference Between Boxty and Other Potato Cakes?
Boxty is a specific type of Irish potato cake. They're made with both mashed and shredded potatoes, flour, and a leavening agent. The mixture is shaped into a round, cut into quarters, cooked on a griddle, and served as a side dish.
You May Also Like: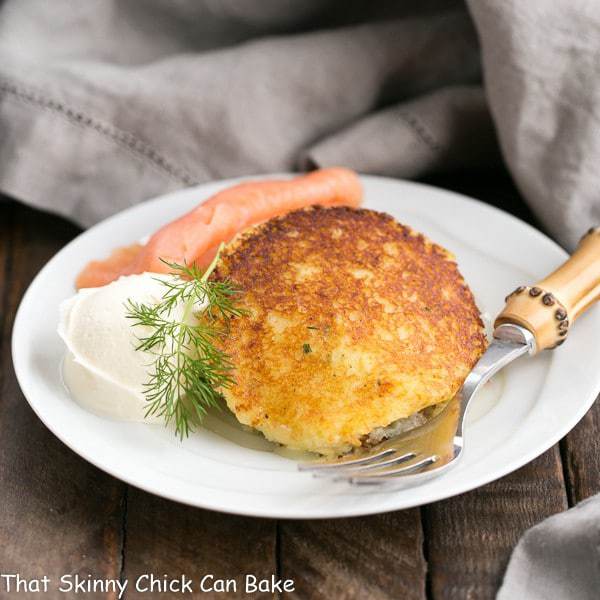 The Recipe:
Gruyere Potato Cakes Recipe
Prep Time 20 minutes
Cook Time 45 minutes
Total Time 1 hour 5 minutes
Yield 10 potato cakes
Mashed potato cakes filled with nutty Gruyere cheese and chives!
Ingredients
2 pounds potatoes, Yukon Gold, , peeled
1/2 cup grated Gruyere cheese (Asiago works well, too)
6 tablespoons olive oil, plus more for frying
6 tablespoons sour cream, plus more for serving
1-2 tablespoons chopped chives, plus more for garnish
Instructions
Cut potatoes into large chunks and gently boil in salted water till tender.
Drain and push through a ricer (or mash well till smooth). Mix in the cheese, olive oil, sour cream, and salt and pepper to taste.
Form 1/4 cup-sized patties, and fry in olive oil till brown on one side. Carefully flip and fry till brown on the second side.
Serve topped with a dollop of sour cream or creme fraiche and sprinkle of chives if desired. For an appetizer, add a piece of smoked salmon and a sprig of dill.
Notes
For an appetizer, try using a dollop of creme fraiche, a sprig of dill, and a thin slice of smoked salmon.
Adapted from Fine Cooking.
Nutrition Information:
Yield:
10
Serving Size:
1 potato cake
Amount Per Serving:
Calories: 219
Total Fat: 13g
Saturated Fat: 4g
Trans Fat: 0g
Unsaturated Fat: 8g
Cholesterol: 14mg
Sodium: 72mg
Carbohydrates: 23g
Fiber: 2g
Sugar: 2g
Protein: 5g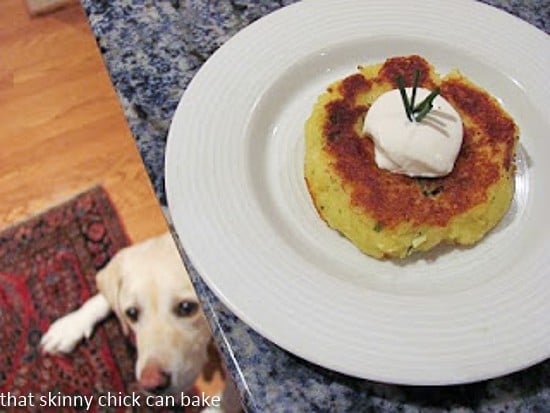 Note: This post may contain affiliate links; view
my Disclosure Policy
for details. I earn a small percentage from any purchase you make by clicking on these links at no extra cost to you.