How to Grill Cedar Plank Salmon
This Cedar Plank Salmon is made with a simple marinade and cooking technique that imparts a complex, irresistible flavor.
Plank Grilling Salmon changed our grilling routine about 10 years ago. Besides the smokey flavors from the charcoal grill, the soaked cedar infuses a secondary robust smoky and spicy flavor. Just think of the aroma of a cedar closet and you'll know Grilled Cedar Plank Salmon is something special.
Why You Must Make
This is a super easy recipe to shake up your grilling repertoire.
Grilling on a cedar plank adds smoky and subtle cedar undertones.
Between the marinade and the damp cedar cooking surface, the salmon will stay moist.
This recipe for Cedar Planked Salmon came with a pack of cedar planks I picked up at the grocery store years ago. It was so simple, yet the cedar gave a nice complexity to the salmon's flavor.
With common pantry items used for the marinade, it's super easy to prepare. The original recipe called for simmering the used marinade as a glaze, but I doubled the ingredients and reserve half to reduce and drizzle on the cooked salmon. This is a quick, healthy, and delicious way to grill salmon.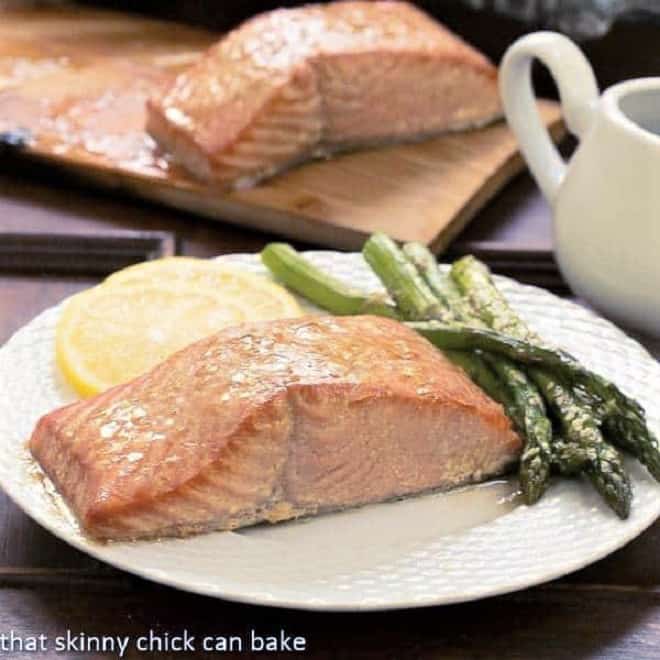 How to Grill with a Cedar Plank
Soak your plank in cold water for about 60 minutes before grilling. Hydrating the plank will help keep it from catching on fire. Most likely, it will get charred.
PRO-Tip: Shake things up by using salted water, wine, cider, or even sake for your soaking liquid.
Place the salmon on the plank, skin side down, shut the top of the grill, and cook for about 10 minutes or until the salmon is cooked to your desired doneness.
Cooking time will vary depending on the thickness of your salmon and the temperature of your grill. Use an instant-read thermometer to make sure the salmon is cooked to your liking.
The FDA recommends cooking salmon to 145º. You can pull it off the grill at 135º and let it rest, covered, for about 10 minutes and it will come up to temperature. But, personally, that's too well done for me. PRO-Tip: I prefer grilling more fatty farmed salmon to 125º. and wild salmon to 120º for the moistest results.
Reduce the leftover marinade by half while the salmon is cooking. Pour reduced sauce over the salmon before serving.
Reducing the marinade will concentrate the flavors and prevent any foodborne illnesses from being transmitted from raw juices.
Frequently Asked Questions
What is a Cedar Plank?
You may not even know what a cedar plank is, though they can be found in many grocery stores, especially during grilling season. But note that you can use cedar planks in the oven. Just follow the soaking recommendations and place the salmon-topped plank in a preheated oven.
A cedar plank is a thin slab of durable, fragrant wood from a coniferous tree of the pine family. Cedarwood is well known for lining storage closets since it repels moths.
Can Cedar Planks Be Reused?
Yes, as long as they aren't totally charred. Some of the less expensive planks are for one use only. If only the bottom is blackened, it may be OK for a second use. It will need to be soaked again.
You May Also Like
This recipe was first shared in September 2010. Photos and text were updated in 2017.
The Recipe:
Cedar Planked Salmon
Prep Time 10 minutes
Cook Time 10 minutes
Total Time 20 minutes
Yield 4 servings
A simple marinade and cooking technique for salmon that impart a complex, irresistible flavor
Ingredients
4 tablespoons vegetable oil
2 tablespoons soy sauce
6 tablespoons, dry white wine (I used Gallo Sauvignon Blanc)
1 teaspoon ginger
2 tablespoons brown sugar
freshly ground black pepper
1/2 teaspoon lemon juice
4 salmon fillets
Instructions
Combine the first six ingredients. Reserve half this marinade for later use.½
Marinate salmon for 20-30 minutes. Soak cedar plank in water for at least 60 minutes.
Preheat plank on the grill. Grill salmon on the plank for about 8-10 minutes with the lid on or to the desired doneness.
For the glaze, take reserved marinade and simmer in a saucepan till reduced by half.
Place salmon on a serving platter and drizzle with glaze.
Nutrition Information:
Yield:
4
Serving Size:
1
Amount Per Serving:
Calories: 633
Total Fat: 42g
Saturated Fat: 6g
Trans Fat: 0g
Unsaturated Fat: 32g
Cholesterol: 143mg
Sodium: 579mg
Carbohydrates: 7g
Fiber: 0g
Sugar: 6g
Protein: 51g
Note: This post may contain affiliate links; view
my Disclosure Policy
for details. I earn a small percentage from any purchase you make by clicking on these links at no extra cost to you.