Grilled Thai Chicken
The magnificent flavors in this Grilled Thai Chicken impart an unrivaled deliciousness when it comes to barbecued entrees. The Asian combination of coconut milk, lime juice, garlic, fish sauce, and cilantro makes an unforgettable marinade!
This Marinated Chicken is super easy to prepare. Marinate, grill, and eat! This will become a family favorite recipe!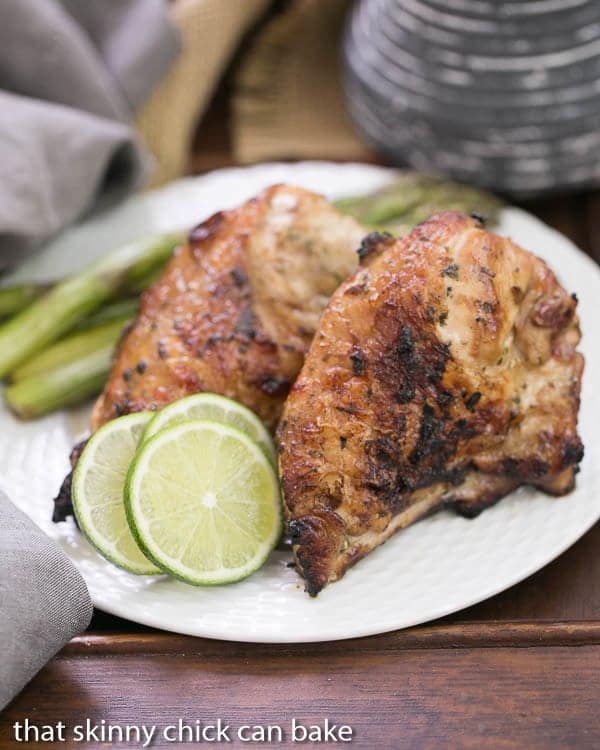 Why You Must Make
When I spotted this grilled Thai chicken recipe on my friend, Roz's blog, La Bella Vita, I knew instantly I'd love this chicken.
Full of delicious Asian flavors, it's also the perfect light dinner.
Who doesn't need that after all the holiday indulging?
I halved the Sriracha and red pepper flakes to tone down the spice factor so as not to overwhelm the hubby's delicate palate, but I think the family could have handled the full dose. I left a range so feel free to use the full amount (or more) if you like spicy. Fish sauce can be quite salty, so there's no need to add any additional salt, but a little freshly ground black pepper is a nice addition.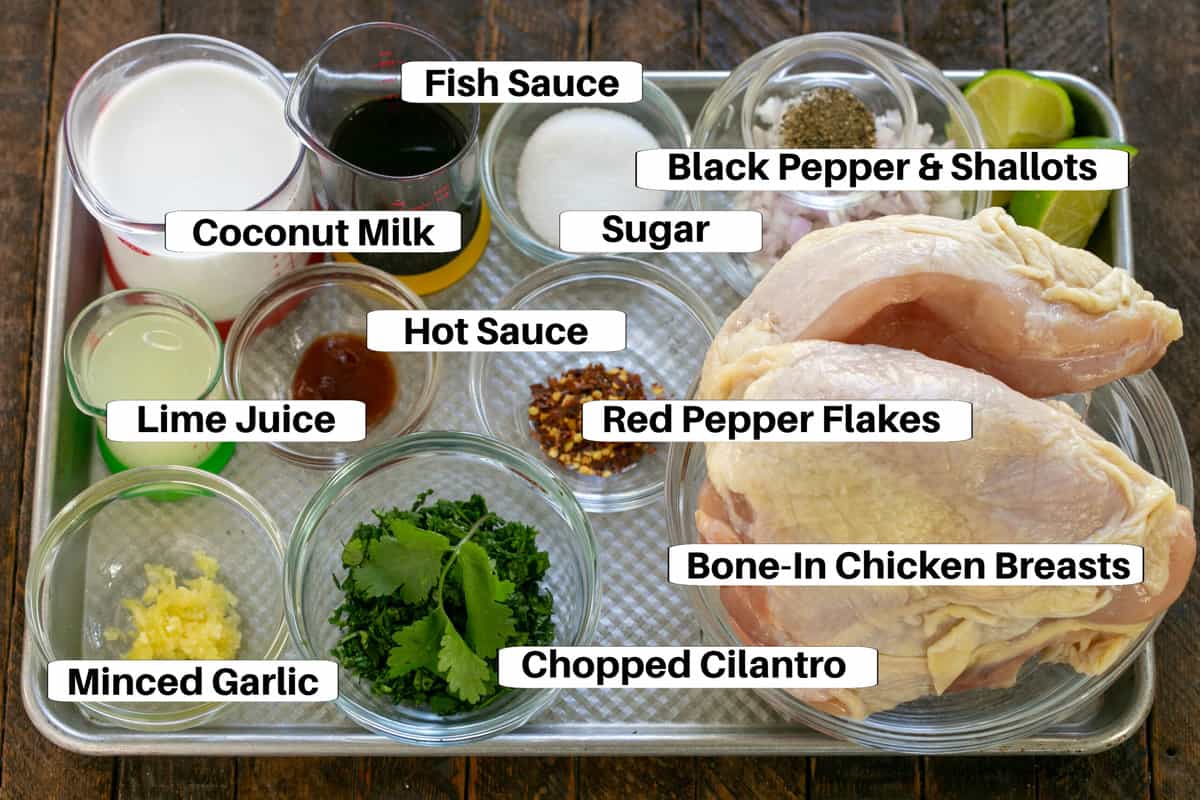 Ingredient Notes
Kitchen Staples – Sugar, Garlic Cloves, Black Pepper
Asian Fish Sauce – Also known as Nam Pla
Freshly Squeezed Lime Juice – Avoid bottled lime juice if you can for the best flavor.
Shallots – Peel and mince. In the onion family.
Hot Sauce – I used Sriracha but any hot sauce will work. Adjust as needed for more or less heat.
Red Pepper Flakes – Also adds heat and can be adjusted to your palate.
Cilantro – If cilantro tastes soapy to you, feel free to replace with Thai basil, Parsley or Mexican oregano.
Chicken Breasts – Use bone-in, skin-on chicken. If you want to use boneless chicken breasts, you may want to decrease the marinating time to 2-4 hours.

How to Make
I love to shake up my marinade recipes for summer grilling. Having a tasty Asian marinade was a nice change of pace. Plus, once you have the sriracha and fish sauce in your kitchen, it's a breeze to make this grilled Thai chicken again and again.
Make the marinade and place in a Ziploc bag or Pyrex baking dish.
Add the chicken and marinate for 4-6 hours in the refrigerator.
Turn the chicken over occasionally so the marinade infuses into all the meat. Note, with bone-in, skin-on chicken, I like to marinate overnight.
When ready to grill, first pull the chicken out of the refrigerator for 30-60 minutes to take the chill off. This will help the meat cook more evenly.
Grill till meat reaches an internal temperature of 160º. Serve with lime wedges.
Expert Tips
Make-ahead meals are perfect for busy families or those days you're away from the house most of the day.
PRO-Tip: This chicken should be marinated for at least 6 hours so the flavors have an opportunity to infuse into the meat.
You can also marinate it overnight, but if left any longer, the acid in the marinade can break down the protein bonds and make for mushy chicken.
The recipe offers a range for the amount of sriracha and red pepper flakes. The smaller amount is what I used for my family, but if serving to folks that love spicy food, please use the larger amount.
PRO-Tip: Did you know that you can put meat and a marinade into a Ziploc bag, seal it, and pop it in the freezer for later use?? Isn't that a terrific idea?
When you're ready to cook, defrost the sealed bag of marinated chicken overnight in the refrigerator (time may vary depending on your fridge and how full it is), and grill as directed. As the chicken defrosts, the marinade has a chance to infuse into the meat.
If it's not good grilling recipe, you can roast this chicken in the oven. Just make sure it comes to an internal temperature of 165° F before serving.
You can also make a double batch of this recipe and divvy it up into two bags. One goes into the freezer for later, and the other half can be grilled that day! You might also enjoy this Thai Salad with Peanut Dressing.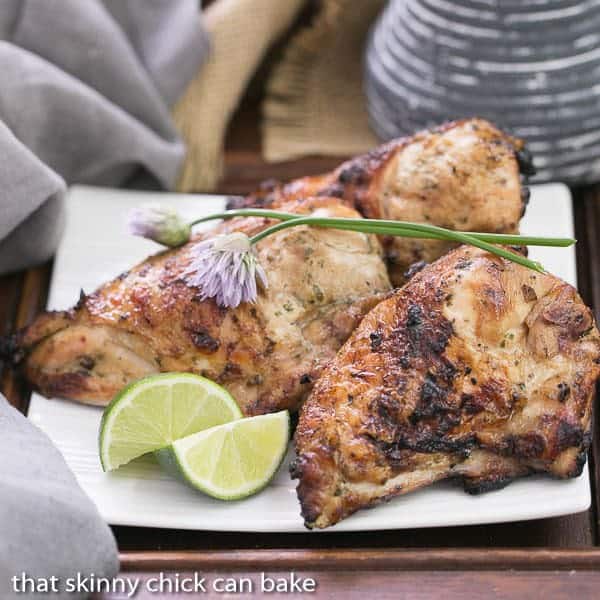 Frequently Asked Questions
Why Should You Marinate Chicken?
Marinades help infuse flavor into the meat via osmosis. They also help keep the chicken moist and tender.
What Flavors are in a Thai Marinade?
Thai dishes all have a delicious balance of sweet, sour, spicy, and bitter. This marinade helps create a flavorful entree!
The coconut milk and sugar provide sweetness, the lime juice is sour, the hot sauce and red pepper flakes offer spiciness, and there is no bitter element in this dish.
Can You Marinate Too Long?
Yes, the acid in marinades tenderizes the chicken by breaking down some of the protein filaments. But if left in an acidic marinade too long, the proteins can actually become mushy, ruining the chicken.
Is Thai Chicken Spicy?
Typically Thai food is spicy. Many of the dishes favored by those who live in tropical regions have plenty of heat. Eating chiles helps blood circulate to the surface of the skin, allowing the capillaries to dilate, resulting in perspiration and cooling.
You May Also Like:
We love to grill all year long. My husband has been known to dust the snow off his Big Green Egg so he can grill in the winter. With chicken always stocked in our freezer, having a tried and true repertoire of recipes is key. This Quick Chicken Recipe is one of our favorites.
Stay in touch through social media @ Instagram, Facebook, and Pinterest. Don't forget to tag me when you try one of my recipes! And if you love the results, please give it a 5-star rating in the recipe card. Note: As an Amazon Associate, I earn from qualifying purchases. Visit my Amazon Store for my favorite products.
The Recipe:
Thai Chicken Recipe
Prep Time 20 minutes
Cook Time 20 minutes
Total Time 40 minutes
Yield 6 servings
A fabulous chicken marinade full of Asian flavors. Adapted from The Beach House Cookbook
Ingredients
1 cup coconut milk (mix before measuring)
⅓ cup nam pla (Asian fish sauce)
¼ cup freshly squeezed lime juice
4 small cloves garlic, peeled and minced
2 shallots, peeled and minced
½-1 teaspoon hot sauce, I used Sriracha
½-1 teaspoon red pepper flakes
1 ½ tablespoons sugar
½ cup chopped fresh cilantro
Freshly ground black pepper
5-6 chicken breasts, bone-in and skin on
1 fresh lime, for garnish
Instructions
Combine the coconut milk, nam pla, lime juice, garlic, shallots, hot sauce, red pepper flakes, sugar, and cilantro in a large Ziploc bag.
Add the chicken and marinate for at least 4 hours in the refrigerator, turning occasionally. Marinating overnight will impart even more flavor.
Grill till meat reaches an internal temperature of 160º. Serve with lime wedges.
Notes
To make ahead and cook on another day, place marinade and chicken in a ziploc bag, remove as much air as possible, and seal. Freeze.
The night before you plan to cook, pull the chicken out of the freezer and defrost in the refrigerator overnight (defrosting time may vary depending on your refrigerator). Grill as directed.
Use the smaller amount of sriracha and red pepper flakes for less heat.
Recommended Products
As an Amazon Associate and member of other affiliate programs, I earn from qualifying purchases.
Nutrition Information:
Yield:
6
Serving Size:
1
Amount Per Serving:
Calories: 307
Total Fat: 12g
Saturated Fat: 8g
Trans Fat: 0g
Unsaturated Fat: 3g
Cholesterol: 102mg
Sodium: 141mg
Carbohydrates: 10g
Fiber: 1g
Sugar: 5g
Protein: 39g
I've made loads of wonderful friends from the world of food blogging and met many of them in person over the last 6 years. I resurrected this old post so I could tell you about Roz. If you're not already a fan of La Bella Vita, be sure to scurry on over. You will fall for all of Roz's gorgeous Italian dishes and more. She is also one of the biggest-hearted, talented bloggers ever. With a spectacular combination of flavors, her Thai Chicken caught my eye!
I have to let you in on a little secret. About a year into blogging, I realized that I had met Roz in real life decades ago. Isn't that remarkable??? She left the kindest comment on my blog, and slowly we put two and two together. We grew up only blocks away from each other, and her youngest sister, Kelly, is one of my dearest friends. But there is enough of an age difference that when I was hanging out at Kelly's, Roz was busy with high school activities or off to college.
Kelly and I even trekked down to St. Louis when we were in college to visit a mutual friend, and that city happened to be Roz's home at the time. Roz invited us to dinner and prepared a gourmet feast right out of Bon Appetit. I'm certain our unsophisticated palates didn't fully appreciate her creations, especially her exquisite boozed-up poached pears, but I do now! I know you'll enjoy this grilled Thai chicken as well as the rest of her delectable recipes.
Note: This post may contain affiliate links; view
my Disclosure Policy
for details. I earn a small percentage from any purchase you make by clicking on these links at no extra cost to you.