Grilled Fish Tacos
Grilled Fish Tacos make a spectacular, interactive meal that's healthy to boot! Add your favorite toppings and dig in for a delightful meal.
The Best Fish Tacos Recipe can be customized. Use your favorite white fish, toppings, and sauces. The options are endless.
Why You Must Make
It's much more economical to make fish tacos at home than to order them at a restaurant.
You can use your favorite white fish and toppings.
Grill, roast or saute your fish depending on what's easiest for you.
When I mentioned we were having fish tacos for dinner, Nick let out an expected groan. I reassured him that I was using a mild-tasting fish…and he responded, "But does it smell like fish when it's cooking?" Uh, well, yes, it does. Nick was the toddler who asked for "mo' fish" when his grandpa gave him a sample of pickled herring…what happened here????
Ingredient Notes
Pantry Staples – Onion, Garlic, Dried Oregano (Mexican, if you have it), Olive Oil, Kosher Salt
Fresh Cilantro
Fresh Limes and Oranges to Juice, plus lime wedges to serve
White Fish – Halibut, Mahi Mahi, Talapia
Mayonnaise – Dukes or Hellmann's
Milk
Tortillas – Corn or Flour
Avocados
Cabbage
Red Bell Pepper
Tomato Salsa
Expert Tips
Choose a nice white fish. There are many options. You can chop or flake it into bite-sized pieces once it's cooked.
PRO-Tip: Use the marinade as written or add a little spice by adding chili powder, cumin, and/or smoked paprika before you cook your fish.
I roasted my mahi-mahi, but it can be cooked in a skillet, air fryer, on a grill pan, or on your outdoor grill. Fish tends to stick on the grill so make sure to oil your grill pan or the grates on your gas or charcoal grill.
Use your favorite type of tortillas. Corn, flour, or whole wheat all work well.
PRO-Tip: Heat your tortillas before serving. They can be wrapped in foil and placed in the oven until warm or briefly grilled or pan-fried.
PRO-Tip: Tweak the toppings to reflect your tastes. Diced tomatoes, crumbled cotija, or queso fresco are also tasty options.
Well, I got opposition all around but for you fish lovers, these Grilled Fish Tacos were incredibly delicious! Even though I had to give up the idea of firing up our charcoal grill due to the one inch of ice and 4 inches of snow covering it, my cast iron grilled pan did nicely.
Frequently Asked Questions
What Kind of Fish is Best for Fish Tacos?
A white fish that flakes well is ideal. I've used tilapia and mahi mahi. Halibut, cod, and sea bass are all tasty options. Salmon and shrimp can also be used.
What Should You Serve with Fish Tacos?
Jalapeno Poppers, Street Corn Salad, Rice, and Guacamole are all delicious sides to go along with these tacos. Also, make sure to have condiments available including fresh lime wedges, salsa, sour cream, sriracha, etc.
Are Fish Tacos Healthy?
Yes, the fish is high in protein and good fats, plus grilling instead of frying makes it quite healthy. If you overload your tacos with cheese, sour cream, etc. the calories will add up, so be mindful if you're watching your diet.
What to Do with Leftover Fish Tacos?
Possibly better than the fish tacos recipe was the yummy salad I created from the leftovers. I tossed the veggie toppings together as the base, topped with the fish, and mixed the salsa and lime mayo for a fabulous dressing.
You May Also Like:
Stay in touch through social media @ Instagram, Facebook, and Pinterest. Don't forget to tag me when you try one of my recipes! And if you love the results, please give it a 5-star rating in the recipe card. Note: As an Amazon Associate, I earn from qualifying purchases. Visit my Amazon Store for my favorite products.
The Recipe:
Grilled Fish Tacos Recipe
Prep Time 20 minutes
Cook Time 10 minutes
Total Time 30 minutes
Yield 4 servings
Marinated and grilled fish served with all the taco fixings!
Ingredients
1 ½ cups chopped onion, divided
¾ cup chopped fresh cilantro, divided
¼ cup olive oil
5 tablespoons lime juice, divided
3 tablespoons fresh orange juice
2 garlic cloves, minced
1 teaspoon dried oregano, Mexican if you have it
1 pound white fish, like halibut, mahi mahi, talapia
Kosher salt, freshly ground black pepper
1 cup mayonnaise
1 tablespoon milk
Corn or flour tortillas
2 avocados, peeled, pitted, sliced (or use guacamole)
½ small head of cabbage, cored and thinly sliced
Tomato salsa of your choice
Red bell pepper strips, optional
Lime wedges
Instructions
Mix 1 cup onion, ¼ cup cilantro, oil, 3 tablespoons of lime juice, orange juice, garlic, and oregano in a bowl. ½¼¾
Season fish with kosher salt and freshly ground pepper. Spread half the onion mixture over the bottom of a glass baking dish. Place fish over the onion mixture and top with the rest of the mixture.
Cover and chill for 30 minutes. Turn and marinate the other side for 30 minutes.
Whisk mayonnaise, milk, and 2 tablespoons of lime juice in a bowl.
Brush the grill or grill pan with oil. Heat to medium-high heat. Grill fish till just opaque when the center is exposed, about 3-5 minutes per side. Grill tortillas till slightly charred, if desired.
Coarsely chop fish and place on serving dish with remaining onions and cilantro, avocados, salsa, lime wedges, and lime mayonnaise.
Notes
Adapted from Bon Appetit
Calories will vary depending on how much of the toppings you use.
May use guacamole instead of sliced avocados.
Nutrition Information:
Yield:
4
Serving Size:
1
Amount Per Serving:
Calories: 938
Total Fat: 74g
Saturated Fat: 12g
Trans Fat: 0g
Unsaturated Fat: 60g
Cholesterol: 88mg
Sodium: 697mg
Carbohydrates: 39g
Fiber: 11g
Sugar: 10g
Protein: 37g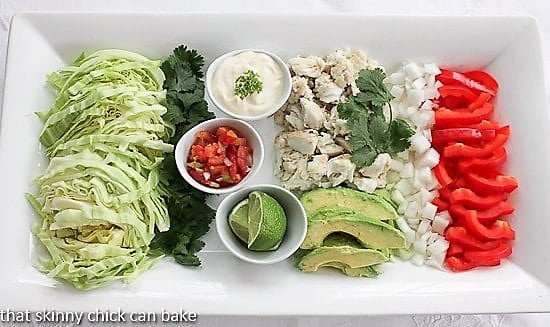 Two above photos circa 2011
Note: This post may contain affiliate links; view
my Disclosure Policy
for details. I earn a small percentage from any purchase you make by clicking on these links at no extra cost to you.