Loaded Baked Potato Soup
This Loaded Baked Potato Soup is perfect for cold-weather entertaining! Hearty and delicious with toppings of bacon, sour cream, and cheese will please your family and your guests.
Why You Must Make
There's a definite chill in the air. Ideal soup weather. This easy recipe for a loaded potato soup is the perfect way to warm you from the inside out. It's darn tasty, too.
When it gets really cold, I turn to hot, steaming dishes for dinner. Soup, like this Homemade Beef Barley Soup, is a favorite. Hubby prefers his meat and potatoes, so sprinkling this baked potato soup with a healthy amount of chopped bacon does help.
It's definitely hearty and you can load it up with all sorts of toppings!
In the winter, I am the one in the family that keeps her coat on for an hour after we get home from running errands, wears multiple layers of clothing, and has an electric mattress pad. The one disadvantage of being skinny is constantly feeling cold when the temps plummet. I sip hot tea all day long. And make cozy, hot homemade soups for dinner!
How to Bake a Potato
Though I've microwaved a potato in a pinch, the potato ends up more steamed than baked. Using the oven is the best way to bake a potato. Here are the easy steps:
Wash and dry your potatoes. Use a knife or fork to pierce through the skin and into the potato in a number of spots. This prevents the potatoes from bursting open in the oven as the steam builds up inside.
If you're not using the baked potatoes for soup, rub each lightly with olive oil and sprinkle with kosher salt.
Preheat your oven to 350º and place the potatoes directly on the oven rack.
Bake for 1 hour or until the skin is crispy and the potatoes give when you squeeze them.
To add to your dinner menu, cut your potato open and top with butter, sour cream or any of your favorite toppings. If using for homemade potato soup or twice baked potatoes, let them cool enough to handle, then scoop out the flesh as needed for the recipe.
Recipe Tips
Russet potatoes work well for this baked potato soup instead of a waxy yellow or red potato.
Steakhouses typically use russet potatoes when they serve a baked potato with your beef.
You can tweak your potato soup by mixing in your favorite baked potato toppings.
I usually go with sour cream, shredded sharp cheddar, bacon, and chives or scallions.
Feel free to saute a few cloves of garlic to make a garlicky baked potato soup. Think of the toppings you enjoy on a baked potato or potato skins. The possibilities are endless.
Give this easy potato soup a try. My countdown to spring has begun. How about you?
Frequently Asked Questions
How Do You Store Potato Soup?
Keep it in a covered container in the refrigerator for up to 4 days.
Can You Freeze Potato Soup?
Yes, you can freeze it, but you need to beware of what happens when it defrosts. Most likely, the soup will separate and get watery. The flour in this recipe helps minimize the chances, though.

Plus, know that the potatoes can be mushy or even grainy after defrosting unless you slightly undercook them when making your soup. So it's best to eat your potato soup while it's fresh, but you can freeze and defrost knowing that the quality will not be exactly the same as when it's freshly made.
You May Also Like: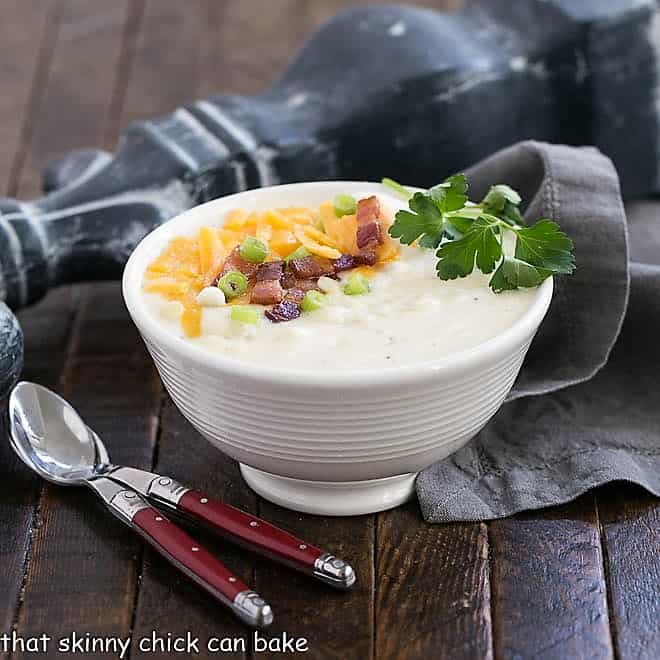 The Recipe:
Baked Potato Soup
Prep Time 15 minutes
Cook Time 1 hour 15 minutes
Total Time 1 hour 30 minutes
Yield 6 servings
A creamy potato soup garnished like a baked potato!
Ingredients
4 large baking potatoes
½ cup butter
½ cup flour
1 teaspoon salt
½ teaspoon pepper
1 tablespoon minced onion, softened in water
6 cups milk
½-1 cup shredded cheddar cheese
Crumbled bacon, sliced scallions or chives, sour cream, and shredded cheddar cheese for garnish
Instructions
Wash potatoes and prick them with a fork. Bake at 400º for one hour or till soft. When cool enough to handle, cut them in half and remove the pulp.
Melt butter in a large pan. Add flour and cook, stirring constantly, for one minute. Gradually add milk while stirring; cook over medium heat till thick and bubbly.
Add reserved pulp, salt and pepper, onions, and cheese. Heat thoroughly, adding extra milk to thin if necessary.
Recheck seasonings and add more salt and pepper if needed
Ladle into bowls and garnish as desired.
Nutrition Information:
Yield:
6
Serving Size:
1 bowl
Amount Per Serving:
Calories: 574
Total Fat: 28g
Saturated Fat: 16g
Trans Fat: 1g
Unsaturated Fat: 9g
Cholesterol: 81mg
Sodium: 813mg
Carbohydrates: 63g
Fiber: 5g
Sugar: 3g
Protein: 20g
Note: This post may contain affiliate links; view
my Disclosure Policy
for details. I earn a small percentage from any purchase you make by clicking on these links at no extra cost to you.