Sausage and Chicken Gumbo
Hearty and spicy, this Sausage and Chicken Gumbo is a taste of Louisiana filled with bell peppers, andouille sausage, shredded chicken and rice!
This Cajun chicken stew is a divine option for game day or dinner on a chilly evening!
Sausage and Chicken Gumbo
My first time to New Orleans was when my 30-year old daughter was an infant. My experience with Cajun and Creole cuisine was limited, but some friends took us to Commander's Palace and I was hooked. It was at Mr. B's Bistro where I tasted their Gumbo Ya Ya, made with a dark roux and plenty of spice, it was very similar to this scrumptious Cajun chicken stew!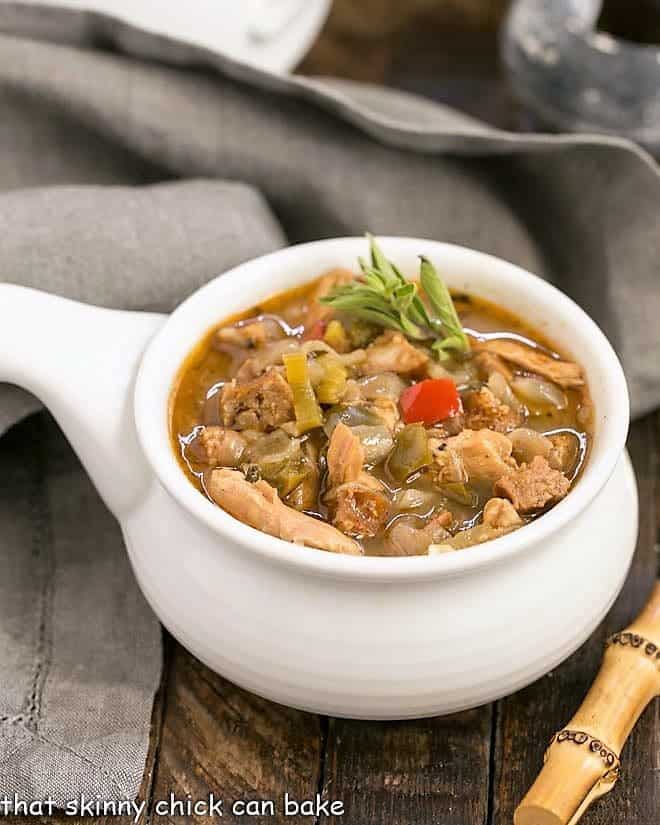 What is Gumbo?
The etymology of word gumbo is Louisiana French, possibly named after either the okra or filé powder as one or the other is always in a gumbo recipe. There are numerous variations, always with a roux, meat or seafood, the holy trinity, and okra or filé powder.
The holy trinity is a mixture of diced bell peppers, onions, and celery, classic in Louisiana cooking. And filé powder is a thickening agent made of ground sassafras leaves. I could not find the latter in my markets but found a Cajun spice mixture that had filé as the first ingredient. Sold!
How Do You Make a Roux?
First of all, a roux is a thickening agent made of fat and flour that originated in France over 300 years ago. Pronounced "roo," it's simply created by cooking the two components until a thick paste forms.
The longer you cook it, the darker it becomes. There are actually 3 types of roux and this sausage and this sausage and chicken gumbo uses a brown or dark brown roux, which is mahogany in color, much darker than a white or blonde roux.
The brown roux imparts a nutty flavor and makes for a darker sauce or soup than its counterparts. You must be cautious not to burn your roux as a burnt roux will lose its thickening power and will spoil the taste of your dish!
More Cajun, Creole, and Louisiana Inspired Dishes
When we were newly married, Bill and I got a kick out of Justin Wilson, the Cajun Chef, on PBS. Our TV stations were limited back then…but Bill was drawn in with his humor and I appreciated his cooking. Here are some more Louisiana-style recipes for you to peruse.
The Recipe:
Sausage and Chicken Gumbo
Prep Time 30 minutes
Cook Time 2 hours
Total Time 2 hours 30 minutes
Yield 10 servings
This Cajun chicken stew is a divine option for game day or dinner on a chilly evening! Adapted from Paul Prudhomme.
Ingredients
3 tablespoons plus 3/4 cup vegetable oil
2.5 pounds bone-in chicken breasts
Kosher salt and freshly ground black pepper
1 cup flour
4 stalks celery, thinly sliced
4 large onions, diced
4 bell peppers, diced (I used 2 green and 2 red)
2 tablespoons minced garlic
1/2 to 1 teaspoon cayenne pepper
3/4 teaspoon oregano
3/4 teaspoon basil
3/4 teaspoon thyme
4 bay leaves
8 cups chicken broth, good quality canned or homemade
1.5 pounds andouille sausage cut into slices, then quartered
1 tablespoon filé powder or gumbo seasoning with filé powder
4 cups cooked white rice
Instructions
In a large pot, heat 3 tablespoons of the oil over high heat. Season the chicken generously with salt and pepper, lightly coat it with 1/4 cup of the flour, and tap off excess. Brown the chicken on both sides, about 8 minutes total. Remove the chicken and set aside.
Reduce the heat to medium high and add the celery, onions, and peppers and cook until soft, stirring occasionally. Remove the vegetables and and set aside.
To make the roux, add 3/4 cup oil to the pot let it warm up for a few minutes over medium heat. Slowly add the remaining flour to the pan and cook, stirring constantly, until the mixture is a deep mahogany brown color, about 10 to 20 minutes. Make sure to stir around sides and bottom to prevent scorching. If your roux burns, begin again.
When the roux is brown, add the cooked vegetables back to the pot, along with the garlic, cayenne, oregano, basil, thyme, and bay leaves. Stir occasionally and cook for 3 more minutes. Season with salt and pepper.
Slowly add the broth while stirring until blended. Add the chicken and the sausage. Bring to a simmer and skim off excess fat. Simmer uncovered, continuing to skim off any foam or fat, until the chicken is fall off the bone tender, about 1-1 1/2 hours. Remove the chicken and bones from the pot. Discard the bones and return bite sized pieces of chicken to the pot.
Bring the stew to a boil and whisk in the filé powder to avoid clumping, until the filé powder is dissolved. Taste for seasoning, adding salt and pepper as necessary.
Serve over the cooked white rice.
Notes
The andouille sausage renders a lot of grease, so if you make this stew the day before you serve it, you can remove the chilled fat from the surface before you reheat it.
Nutrition Information:
Yield:
10
Serving Size:
1
Amount Per Serving:
Calories: 1013
Total Fat: 73g
Saturated Fat: 11g
Trans Fat: 1g
Unsaturated Fat: 56g
Cholesterol: 143mg
Sodium: 1476mg
Carbohydrates: 39g
Fiber: 2g
Sugar: 6g
Protein: 49g
Note: This post may contain affiliate links; view
my Disclosure Policy
for details. I earn a small percentage from any purchase you make by clicking on these links at no extra cost to you.