Brown Butter Toffee Cookies
Chewy and irresistible, these Brown Butter Toffee Cookies have an exquisite nuttiness from brown butter and boost of decadence from chunks of Heath bars! They are one of my favorite cookies!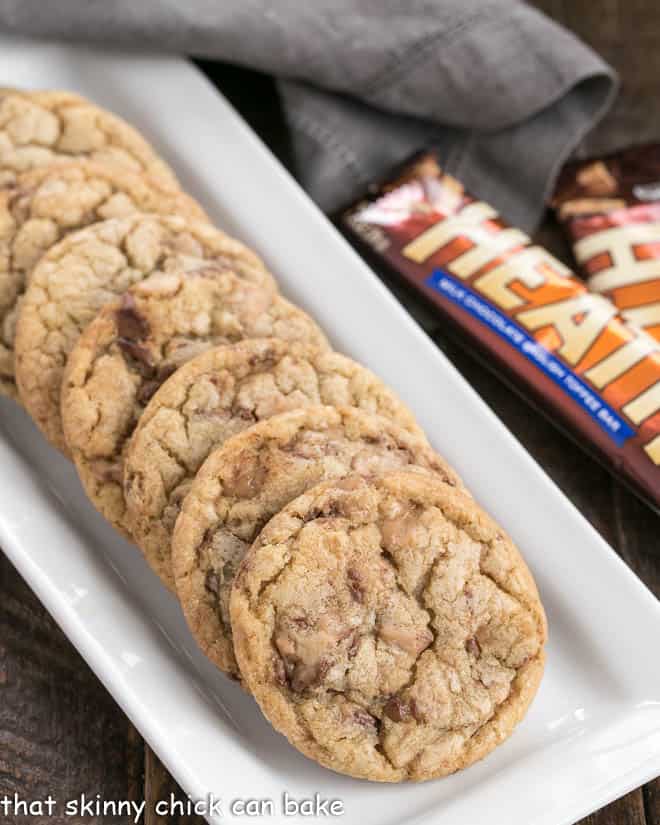 Why You Must Make
These cookies would rank high in my top 10 list of favorite cookies!
If you love toffee, these cookies loaded with chunks of Heath bars and a nutty brown butter cookie dough will knock your socks off.
These are a change of pace from ordinary chocolate chip and sugar cookies!


Expert Tips
These brown butter toffee cookies were truly some of the most sublime cookies to ever come out of my kitchen. I happen to adore toffee, so anytime there's a chance to sneak it into a cookie, I'm game. And they are the star of the show in these incredible treats.
No chocolate chips or nuts to battle for the title. Toffee all the way. Well, that and the brown butter in the dough.
PRO-Tip: Cooking the butter until it darkens helps to develop a lovely nuttiness and adds a rich layer of flavor. If you're unfamiliar with brown butter, it's super easy to make in your own kitchen. I've detailed the technique below.
Since the butter added to this cookie dough is melted, the dough is extra soft. You must refrigerate the dough before shaping and baking these cookies.
PRO-Tip: Instead of buying toffee chips, I recommend buying Heath bars and chopping them into pieces. The outcome will be much tastier!
These are perfect, chewy cookies. Watch your first batch to see what the timing is for your oven. The edges will begin to brown and the middles will be just set when they need to be pulled out of the oven. If you're a toffee fan, you must add these gems to your baking list!
How to Make Brown Butter:
Ideally, you should start with unsalted butter, cut into pieces
Use a light-colored saucepan so you can see the butter's color changing
Cook over medium heat
Watch carefully, stirring frequently
The butter will foam; this is normal
Pull off the heat when it starts to brown and smell nutty
Strain off any solids (brown bits) if desired
Keep for up to 2 weeks in the refrigerator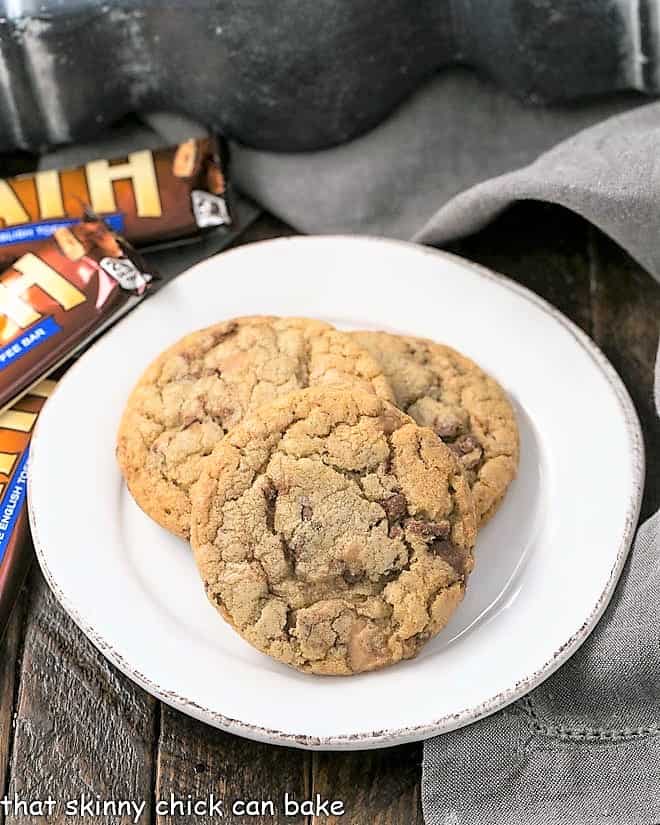 Frequently Asked Questions
What Does Brown Butter Taste Like?
Brown butter, or beurre noisette, adds a toasted, slightly nutty flavor, that some say has even a slight toffee flavor. The Maillard reaction, a scientific term typically referring to the chemical reaction that makes seared meat so tasty, is also involved in the flavoring of brown butter.
The heating process breaks down the proteins into numerous flavor compounds. I've also made these mighty tasty Brown Butter Chocolate Chip Cookies if you'd like to give them a whirl!
I also use brown butter in a fabulous, easy asparagus topping. It's perfect for company!
How Does Brown Butter Differ from Clarified Butter?
Brown butter contains the milk solids which brown during the heating process. In clarified butter, the milk solids get foamy as they're cooked and are skimmed off or strained, leaving just the beautiful yellow butterfat.
You May Also Like
If you like toffee, waiting for the holidays to make a batch of the Best English Toffee just won't do! Try some of these yummy recipes with toffee.
Stay in touch through social media @ Instagram, Facebook, and Pinterest. Don't forget to tag me when you try one of my recipes! And if you love the results, please give it a 5-star rating in the recipe card. Note: As an Amazon Associate, I earn from qualifying purchases. Visit my Amazon Store for my favorite products.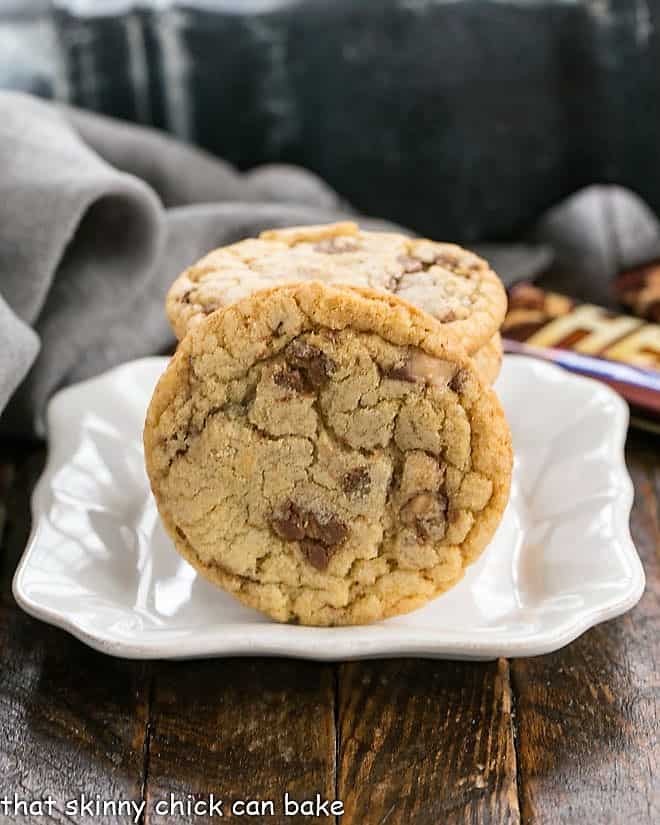 The Recipe:
Brown Butter Toffee Cookies Recipe
Prep Time 2 hours 30 minutes
Cook Time 10 minutes
Total Time 2 hours 40 minutes
Yield 3 dozen cookies
Nutty brown butter cookies filled with buttery toffee chunks
Ingredients
2 1/4 cups flour
1 teaspoon baking soda
2 sticks butter, gently cooked till light brown
3/4 cup sugar
3/4 cup brown sugar
1 teaspoon vanilla
1/2 teaspoon kosher salt
2 eggs
8 Heath bars (1.4-ounce size), chopped into 1/4 inch chunks
Instructions
In a large bowl, mix together sugar, brown sugar, and salt. Add vanilla. Mix in warm brown butter and mix till sugar starts to dissolve. Add eggs and mix till combined. Add flour and baking soda and stir until just combined. Mix in toffee chunks.
Cover the bowl with plastic wrap and let chill in the refrigerator for two hours or up to overnight.
Preheat oven to 375°F. Line baking sheets with parchment paper. Drop dough by rounded tablespoons onto baking sheet about 2 inches apart. Bake till edges are golden in color and tops start to look set, about 10 minutes.
Notes
Adapted from Alice Medrich.
Recommended Products
As an Amazon Associate and member of other affiliate programs, I earn from qualifying purchases.
Nutrition Information:
Yield:
36
Serving Size:
1 cookie
Amount Per Serving:
Calories: 155
Total Fat: 8g
Saturated Fat: 5g
Trans Fat: 0g
Unsaturated Fat: 3g
Cholesterol: 28mg
Sodium: 137mg
Carbohydrates: 19g
Fiber: 0g
Sugar: 13g
Protein: 1g
Note: This post may contain affiliate links; view
my Disclosure Policy
for details. I earn a small percentage from any purchase you make by clicking on these links at no extra cost to you.