Brown Butter Chocolate Chip Cookies
The underlying caramel tones make these Brown Butter Chocolate Chip Cookies really special. There's deliciousness in every bite!
These are the top-ranked chocolate chip cookies in a couple of my friends' homes, and their size alone makes my gang happy.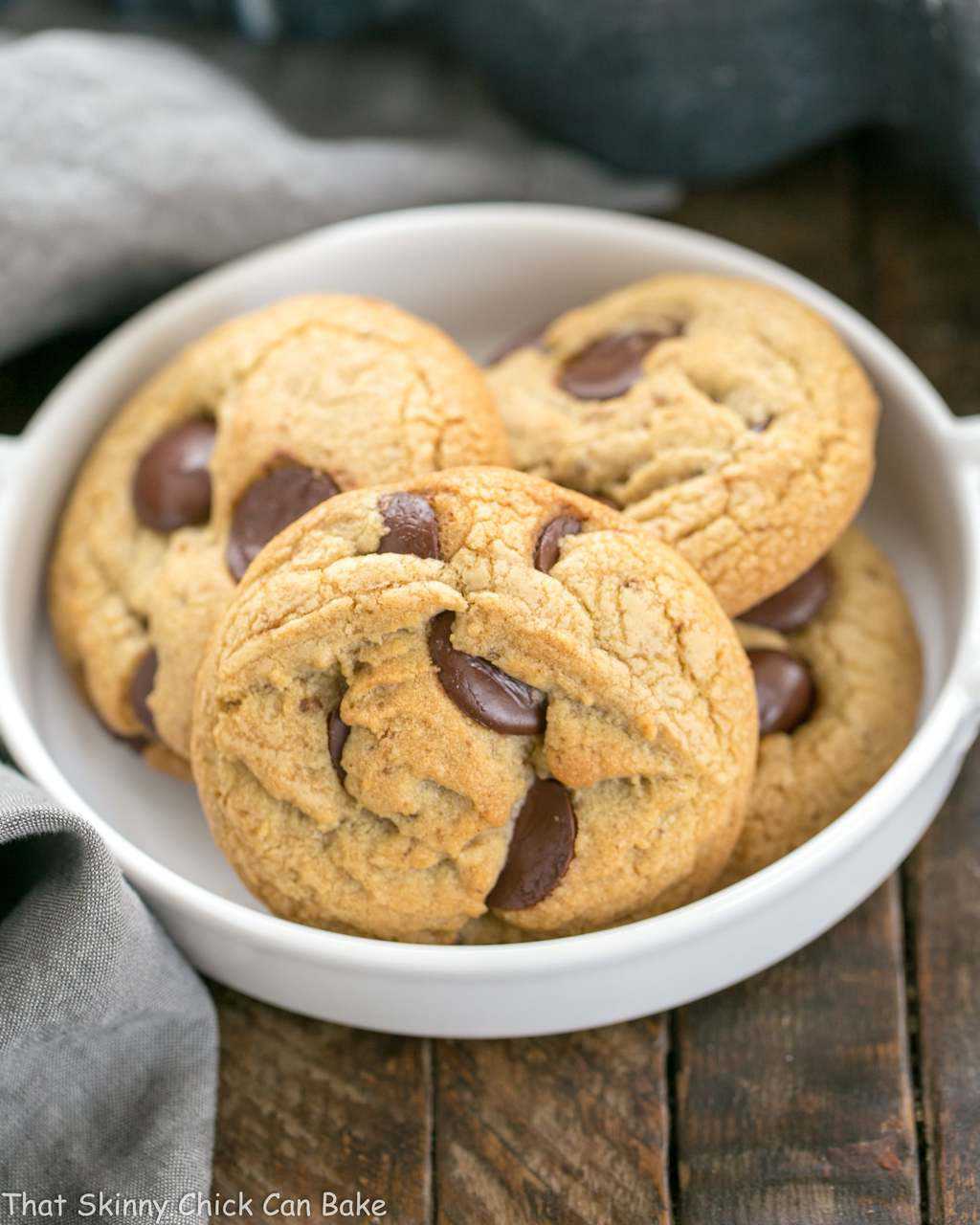 Why You Must Make
If you've never made desserts using brown butter, here's your chance!
Brown Butter provides a caramelly, slightly nutty undertone that makes almost every recipe better!
I used chocolate discs instead of chocolate chips, which chocoholics will love!
These brown butter chocolate chip cookies became our weekend dessert after drilling Bill on what sweets to bake. I could have predicted his answer, "chocolate chip cookies, flourless chocolate cake or lava cakes." Well, I have a plethora of chocolate chip cookies on this blog and this particular one debuted in 2010, only months after I started blogging.
Needless to say, there were a few awful photos and not much else besides the recipe. A redo was definitely in order.
Expert Tips
Have your eggs at room temperature for easy incorporation.
PRO-Tip: As with most cookie recipes, do not beat the dough with a mixer. That will incorporate air into the dough making them more cakey than dense and chewy.
Use a cookie disher to scoop out the dough. That way the cookies will all be the same size and take the same amount of time to bake.
To make the roundest cookies, you can roll the dough balls between your palms before placing them on the baking sheet.
PRO-Tip: If the cookies don't come out of the oven perfectly round, you can use a hot pad to steady the pan and tap the perimeter of the cookies back into shape with a spatula. This only works when they're hot and pliable. If they cool down too much, reshaping isn't possible…….
Frequently Asked Questions
How Do You Make Brown Butter?
Brown butter is super easy to make, although it can be a disaster if you don't babysit it. You want a nutty flavor, not a burnt one! The goal is to heat the butter until the butter solids brown.

1. Cut unsalted butter into small, evenly-sized pieces and place them in a pot or pan.
2. Cook on low until butter is melted.
3. Turn the heat up to medium swirl the pan or stir almost constantly with a heatproof spatula to prevent milk solids from burning.
4. The water is evaporating at this point. Observe at all times.
5. The butter becomes a light tan color as the milk solids toast or "brown" in the hot fat. Voila, brown butter!
Is There a Substitution for Dark Brown Sugar?
So you don't have a box or bag of dark brown sugar in your pantry and are wondering what to do. You can always substitute light brown sugar, which is much more commonly found in kitchens. But you can also make your own dark brown sugar!

PRO-Tip: For each cup of dark brown sugar you need, combine 1 cup of light brown sugar with 1 tablespoon of molasses. Mix and use as directed. It's as easy as that!
You May Also Like:
Stay in touch through social media @ Instagram, Facebook, and Pinterest. Don't forget to tag me when you try one of my recipes! And if you love the results, please give it a 5-star rating in the recipe card. Note: As an Amazon Associate, I earn from qualifying purchases. Visit my Amazon Store for my favorite products.
The Recipe:
Brown Butter Chocolate Chip Cookies
Prep Time 20 minutes
Cook Time 15 minutes
Total Time 35 minutes
Yield 16
A caramel undertone from the brown butter makes these chocolate chip cookies something special!
Ingredients
14 tablespoons butter, divided
½ cup sugar
¾ cup dark brown sugar
1 egg
1 egg yolk
½ teaspoon salt
2 teaspoons vanilla
½ teaspoon baking soda
1 ¾ cup flour
1 ¼ cups semi-sweet chocolate chips, chunks or discs
Instructions
Preheat the oven to 375º.
Melt 10 tablespoons of the butter in a saucepan over low heat until melted. Increase heat to medium, cooking and stirring for a few more minutes until the butter is golden brown with a nutty fragrance.
Pour into a heatproof bowl, and add the remaining 4 tablespoons of butter. Stir until melted.
Add both sugars, then vanilla. Mix in egg and egg yolk. Add baking soda, then flour, and mix until just combined. Add chocolate and mix until well dispersed.
Use a large cookie scoop to make dough balls. Place about 2 inches apart on parchment-lined cookie sheets. Bake for 10-14 minutes or till the cookies are golden. Cool on rack.
Notes
If you don't have dark brown sugar on hand you can mix 1 cup of light brown sugar with 1 tablespoon of molasses. Once it's combined, measure out the ¾ cup needed for this recipe.
If you don't want to take the time to brown the butter, regular melted butter can be used.
Adapted from Cook's Illustrated's Perfect Chocolate Chip Cookies.
Recommended Products
As an Amazon Associate and member of other affiliate programs, I earn from qualifying purchases.
Nutrition Information:
Yield:
16
Amount Per Serving:
Calories: 262
Total Fat: 15g
Saturated Fat: 9g
Cholesterol: 46mg
Sodium: 121mg
Carbohydrates: 32g
Fiber: 1g
Sugar: 20g
Protein: 3g
Note: This post may contain affiliate links; view
my Disclosure Policy
for details. I earn a small percentage from any purchase you make by clicking on these links at no extra cost to you.