German Chocolate Brownies
These German Chocolate Brownies deliver the same terrific chocolate, coconut, caramel, and pecan flavors as their namesake cake with a fraction of the work.
Rich fudgy brownies are topped with the decadent, gooey coconut topping that German chocolate cake lovers adore.
Why You Must Make
The base is made of dense, fudgy, and decadent brownies.
Topping them with a rich, nutty, caramelly coconut topping pushes these over the top!
As a coconut lover, these gems were calling my name! And though they're not low-cal, they're much less dangerous to your figure than eating a slab of German chocolate cake!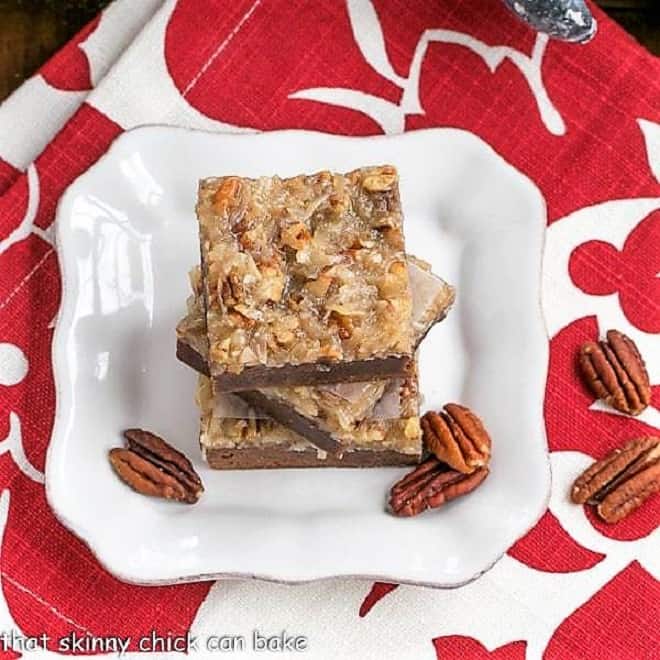 Expert Tips
Line your baking pan with non-stick foil. When a dessert has a sticky component like these brownies, it's especially helpful to assist in removing the brownies.
Toast your pecans by placing them in a skillet over medium heat, shaking frequently until you can smell a nutty aroma. This helps bring out the essential oils, making the pecans more flavorful. Watch carefully so they do not burn.
PRO-Tip: When measuring sticky ingredients like Karo syrup (also honey, peanut butter, etc), spray your cups or measuring spoons with non-stick cooking spray like Pam for easy release.
Use a toothpick to check for doneness. When inserted into the center and removed, the brownies are done if it comes out clean. Otherwise, return to the oven for a few more minutes and recheck.
PRO-Tip: As with many of my desserts, I chill these brownies before slicing. Cold brownies will cut cleaner when first refrigerated. But serve at room temperature for the best eating experience. Check out my post on cutting bar cookies for more details.
How to Make
I packed these German Chocolate Brownies up and took them to two luncheons. You see, Bill won't touch anything with coconut and I cannot get enough of it. So these sorts of tempting treats must be high-tailed out of the house. Making these brownies is much less daunting than a full-blown German chocolate cake! Here are the highlights:
Preheat the oven and line your baking pan with non-stick foil.
Melt the butter and chocolate together, and set aside.
Whisk together the eggs and sugar, then add the vanilla and chocolate. Finally, add the dry ingedients.
Pour into prepared pan and bake as directed.
For the topping, mix together the ingredients as directed. Drop spoonfuls across the surface of the baked and cooled brownies. Spread evenly over the brownies
Broil about 6 inches from the element, watching carefully, for about 3 minutes, until the topping is lightly browned and bubbly. DO NOT walk away while broiling or your topping could burn.
I did sample one of these German Chocolate Brownies first, though, and declared them blog-worthy. And even more than blog-worthy, they were insanely delicious. So off they went. To the hospital on Thursday and to a holiday lunch with my girlfriends on Friday.
I'm also a fan of the caramel brownies made from a box of German Chocolate Cake mix, but these German chocolate Brownies from scratch are a pure, wholesome indulgence!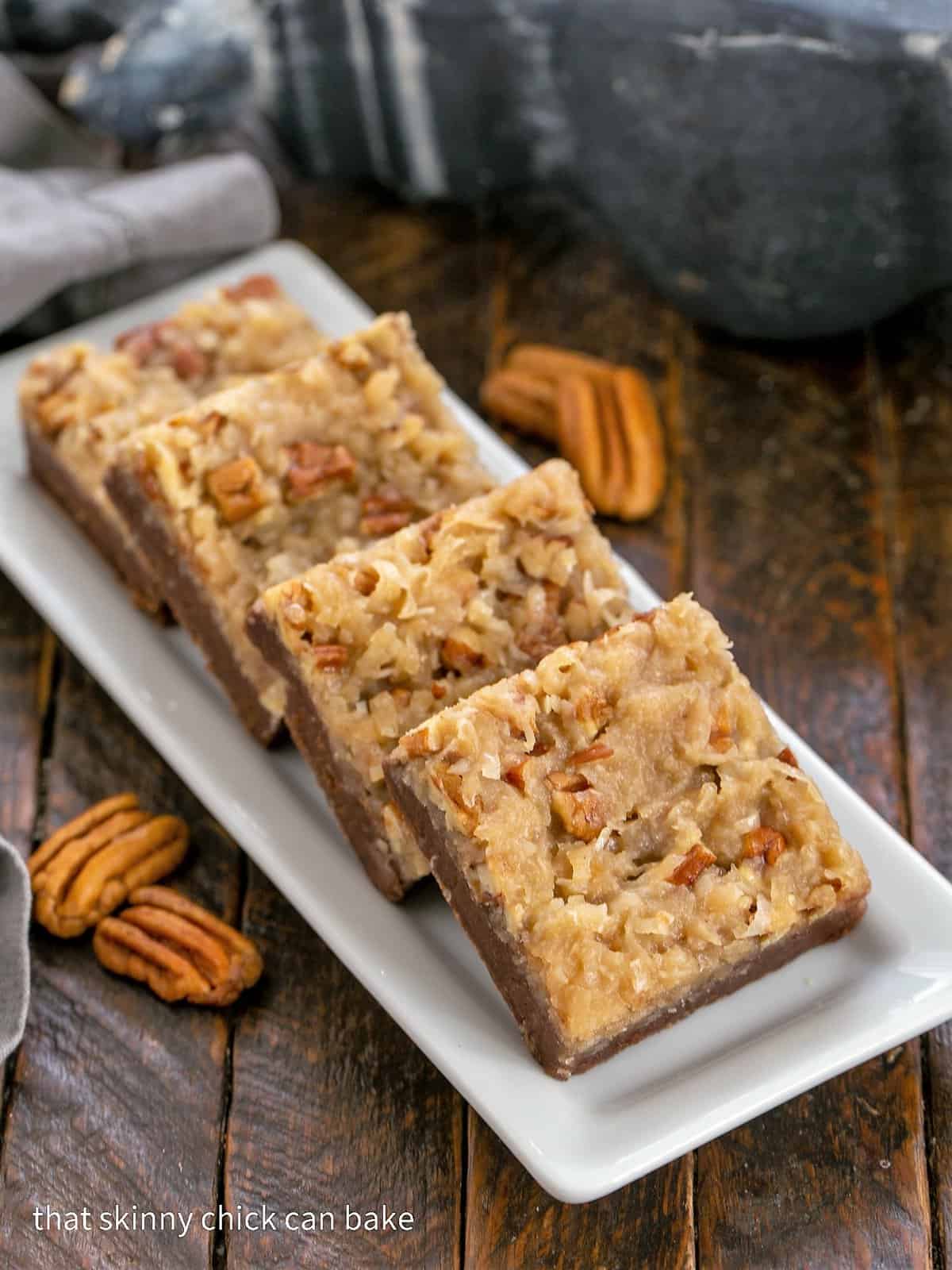 Frequently Asked Questions
What Is German Chocolate?
German chocolate is a type of dark chocolate created and named for Samuel German in 1852. It's smooth and mild in flavor plus it's sweeter than semi-sweet chocolate due to the addition of sugar.
What Is a Good Substitute for German Chocolate?
Baker's Brand sells German chocolate that is readily available at large grocery stores. But if you can't locate it, semisweet chocolate works well (that's what is used in this recipe).
How Much Cacoa is in German Chocolate?
German Chocolate contains 48% cacao, which is obtained from the tropical evergreen from which cocoa butter, chocolate, and cocoa powder are produced. Note: cacao refers to the raw, unrefined bean and cocoa refers to the bean after it's roasted.

As a comparison, Semisweet Chocolate typically contains 60% cacao and Bittersweet Chocolate contains 70%. Milk Chocolate is only required to contain 10%.
You May Also Like: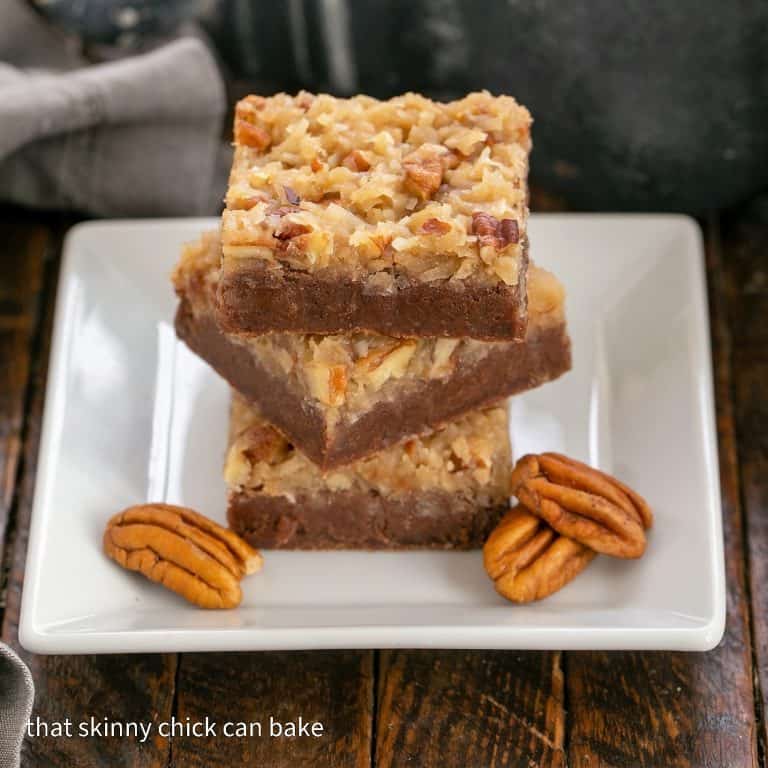 The Recipe:
German Chocolate Brownies
Prep Time 20 minutes
Cook Time 18 minutes
Total Time 38 minutes
Yield 16 bars
Rich brownies topped with the classic, gooey German chocolate frosting
Ingredients
For Brownies:
1/2 cup butter, cut into cubes
4 ounces semi-sweet chocolate, chopped
2 eggs
1 cup sugar
1 teaspoon vanilla
1 cup flour
1/4 teaspoon salt
For Topping:
2 tablespoons butter, melted
1/2 cup packed brown sugar
1 cup coconut
1/2 cup chopped pecans, toasted for the best flavor
2 tablespoons corn syrup
2 tablespoons heavy cream
Instructions
Preheat the oven to 350°. Line a 9 x 9-inch baking pan with nonstick foil (or use regular foil and spray with nonstick cooking spray). Set aside.
In a microwave, melt butter and chocolate; stir until smooth. Cool slightly. In a large bowl, whisk together eggs and sugar. Stir in vanilla and chocolate mixture. Add flour and salt and mix till combined.
Pour into prepared pan. Bake 18-22 minutes or until a toothpick inserted into the center of the pan comes out clean. Let cool before frosting.
For the topping, combine butter and brown sugar in a large bowl. Add coconut, pecans, corn syrup, and milk. Mix till well combined. Drop spoonfuls over top of brownies then spread evenly over top.
Broil about 6 inches from the element, watching carefully, for about 3 minutes, till lightly browned and bubbly.
Notes
Adapted from Taste of Home
Recommended Products
As an Amazon Associate and member of other affiliate programs, I earn from qualifying purchases.
Nutrition Information:
Yield:
16
Serving Size:
1 brownie
Amount Per Serving:
Calories: 268
Total Fat: 15g
Saturated Fat: 8g
Trans Fat: 0g
Unsaturated Fat: 6g
Cholesterol: 44mg
Sodium: 119mg
Carbohydrates: 34g
Fiber: 1g
Sugar: 26g
Protein: 3g
Note: This post may contain affiliate links; view
my Disclosure Policy
for details. I earn a small percentage from any purchase you make by clicking on these links at no extra cost to you.