German Chocolate Brownie Pie
German Chocolate Brownie Pie: A decadent fudgy brownie is topped with the classic coconut and pecan German chocolate frosting!
This tasty twist on a German Chocolate Cake Recipe is so much easier than baking a full-fledged cake and definitely as rich and delectable!
Why You Must Make
The base is a rich Brownie Pie.
But to guild the lily, it's topped with classic German Chocolate Frosting!
The combination is amazing!!
How to Make
I used my favorite One Bowl Fudgy Brownies and baked them in a pie plate instead of a square baking pan, using an offset spatula to smooth the top before baking.
When the brownies cooled to room temperature, make the frosting.
Gently cook the custard mixture, which will become the frosting base, over medium heat while stirring constantly. Add the coconut and pecans.
Let the brownies cool to room temperature before frosting.
Spread on top of the brownies. Paired with the fudgy base creates a dazzling dessert!
Expert Tips
You can use a favorite brownie recipe or box mix that is for an 8 x 8-inch pan.
The frosting is actually a custard made with eggs. Stirring it constantly while it thickens so the egg yolks don't scramble, but form a luscious base to which you add the coconut and pecans.
Serve small wedges as this is a very rich dessert. And there's no need for ice cream or whipped cream toppings!
Store covered with plastic wrap in the refrigerator but bring to room temperature to serve.
Frequently Asked Questions
What Is German Chocolate?
In 1852, American baker Samuel German developed a type of dark chocolate for Baker's Chocolate Company. Sweeter than semisweet chocolate, it contains chocolate liquor, sugar, cocoa butter, flavorings, and lecithin, an emulsifier. To honor Mr. German, it was named Baker's German Sweet Chocolate. 
What's In A German Chocolate Cake?
Now that you know what makes up German chocolate, you might surmise that this chocolate is a component of the cake. Since it's similar to semisweet chocolate, that can also be used as a substitute. The first German chocolate cake recipe was posted in the Dallas Morning Star in 1957. Credit is given to Mrs. George Calay, a homemaker. So the cake is actually Texan, not German. Sales of German chocolate went crazy after this recipe was shared with the public.

Besides the German chocolate, a German chocolate cake recipe contains buttermilk, which makes for a moist, tender cake. It is also iced with a special German chocolate frosting recipe with coconut, pecans, sugar, butter, and cream cooked with eggs. If you love coconut and pecans, this is a to-die-for cake filling and frosting!
You May Also Like: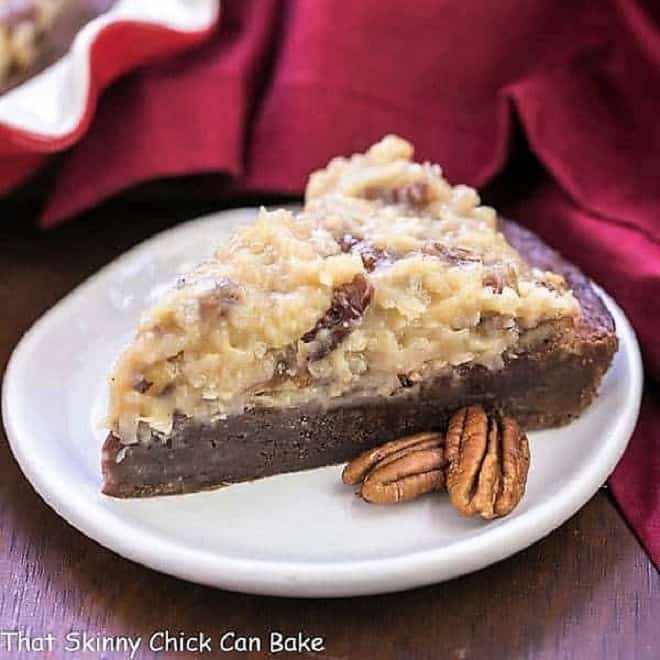 The Recipe:
German Chocolate Brownie Pie
Prep Time 20 minutes
Cook Time 50 minutes
Total Time 1 hour 10 minutes
Yield 8 servings
A brownie twist on the classic German chocolate cake.
Ingredients
For Brownies:
4 ounces semi-sweet chocolate, chopped
1/2 cup (1 stick ) butter, cut into tablespoons
1 cup sugar
2 eggs
1 teaspoon vanilla
3/4 cup flour
pinch of salt
For topping:
1/2 cup heavy cream
1/2 cup sugar
2 egg yolks
2 tablespoons butter
3/4 cup shredded coconut
1/2 cup pecans, toasted and chopped
1/2 teaspoon vanilla
Instructions
Preheat the oven to 350º. Spray a 9-inch pie plate with non-stick cooking spray.
Combine chocolate and the ½ cup of butter in a microwave-safe bowl. Heat in the microwave using 30-second increments till chocolate is melted, stirring frequently. Mix in sugar and let cool for a couple of minutes
Whisk in eggs and vanilla, then stir in flour and salt until just combined.
Pour into the prepared pan and bake for 40 minutes or till the crust is brown and the top of the brownies is appears set. Cool to room temperature.
To make the topping, cook heavy cream, sugar, yolks, and butter over medium heat, stirring constantly till the mixture starts to boil and thickens.
Remove from heat and mix in coconut, pecans, and vanilla. Let rest till cools to room temperature then spread over the top of the brownies.
Nutrition Information:
Yield:
8
Serving Size:
1 slice
Amount Per Serving:
Calories: 447
Total Fat: 22g
Saturated Fat: 11g
Trans Fat: 0g
Unsaturated Fat: 10g
Cholesterol: 117mg
Sodium: 88mg
Carbohydrates: 61g
Fiber: 3g
Sugar: 49g
Protein: 5g
Memories of My Dad, AKA the Dude
German chocolate anything reminds me of my dad. Known by family and friends as "the Dude," he passed away almost four years ago. I first shared this recipe with a twist on one of my Dad's favorite recipes for Father's Day. My dad was a huge fan of steak, sushi, tacos…well, almost everything except his mom's oxtail soup. Every birthday, my mom would run to our local Randall's grocery store and pick up their bakery German chocolate cake. It was a huge treat for the whole family.
And, even though my dad denied liking sweets, he would eat every crumb off his plate! I created these German chocolate brownies as a tribute to the man who showed me the value of education, altruism, loyalty to family, and unconditional love. Though I get teary as I remember him, I know he's been reunited with my mom, his cherished wife of over 50 years, and they're sharing a bottle of red wine and laughing. That's the way I remember them both. Nostrovia!!!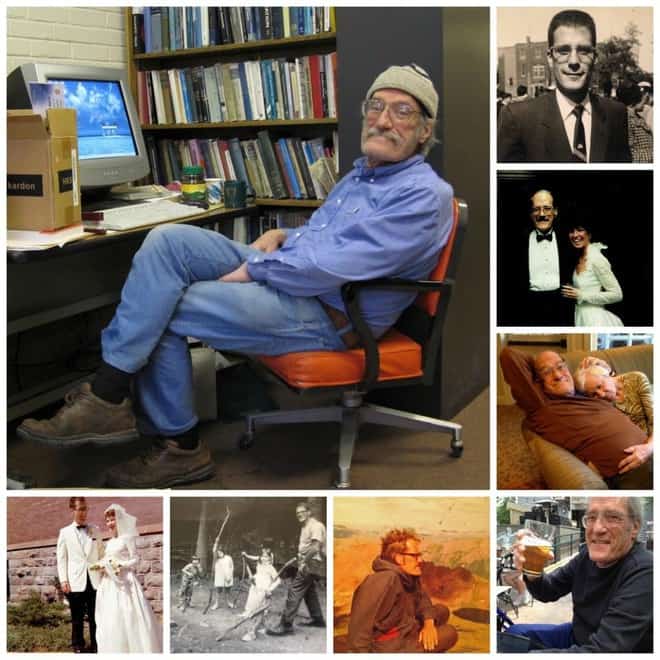 Note: This post may contain affiliate links; view
my Disclosure Policy
for details. I earn a small percentage from any purchase you make by clicking on these links at no extra cost to you.