Easy Chocolate Cupcake Recipe
This Easy Chocolate Cupcake Recipe is absolutely scrumptious and a family favorite. Rich and simple, they bake up in no time!
Moist, delicious Blender Cupcakes with Fudgy Frosting utilize an unusual mixing technique with fabulous results!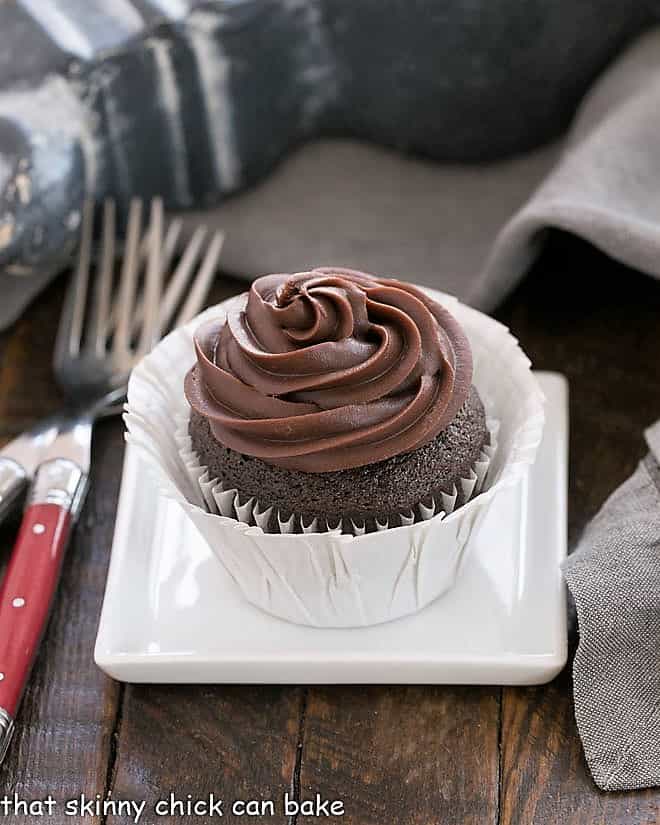 Why You'll Love this Easy Chocolate Cupcake Recipe
The batter is made in the blender! This makes for quick cleanup and a pouring spout to easily distribute the batter into the cupcake tin.
Just look at that fudgy frosting! That should be enough to persuade you to make these!
Cupcakes come with built-in portion control. When I make cakes, I tend to go back for just one more sliver, and then another!!! One cupcake and I'm done!
Nothing thrills my family more than seeing empty cupcake tins sitting on the counter…the anticipation of fluffy frosting piled high on tender cakes, especially chocolate ones, brings smiles to my grown children's faces (Nick has reminded me that he's NOT a child anymore…thus my careful wording). Cupcakes trump brownies and even chocolate chip cookies. Why? Probably because I only make them a few times a year. The gang would be ecstatic with a fresh batch of cupcakes every single week.
How to Make
When I first spotted these frosted chocolate cupcakes, I was intrigued by the recipe for Abby Dodge's Emergency Blender Cupcakes. They could not be simpler and the taste garnered rave reviews across the board.
With cupcakes, there are a couple of golden rules to help make the final results the best they can be. I'll note the ones that are specific to this recipe, too!
The dry ingredients are blended to mix, then the liquids (egg, oil, vanilla, and hot water) are added and mixed.
For this recipe, one huge perk is that you can pour the batter using the blender's spout! Super easy. But make sure to use a rubber spatula to scrape down the sides of the blender a couple of times during the blending process. This will ensure there are no pockets of dry ingredients in the batter.
Always cool your cupcakes completely before frosting. Warm cupcakes will melt the frosting.
Also, note that the frosting needs to rest at room temperature or even chilled to get it to piping consistency. Feel free to use a knife and spread the cooled chocolate frosting onto the tops of the cupcakes instead of piping!
PRO-Tip: To clean your blender, fill it 1/3 full of hot water and add a couple of drops of dish soap. Turn your blender on and let the blender do the washing for you!
10 Tips for Making the Best Cupcakes
Use quality ingredients. Use brand-name butter, pure vanilla extract (never imitation), good cocoa powder, and large eggs. Store-brand butter, for example, generally has a slightly higher percentage of water. European butter is excellent, but a good brand like Land 'o Lakes works well.
Baking is a science so measure carefully. Scoop out a cup of flour, then use a knife or offset spatula to swipe the excess off the top. Use a liquid measuring cup to measure liquids. It's much more accurate.
Have your eggs at room temperature along with the butter unless it needs to be cold or melted. PRO-Tip: To speed up getting the chill off, you can place your eggs in a bowl of hot (not boiling) water for about 5 minutes.
Do not overmix as this will activate the gluten and incorporate too much air into the batter. In this blender recipe, note that the directions state to mix until "well blended," not any longer!
PRO-Tip: Fill your tins about 2/3 full. This allows for consistent sizes which lets them bake evenly. You can also use an ice cream scoop to dish out equal amounts of batter.
Preheat your oven and use an oven thermometer to make sure your oven isn't running too hot or cold.
PRO-Tip: Bake one tin at a time on the middle rack. This ensures air can circulate all around the tin and that the top or bottom is not too close to an element.
To check if your cupcakes are done, there are two methods. One is with a toothpick. Insert in the center of a few of the cupcakes. When you pull the toothpick out, there should not be any batter on it. A few moist crumbs are OK, though. Alternatively, use the tip of your finger to tap the middle of the cupcake. It should bounce right back if the cupcakes are done. An indentation will remain if you need to bake them longer.
Let your tin cool on a wire rack for about 5 minutes, then remove the cupcakes from the tin and let them cool completely before frosting or storing. This prevents any residual heat from overbaking and drying out the cupcakes.
Frost when cool, covering the whole top to seal in the cupcake's moisture. Store in an airtight container.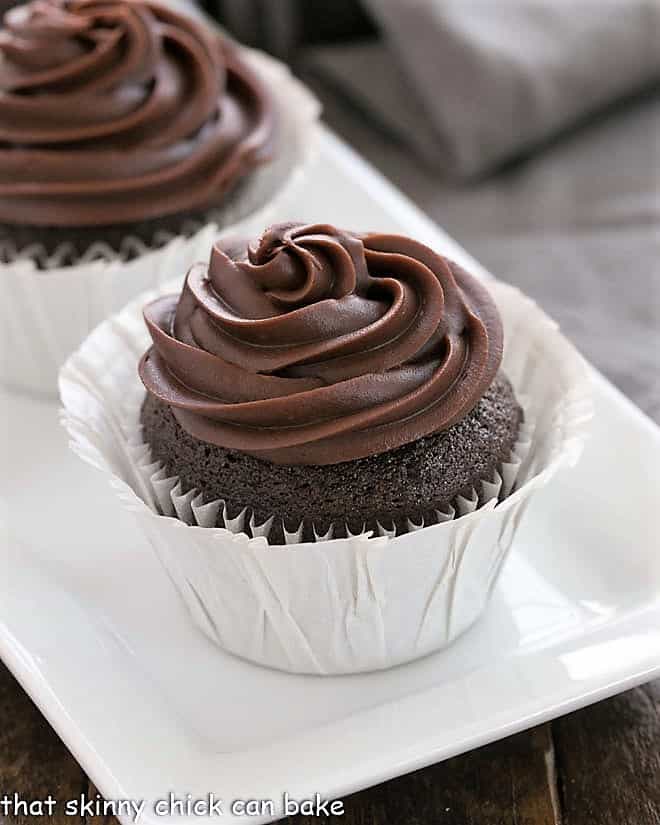 Frequently Asked Questions
Does a Blender Do a Good Job Mixing Cake Batter?
The blender perfect tool when you don't own a mixer. But make sure not to over-blend as that will stimulate the gluten in the flour and make for a less tender cake. Also, you must monitor the area by the blades where dry ingredients may accumulate there.
Why is Corn Syrup Used in the Frosting?
Besides adding moisture and sweetness to the frosting, the corn syrup gives a glossy appearance.
You May Also Like:
Stay in touch through social media @ Instagram, Facebook, and Pinterest. Don't forget to tag me when you try one of my recipes! And if you love the results, please give it a 5-star rating in the recipe card. Note: As an Amazon Associate, I earn from qualifying purchases. Visit my Amazon Store for my favorite products.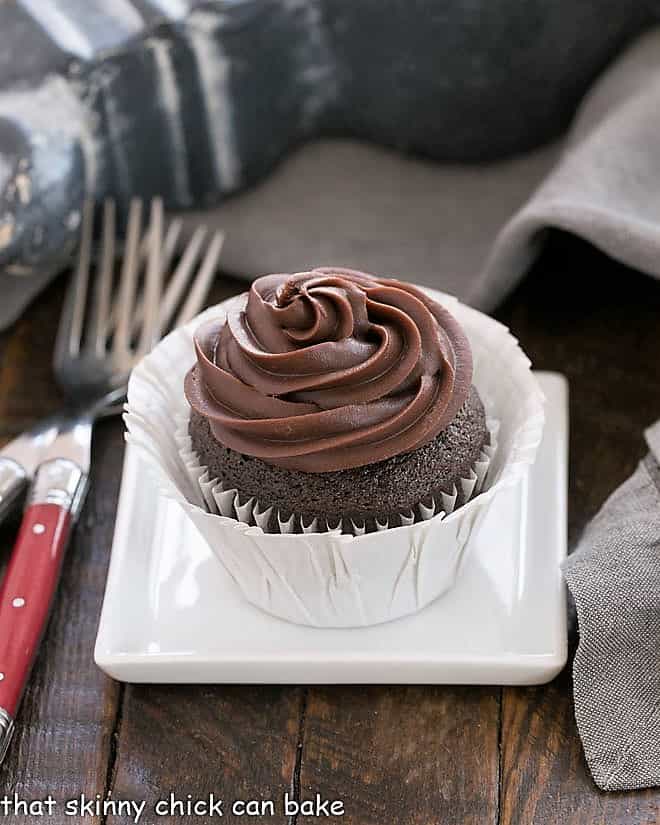 The Recipe:
Blender Cupcakes with Fudgy Frosting
Prep Time 30 minutes
Cook Time 20 minutes
Total Time 50 minutes
Yield 12 cupcakes
Delicious chocolate cupcakes whipped up in a blender.
Ingredients
For cupcakes:
1 cup flour
½ unsweetened cocoa powder, sifted
1 cup sugar
½ teaspoon baking soda
¼ teaspoon salt
¾ cup hot water
½ cup canola oil
1 egg
1 ½ teaspoons vanilla
For the frosting:
8 ounces semisweet chocolate, chopped
8 tablespoons butter, cut into pieces
1 cup sweetened condensed milk
¼ cup light corn syrup
1 teaspoon vanilla extract
1 pinch salt
Instructions
Preheat oven to 375°. Line 12 capacity muffin tin with cupcake liners.
Combine flour, cocoa, sugar, baking soda, and salt in a blender. Cover with the lid and blend on medium till blended.
Pour in the water, oil, egg, and vanilla. Cover with the lid and blend on medium-high speed till smooth and well blended, pausing to scrape down the sides once or twice.
Pour into lined muffin cups, dividing evenly.
Bake until a toothpick inserted in the center of one cupcake comes out clean, 17–19 minutes.
Cool on a rack for about 10 minutes, and then remove cupcakes from pan to rack to cool completely before frosting.
Melt chocolate and butter in the microwave, stirring occasionally till smooth. Add condensed milk, corn syrup, vanilla, and salt. Whisk until well blended.
Set aside at room temperature, whisking frequently. Let cool and thicken before frosting cupcakes.
Notes
Adapted from Fine Cooking.
Recommended Products
As an Amazon Associate and member of other affiliate programs, I earn from qualifying purchases.
Nutrition Information:
Yield:
12
Serving Size:
1 cupcake
Amount Per Serving:
Calories: 362
Total Fat: 20g
Saturated Fat: 7g
Trans Fat: 0g
Unsaturated Fat: 12g
Cholesterol: 45mg
Sodium: 212mg
Carbohydrates: 44g
Fiber: 0g
Sugar: 36g
Protein: 4g
Note: This post may contain affiliate links; view
my Disclosure Policy
for details. I earn a small percentage from any purchase you make by clicking on these links at no extra cost to you.