Flourless Chocolate Cake with Ganache Topping
At our house, a chocolate cake is always devoured in record time. This Flourless Chocolate Cake with Ganache Topping certainly hit the mark: rich, irresistible, and uber-chocolaty! There will be audible swooning!
Also known as an Earthquake Cake since it rises and sinks like a souffle and develops cracks that look like geologic faults and fissures.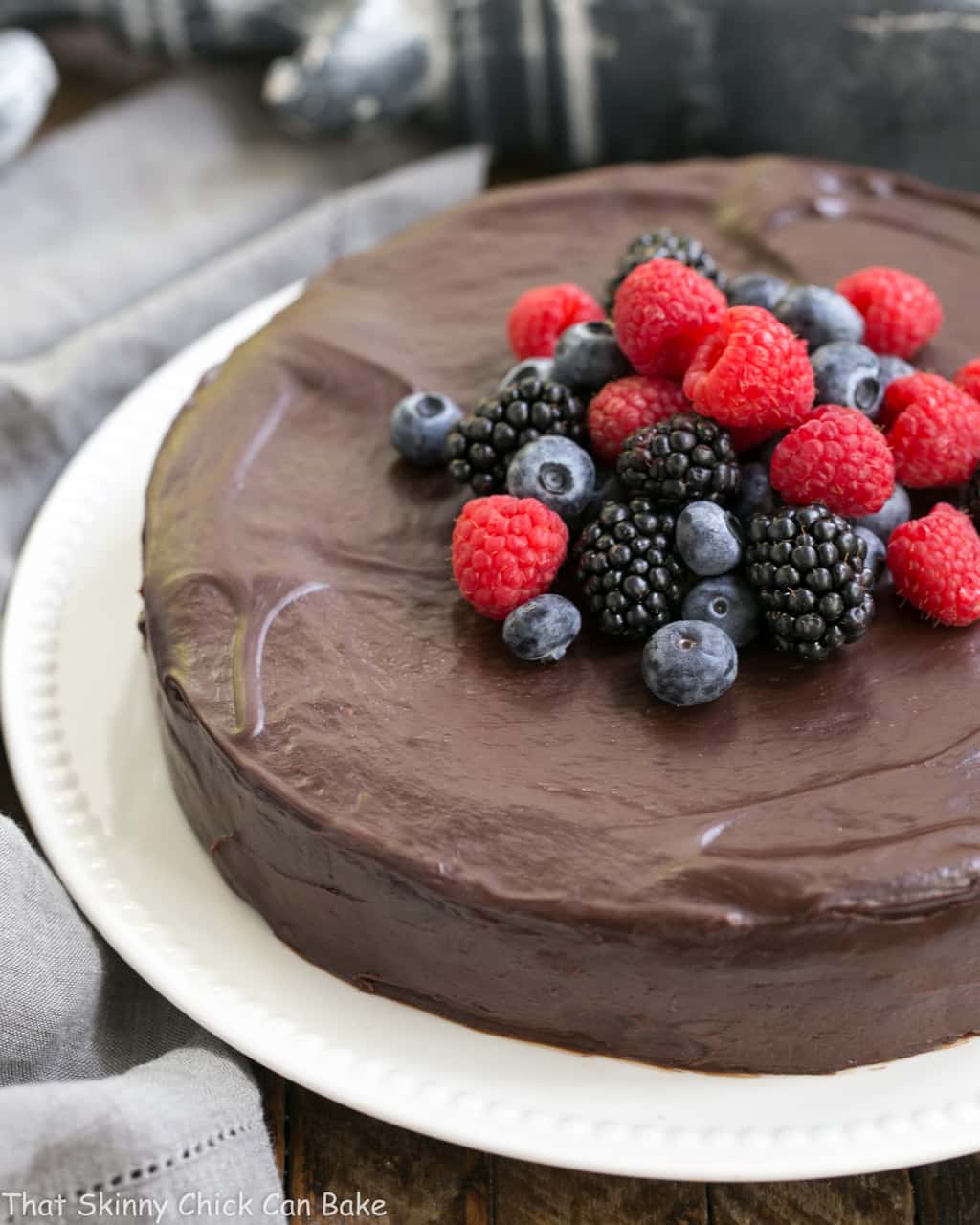 Why You Must Make
This cake is sinfully rich and impressive.
It's perfect for any chocoholics in your life!
It's a dense flourless chocolate cake with a dreamy chocolate ganache topping!
Hubby called one morning letting me know that the cath lab was having a pitch-in, and they wanted a dessert from me instead of his traditional offering of soda or napkins. He later reported that one of the employees gasped when they saw his name on the sign-up sheet. I imagine that his coworker was picturing a package of Oreos or a box of Ding Dongs as Bill's contribution. Nope, he was lucky this time, and I sent him in with this terrific chocolate cake. He brought home an empty plate!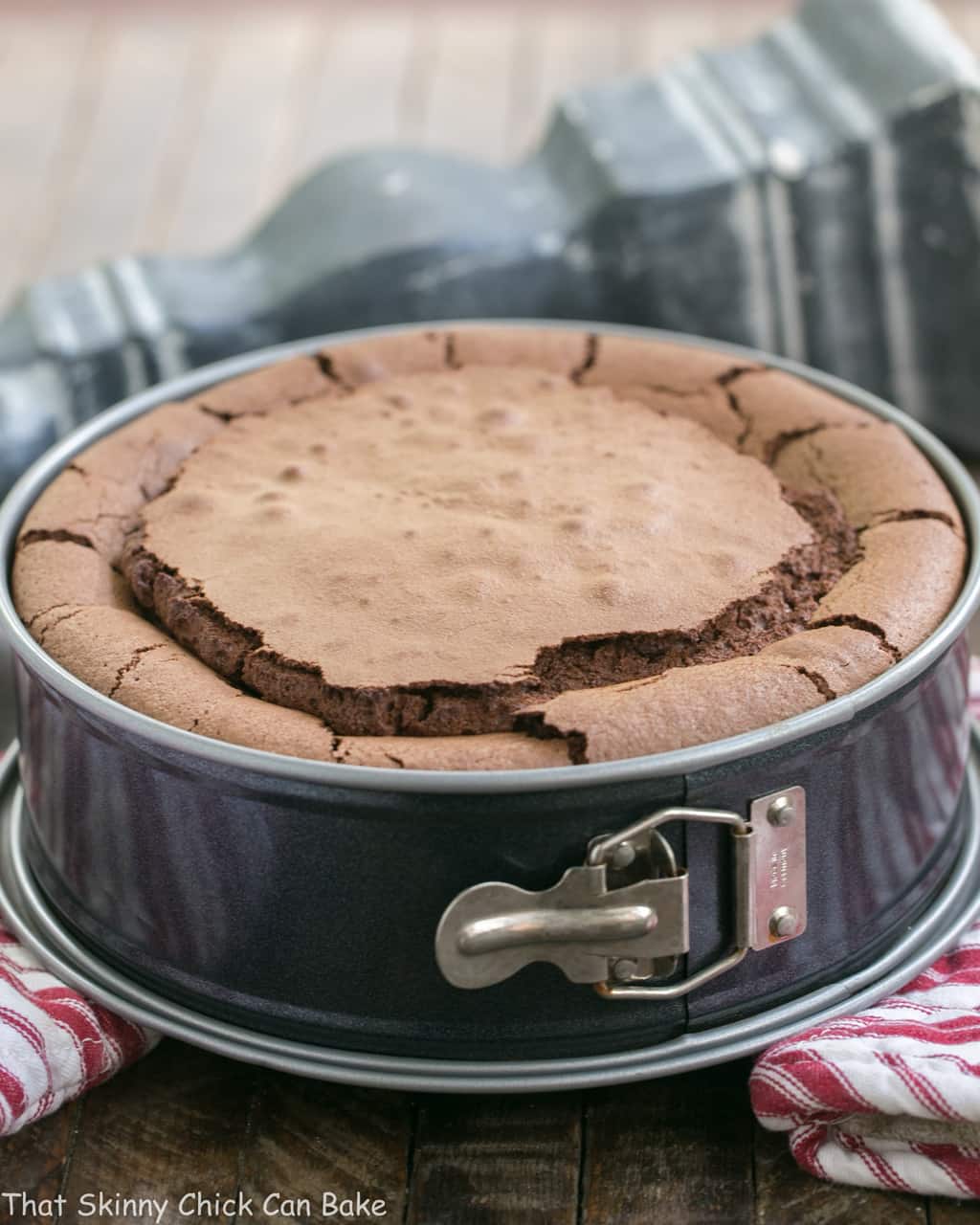 How to Make
This flourless chocolate cake has an extra step when compared to the others I've shared. The eggs are separated and the whites are beaten to stiff peaks. If you're new to whipping egg whites, there are a couple of pointers below that will help you be successful.
Prepare the Pan
You will need a 9-inch springform pan. This is the kind of pan used to make cheesecakes with a removable rim. The pan should be greased, then a 9-inch round of parchment paper is placed on the bottom of the pan and greased. I like using Baker's Joy, a flour and oil non-stick baking spray. You can find it or a similar product where Pam and oils are located in the grocery store.
Separate the Eggs
I start by chopping all the chocolate needed for this cake. Keep the amount for the cake separate from the amount for the ganache.
Separate your eggs. PRO-Tip: Use 3 different bowls. Crack the egg, separate the white into one bowl and the yolk into a second bowl. Repeat with the second egg, cracking the white into the third bowl, and place the yolk into the bowl with the other yolk.
If the second yolk is whole and no yolk has contaminated the white, that second egg white can go into the bowl with the first egg white. The goal is not to let even a speck of egg yolk contaminate your egg whites. The fat from the yolk will inhibit the whites from whipping properly.
PRO-Tip: Note that eggs separate best when cold, but egg whites whip best when at room temperature.
Melt the Chocolate and Mix the Batter
Gently melt the chocolate with the butter, stopping and stirring at 30-second intervals, until melted and smooth. Cool to lukewarm.
Follow the mixing directions in the recipe. Use a rubber spatula to fold in the chocolate mixture.
Make sure to use scrupulously clean the beaters and the bowl to whip the egg whites. Any speck of grease will prevent them from whipping to firm peaks. Fold the egg whites into the chocolate batter in 3 additions. Folding is a gentle process of mixing that will minimize the deflation of the egg whites. Pour the batter into the pan and smooth the top.
Bake and Glaze the Cake
Bake until a toothpick inserted into the cake comes out with only a few moist crumbs. Remember, there will be cracks. Let cool on a wire rack. When cool, press down on the top of the cake to level, then run an offset spatula or a knife around the perimeter to loosen the cake from the pan. Remove the pan sides and invert the cake onto a cooling rack.
Make the glaze and follow the instructions to finish the cake.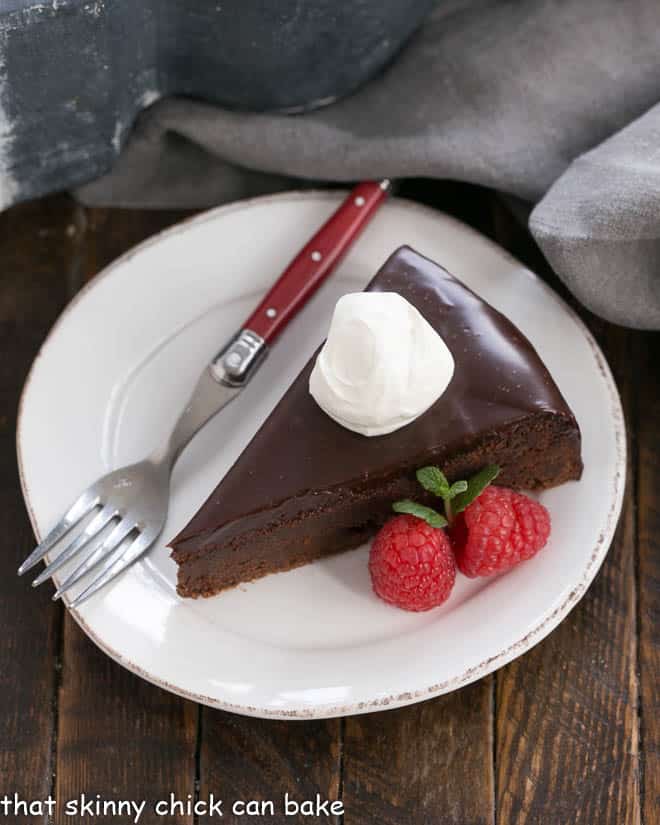 How to Serve
Since I was sending this cake to work on a plastic plate, I surrounded it with a bevy of fresh raspberries. It took all my restraint not to remove a slice to photograph, but I resisted.
The next time I made it, I piled a melange of berries right in the middle. That particular cake was sent with my oldest to a cookout. He was met with comments like, "Next time, tell your mom to up her game."
I like serving each slice with a dollop of lightly sweetened whipped cream, a few fresh berries, and even a sprig of mint. A drizzle of raspberry sauce before you plate the slice will take this dessert over the top, but even a plain slice will rock your world!
Expert Tips
Make sure you don't get any egg yolk into the whites or they won't whip properly. Also, ensure that the beaters and bowl are also free from grease or fat.
Use a springform pan so you are able to release the sides and remove the cake to a serving plate to slice.
The cake will rise as it bakes and fall as it cools. This is normal and why it's called an "earthquake" cake.
When the cake falls, the middle will look sunken. You can gently press on the surface to level it before adding the ganache.
I assure you, this flourless chocolate cake with ganache topping is worth the effort, and Bill, when pressed for his critique, waxed poetic over his love for this earthquake cake. He also reassured me that he'd take care of cleaning the ganache bowl, which meant sampling quite a bit!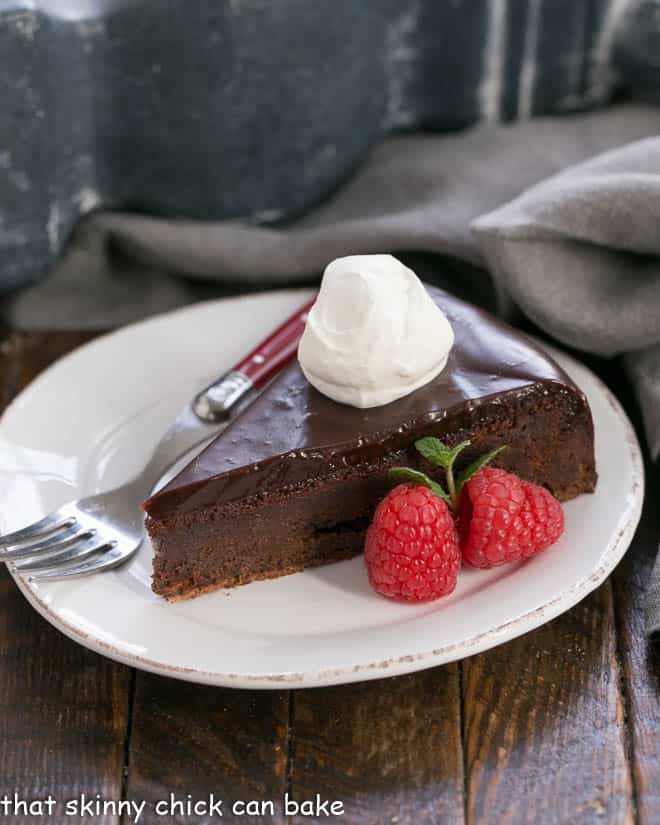 Frequently Asked Questions
What is an Earthquake Cake?
Because of the addition of whipped eggs whites, this cake rises to the top of the springform pan in the oven, then collapses when it comes out of the oven. The top will have cracks and fissures, just like the ground after an earthquake.
Instead of flour, the eggs provide the structure. When mixed with the melted chocolate and butter combo, the result is more fudgy than cakey. Folding in the whipped egg whites is reminiscent of making a souffle, so it's no surprise that it rises in the oven, then cracks and falls. The photo above illustrates why some call it an earthquake cake!
Is This Cake Gluten-Free?
Yes, almost all flourless chocolate cakes are gluten-free. This cake recipe has only 7 ingredients and none contain gluten. The exception would be if a flourless chocolate cake had any add-ins or toppings that contained gluten.
You May Also Like: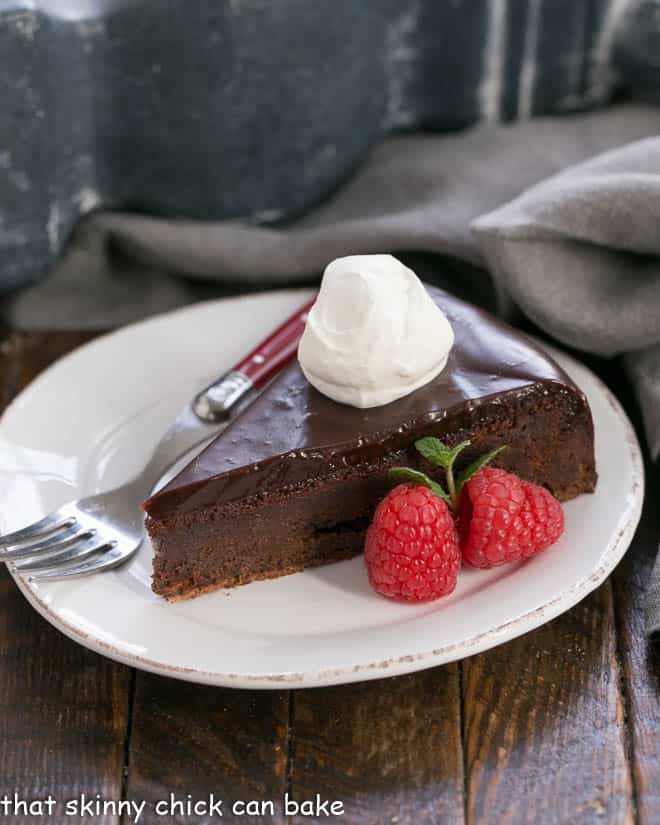 The Recipe:
Flourless Chocolate Cake with Ganache Topping
Prep Time 30 minutes
Cook Time 50 minutes
Total Time 1 hour 20 minutes
Yield 12 servings
Decadent and delicious Flourless Chocolate Cake with Ganache Topping
Ingredients
Cake:
12 ounces semisweet chocolate, chopped
¾ cup butter, cut into pieces
6 large eggs, separated
12 tablespoons sugar, divided
2 teaspoons vanilla extract
Glaze:
½ cup whipping cream
½ cup dark corn syrup
9 ounces semisweet chocolate, finely chopped
Instructions
Preheat oven to 350º. Grease 9 inch springform pan. Line bottom of pan with parchment paper; grease top of parchment. Wrap outside of pan with foil (I did this but not sure why it is necessary!).
Microwave butter and chocolate together until melted and smooth, stopping at 30 second intervals to stir. Cool to lukewarm, stirring often.
Using electric mixer, beat egg yolks and 6 tablespoons sugar in large bowl until mixture is very thick and pale, about 3 minutes. Fold chocolate into yolk mixture, then stir in vanilla. Using clean dry beaters, beat egg whites in another large bowl until soft peaks form. Gradually add remaining 6 tablespoons sugar, beating until firm peaks form. Carefully fold whites into chocolate mixture in 3 additions. Pour batter into prepared pan.
Bake cake until top is puffed and cracked and tester inserted into center comes out with some moist crumbs attached, about 50 minutes. Cool cake in pan on rack...beware,cake will fall.
Gently press down crusty top to make evenly thick cake. Using small knife, cut around pan sides to loosen cake. Remove pan sides. Invert cake onto cooling rack. Peel off parchment paper.
Make glaze by melting chocolate with cream gently in microwave, stirring at frequent intervals till smooth. Add corn syrup and stir to combine.
Place cake on rack set over baking sheet. Spread ½ cup glaze smoothly over top and sides of cake. Freeze for about 3 minutes to set glaze. Pour remaining glaze over cake; smooth sides and top. Place cake on platter. Chill until glaze is firm, about 1 hour. Serve at room temperature.
Notes
Adapted from Bon Appetit.

Make sure not to get any fat, including egg yolk, into the egg whites or they will not whip properly.
Recommended Products
As an Amazon Associate and member of other affiliate programs, I earn from qualifying purchases.
Nutrition Information:
Yield:
12
Serving Size:
1 slice
Amount Per Serving:
Calories: 397
Total Fat: 21g
Saturated Fat: 12g
Trans Fat: 0g
Unsaturated Fat: 8g
Cholesterol: 104mg
Sodium: 65mg
Carbohydrates: 55g
Fiber: 3g
Sugar: 51g
Protein: 6g
The Recipe:
More Flourless Chocolate Cake Recipes
The Best Flourless Chocolate Cake Recipes from That Skinny Chick Can Bake.
One layer, flourless and absolutely decadent!
A dense, delicious flourless chcolate cake made with almond meal.
A dense, luscious flourless chocolate cake adapted from Bon Appetit.
Note: This post may contain affiliate links; view
my Disclosure Policy
for details. I earn a small percentage from any purchase you make by clicking on these links at no extra cost to you.