Blackberry Cheesecake Bars
When berries meet cheesecake, something phenomenal occurs. These Blackberry Cheesecake Bars combine silky smooth vanilla cheesecake, a vanilla wafer crust and fresh blackberry topping for a delightful dessert!
Baked in a 9 x 13 pan, this cheesecake recipe is quite portable and perfect for potlucks, picnics, and pitch in meals. The cheesecake fans you know will be swooning!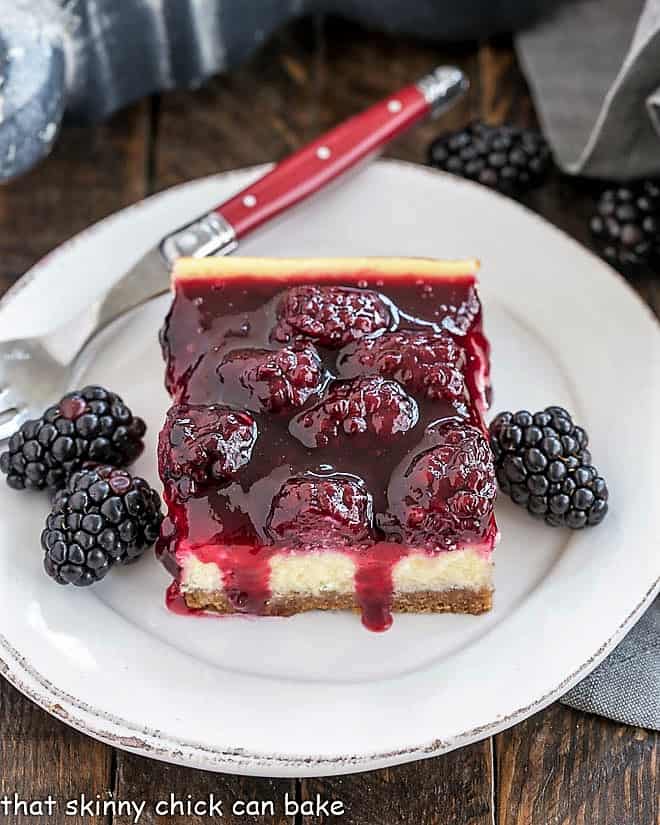 Why You Must Make
If you see sweet, plump blackberries at the market, this is a terrific recipe to showcase them.
It's an easy cheesecake recipe made in a 9 x 13-inch pan!
Cheesecake and berries go together like bread and butter!!!
Though the picky hubby thought they'd be much better with raspberries, as a fan of blackberries (and cheesecake!), this combination of flavors was divine!
Recipe Tips
There are a few key tips to making a good cheesecake, whether in a large springform pan, mini cheesecake pan or a 9 x 13-inch pan. Here is the critical information:
Pro-Tip: Have both your cream cheese and eggs at room temperature. This allows easier incorporation and a smoother, silkier cheesecake. I have to admit, I don't always use room temperature eggs for cookie dough, but with cheesecake, it makes a huge difference.
Pro-Tip: Use your stand mixer fitted with the paddle attachment to mix cheesecake batter. A whisk will add too much air into the mixture, thus making the final texture of the baked cheesecake less dense and airier.
When baking full-sized cheesecake, I typically recommend placing the pan in a bain-marie or water bath to minimize cracking. In this case, the bars are covered with a berry sauce, so even if you had cracks, they're camouflaged.
Toppings can vary. If you don't like blackberries, try blueberries or raspberries. These would also be delicious topped with a chocolate ganache.
If you are allergic to pecans, leave them out of the crust. If you have graham crackers on hand, use 11 ounces of them instead of the vanilla wafers.
Pro-Tip: Use the bottom of a dry measuring cup to smooth and tamp the crust.
Pro-Tip: Bring the bars or any cheesecake out of the refrigerator an hour before serving. The cheesecake will be much creamier if not served cold.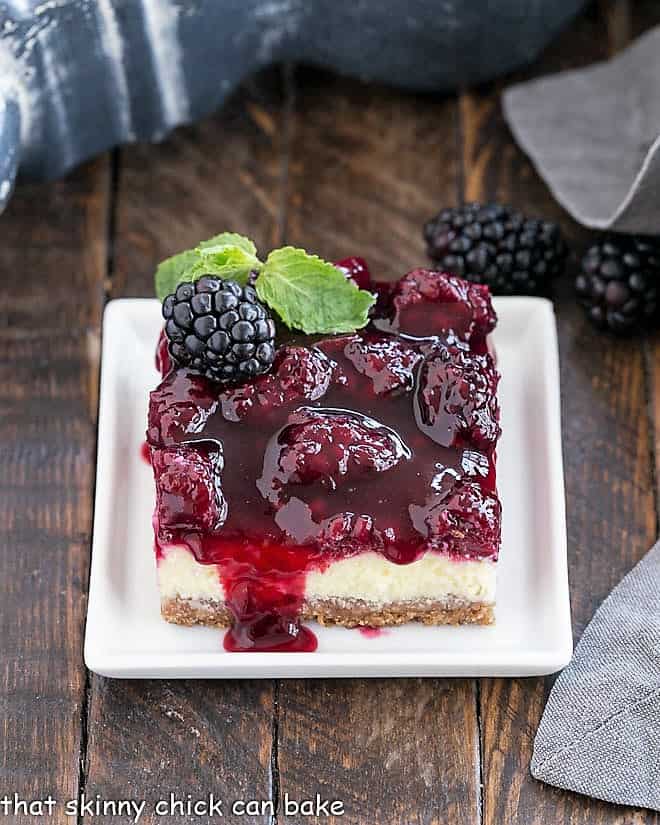 How to Make
Frequently Asked Questions
How Do You Store Cheesecake Bars?
Though cheesecakes taste creamiest after being left out at room temperature before serving, they must be stored in the refrigerator. They'll be good for 3-4 days. If you're worried you won't be able to eat them all in that timeframe, consider not topping them and freezing half. Make half the berry cheesecake topping now, and half the topping at a later date when you want to defrost the reserved portion of cheesecake bars.
Can These Bars Be Frozen?
Without the topping, cheesecake bars freeze great. With the topping added, they would lose quality after being defrosted. If you'd like to make these ahead, I suggest making, baking and freezing the cheesecake after covering it well. Then defrost in the refrigerator overnight the day before you plan to indulge. The topping can be made a day or two ahead of time. Just keep it chilled until you're ready to top the dessert.
You May Also Like: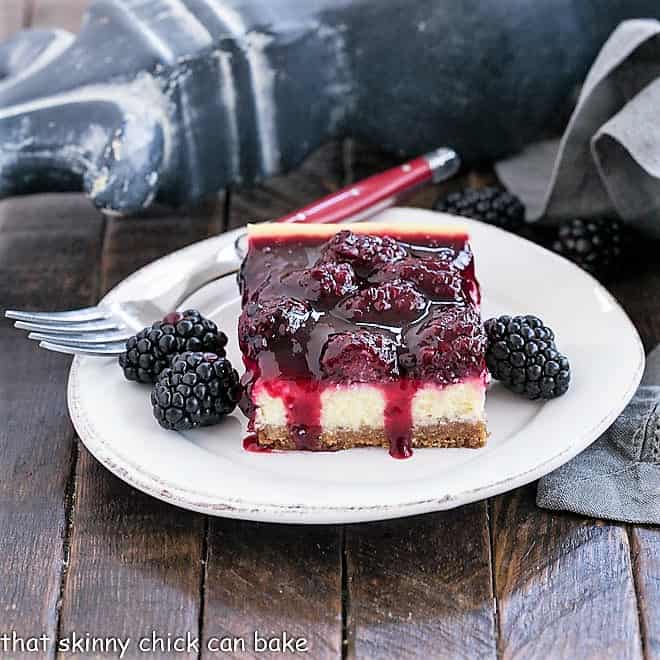 The Recipe:
Blackberry Cheesecake Bars
Prep Time 20 minutes
Cook Time 1 hour
Additional Time 2 hours 15 minutes
Total Time 3 hours 35 minutes
Yield 16
A luscious vanilla cheesecake on a vanilla wafer crust and a fresh blackberry topping!
Ingredients
Crust:
One 11-ounce box vanilla wafers
½ cup pecans
½ cup butter, melted
1½ teaspoons vanilla
Filling:
Three 8-ounce packages cream cheese, at room temperature
1½ cups sugar
4 eggs
½ cup sour cream
Topping:
4 cups fresh blackberries
1 cup sugar
4 teaspoons cornstarch
Instructions
Preheat the oven to 350°.
Line a 9-by-13-inch baking pan with nonstick foil. Set aside
Add the vanilla wafers and pecans to a food processor. Pulse until crumbs form. Add the melted butter and vanilla and pulse again until combined. Dump the mixture into the prepared pan. Evenly press the crumbs into the bottom of the pan.
Beat cream cheese and sugar with a paddle attachment until smooth. Add the eggs one at a time, beating until each egg is combined before adding another. Add the sour cream and mix again.
Scrape out the filling onto the crust, smooth the top, and bake for 50 minutes. Turn off the oven, open the oven door, and allow the pan to sit in the open oven for 15 minutes. Remove and set aside to cool.
To make the topping, add the blackberries, sugar, and ¼ cup water to a saucepan. Bring to a boil over medium-high heat and cook until the juices begin to thicken about 5 minutes.
In a small bowl, stir together the cornstarch and 2 tablespoons of water until smooth. Add this mixture to the berries, bring to a boil, and cook for another couple of minutes. Turn off the heat and cool the mixture.
Pour the blackberries over the cheesecake and place the pan into the fridge to chill at least 2 hours.
To serve, use the foil as a sling to remove the bars to a cutting board. Slice into squares.
Notes
Adapted from Pioneer Woman via Hugs and Cookies XOXO
Nutrition Information:
Yield:
16
Serving Size:
1 slice
Amount Per Serving:
Calories: 484
Total Fat: 29g
Saturated Fat: 15g
Trans Fat: 0g
Unsaturated Fat: 11g
Cholesterol: 109mg
Sodium: 278mg
Carbohydrates: 53g
Fiber: 3g
Sugar: 41g
Protein: 6g
Note: This post may contain affiliate links; view
my Disclosure Policy
for details. I earn a small percentage from any purchase you make by clicking on these links at no extra cost to you.