Cheesecake Filled Chocolate Chip Bars
Scrumptious Cheesecake Filled Chocolate Chip Bars with a rich cheesecake layer that pushes these chocolate chip cookie bars over the top!
Nestles Tollhouse cookie bars were baked almost every week when we were first married, but soon I had to branch out with variations of chocolate chip cookie bars. Combining the hubby's favorite bar cookies with one of my favorite desserts was one way to shake up our dessert routine!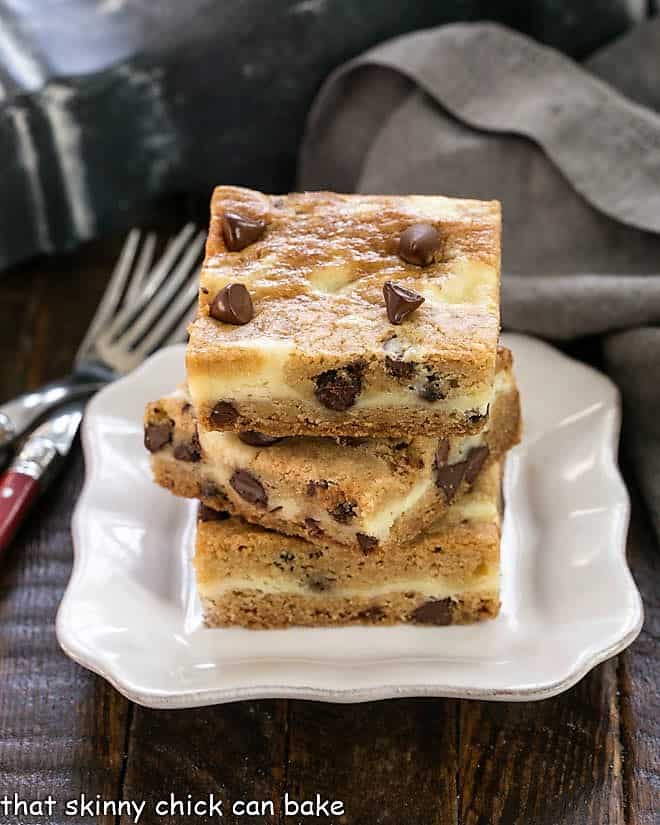 Cheesecake Filled Chocolate Chip Bars
The food dynamics in our household have taken a sudden shift. Two of the chocoholics have moved out (my youngest to college and my oldest to live with his hipper compatriots), so the rich, dense chocolate desserts will now be baked mainly for family gatherings.
The vanilla ice cream, cheesecake lovin' daughter is now queen of the house, and apparently queen of the kitchen, too. Her likes are a huge consideration in determining which goodies appear on our dessert menu. So as a compromise to her and her father, a combination of cheesecake and chocolate cookies was baked up for dessert! These cheesecake cookie bars got rave reviews from an often tough crowd!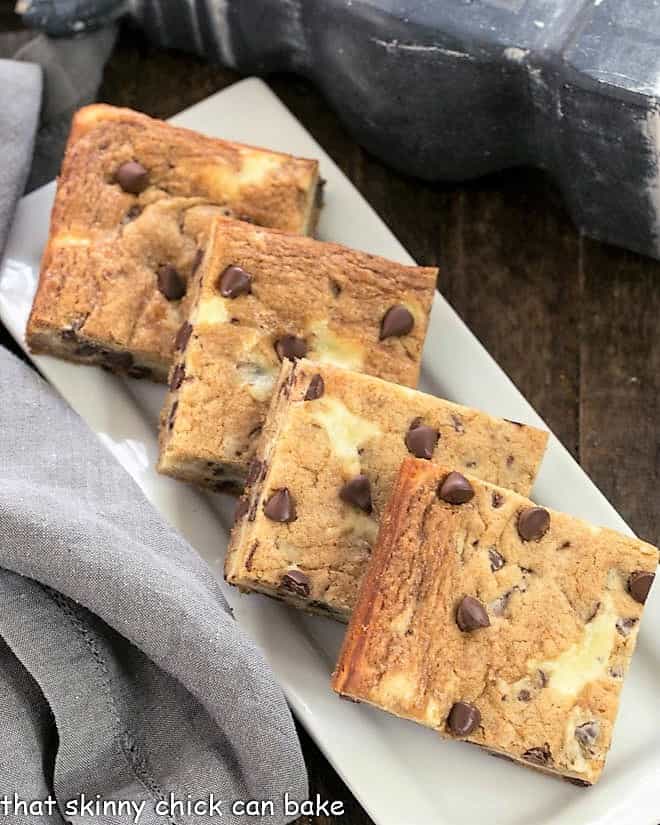 How to Make Chocolate Chip Cheesecake Bars
Miss Katie will eat my chocolate chip bars..she prefers them freshly baked or zapped for a few seconds in the microwave to get the chocolate melty. I have filled brownies with candy, swirled in cream cheese, and topped them with a thick layer of icing. Why not do the same with my chocolate chip bars?
Press half a batch of chocolate chip cookie dough into a 9 x 13 pan, smoothing with an offset spatula to make it as level as possible.
Spread the cheesecake batter on top, covering the chocolate chip cookie dough.
Next, take spoonfuls of the remaining chocolate chip dough. One at a time, flatten between your palms and place over the top of the cheesecake batter. It's fine if the cheesecake layer is not completely covered.
Bake as directed.
When the bars come out of the oven, use some more chocolate chips to press onto the top of the bars for a nice finishing touch. A totally optional step. I would do this for company or if giving away as a gift.
Regular chocolate chip cookie bars can be stored in an airtight container at room temperature for about 3 days. But I prefer to keep these in the refrigerator due to the cheesecake layer. But they'll taste best if brought out of the fridge for about an hour before serving.
These also freeze well for up to 3 months.
Katie brought a group of friends home after dinner out…and they came up to the kitchen looking for a treat. I offered up this chocolate chip cookie dessert and received oohs and ahs in return. Yup, they were a big success.
More Tasty Cheesecake Bars
This recipe was originally shared in September 2012. Photos and text were updated in 2020.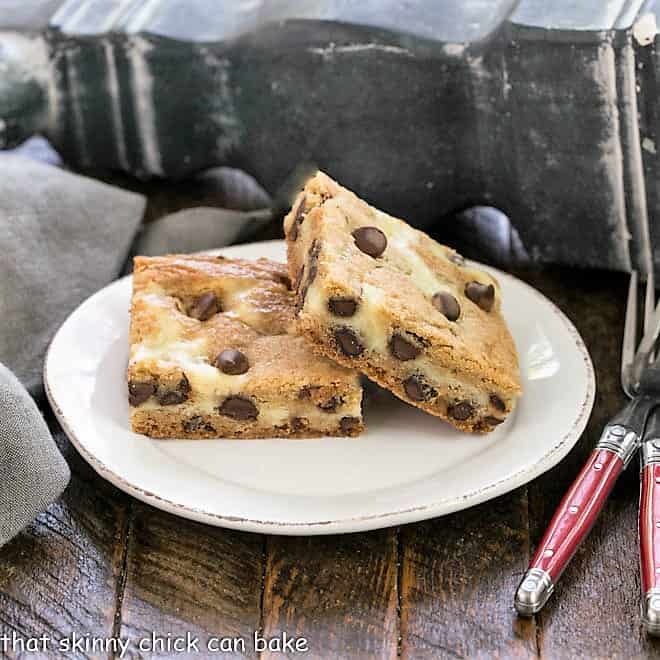 The Recipe:
Cheesecake Filled Chocolate Chip Bars
Prep Time 20 minutes
Cook Time 45 minutes
Total Time 1 hour 5 minutes
Yield 24 bars
A rich cheesecake filling pushes these chocolate chip cookie bars over the top!
Ingredients
Bars:
1 cup butter (at room temperature)
1 cup brown sugar
1/2 cup sugar
2 eggs
2 teaspoons vanilla
1/2 teaspoon salt
1 teaspoon baking soda
2 1/4 cups flour
2 cups semisweet chocolate chips
Filling:
1 package (8 ounces cream cheese, at room temperature)
1/2 cup sugar
1 egg
1/2 teaspoon vanilla
Instructions
Preheat the oven to 350º. Grease 9 x 13 pan and set aside.
Cream together butter and sugars. Mix in eggs, then vanilla. Stir in salt, then baking soda. Add flour and mix till combined. Mix in chocolate chips. Place dough in the refrigerator while preparing the filling.
With a hand mixer, beat cream cheese till smooth. Mix in sugar, then egg and vanilla.
Set aside.
Remove about half the cookie dough from the refrigerator. Put the dough into the prepared pan.
Grease rubber spatula with cooking spray and press dough into an even layer over the bottom of the pan. Spread cream cheese filling over top of the dough.
Remove the rest of the cookie dough from the refrigerator. Take heaping tablespoonful and flatten the dough between your hands. Place the thin piece of dough over the filling and continue with the rest of the dough. You do not need to completely cover the filling.
Beware: the dough is sticky and hard to handle. You may want to dust your hands with flour.
Bake for 35-45 minutes or till the top is golden brown. Cool thoroughly before cutting. Store in refrigerator.
Notes
Adapted from Heat Oven to 350
Recommended Products
As an Amazon Associate and member of other affiliate programs, I earn from qualifying purchases.
Nutrition Information:
Yield:
24
Serving Size:
1
Amount Per Serving:
Calories: 252
Total Fat: 13g
Saturated Fat: 8g
Trans Fat: 0g
Unsaturated Fat: 4g
Cholesterol: 44mg
Sodium: 170mg
Carbohydrates: 34g
Fiber: 1g
Sugar: 24g
Protein: 3g
Note: This post may contain affiliate links; view
my Disclosure Policy
for details. I earn a small percentage from any purchase you make by clicking on these links at no extra cost to you.