Torta Caprese or Italian Flourless Chocolate Cake
This Torta Caprese or Italian Flourless Chocolate Cake has loads of chocolate flavor from semisweet chocolate and Dutch processed cocoa power. Plus almond flour gives structure without gluten.
Rich and dense, serve each slice with a dollop of Frangelico whipped cream! An exquisite dessert for a dinner party, holidays or simply a special treat for your family.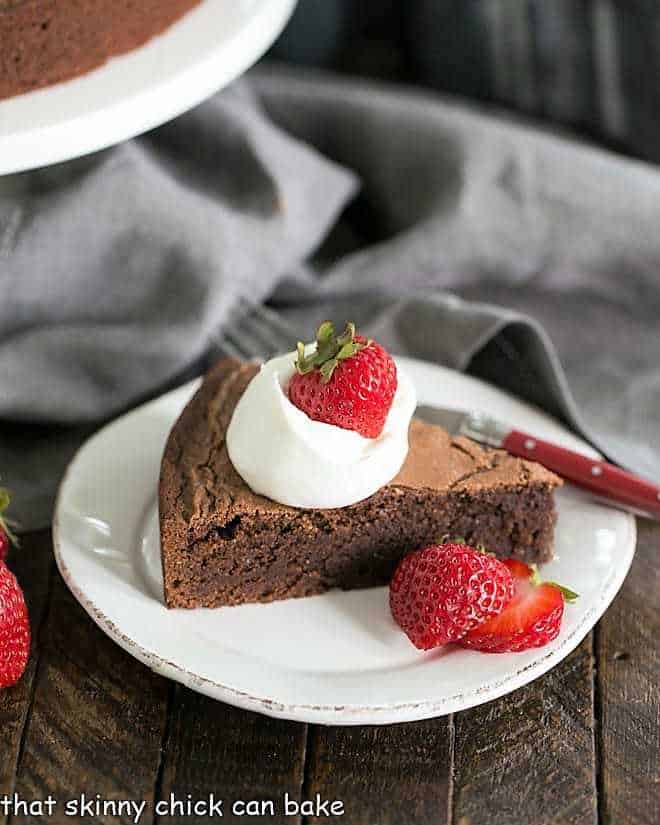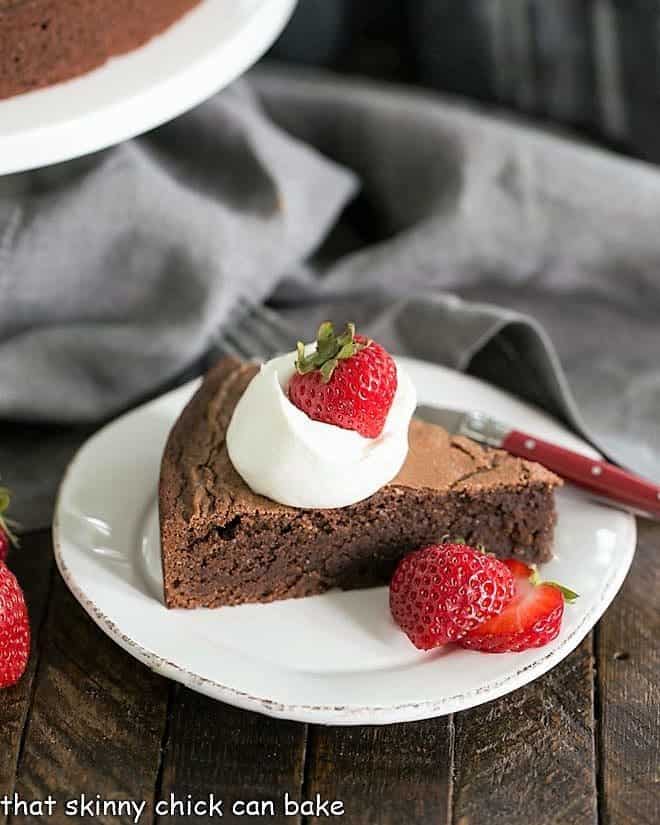 Italian Flourless Chocolate Cake
This cake recipe hails from the Italian island of Capri, thus known as Torta Caprese in Italiano! There are conflicting stories about how this cake came to be, one citing a lack of flour and almond meal was substituted when making a chocolate cake or some tourists. This came to be known as a "most fortunate mistake." Another telling the tale of a visitor from Austria requesting a sacher torte and this is what the Italian baker came up with as he had no knowledge of that dessert.
Barring any nut allergies, this is one nutty cake that nut avoiders, like my husband, will actually enjoy. I used more finely ground almond flour instead of almond meal, just to keep the hubby happy.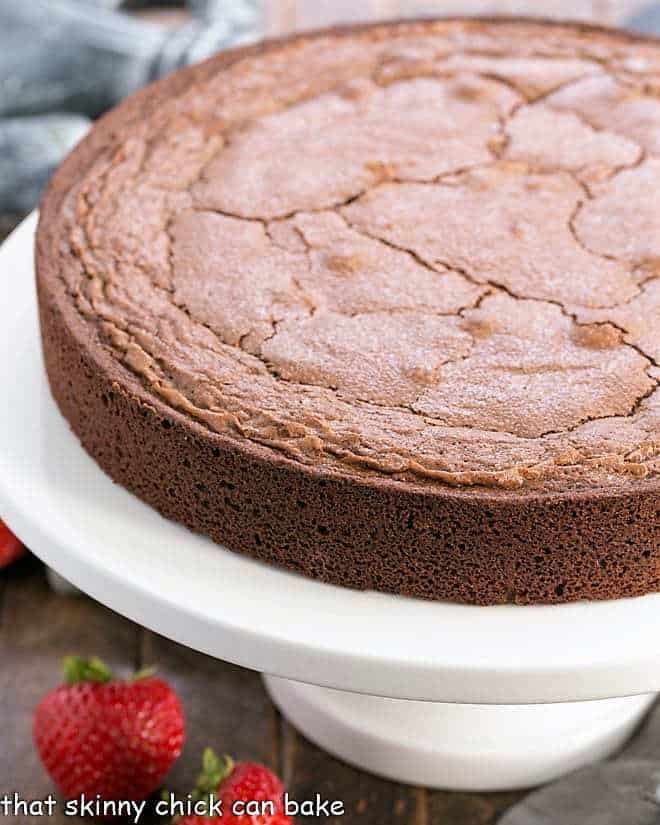 How to Make This Chocolate Almond Cake
There are a few tricks to making this chocolate almond cake. You must understand how to fold one mixture into another and how to beat egg whites. Once you understand those concepts, this is a very simple recipe!
Folding is a cooking term used when a lighter batter needs to be mixed with a heavier batter without deflating the lighter batter. Instead of beating with a mixer, a spatula is used for this technique. In this torta caprese, whipped egg whites are folded into an egg white chocolate batter.
According to my Food Lover's Companion, the lighter mixture goes on top of the heavier one and starting at the back of the bowl, a rubber spatula cuts vertically through the two mixtures, then across the bottom  and up the nearest side. The bowl is then rotated a quarter turn and the process repeated again and again until the mixtures are combined.
Beating egg whites can be frustrating if you don't use completely clean beaters, bowls and egg whites that are not contaminated with any yolk.
The whites will not beat if they are contaminated with any residual grease, oils and even a speck of egg yolk, which happens to contain fat. You will not get billowy whipped egg whites no matter how long you beat them if the bowl and beaters aren't sparkling clean or if some yolk gets in the whites when separating.
Serve with sweetened whipped cream or even whipped cream spiked with Frangelico. I whip 1 cup of heavy cream with 1/c of powdered sugar and 2 tablespoons of Frangelico. SO good!
With these  tips, you should be ready to go!! Check out how to make your own Almond Flour if you have trouble finding it in your market.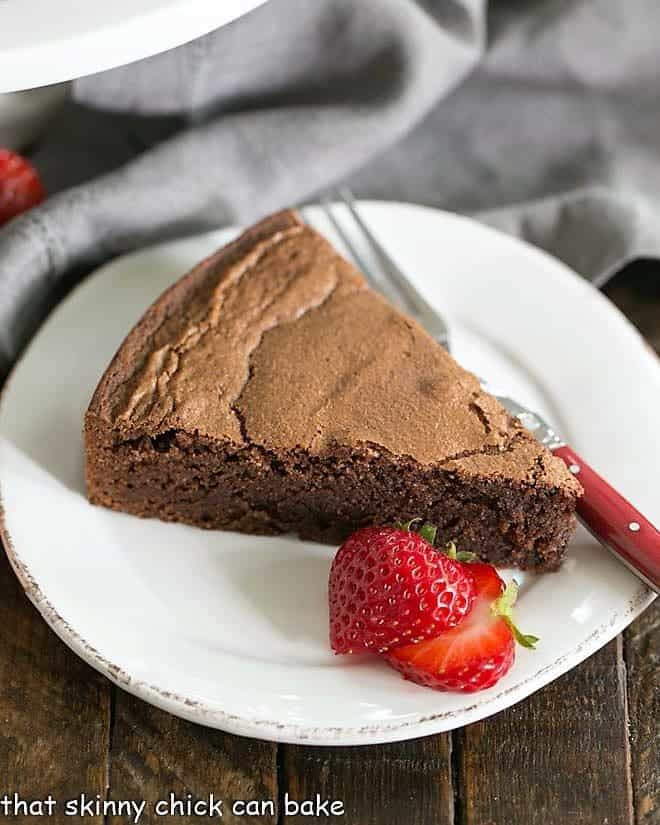 Despite not being on a gluten free diet, I have loads of flourless chocolate cakes on the blog. No frosting needed, as they are all rich and delectable. This La Bete Noire is a family favorite as it comes with a ganache glaze as does this Flourless Double Chocolate Cake! But I'm always on the lookout for more amazing recipes and these flourless Fluffernutter Cookies, these Toffee Peanut Butter Cookies and this round up of Flourless Cookie Recipes caught my eye this week!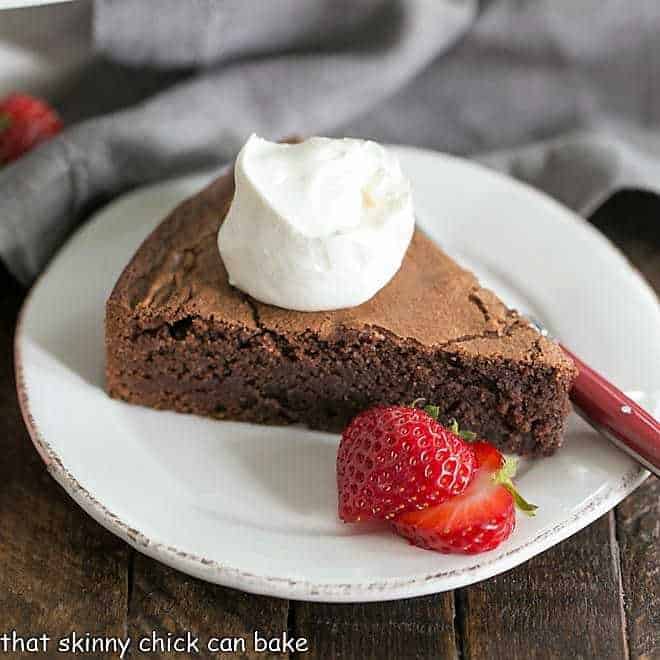 The Recipe:
Torta Caprese Recipe or Italian Flourless Chocolate Cake
Prep Time 20 minutes
Cook Time 50 minutes
Total Time 1 hour 10 minutes
Yield 12 servings
A dense, delicious flourless chcolate cake made with almond meal.
Ingredients
12 tablespoons butter, cut into tablespoon pieces
6 ounces semisweet chocolate
1 teaspoon vanilla
4 eggs, separtated
1 cup sugar, divided
2 cups almond flour
2 tablespoons Dutch processed cocoa powder
1/2 teaspoon salt
Sweetened whipped cream and berries, to serve, optional
Instructions
Preheat oven to 325 degrees. Spray a 9-inch springform pan with non-stick cooking spray. Set aside.
Microwave butter and chocolate with 30-second intervals, stopping and stirring until smooth and melted. Add vanilla, stir, and set aside.
In a large bowl, whip egg whites on low until foamy, then increase mixer speed to medium-high and whip while slowly adding 1/2 cup of the sugar. The whites should become white and glossy. Set aside.
In another bowl, beat egg yolks and remaining sugar for about 3 minutes on medium-high, until thick and pale yellow. Add the chocolate mixture, mixing just until incorporated, then the almond flour, cocoa, and salt. Mix again, just until incorporated. Use a rubber spatula to scrape the bowl, making sure it is well mixed.
Add about 1/3 of the egg whites to the chocolate mixture and mix just until no streaks of white are visible, then add this mixture into the rest of the egg whites. Fold in the chocolate until no streaks remain.
Put the batter into the prepared pan and smooth the top with an offset spatula. Bake for 50 minutes or until a toothpick inserted into the center comes out clean or with just a few moist crumbs.
Cool for 15 minutes, then carefully remove the side of the pan and let cool completely. Serve slices with a dusting of powdered sugar or berries and whipped cream.
Notes
Adapted from Cook's Illustrated.
Nutrition Information:
Yield:
12
Serving Size:
1 slice
Amount Per Serving:
Calories: 377
Total Fat: 27g
Saturated Fat: 11g
Trans Fat: 0g
Unsaturated Fat: 14g
Cholesterol: 93mg
Sodium: 205mg
Carbohydrates: 32g
Fiber: 4g
Sugar: 26g
Protein: 7g
Note: This post may contain affiliate links; view
my Disclosure Policy
for details. I earn a small percentage from any purchase you make by clicking on these links at no extra cost to you.