Chocolate Mousse Cake with Ladyfingers
This Chocolate Mousse Cake is perfect for any celebration! The mousse is deliciously rich and creamy, and there is absolutely no baking involved!
This Lady Fingers Dessert takes the work out of making a dessert. Using store-bought ladyfingers for structure makes this Mousse Cake Recipe a breeze to prepare!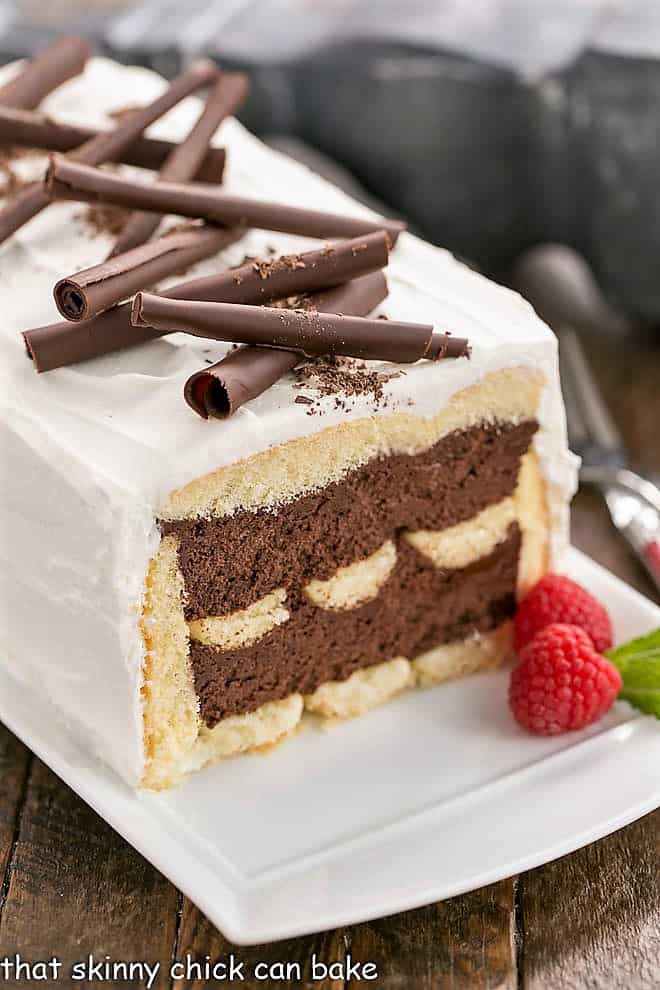 Why You Should Make this Lady Finger Cake
If you feel your baking skills are lacking, here is an easy, decadent chocolate mousse cake recipe that requires absolutely no baking!
Made with grocery store ladyfingers, homemade chocolate mousse, and a whipped cream frosting, all you need is a mixer and rubber spatula, and a little patience as it chills.
This is fancy enough for company or holidays, yet easy enough for any occasion.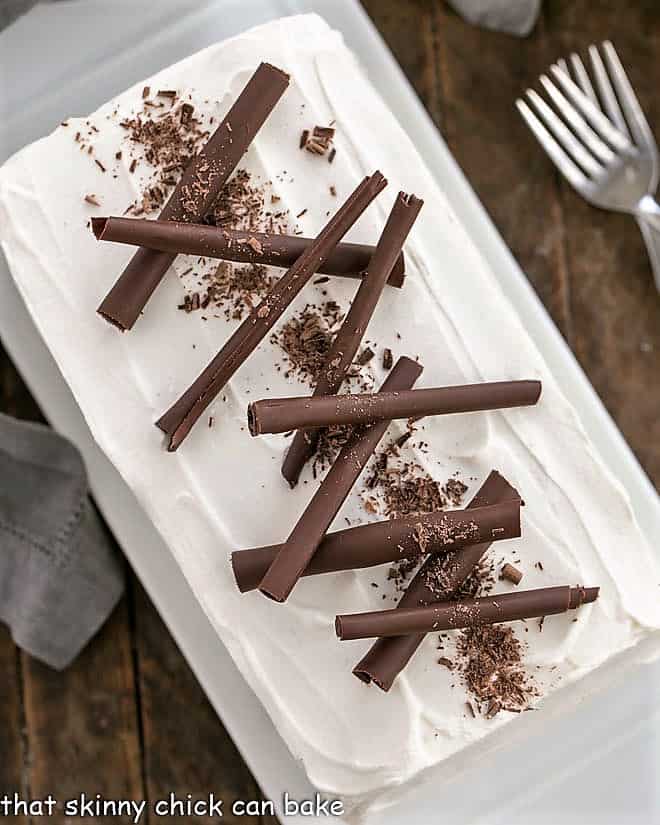 Recipe Tips
The hardest part about this recipe was finding soft, spongy ladyfingers. Since one of our major grocery chains went out of business, I had only seen the harder version used for tiramisu.
When I finally located some, I snatched up two packages knowing I was way overdue to make this cake. Even though the packages stated 3 ounces on the label, it took part of a 3rd package to cover my loaf pan. So back to the market I went!
PRO-Tip: Beware that the mousse layer of this cake contains raw eggs. If you plan to feed this dessert to any children, older folks, or anyone who has a suppressed immune system, you need to find some pasteurized eggs. See below how to pasteurize at home.
Pasteurized eggs are gently heated to kill any food-borne bacteria without cooking the eggs. They have become more difficult to find locally just like soft ladyfingers.
If you're a mousse lover but worried about salmonella, I have a chocolate truffle mousse that's actually cooked so it's safe for all. But it wouldn't necessarily work in this cake without some trial runs.
As with many of my desserts, I use an offset spatula to smooth and level the mousse and spread the whipped cream over the cake.
PRO-Tip: Did you know whipping the cream in a bowl that's been chilled in the freezer helps stabilize the whipped cream?
Adding powdered sugar instead of granulated sugar also helps the whipped cream from separating (while providing that needed touch of sweetness). It will still eventually separate, but using the powdered sugar extends the usable time frame.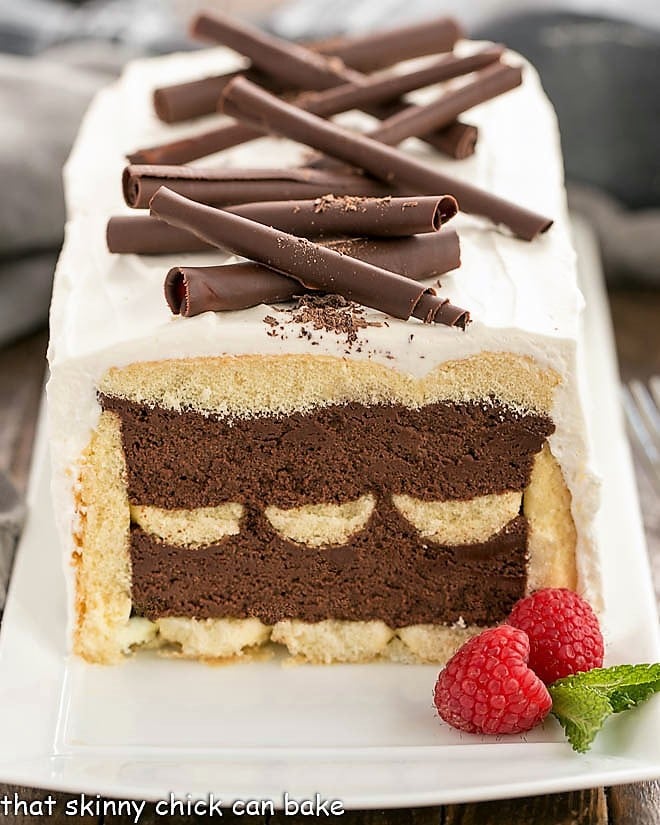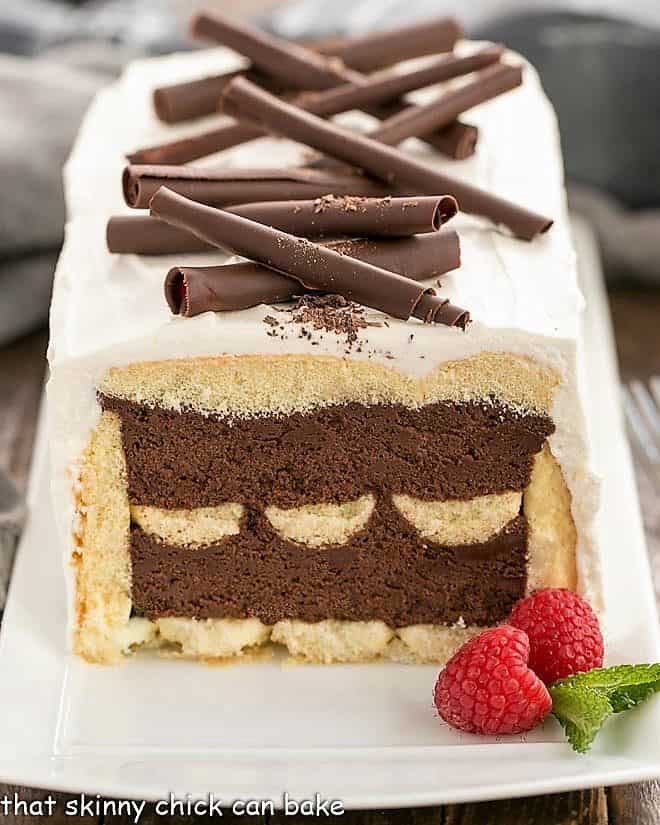 How to Garnish
Chocolate is always the easy answer when making a chocolate dessert. I made chocolate curls and then added some grated chocolate to finish it off.
Chocolate shards are easier to make than curls and are also impressive. But if you see any beautiful red berries in the market, that's another option.
Years ago, when I first made this mousse cake, I placed a line of ripe raspberries down the center of the cake. It was simple and the red popped on top of the white whipped cream frosting. Strawberry halves would be another alternative.
How to Make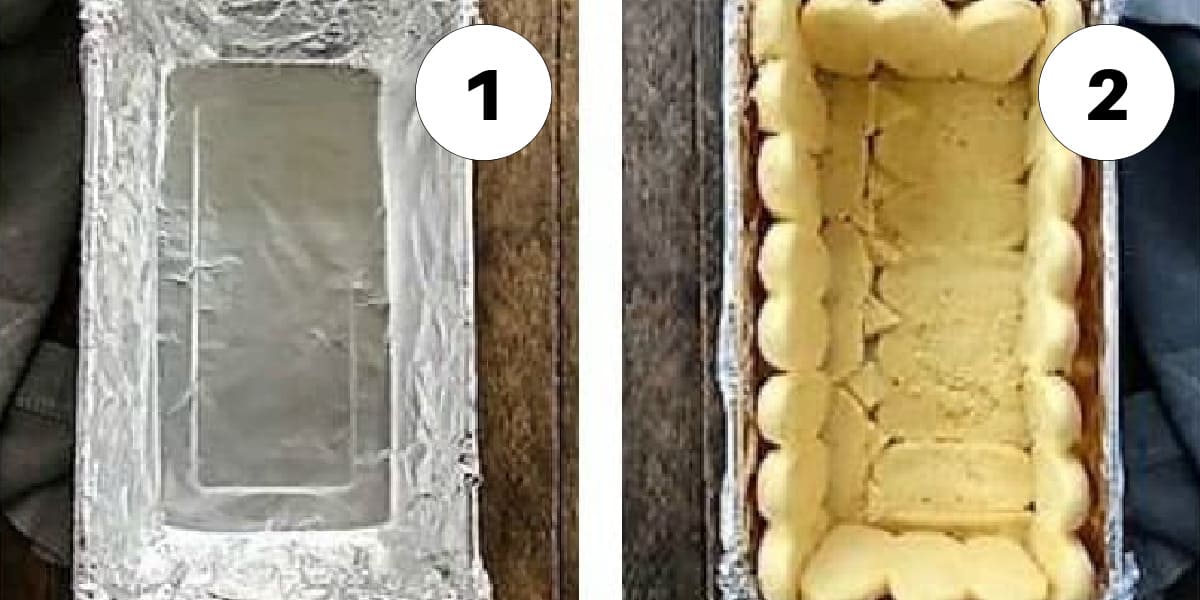 Line your loaf pan with non-stick foil. It will help you remove the cake after it's chilled and before it's frosted.
Next, Line the pan with ladyfingers, starting with the bottom, then the sides. Cut pieces from the leftover ladyfingers to fill any large openings.
Layer half the mousse over the ladyfingers on the bottom of the pan, followed by the rest of the mousse, then more ladyfingers.
Cover with plastic wrap, chill as directed, then invert on a serving plate, slice, and serve.
"Incredible," was the first word out of Bill's mouth. He claimed not to like ladyfinger desserts before tasting this one. It's really quite simple to whip up. I might even up the amount of whipped cream icing next time to make it nice and billowy. It was the perfect way to end our holiday meal.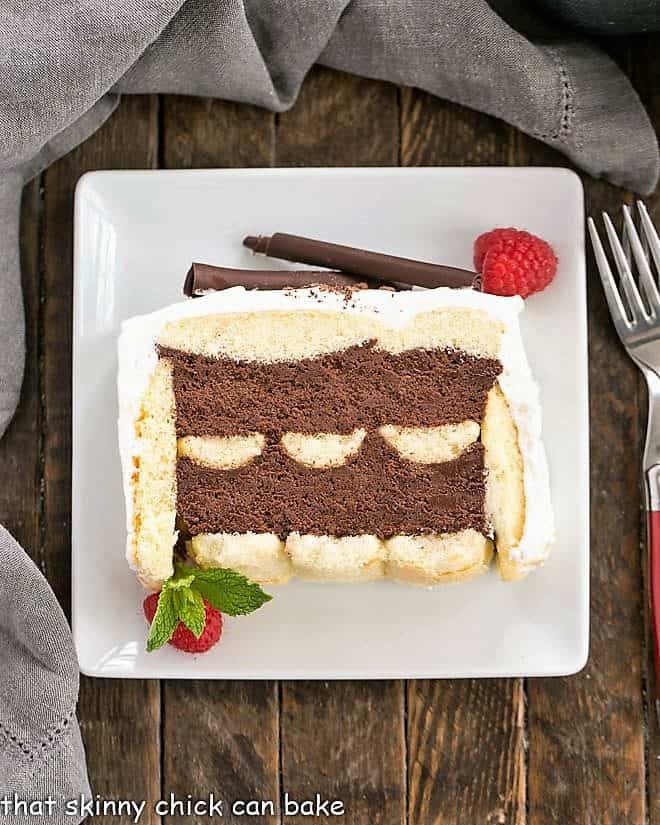 Frequently Asked Questions
What Are Ladyfingers?
Called ladyfingers because they're shaped like a lady's delicate fingers, and their texture can be cake-like or cookie-like. They are also known as boudoir biscuits, sponge biscuits, sponge fingers, Naples biscuits, or biscuits alla cuiller depending upon where you're located.
Ladyfingers have been around since the late 15th century. This recipe uses the soft, spongecake ladyfingers. The harder version is known as Savoiardi.
What Is A Good Substitute for Ladyfingers?
Either pound cake or sponge cake can be cut into the shape of ladyfingers and used in place of soft ladyfingers in a recipe. Biscotti may be used in place of hard ladyfingers if it makes sense with your recipe.
Can You Pasteurize Eggs at Home?
Since pasteurized eggs are almost impossible to find in the markets, to make this dessert safe for the young, elderly or immune-compromised, you can pasteurize your eggs at home. One good method is found on Simply Recipes.
You May Also Like:
Stay in touch through social media @ Instagram, Facebook, and Pinterest. Don't forget to tag me when you try one of my recipes! And if you love the results, please give it a 5-star rating in the recipe card. Note: As an Amazon Associate, I earn from qualifying purchases. Visit my Amazon Store for my favorite products.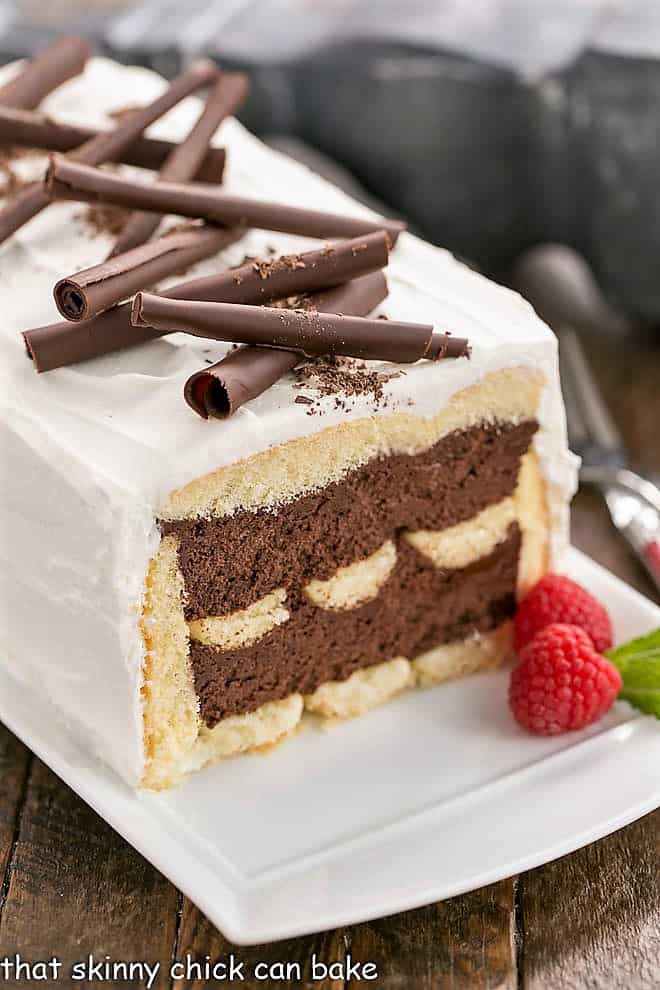 The Recipe:
Chocolate Mousse Cake with Ladyfingers
Prep Time 30 minutes
Total Time 30 minutes
Yield 10 servings
A layered ladyfinger and chocolate mousse cake that's both elegant and delicious!!!
Ingredients
2-3 (3 ounce) packages of ladyfingers
18 ounces semisweet chocolate, chopped
1/4 cup powdered sugar
7 egg yolks (pasteurized eggs preferred)
5 egg whites
1 1/2 teaspoons vanilla
Topping:
1 cup heavy cream
1/4 cup powdered sugar
1 teaspoon vanilla
Raspberries or chocolate curls to garnish
Instructions
Split ladyfingers and arrange them on the bottom of a 9 x 5 x 3-inch loaf pan lined on all sides with either parchment or non-stick foil. Trim ladyfingers to fill any empty spots. Set aside.
Melt chocolate with 3 tablespoons of water in the microwave. Start, stop, and stir at 30-second intervals till the chocolate is melted and smooth. The mixture will be thick.
Stir in powdered sugar, egg yolks, and vanilla. Beat till smooth. Allow it to cool.
Beat the egg whites till soft peaks form. Mix some of the whipped egg whites into the chocolate mixture, then fold and mix in the rest till completely combined.
Spread half of this chocolate mousse over the ladyfingers, then place a second layer of ladyfingers over the mousse.
Top with the remaining mousse and then another layer of ladyfingers. Cover with foil or plastic wrap. Chill for at least 6 hours or overnight.
To serve, whip heavy cream with powdered sugar and vanilla. Invert the pan onto a serving plate and remove the foil or parchment.
Frost the cake with whipped cream and garnish with berries or chocolate curls.
Notes
Recipe courtesy of Sue Thomson. Look for ladyfingers in the bakery area of a large grocery store. They're more likely available around the holidays.
Recommended Products
As an Amazon Associate and member of other affiliate programs, I earn from qualifying purchases.
Nutrition Information:
Yield:
10
Serving Size:
1 slice
Amount Per Serving:
Calories: 409
Total Fat: 28g
Saturated Fat: 16g
Trans Fat: 0g
Unsaturated Fat: 10g
Cholesterol: 161mg
Sodium: 49mg
Carbohydrates: 41g
Fiber: 3g
Sugar: 35g
Protein: 7g
Note: This post may contain affiliate links; view
my Disclosure Policy
for details. I earn a small percentage from any purchase you make by clicking on these links at no extra cost to you.