Apple Crostata
Apple Crostata tastes as amazing as pie, but with half the effort! A beautiful swirl of apples tops a buttery crust for a picture-perfect tart.
This Apple Tart Recipe eliminates the dreaded task of rolling out a double pie crust, then praying it will hold together well enough to be crimped and baked into something that looks as good as it tastes. A crostata removes all those worries as there's only one crust, and it's mostly covered in fruit!
Why You'll Love this Apple Tart Recipe
This crostata recipe has the same components as an apple pie, but with just one crust!
It's much easier than making a pie. Plus, it is supposed to look rustic, so no worries if the crust cracks, etc.
Unless you add a scoop of ice cream and a healthy drizzle of caramel sauce, each serving will have a lot fewer calories than a comparable slice of pie.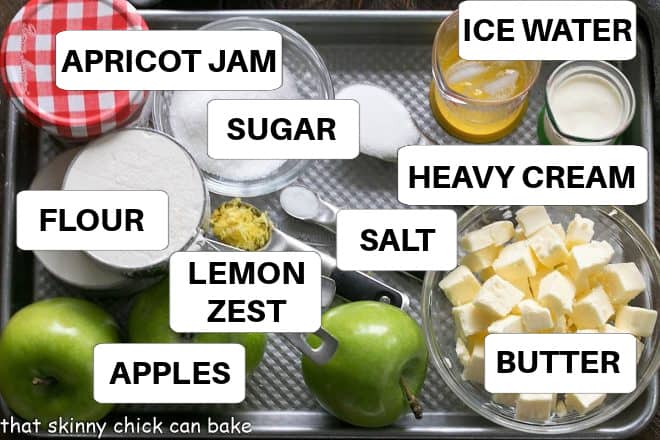 Ingredient Notes:
Pantry Ingredients – Sugar, All-purpose Flour, Salt
Butter – Must be very cold. Salted butter is fine.
Ice Water – Using very cold water helps make a flakier crust. Use ice cubes to chill the water, but remove before measuring.
Apples – Tart firm apples like Granny Smith work well. Other options are listed below.
Heavy Cream – 36% Butterfat recommended
Lemon Zest – Must be freshly zested lemon peel. Do not use any dry, jarred version.
Apricot Preserves – May substitute apple jelly or another neutral-colored jelly or preserves to glaze the apples.
How to Make a Crostata
An apple crostata or galette is a super easy pastry to make. It only involves one crust, which makes it lighter in calories and simpler to make.
Roll the pastry dough into a large circle.
Spread the perserves over the crust before adding the apples as a barrier to any moisture along with some flavor enhancement.
Layer the apple slices in concentric circles over the pastry then fold the edges over just an inch or so to retain the apples and their juices.
Brush the crust with cream and sprinkle with sugar to complete the process.
Bake until the apples are tender.
The apple lovers in your life will enjoy this beautiful apple crostata. And you won't break a sweat making it!
Frequently Asked Questions
How does a Crostata differ from a Galette?
They are both flat tarts baked on a baking or cookie sheet. Crostata is the Italian version and a Galette is the French version. Basically, they're the same type of dessert with different names.
What Does the Word Crostata Mean?
The word crostata is derived from the Italian word for "encrust."
What Apples are Best for a Crostata?
Apples for a crostata should be firm and tart. I used Granny Smith apples, but Pink Lady would have worked well, too, without being quite as tart. Jonagold, Honeycrisp, Braeburn, and Mutsu are also nice options.
How Do You Know When an Apple Tart is Done?
Pierce the apples with a sharp knife to see if they're cooked. If it goes in easily, the apples are done. The crust should be nicely browned, too.
Does a Crostata Need to be Refrigerated?
This crostata can be stored at room temperature for a day or two. After that, it's best to keep it covered in the refrigerator for another couple of days to prevent the apples from deteriorating.
You May Also Like:
The Recipe:
Apple Crostata
Prep Time 40 minutes
Cook Time 50 minutes
Total Time 1 hour 30 minutes
Yield 8 servings
A scrumptious Italian Apple Tart!
Ingredients
Crust:
1 ¾ cups flour
¼ teaspoon salt
1 tablespoon sugar
¾ cup (1 ½ sticks) cold butter, cut into ½ inch cubes
4 tablespoons ice water (approximately)
Filling:
1 ½ pounds Granny Smith apples (about 3-4 apples), peeled, cored and cut into 1/8 inch slices
5 tablespoons sugar, divided
1 teaspoon finely grated lemon peel
¼ cup apricot preserves, peach jam, or in my case some homemade peach-apricot jam
Cream, to glaze
Instructions
Put flour, salt, and sugar in a food processor. Pulse a couple of times to mix. Add butter and pulse till the mixture resembles coarse cornmeal.
Add 2 tablespoons of ice water and pulse till combined. Pinch dough to see if it holds together. If dry, add up to 3 more tablespoons of water a teaspoon at a time till a cohesive dough forms. Wrap in plastic and refrigerate for about an hour.
Toss apples in 3 tablespoons of sugar and lemon peel. Set aside and let the cold dough soften at room temperature slightly.
Roll dough into a 14-inch circle between 2 sheets of parchment, place on a rimless baking sheet, then chill for 10 minutes.
Preheat oven to 450º. Remove the top sheet of parchment. Spread preserves over the center of the dough, leaving the outer 1 1/2-2 inches of crust plain.
Arrange apples in concentric circles over preserves, overlapping slightly. Use the bottom sheet of parchment to fold the apple-free edges of the dough over the top of the tart.
The dough is quite fragile, so allow the dough to warm up at room temperature if cracking occurs. Pinch together any cracks. Brush the exposed crust with cream and sprinkle the crust and apples with the remaining 2 tablespoons of sugar.
Bake for 20 minutes, then reduce oven temperature to 375º and bake for another 30 minutes or till the crust is golden and the apples are tender.
Remove to rack and run a knife between galette and parchment to allow for easier release when cooled.
Serve in wedges dusted with powdered sugar or with vanilla ice cream.
Notes
If your apples are super tart, feel free to toss them with some extra sugar.
Nutrition Information:
Yield:
8
Serving Size:
1 slice
Amount Per Serving:
Calories: 262
Total Fat: 3g
Saturated Fat: 2g
Trans Fat: 0g
Unsaturated Fat: 1g
Cholesterol: 7mg
Sodium: 84mg
Carbohydrates: 56g
Fiber: 4g
Sugar: 28g
Protein: 4g
Note: This post may contain affiliate links; view
my Disclosure Policy
for details. I earn a small percentage from any purchase you make by clicking on these links at no extra cost to you.