Apple Pie Pizza
This Apple Pie Pizza brings the fall flavors of apple pie and crisp recipes to a Dessert Pizza! But it's much easier to prepare. Instead of the usual savory cheese-topped variety, this Easy Apple Dessert is made with a pastry crust and topped with cinnamon-spiced apples and a crumble topping!
An unusual Homemade Pizza Recipe, this twist on Dutch Apple Pie is an exquisite way to celebrate autumn!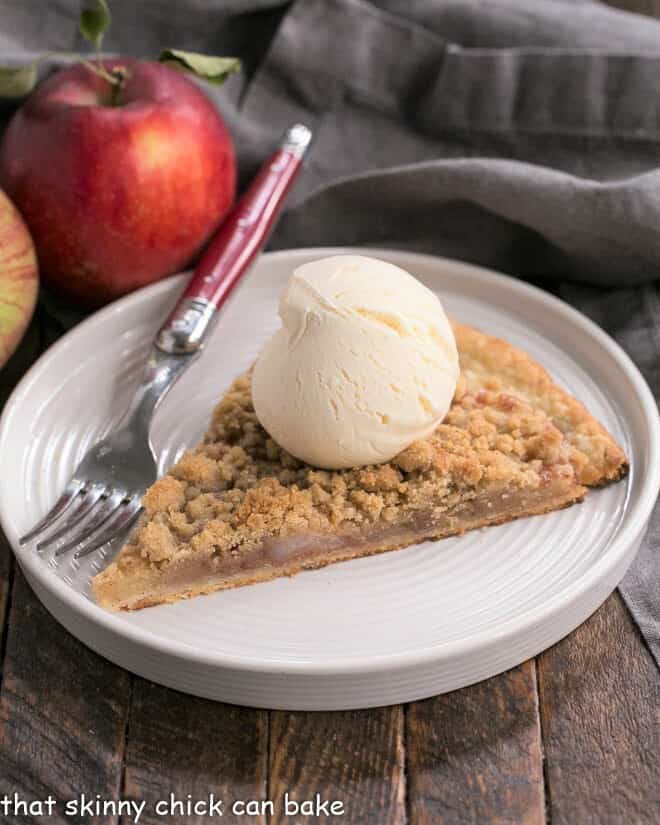 Why You Must Make
Dessert pizzas are nothing new, from the fruit numbers made with a cookie dough crust, cream cheese filling, and fruit topping to those pizzeria offerings with a bread base and canned pie filling. My kids loved the latter, a frequent treat at their grade school parties. Me? I'd rather make mine at home!
This homemade dessert pizza has a real, buttery pastry crust, sliced apples tossed in warm autumn spices, and a streusel topping. This is one of those Apple Desserts you can't resist
A cinnamony, apple aroma will waft through your kitchen. This caught the interest of the picky hubby. He even had a before-dinner slice.
If you're looking for a unique autumn dessert that both kids and adults will inhale, this apple pie pizza fits the bill! It will taste so much better when it's homemade!
How to Make
What is Dutch apple pie you might ask? As someone who does not enjoy rolling out pie crusts, a pie with a crumb topping is a dream dessert. And a Dutch apple pie is exactly that, an apple pie with no top crust, but instead topped with streusel. This easy apple dessert has the 3 components of a Dutch apple pie: pastry crust, sweetened, cinnamon-spiced apples, and the crumb topping.
Pastry Pizza Crust is formed on a pizza pan.
Cinnamon Sugar Coated Apples are arranged over the Crust.
The Crumb Topping is Applied, then this dessert pizza is baked.
Expert Tips
Using an easy-to-roll-out pie crust recipe with butter and cream cheese, make this dessert pizza a breeze to prepare. But even simpler is purchasing a ready-to-bake grocery store pie crust.
Purchase some yummy baking apples like Honeycrisp, Golden Delicious, Jonathans, or Granny Smiths, and you're ready to go. Local pie apples in your area are wonderful, too.
PRO-Tip: Slice your apples approximately ½-inch thick. Too thick and they will not be cooked when the crust is perfectly browned.
Years ago, I made this homemade pizza recipe with an oat streusel, but the hubby prefers his oatmeal only for breakfast. So a simpler brown sugar, flour, and butter crumble was substituted. Either topping makes a delicious apple dessert recipe.
PRO-Tip: Take a sharp knife and pierce a few apples at the end of the baking time. The knife should insert easily when they're done.
You'll need a pizza pan if you want to make sure your apple pie pizza is round, but a sheet pan will work just as well. Don't bother buying an extra pan if homemade pizza is not a regular occurrence in your kitchen.
Frequently Asked Questions
What is a Dessert Pizza Made Of?
There can be up to 3 components: the crust, the filling, and the topping. The crust can be made with pizza, pastry, or cookie dough. The filling is often fruit based. And the topping can be a crumble, streusel, or a simple glaze.
What are some other Dessert Pizza Ideas?
I've also made a Fresh Fruit Pizza, but other dessert pizza ideas include fresh Strawberry, Blueberry, or Cherry Pie (using canned pie filling), Nutella, S'mores, Chocolate Chip, or Cinnamon Roll. Just use your imagination!
You May Also Like: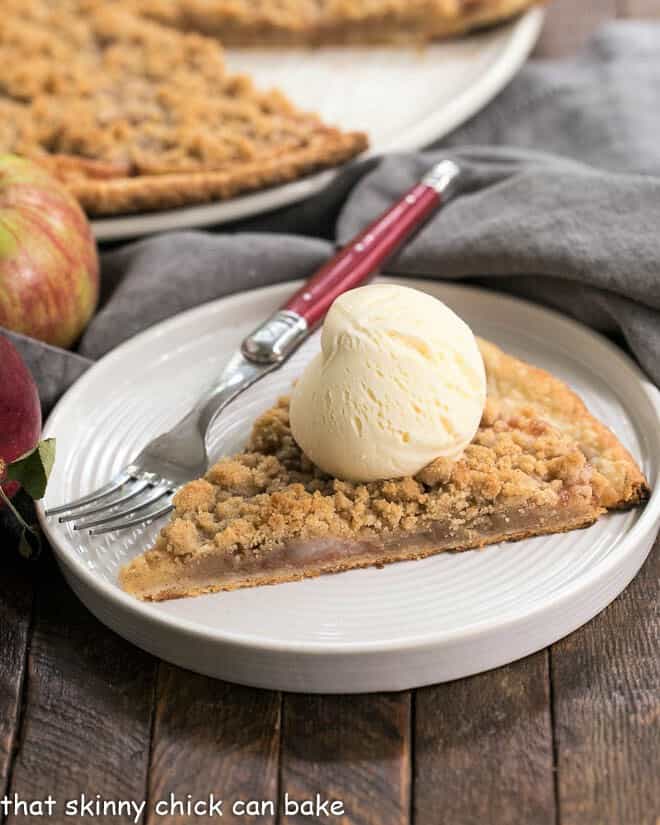 The Recipe:
Apple Pie Pizza Recipe
Prep Time 30 minutes
Cook Time 40 minutes
Total Time 1 hour 10 minutes
Yield 8 servings
Apple Pie Pizza for a delicious, sweet twist on the classic Italian treat.
Ingredients
Pizza:
Pastry for a single-crust pie. I used this Apple Galette pastry dough.
⅔ cup sugar
3 tablespoons flour
1 teaspoon cinnamon
A few gratings of fresh nutmeg
4 baking apples (I used 2 Granny Smiths and 2 Golden Delicious), peeled, cored and sliced into
½-inch slices
Topping:
1 cup flour
½ cup brown sugar
½ cup butter
½ - 1 teaspoon cinnamon
Garnish:
Caramel sauce, optional, to drizzle over pizza
Vanilla Ice Cream
Instructions
Preheat oven to 350º.
Roll out the pastry crust to fit a 12-inch pizza pan. Fold the edges of the pizza under to make a rim around the perimeter.
In a large bowl, toss the apple slices with sugar, flour, and spices. Arrange over crust in a single layer.
Combine the topping ingredients until well mixed and crumbly, and sprinkle over the apples.
Bake for 35-40 minutes or until the apples are tender when pierced with a knife.
Drizzle with caramel and serve warm. Top with ice cream if desired.
Notes
Inspired by a Taste of Home recipe. Click on link to see the option for an oatmeal topping.
Recommended Products
As an Amazon Associate and member of other affiliate programs, I earn from qualifying purchases.
Nutrition Information:
Yield:
8
Serving Size:
1 slice
Amount Per Serving:
Calories: 628
Total Fat: 28g
Saturated Fat: 15g
Trans Fat: 1g
Unsaturated Fat: 11g
Cholesterol: 51mg
Sodium: 427mg
Carbohydrates: 90g
Fiber: 4g
Sugar: 46g
Protein: 7g
Note: This post may contain affiliate links; view
my Disclosure Policy
for details. I earn a small percentage from any purchase you make by clicking on these links at no extra cost to you.