Chocolate Glazed Walnut Brownies
A plate of fudgy brownies is perfect for any occasion. These Chocolate Glazed Walnut Brownies are rich and ultra-delicious.
Homemade Brownies are a coveted dessert at our house. The addition of walnuts adds a boost of flavor and crunch to this fudgy treat.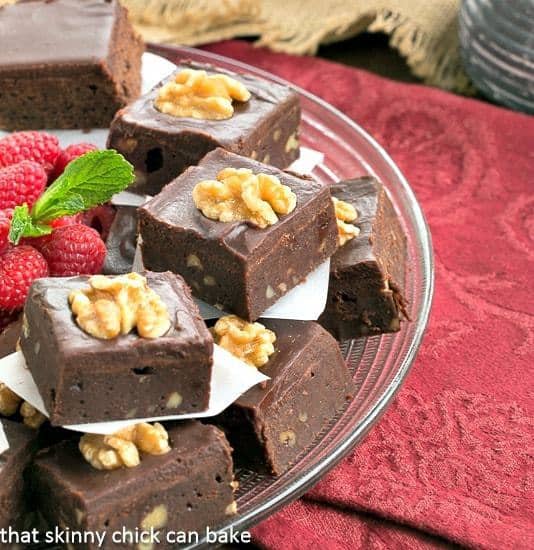 Why You Must Make
They're classic fudgy brownies with a decadent chocolate glaze.
Adding toasted nuts kicks them up a notch!!
Topping each brownie with a toasted walnut half makes a beautiful, elegant presentation without much effort!
Those who know my family may be shocked that I actually put nuts into a brownie recipe. This is practically a mortal sin in my household.
But I was making these for a family who suffered a huge loss and volunteered to bring some brownies and cookies. I made two batches, one sans nuts and the other studded with chopped walnuts.
Since brownies with nuts have never made an appearance on my blog, I'm featuring the Chocolate Glazed Walnut Brownies today. Rich, dense and fudgy. With or without nuts, they were amazing.
Expert Tips
Line your baking pan with nonstick foil. There are two benefits. First, it prevents the brownies from sticking to the pan. Then when they are cool, you can use the foil as a sling to transfer the brownies to a cutting board.
Toast your walnuts before using them to bring out their flavor, and decrease bitterness.
Do not overmix after you add the flour. Beating in the flour can over-activate the gluten. It's best to use a wooden spoon or a silicone spatula.
Bake until the brownies start to pull away from the sides of the pan. Also, check by inserting a toothpick into the center of the brownies. It should be clean or have a few moist crumbs, but no batter when it's pulled out.

Frequently Asked Questions
Do Nuts Make Brownies Better?
If you're a fan of nuts, they'll definitely add an incredible crunch along with delicious flavor to your brownies.
Should You Toast Nuts Before Adding Them to Brownies?
Yes! Just toasting your nuts for a few minutes will help release their essential oils which makes them even more flavorful. Plus, it will bring back the crunch that may have been lost sitting on the store shelves. If they've been in your pantry for ages, make sure to taste them first to make sure they're not rancid.
How Do You Toast Nuts?
There are two methods: In the oven and in a skillet. With the oven method, place your nuts in a single layer in a parchment-lined, rimmed sheet pan. Roast at 350° for 5 -10 minutes, stirring occasionally, until fragrant and slightly darkened.
Alternatively, place the nuts in a dry skillet and cook over medium heat for 4-5 minutes, shaking occasionally. The timing will vary depending on the size and variety of nuts you are toasting. Note that toasting walnuts will decrease their bitterness.
What Kind of Nuts Can You Add to Brownies?
Pecans and walnuts are the most popular addition to brownies, but any favorite nut will be delicious. Even peanuts, which aren't a true nut, will add a wonderful crunch and a boost of flavor to your brownies.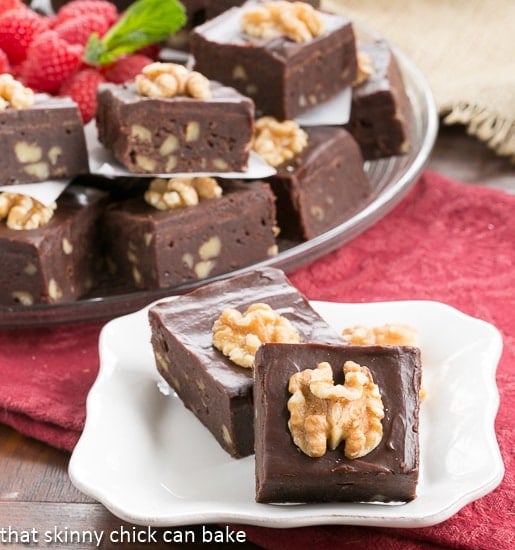 You May Also Like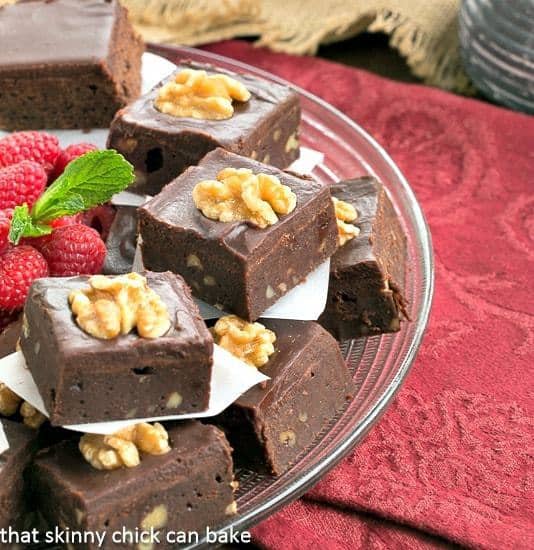 The Recipe:
Chocolate Glazed Walnut Brownies Recipe
Prep Time 30 minutes
Cook Time 40 minutes
Total Time 1 hour 10 minutes
Yield 16 servings
This ultra rich, fudgy brownies with walnuts are perfect for any occasion!
Ingredients
1/2 cup butter, cut into pieces
9 ounces semi-sweet chocolate, chopped
1-ounce unsweetened chocolate, chopped
3/4 cup sugar
3 eggs
1 1/2 teaspoons vanilla
1/2 cup flour
1/8 teaspoon salt
3/4 cup coarsely chopped walnuts
Glaze:
3 ounces semi-sweet chocolate, chopped
2 tablespoons butter
2 tablespoons light corn syrup
1/4 cup heavy cream
16 walnut halves
Instructions
Line an 8-inch square pan with nonstick foil or regular foil sprayed with non-stick cooking spray.
Preheat oven to 325º.
Melt the 9 ounces of semi-sweet chocolate, 1-ounce unsweetened chocolate, and ½ cup butter in a large, microwave-safe bowl. Stop and stir at 30-second intervals till melted and smooth.
Stir in the sugar, then the eggs and vanilla. Add the flour and salt and mix till well combined. Stir in walnuts.
Pour batter into prepared pan and smooth the top.
Bake for 35-40 minutes or till a toothpick inserted into the center comes out with a few moist crumbs. Cool completely.
To make the glaze, microwave all ingredients in a microwave safe bowl, stopping to stir every 30 seconds till chocolate is almost melted.
Stir till mixture is smooth then let cool for about 10 minutes before spreading the glaze over top of chilled brownies. Place half walnuts, spaced evenly, over the glaze before it sets. Chill brownies to cut.
Yield: 16 brownies
Total time: 2 hours with cooling times
Notes
Recipe Adapted from The Good Cookie
Nutrition Information:
Yield:
16
Serving Size:
1 brownie
Amount Per Serving:
Calories: 312
Total Fat: 22g
Saturated Fat: 11g
Trans Fat: 0g
Unsaturated Fat: 10g
Cholesterol: 58mg
Sodium: 92mg
Carbohydrates: 30g
Fiber: 2g
Sugar: 23g
Protein: 4g
There was a huge outpouring of love for this family that's been a part of our community since we arrived in Indianapolis; they lost a son and grandson, a brother and nephew. The interweaving of our families started when my oldest joined their son in kindergarten and continued as they both joined the rank of Eagle Scout in high school.
It was a heart-wrenching few days as an outsider, hearing the tragic details…I cannot imagine the enormity of grief on the inside. It was comforting to see all the now grown men, and former classmates, dressed in their best suits and ties, paying respect to their friend and his toddler son whose time on earth was way too short.
This news totally rocked my world and reminded me to live every moment to its fullest. The time we have on this earth is out of our hands. I did what I do best to comfort; I offered food. Giving these chocolate glazed walnuts to friends whether for a happy or sorrowful occasion will definitely show you care.
Note: This post may contain affiliate links; view
my Disclosure Policy
for details. I earn a small percentage from any purchase you make by clicking on these links at no extra cost to you.