Ganache Topped Cosmic Brownies
Rich, vibrant Ganache Topped Cosmic Brownies are impossible to resist. These copycat Little Debbie Chocolate Brownies are swoon-worthy!
These Homemade Cosmic Brownies with their fudgy topping and rainbow of sprinkles entice kids of all ages. My husband included.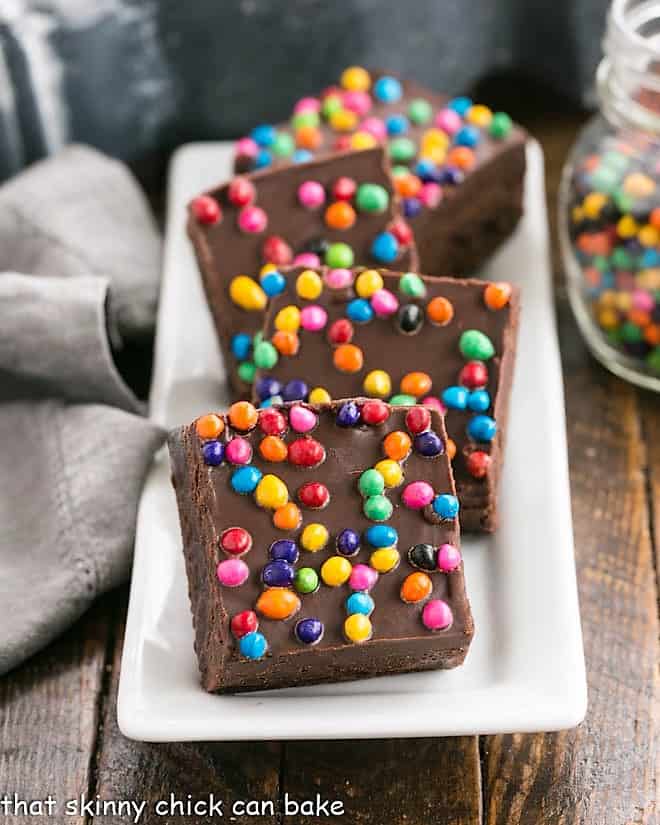 Ganache Topped Cosmic Brownies
I do remember my mom treating us to the occasional Little Debbie Swiss Roll, Archway Pecan Cookie, or Hostess Apple Pie. But we never had Little Debbie Cosmic Brownies. What was she thinking?!
But thanks to my blogger friends, I became aware of these rich, chocolate devils over the past year few years. They were dense, dark cocoa brownies topped with a fudgy icing and a rainbow of colorful candies. When I was asked to do a demo for Meatless Monday on our local CBS affiliate, I knew I'd have to take in a dessert. Thank goodness my desserts are 100% meatless. I had my chance to make these new-to-me brownies.
The History of Cosmic Brownies
I finally figured out why I didn't have memories of this Little Debbie product. They were not introduced until December of 1999! I already had 3 children by this point and I made it a point to steer clear of the snack aisle if any of them accompanied me to the grocery store.
These Little Debbies Cosmic Brownies were developed because of the cosmic bowling trend which brought disco lights and music to the bowling alley. I do remember cosmic bowling.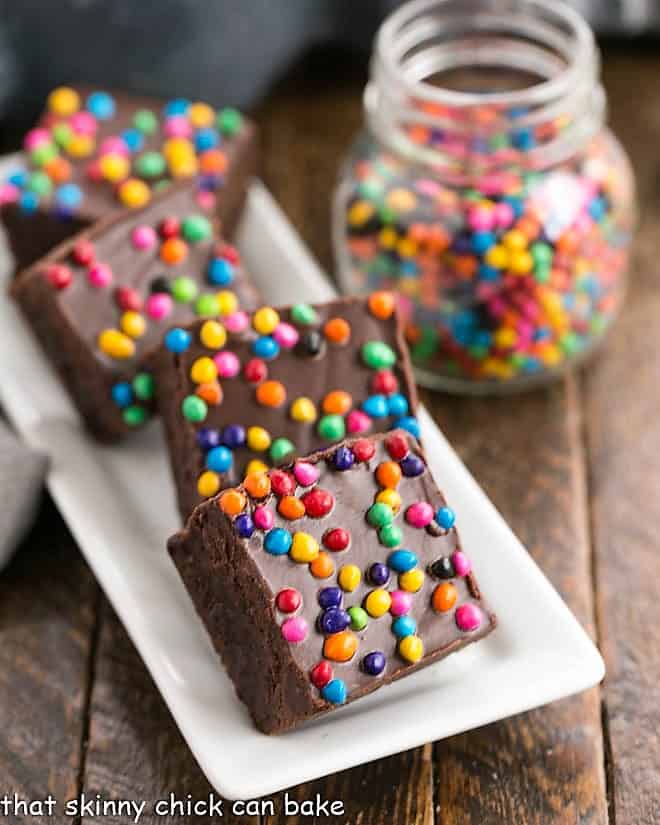 How to Make Cosmic Brownies
First, I have to tell you how rich and delicious these Little Debbie brownies taste. When I told my husband there were more of these brownies in the refrigerator, he replied, "I know." Then he confessed that when there was no bread in the kitchen for breakfast, he ate a Cosmic Brownie instead. What????! Not sure that's a viable substitute, but apparently, they're that impossible to resist.
Here's how to make them:
Line a square baking pan with non-stick foil. This will ensure you can remove the brownies from the pan to cut them into squares.
Mix the brownie ingredients according to the recipe. For fudgy brownies, do not overmix or use a mixer on high. If you do, it will incorporate too much air and make a cakier rather than fudgy brownie.
Use room temperature eggs for easier incorporation.
Scrape and Spread the brownie batter into the prepared pan. Use an offset spatula to help smooth and level the top.
Bake according to the recipe instructions. Bake a few minutes less if using a 9 x 9-inch pan.
Check for doneness with a toothpick. There should be no batter on the toothpick when it's pulled out from the middle of the brownies. A few moist crumbs are OK.
Cool for at least 30 minutes before making the frosting.
Microwave the cream and chocolate chips, stir until smooth, then top the brownies.
Sprinkle with rainbow chips, mini M&Ms. or round chocolate-covered candies.
How to Cut Brownies
Cutting brownies that are covered with small candies can be daunting. It's pretty near impossible to get perfect squares, but I've got some tips.
First, after the brownies chill about 30 minutes, score the top of the brownies to mark where you'll cut since the frosting is not completely set. You will be moving some of the sprinkles out of the way.
Since this batch makes 16 brownies, first mark down the middle in one direction, then give the pan a quarter turn and repeat down the middle. You should have 4 equal squares. Next, divide each of those squares into 4 more squares. Return to the refrigerator to finish cooling.
When ready to slice, use a sharp knife, and wipe off the knife after each cut is made.
Frequently Asked Questions
Why Use Cornstarch?
Adding cornstarch versus more flour cuts on the amount of gluten in a brownie recipe. Less gluten = more tender. A couple of other bakers have claimed adding just a tablespoon of cornstarch to their brownies makes them chewier, too. Not a bad thing!
What are Rainbow Chip Sprinkles?
These are the bright, rainbow-colored candy-coated chocolate sprinkles that garnish the classic cosmic brownies. They are not symmetrical like typical sprinkles, but instead, look like they're "chipped" off a larger block.
Wilton brand rainbow chip sprinkles can be found at retailers like JoAnn Fabrics and Michael's. Betty Crocker also sells a version that may be found at some larger grocery stores.
How to Store Cosmic Brownies
These keep well at room temperature in an airtight container for up to 3 days. If you stack them, place parchment paper between the layers. Any longer, keep in the refrigerator for up to a week. These should also freeze well for up to 3 months. Defrost in the refrigerator overnight before serving.
More of the Best Brownie Recipes:
You can spot the chocoholics a mile away. They're the ones who circle the table before striking up a conversation. One of the staff at the station had to mention that he really liked chocolate. With cocoa in the brownies and semi-sweet chocolate in the ganache, this double dose of chocolate is pure bliss for any chocolate lovers!
I promised I was leaving the whole tray to be enjoyed after my segment. Of course, I had to squirrel away a few for the chocoholics at home. Bill gave these Ganache Topped Cosmic Brownies his seal of approval—not that there was any doubt! Especially since he considers them fair game for breakfast.
This recipe was first shared in October 2015. Photos and text were updated in 2021.
The Recipe:
Cosmic Brownies Recipe
Prep Time 15 minutes
Cook Time 25 minutes
Total Time 40 minutes
Yield 16 brownies
Fudgy Brownies topped with chocolate ganache and candy-coated chocolate candies
Ingredients
Brownies:
3/4 cup butter (1 1/2 sticks), melted
1 cup sugar
2/3 cup brown sugar
2 eggs, at room temperature
3 tablespoons coffee
2 teaspoons vanilla extract
3/4 cup unsweetened cocoa powder
1 teaspoon espresso powder mixed in 2 tablespoons of water
3/4 cup of flour
1 tablespoon cornstarch
1/2 teaspoon baking powder
Ganache:
1 1/2 cups semi-sweet chocolate chips
1/2 cup cream
1/2 cup (I used less) Rainbow Chip Sprinkles, mini M&Ms, or other small colorful candies
Instructions
Preheat oven to 350º. Line an 8 x 8-inch baking pan with non-stick foil (or use regular foil sprayed with non-stick cooking spray). Set aside
In a large, microwave-safe bowl, melt the butter using 30-second increments
Add the sugars and mix to combine. Then add the eggs, coffee, vanilla, and stir till well mixed.
Add the cocoa powder, espresso mixture, and whisk until smooth.
Add the flour, cornstarch, and baking powder and stir until it's just incorporated; don't overmix.
Pour batter into prepared pan, smoothing the top lightly with an offset spatula. Bake for 28 to 30 minutes until the top looks set and a toothpick inserted into the center comes out clean or with just a few crumbs. Cool on a wire rack.
While brownies have cooled for at least a half-hour, make the ganache. Add chocolate chips and cream to a medium, microwave-safe bowl, and microwave on high for one minute. Set aside.
Let stand a few minutes before whisking to combine. If there are any small lumps, you may microwave for 15 seconds and whisk until smooth. Repeat if needed.
Pour the ganache over the brownies and smooth with an offset spatula. Sprinkle with sprinkles or candies and chill for at least 2 hours before cutting.
Notes
If using a 9 x 9-inch baking pan, bake for 25-28 minutes. Your brownies will be slightly thinner.
Total time does not include cooling times.

Adapted from numerous recipes including Averie Cooks Homemade Little Debbie Cosmic Brownies/
Recommended Products
As an Amazon Associate and member of other affiliate programs, I earn from qualifying purchases.
Nutrition Information:
Yield:
16
Serving Size:
1 brownie
Amount Per Serving:
Calories: 372
Total Fat: 17g
Saturated Fat: 10g
Trans Fat: 0g
Unsaturated Fat: 6g
Cholesterol: 55mg
Sodium: 105mg
Carbohydrates: 54g
Fiber: 2g
Sugar: 38g
Protein: 3g
Note: This post may contain affiliate links; view
my Disclosure Policy
for details. I earn a small percentage from any purchase you make by clicking on these links at no extra cost to you.