Simple Fudgy Brownies
When a super easy, yet rich chocolate dessert is in order, these Simple Fudgy Brownies, adapted from Alice Medrich, are the answer. An unusual technique creates incredibly dense, dark, and delicious brownies!
The keys to this Best Brownie Recipe are a paper-thin, slightly crinkled top and a soft, fudgy interior. It's what chocolate lovers crave and what brownie aficionados will adore!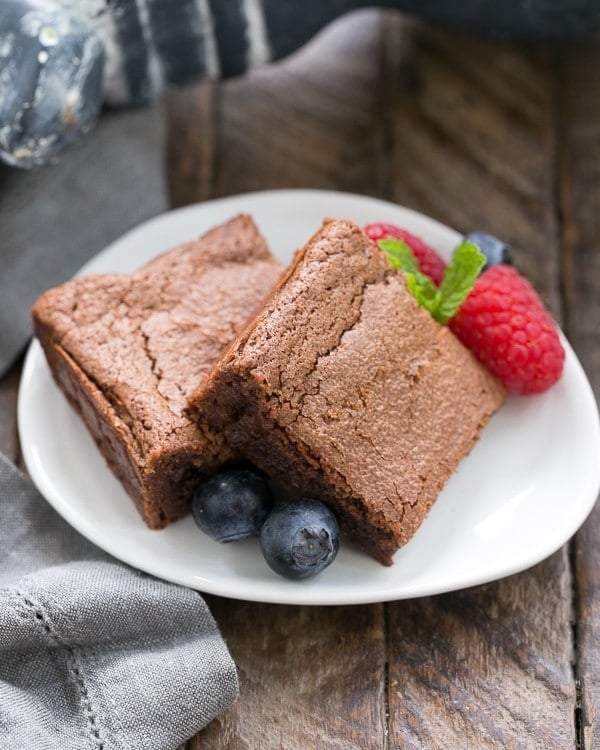 Why You Should Make
This is an Alice Medrich brownie recipe. She's an author, pastry chef, and former owner of the renowned chocolate dessert shop, Cocolat. She is known for Americanizing the chocolate truffle. Her recipes are phenomenal.
Her unusual technique makes for some of the best brownies you'll ever taste!
If you have a chocolate lover near and dear to you, these are the perfect treat.
Frequently Asked Questions
What Makes These Brownies so Unusual?
First, they're baked at a high heat for brownies, 400 degrees instead of 350 degrees. Then, after they're pulled out of the oven, the pan is set in an ice water bath to stop the cooking process.
Why is the Pan Plunged into Ice Water?
Putting the hot pan into an ice water bath stops the cooking process. The batter contracts and becomes dense and intense.
How Do You Make Fudgy Brownies?
Look at the recipe ingredients. Fudgy brownies have a larger ratio of fat to flour. For Alice Medrich's New Classic Brownies recipe, the fat comes from 2 eggs, 4 ounces unsweetened chocolate, and 1/2 cup butter. The flour amount is 1/2 cup, so definitely more fat than flour.

Not over-cooking and not incorporating too much air into the batter also helps make for fudgier results.
How Can You Intensify the Flavor of Chocolate Desserts?
Coffee and/or espresso accentuates the flavor of chocolate without making the result taste like coffee. Adding a tablespoon of coffee or a teaspoon of espresso powder to the batter will give a boost to the chocolate flavor.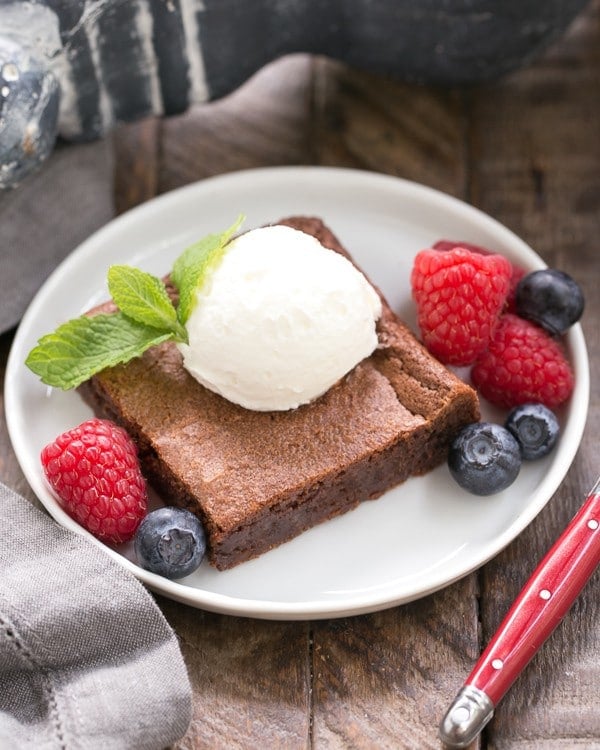 Expert Tips
This Alice Medrich-inspired recipe has one of the most unusual baking techniques I've seen. But it's worked each time I've made these winners! They're an irresistible cross between brownies and fudge! Plus, they're perfect for the chocoholic in your life!
These brownies are baked at 400° for only 20 minutes before being plunged into an ice bath. Weird, huh? But don't knock 'em till you bake 'em! 
But besides this out-of-the-box method, there are a few tips for making brownies, like lining your pan with non-stick foil for easy removal and cutting.
PRO-Tip: Use a metal pan NOT a glass pan. The glass will shatter when you plunge the hot brownies into ice water.
I like microwaving my chocolate and butter to avoid having an extra pan to wash. Do it gently by stopping, stirring, and restarting until melted. I typically use 30-second increments, then shorter zaps as the chocolate melts.
You can stop when there are a few small unmelted bits as the residual heat will continue the melting process. You can always microwave a few seconds more if your chocolate isn't completely smooth. You do not want to overheat as that can ruin the chocolate.
PRO-Tip: Mix by hand so you don't add any extra air into the batter.
Use a wooden spoon or silicone spatula and just mix until the flour is incorporated.
Chill before cutting for perfect squares, but serve at room temperature.
Ingredient Notes
Butter – Use salted butter as salt is a flavor enhancer.
Unsweetened Chocolate – Use the best chocolate you can afford. Ghirardelli is good, but Scharffen Berger is the best.
Granulated (white) Sugar – Regular white sugar
Bown Sugar – Adds extra moisture and caramel undertones.
Vanilla – Use only pure vanilla extract. Imitation vanilla cannot compete.
Table Salt – Fine salt incorporates more easily than kosher salt.
Eggs
All-Purpose Flour
More of the Best Brownie Recipes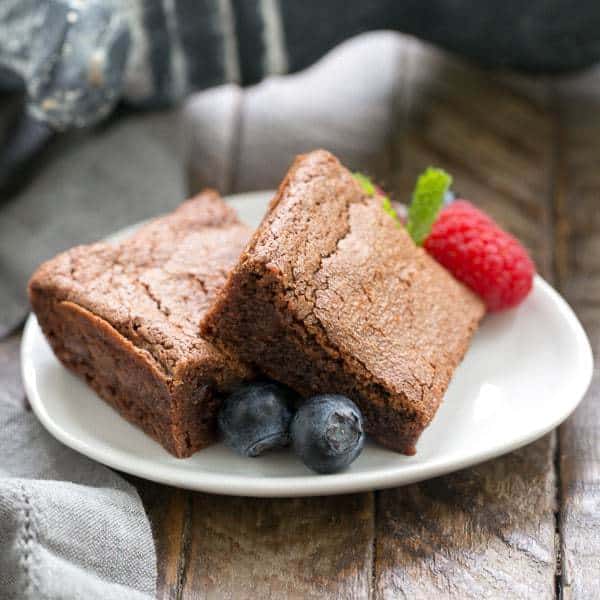 The Recipe:
Simple Fudgy Brownies
Prep Time 20 minutes
Cook Time 20 minutes
Total Time 40 minutes
Yield 16 brownies
Dense, simple fudgy brownies adapted from Alice Medrich's New Classic Brownies.
Ingredients
8 tablespoons butter
4 ounces of unsweetened chocolate
¾ cups sugar
½ cup brown sugar
1 teaspoon vanilla
¼ teaspoon salt
2 eggs
½ cup flour
Instructions
Preheat oven to 400º. Line an 8-inch square metal baking pan with nonstick foil.½¼¾
Melt butter and chocolate together in the microwave stopping every 30 seconds to stir. When almost completely melted, stir until smooth.
Stir in sugars, vanilla, and salt. Stir in eggs one at a time, followed by the flour. Stir until very smooth, about 1 minute, until the mixture pulls away from the sides of the bowl. Spread batter in prepared pan and bake for 20 minutes.
Prepare a water bath. Pour ice water into a large roasting pan or kitchen sink to a depth of about 1 inch.
Remove pan from oven and place in a water bath...avoid getting any water on brownies. Let cool completely, then lift out and cut squares.
Notes
Do not use a glass pan as it will shatter when placed in ice water.
Use the best quality chocolate you can afford for the best results.
Recommended Products
As an Amazon Associate and member of other affiliate programs, I earn from qualifying purchases.
Nutrition Information:
Yield:
16
Serving Size:
1 brownie
Amount Per Serving:
Calories: 178
Total Fat: 10g
Saturated Fat: 6g
Trans Fat: 0g
Unsaturated Fat: 3g
Cholesterol: 39mg
Sodium: 91mg
Carbohydrates: 20g
Fiber: 1g
Sugar: 15g
Protein: 2g
We just returned from 2 weeks in Switzerland with a couple of days in the Italian lakes district and here it is Father's Day. We needed something sweet!
Sleep deprivation and fancy, complicated desserts are not a good mix. When I asked the hubby what he wanted for Father's Day, he replied, "Beer and Mousse." Knowing him, beef was expected, too. As usual, I took liberty with his suggestion and decided on these super-rich brownies for dessert.
I discovered them in 2010, coincidentally after we arrived home from a family trip to Italy. Brownies and chocolate chip cookies are my go-to desserts when the brain is fried. There are never any complaints.
Mini-photo of the kids at the Vatican, circa 2010. After this trip, Nick said I should make these simple fudgy brownies again ASAP.
Note: This post may contain affiliate links; view
my Disclosure Policy
for details. I earn a small percentage from any purchase you make by clicking on these links at no extra cost to you.