Fudgy Kahlua Brownies
These Fudgy Kahlua Brownies were rich, dense, even a bit gooey. Brownie perfection in every bite!
With Kahlua in the batter and Kahlua painted over the top of the baked brownie, the subtle coffee infusion intensified the chocolate flavor without nary a whisper of coffee. If you love a touch of mocha in your brownies, these dreamy Kahlua Brownies are a must make recipe!!!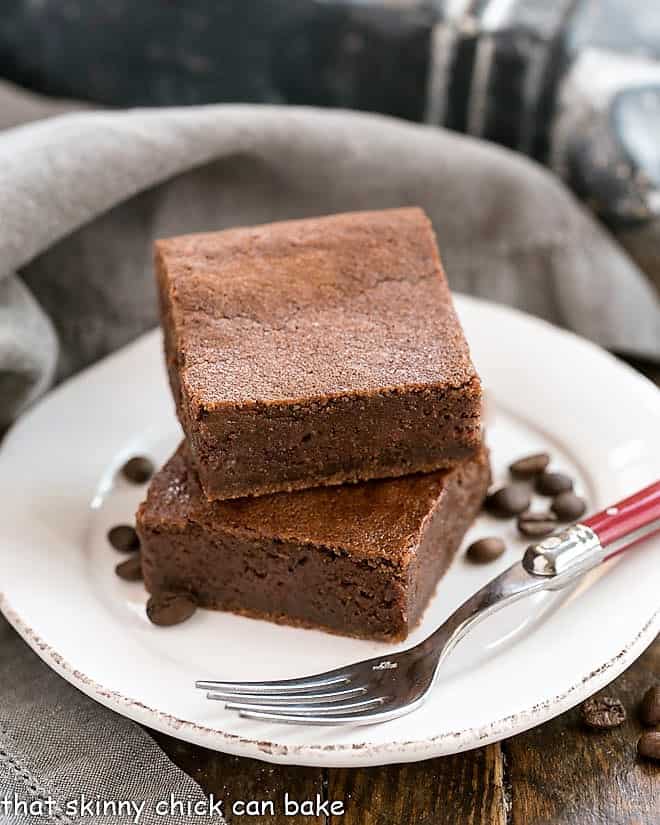 Fudgy Kahlua Brownies
I first made these uber fudgy brownies back in 2011 as part of a blogger secret recipe club. Members were assigned another blog, then given the task of picking out a recipe from that blog to make and share on the reveal date. The old photo, seen above the recipe, was actually my first acceptance to one of those food porn sites, Foodgawker. It was actually in focus! But 7+ years later, it was time to make and photograph them again!
Tips for Making Kahlua Brownies
These have to be some of the fudgiest brownies I've ever made…just look at them!!! Hubby noticed the Kahlua taste immediately, but the boys felt it was more subtle, they were all in favor of me making them again.
PRO-Tip: Did you know that coffee enhances the flavor of chocolate? The hubby is not a coffee or mocha fan, but I can usually get away with adding a little instant coffee or espresso powder to chocolate desserts.
Kahlua, a coffee liqueur, is another, more subtle way to add coffee flavor to chocolate baked goods.

As with most baked goods, have your butter and eggs at room temperature. But in this case, the butter was to be melted with the chocolate, so cold butter worked fine.
Typically, I mix brownie batter by hand instead of with a mixer. This is to avoid adding excess air to the batter which takes away from the fudginess. In this case, the sugar and eggs were beaten with a mixer, but when I added the dry ingredients, I kept the mixer on the lowest speed and mixed just until the dry ingredients were incorporated. This also inhibits gluten formation.

There is a double dose of Kahlua in these brownies. First there's some in the brownie batter, then a tablespoon is brushed over the top of the cooked brownies. PRO-Tip: There wasn't enough to give a mocha or coffee flavor, but feel free to add a little instant coffee or espresso powder to the Kahlua to enhance the coffee flavor before adding it to the batter.
These super dense and fudgy Kahlua brownies cut best when cold. Otherwise you'll need to wipe and rinse your knife after every slice. Let them sit at room temperature before serving to take the chill off.
I always have a bottle of Kahlua on hand for my family's favorite Kahlua Bundt Cake and these Kahlua Fudge Brownies. These Fudgy Mocha Brownies, Fudgy Brownies, Rich Fudgy Cocoa Brownies, Symphony Toffee Brownies, and Best Fudgy Brownies are worth a gander, too! These Fudgy Brownies from Scratch are chock full of M&M's and worth a look, too!
Though it doesn't appear she's actively blogging anymore, I hope you check out Andi's blog, The Wednesday Baker. Thanks so much, Andi, for sharing this amazing recipe for the Secret Recipe Club.
Kahlua Brownies circa 2011. Photos and text were updated in 2019.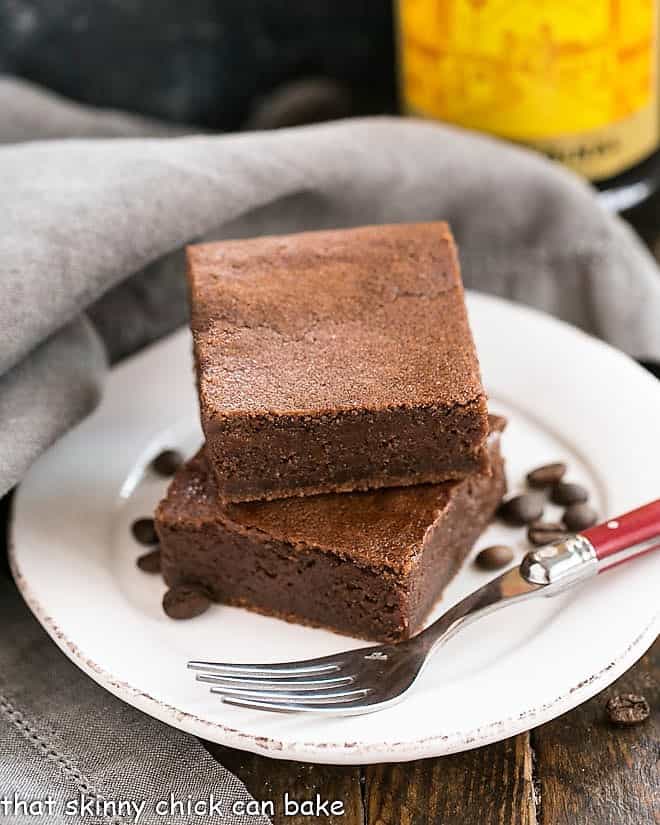 The Recipe:
Kahlua Brownies
Prep Time 15 minutes
Cook Time 35 minutes
Total Time 50 minutes
Yield 16 brownies
Rich, fudgy brownies enhanced by a double dose of Kahlua!
Ingredients
1 ½ cups flour
½ teaspoon baking powder
½ teaspoon salt
⅔ cup butter (10 tablespoons plus 2 teaspoons)
3 (1 ounce) squares unsweetened chocolate
2 cups sugar
3 large eggs
¼ cup Kahlua plus 1 tablespoon for brushing on top after baked and cooled
Instructions
Preheat oven to 350º. Grease a 9 x 9-inch baking pan and line with parchment paper or foil (I used an 8 x 8-inch pan).
Whisk together the flour, baking powder, and salt. Set aside.
In a heat-proof bowl, gently melt the butter and chocolate, stopping frequently to stir until the mixture is smooth.
In a large mixing bowl combine the sugar with the eggs and beat until light in color.
Add the melted chocolate. Mix to combine.
Add the Kahlua and mix until combined.
Add the flour, baking powder, and salt to the batter and mix just until combined.
Scrape into the prepared baking pan and bake for 30 minutes or until the top springs back when touched lightly in center (with the smaller pan, I baked for 35 minutes), and the edges begin to pull away.
Cool in pan, and when cold, brush the top with the tablespoon of Kahlua. Allow this to absorb for a bit before cutting brownies.
Notes
Adapted from The Wednesday Baker.
You can bake these brownies in an 8 x 8 or 9 x 9-inch pan. The smaller pan will make slightly thicker brownies and will take a little longer to bake.
Recommended Products
As an Amazon Associate and member of other affiliate programs, I earn from qualifying purchases.
Nutrition Information:
Yield:
16
Serving Size:
1 brpwnie
Amount Per Serving:
Calories: 246
Total Fat: 10g
Saturated Fat: 6g
Trans Fat: 0g
Unsaturated Fat: 3g
Cholesterol: 55mg
Sodium: 157mg
Carbohydrates: 36g
Fiber: 1g
Sugar: 26g
Protein: 3g
Note: This post may contain affiliate links; view
my Disclosure Policy
for details. I earn a small percentage from any purchase you make by clicking on these links at no extra cost to you.