Caramel Stuffed Rice Krispie Treats
My friends and children went nuts for these Caramel Stuffed Rice Krispie Treats. These are one of the gooiest bars I've ever made. Maybe even THE gooiest! But also, one of the most delicious and addictive.
Just have plenty of napkins or wet paper towels when you're indulging! These Rice Krispie Squares are worth a few sticky fingers!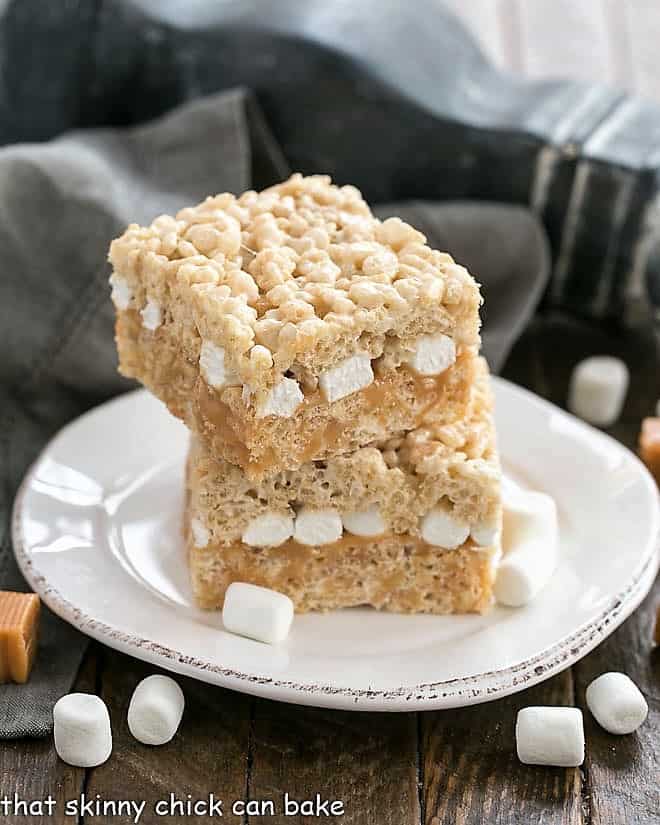 Why You Must Make
I shared these marvelous amped-up caramel Rice Krispie Treats with my girlfriends, then for dessert after our Sunday night family dinner. Rave reviews all around.
Before I had even typed up the recipe, I had a request for it!
If you're a fan of Rice Krispie Treats and also happen to be a caramel lover, these squares are for you!!
No one except me cared that they were sticking to the non-stick foil and took brute strength to remove them from the pan. There was a silver lining, though, as I rather enjoyed snacking on the stuck bits as well as the thin slices I trimmed off to make the almost picture-perfect squares you see in the photos! They really are tasty.
Ingredient Notes
Butter – Never margarine; salted is preferred as salt is a flavor enhancer.
Bagged Caramels – I used Kraft caramels, unwrapped (the bags are now 11 ounces so I used one bag plus 11 more caramels).
Sweetened Condensed Milk – A standard 14-ounce can.
Rice Krispies – Make sure they aren't stale for the best results.
Mini Marshmallows – Again, make sure they're fresh.
Recipe Tips
Most of us have whipped up a batch of the classic Rice Krispie Treats at least once. If you can make those, this recipe will be a breeze. Be prepared to share the recipe if you dole these out to any of your friends!
Grease your pan well. Butter is great, but I love non-stick foil for easy cleanup. I like to spray the foil with non-stick spray (like Pam) for double anti-stick protection with these sticky Caramel Stuffed Rice Krispie Treats!
Butter your hands or spatula to help prevent the Rice Krispies from sticking as you pat them into the pan. You can also use a piece of wax paper.
Use the proper ratio of cereal, butter, and marshmallows. I've never had a complaint about the recipe on the back of the box. It's stood the test of time!
Some add a pinch or more of salt, but salted butter saves you that step!
Use fresh, not stale marshmallows. Fresh marshmallows are much easier to melt.
Resist the urge to press down too firmly when flattening the tops of your Rice Krispie layers. This will compress the cereal and the treats will be harder to bite into and denser than desired.
If you're like me, and swoon over caramel desserts, you may also like these Toffee Caramel Magic Cookie Bars, these Ganache Topped Caramel Bars, and this Deluxe Caramel Cheesecake! And if you need some cutting tips, check out my post on How to Slice Perfect Cookie Bars!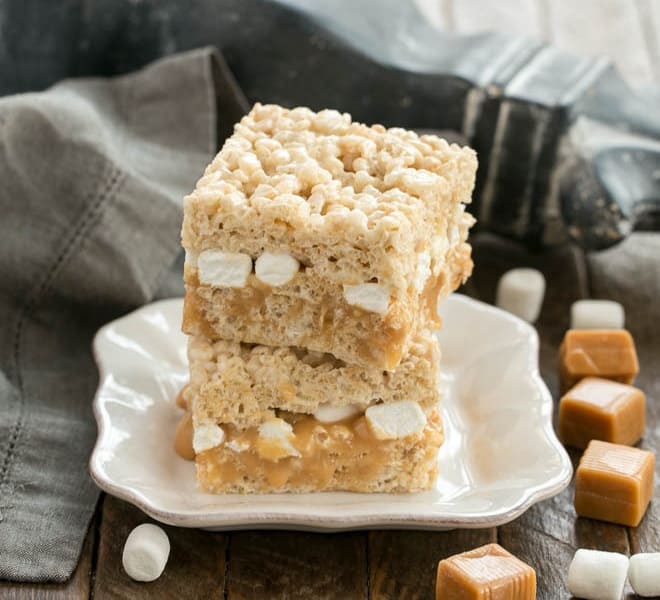 Frequently Asked Questions
Why Are My Rice Krispie Treats Hard?
Make sure you do not compress the Rice Krispies too firmly when adding them to the pan. Also, refrigerating them will also make them hard, so if you do, bring them out of the fridge to warm up before serving.
How Long Can You Keep Homemade Rice Krispie Treats?
They should stay fresh for up to 5 days if you keep them covered. You can also freeze them for up to 6 weeks, just defrost them overnight in the refrigerator before serving. Always bring them to room temperature before eating.
What's the Best Way to Store Rice Krispie Treats?
Keep them in an airtight container with layers of waxed paper separating them so they don't stick together.
You May Also Like: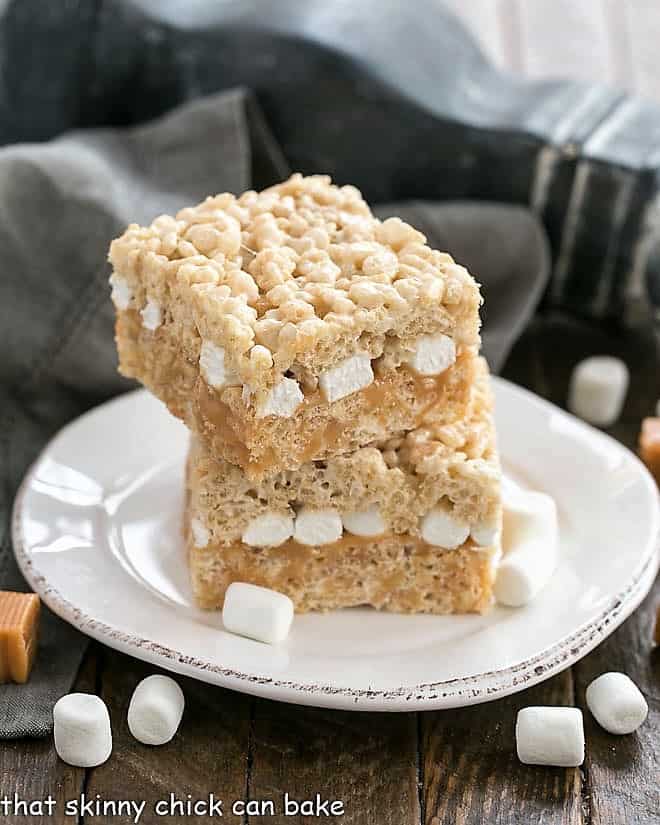 The Recipe:
Caramel Stuffed Rice Krispie Treats
Prep Time 30 minutes
Total Time 30 minutes
Yield 24 bars
Super gooey Rice Krispie Treats with a filling of caramel and mini marshmallows!
Ingredients
14 ounces Kraft caramels, unwrapped (the bags are now 11 ounces so I used one bag plus 11 more caramels)
14 ounces sweetened condensed milk
8 tablespoons butter
12 tablespoons butter, divided
10 cups Rice Krispies, divided
8 cups mini marshmallows, divided
Additional 2 cups mini marshmallows to top the caramel layer
Instructions
Line 9 x 13 pan with nonstick foil, then spray lightly with non-stick cooking spray (these sticky bars need both!)
In a large microwave-safe bowl, microwave the caramels, 8 tablespoons butter, and condensed milk until melted and smooth when stirred.

In another large bowl, microwave half the butter and half the marshmallows ( 6 tablespoons butter and 4 cups marshmallows) for just a minute and stir until melted. Stir in half the cereal (5 cups) and press evenly into the prepared pan.
Pour on the caramel and spread evenly. Sprinkle the top with the additional 2 cups marshmallows and freeze for 15 minutes.
Use the remaining 6 tablespoons butter, cereal, and marshmallows, and repeat the directions.
Press this layer on top of the marshmallows and caramel layer and return to the freezer for 15 minutes, then chill for a few more hours or overnight.
Cut into big squares to serve.
Notes
Adapted from Hugs and Cookies XOXO.
Do not compress the Rice Krispies mixture too firmly as this will make the bars too hard.
Recommended Products
As an Amazon Associate and member of other affiliate programs, I earn from qualifying purchases.
Nutrition Information:
Yield:
24
Serving Size:
1
Amount Per Serving:
Calories: 333
Total Fat: 13g
Saturated Fat: 8g
Trans Fat: 0g
Unsaturated Fat: 4g
Cholesterol: 34mg
Sodium: 228mg
Carbohydrates: 53g
Fiber: 0g
Sugar: 37g
Protein: 4g
Note: This post may contain affiliate links; view
my Disclosure Policy
for details. I earn a small percentage from any purchase you make by clicking on these links at no extra cost to you.