It's pretty much a given that I package up a batch of sweets with Nick when he returns to college. As a caramel fan like his mother, I knew these Ganache Topped Caramel Bars would put a smile on his face.
Ganache Topped Caramel Bars
I've shared the similar Homemade Twix Bars recipe a couple of times which are also known as Millionaire Shortbread and probably have a couple other aliases as well. All with 3 delectable layers including caramel. So you may not be shocked that I had to bake up these ganache topped caramel bars!
As a preschooler, Nick used to accompany me on my errands, one being a weekly trek to the butcher shop for chops, hamburger and such plus some thinly sliced ham for his sandwiches. He'd get a slice of ham to sample from the proprietor as our ham was being weighed plus there was the requisite trip to the candy jar on the counter for the coveted caramel.
So began his love affair with this confection. One in which his mother was happy to contribute–even now as he's grown from that tot to a young man.
Tips for Making Caramel
The shortbread crust was a piece of cake, but the first caramel attempt was a bit of a disaster. I have made desserts with homemade caramel from scratch as well as those using melted pre-made caramel candies. This caramel called for sweetened condensed milk and I thought it would be a no-brainer.
I cooked the mixture and watched it boil and eventually grow a little darker to an amber shade. But when I removed the molten sugar mixture from the stove top, the butter had separated and the caramel was far from a smooth consistency. Flop. So I tried again, reducing the amount of butter and using a candy thermometer so I could pull the caramel off the heat at the perfect time. Success. Whew.
So you may also need a few tips to ensure your caramel layer is perfect!
All caramel recipes are different. Some are sweetened with white sugar, others with brown. This is the first I've encountered with sweetened condensed milk, which is a substitute for the typical heavy cream and part of the sugar.
To start this recipe, all ingredients are whisked together in a saucepan. This is also not typical of caramel recipes!
For the best caramel consistency, not too hard nor too soft, a candy thermometer is imperative.
Whisk constantly so the mixture does not burn. Watch for the caramel to darken to a "caramel" color which should occur around 225 degrees, approximately 6 minutes into the cooking process. Pour over the crust when your caramel reaches temperature.
Since these most likely will be stored in the refrigerator, you'll want to cut them with a hot knife. I run a knife under very hot water and dry it off before slicing. The heat helps the knife glide through the chocolate and caramel.
PRO Tip: Remember this caramel mixture is extremely hot, so use caution when mixing, pouring and spreading so you don't get burned.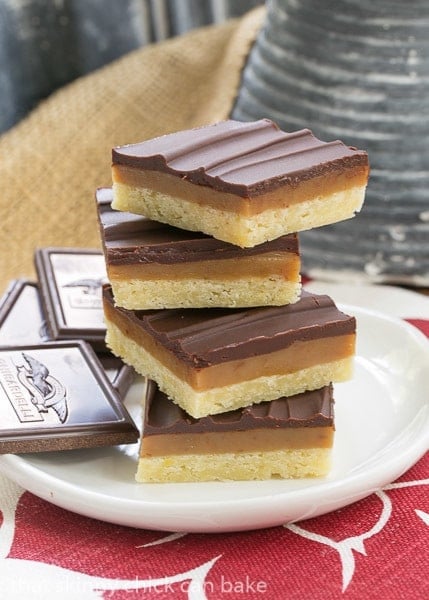 Chocotoberfest
I am beyond excited today, because it is October 5…. and that means it is the first day of #Choctoberfest! 😀 #Choctoberfest is a virtual event put together by The PinterTest Kitchen. Bloggers from around the world will be posting their favorite chocolate recipes, and you'll get a chance to win some awesome prizes. What's not to love? Here's what this event is all about! #Choctoberfest would not be possible without our sponsors, starting with our 2015 Gold Sponsor, Imperial Sugar.
Imperial Sugar has been a trusted name in family kitchens since 1843. Their sugar products and sweeteners are made from non-GMO cane sugar and ensure consistently delicious results. We'll be using Imperial Sugar whenever we use sugar in our recipes this week, and can't wait to share the sweetness with you! THANK YOU, Imperial Sugar!!! You can find Imperial Sugar on Pinterest, Facebook, Instagram, Twitter, and more. Make sure you visit the recipes section of their website for some sweet inspiration, and you can also find coupons on their website if you want to try out Imperial Sugar yourself.
A huge thank you to all of the other blogs participating in #Choctoberfest 2015. Check out their blogs throughout the week for chocolate recipes you won't be able to resist:
The PinterTest Kitchen • 2 Cookin' Mamas • A Day in the Life on the Farm • Aloha Flavor • Amy's Cooking Adventures • Angels Homestead • Balancing Motherhood • Bless this Mess • Busy-at-Home • Chocolate Slopes • Coconut & Lime • Colie's Kitchen • Cookaholic Wife • Cooking In Stilettos • Cooking With Libby • Cookistry • CopyKat Recipes • Cravings of a Lunatic • Crumbs in my Mustachio • Culinary Couture • Cupcakes Take The Cake • Deliciously Savvy • Eat It & Say Yum • Fairyburger • Famished Fish, Finicky Shark • Farm Fresh Feasts • Food Hunter's Guide to Cuisine • Full Belly Sisters • Get Off The Couch and Cook • Grumpy's Honeybunch • Hey What's for Dinner Mom? • Honey and Birch • I Can Cook That • Jane's Adventures in Dinner • Jessie Weaver • Life on Food • Life, Love, and Good Food • Majorly Delicious • Moore or Less Cooking Food Blog • Mother Would Know • Or Whatever You Do • Poet in the Pantry • Recipes Food and Cooking • Sassy Southern Yankee • Seduction in The Kitchen • Serena Lissy • Sumptuous Spoonfuls • Take Two Tapas • That Skinny Chick Can Bake • ThatsSoYummy  • The Crumby Cupcake • The Dinner-Mom • The Saucy Southerner • The Spiced Life • The Spiffy Cookie • The Two Bite Club • The Weekday Gourmet • Vintage Kitty • Wendy Polisi • What A Girl Eats • WhitBit's Indian Kitchen • Wit Wisdom & Food • Zesty South Indian Kitchen
Are you a blogger who is interested in joining us during out next community event?   Sign up here now!   We'll make sure you get an email about our next blogger event.
Print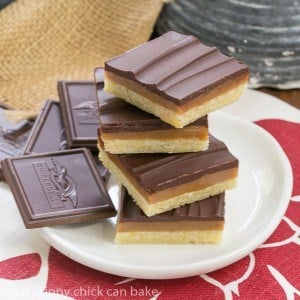 Ganache Topped Caramel Bars
Three-layered caramel bars with a shortbread crust and rich ganache topping.
Author:
Prep Time: 15 mins
Cook Time: 25 mins
Total Time: 40 minutes
Yield: 24 bars 1x
Category: Dessert, Bar Cookies
Method: Baking
Cuisine: American
Ingredients
Crust:
1 3/4 cups flour
3/4 cup Imperial Sugar, our lovely Gold Sponsor
2 sticks (1 cup) butter, cut into 1/2 tablespoon-sized cubes
2 egg yolks
Caramel:
1 14-ounce can sweetened condensed milk
1/2 cup brown sugar
6 tablespoons butter
2 tablespoons corn syrup
2 teaspoons vanilla
Ganache:
8 ounces semi-sweet chocolate, chopped
1/4 cup heavy cream
1 tablespoon corn syrup
Instructions
Preheat oven to 350º.
Pulse flour and sugar in a food processor to mix. Add butter and pulse till the butter is the size of small peas. Add the yolks and pulse till dough comes together. Pat into a greased or non-stick foil lined 9 x 13 pan. Bake till edges are lightly browned, 12-14 minutes. Let cool while preparing caramel.
In a medium saucepan, whisk together all caramel ingredients. Bring to a boil over medium heat, whisking often till mixture comes to a boil. Clip candy thermometer to the pan and continue whisking and cooking till caramel reaches 225º. Pour caramel over crust and let cool till caramel is set.
Make ganache by combining chocolate, cream and corn syrup in a microwave-safe bowl. Heat gently, stopping and stirring till chocolate is almost melted. Let rest for a couple minutes, then stir till smooth. Spread over caramel layer and chill for at least an hour before cutting. Store bars in refrigerator.
Disclosure: Imperial Sugar, our Gold sponsor, donated product for this event. I was not paid to write this post and all opinions are my own.
Note: This post may contain affiliate links; view
my Disclosure Policy
for details. I earn a small percentage from any purchase you make by clicking on these links at no extra cost to you.