This Deluxe Caramel Cheesecake with Caramel Toffee Topping made jaws drop. I served this uber-decadent, not for the faint of heart  homemade cheesecake to a bunch of 22-year-old guys and their parents.
Those youngsters still have excellent metabolism and swarmed the dessert table! You'd think they hadn't just eaten a huge dinner by the way they cleaned their plates!
Deluxe Caramel Cheesecake with Caramel Toffee Topping
Over the holiday break, we gathered a bunch of Nick's former classmates and their parents for a fun reunion. After one bite of my caramel cheesecake, one jokester queried, "Do you have a patent on this?"
I could only laugh. The moms took slivers, the dads raved as they savored each decadent bite, and the boys, who have all been cooking for themselves, did, too.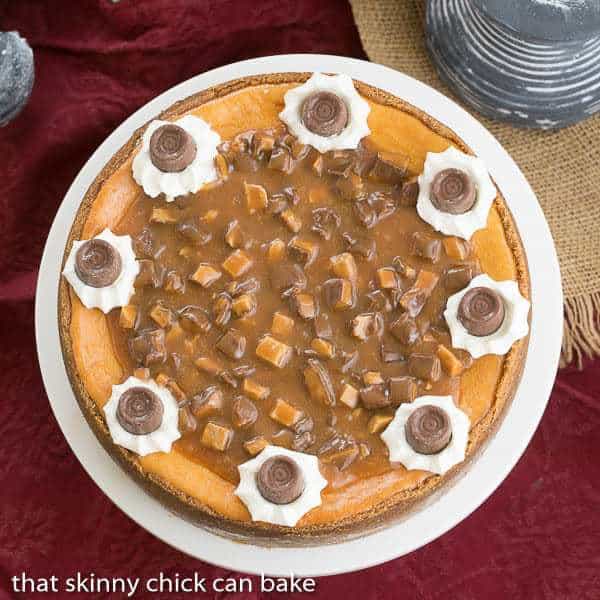 Tips for Baking the Perfect Cheesecake
Galentine's Day
Today, we're celebrating "Galentine's Day," a holiday made famous by the television show Parks and Recreation. One of the best days of the year, it's celebrated on the day before Valentine's Day.
Ladies leave their hubbies to celebrate with their gal pals. And a little indulging is fair game. I brought this deluxe caramel cheesecake with caramel toffee topping to the celebration! Check out what my blogger girlfriends brought to the party!!!
More Spectacular Recipes for Your Galentine's (or Valentine's) Day Celebration:
A huge thanks to Nancy of gotta get baked and  Courtney of NeighborFood for hosting this fun event again this year!!

You Might Need:
More Caramel Recipes You'll Love:
Print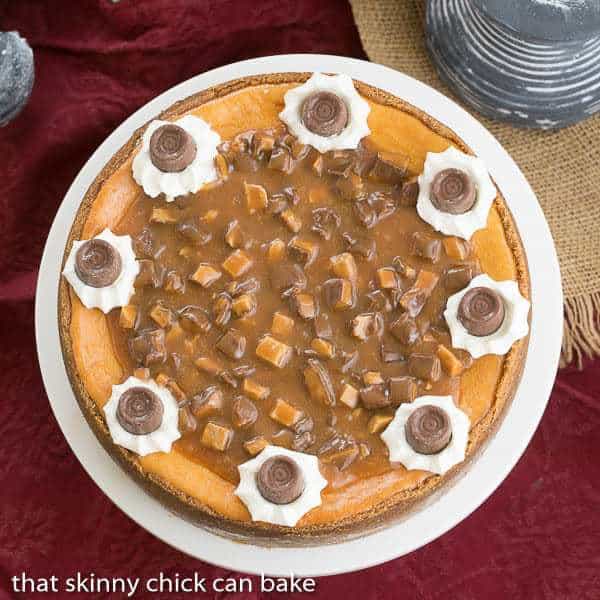 Deluxe Caramel Cheesecake with Caramel Toffee Topping
An outrageously decadent cheesecake that will thrill both cheesecake and caramel fans!
Author:
Prep Time: 45 mins
Cook Time: 1 hour 45 mins
Total Time: 2 hours 30 minutes
Yield: 16 servings
Category: Dessert, Cheesecake
Method: Baking
Cuisine: American
Ingredients
Homemade Caramel Sauce:
1/2 cups sugar
2 tablespoons light corn syrup
3 tablespoons butter
1/3 cup heavy cream
Crust:
3 cups graham cracker crumbs (about 2 packages crushed graham crackers)
1/2 cup brown sugar
2 sticks butter (1 cup), melted
1 1/4 cups chocolate chips
Cheesecake Filling:
3 8-ounce packages cream cheese, at room temperature
1 cup sour cream
1 1/2 cups sugar
1 tablespoon vanilla
1/4 cup caramel topping (recipe below)
4 eggs, at room temperature
Toppings to garnish the cheesecake:
1/2 cup heavy cream
2 tablespoons powdered sugar
1/2 cup caramel
1/2 cup chopped Heath bars
Instructions
To make caramel sauce:
In a medium saucepan, combine the sugar and syrup. Cook on medium heat, stirring occasionally with a rubber spatula.
Once it is caramel colored, remove from heat, add the butter and stir until the butter is melted. Add the cream and stir until it's all combined. Bring it back to the heat if you get clumps and stir it until they're dissolved.
Store in the refrigerator if not using right away. Makes about ¾ cup.
To make crust:
Preheat the oven to 300º. Combine crust ingredients except the chocolate chips. Press into a 9-inch springform pan lined with parchment paper. Push all the way up the sides and press in firmly. Sprinkle with the chocolate chips.
Set the springform pan on a baking sheet (some butter will leak from the pan). Bake for about five minutes or until the chocolate chips are soft. Smooth them out with an offset spatula.
Place it in the freezer while you prepare the filling.
To make cheesecake:
Beat the cream cheese, sugar, and sour cream for a few minutes until the sugar is dissolved. Add the vanilla and caramel and mix well.
Add the eggs one at a time and beat just until incorporated.
Pour into chilled crust. Wrap the exterior of the pan in a double layer of foil and place in a larger pan (I use my roasting pan) filled with an inch or two of hot water. Bake for 1 hour and 30 minutes in the 300º oven. The center will still be wiggly, but it shall set in the end. Remove from the oven and cool.
Refrigerate for 6 hours or overnight.
To garnish the cake:
Beat the whipping cream and sugar in a chilled bowl until stiff peaks form. Set aside to garnish the cake after adding the caramel topping.
Combine the caramel and ½ cup of toffee. Place small spoonfuls of the topping over the top of the cheesecake, then spread using an offset spatula.
Pipe some of the sweetened whipped cream in dollops around the perimeter and garnish with more toffee bits. Slice with a large wet knife for cleaner slices.
Notes
Overnight chilling is not included in total time.
This recipe was adapted from Yammie's Noshery via Lick the Spoon
Note: This post may contain affiliate links; view
my Disclosure Policy
for details. I earn a small percentage from any purchase you make by clicking on these links at no extra cost to you.